If you haven't seen our new ABT PRO Alcohol-Based Markers by now, you definitely need to check them out! Today we are excited to introduce you to the artist behind the artwork on the packaging of our new ABT PRO 12-pack palettes. Justin Teodoro is an incredibly talented Brand Ambassador for Tombow who completely brought this new line of markers to life with his unique artistic style. We had a chance to catch up with him about his creative process, why he loves Tombow so much, and more!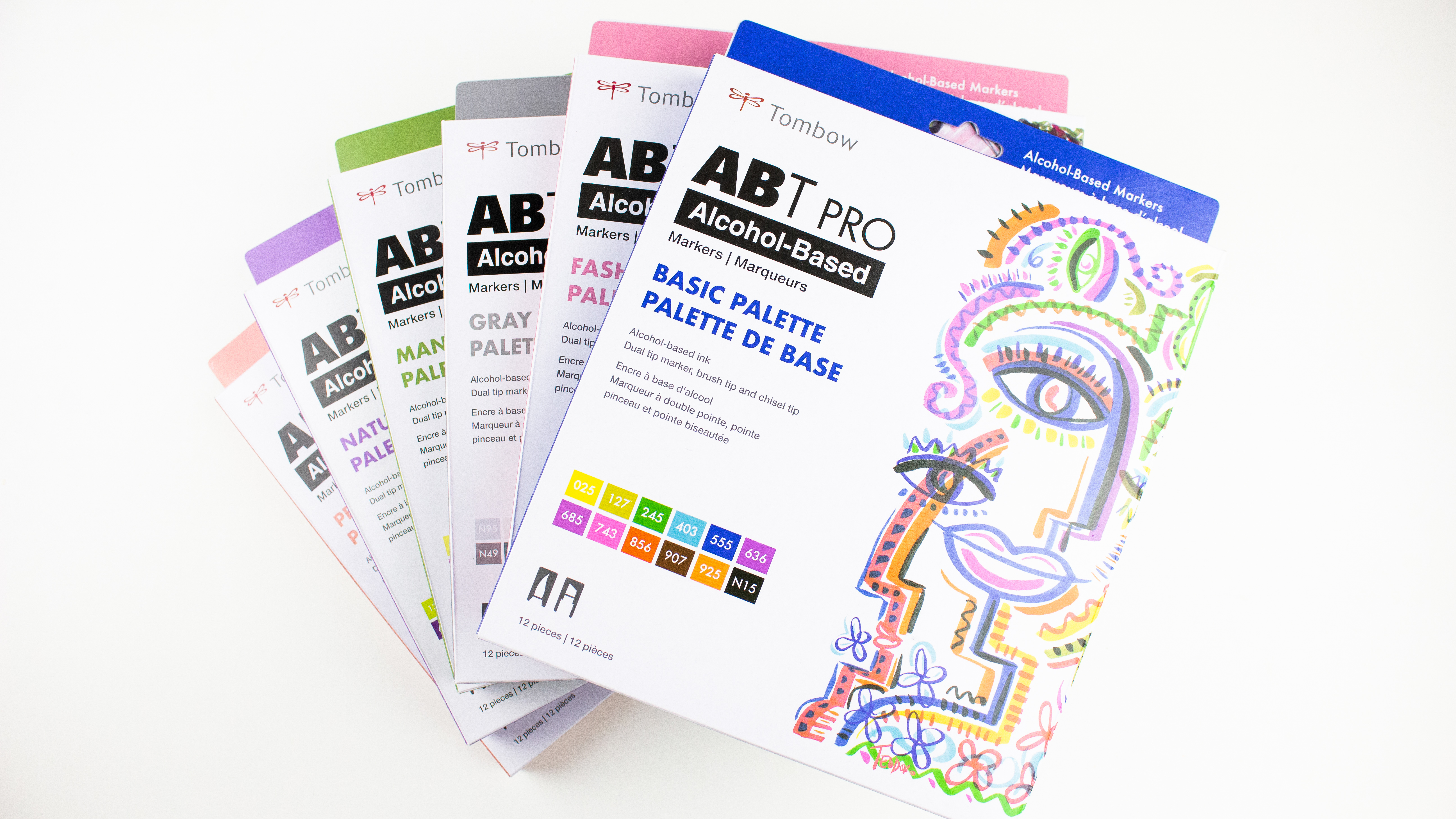 Q: Can you explain your creative process for designing the artwork for the ABT PRO packaging?
When I was approached by Tombow to create the artwork for the ABT PRO, I was really excited because I love and use Tombow for my own work.  And while I have done packaging art for fashion and beauty brands, this was a new type of collaboration for me.  Not only was it great to be one of the first to use the ABT PRO markers, but it was pretty cool to take that and create the visual identities for each palette, giving the whole collection its unique personality.
After first being shown the six palettes and their colors along with a quick brief from Tombow, I was given the 'blank slate' to create the artwork inspired by the ABT PRO.  When I do commission work, I normally just draw and draw until I feel I have that right rhythm and gesture – sometimes it happens miraculously on a first attempt and other times I need to dig deep and maybe collage pieces from different works together to get where I want it to be.  Obviously some palettes were more specific in theme (Manga, Nature) and while I did have a general idea as to what I wanted each palette to look like, I tried to just let the pens and colors dictate the work.

Q: Which packaging piece is your favorite?
It's always hard to choose when you have a few in a group but I would have to say the Basic Set and the Fashion Set just because they were the first two I did.  Once I got those artworks finalized in my eye, they set the tone for the rest of the collection.
Q: Which ABT PRO color palette do you like the most?
I like the People Set a lot because the palette is really great in its diversity of colors and options to mix together.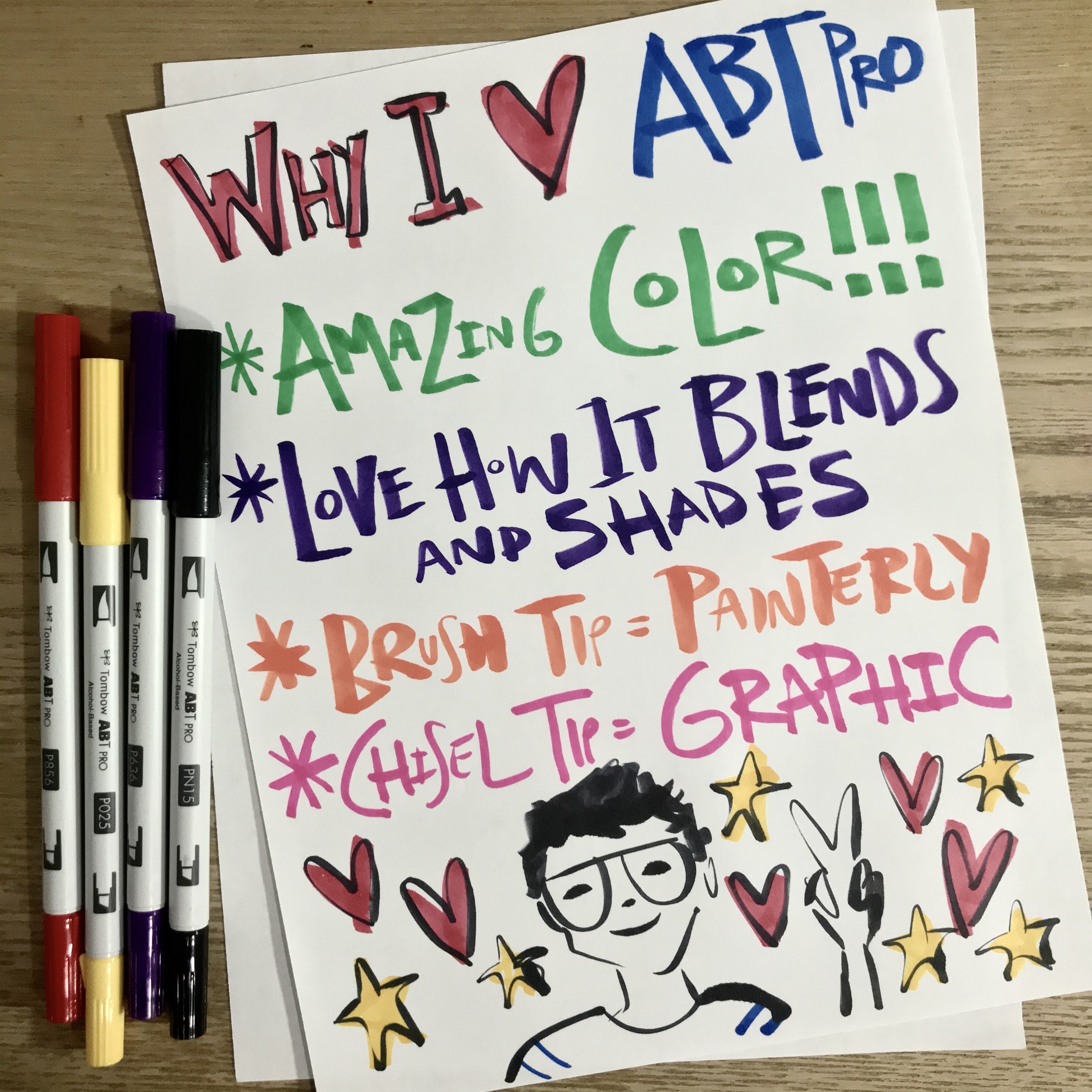 Q: What are your thoughts on the ABT PRO?
I really like the ABT PRO.  The Dual Brush Pen is my go-to drawing pen and I really liked how the ABT PRO works so similarly (they both give this great fluid brush line).  I love the vibrancy of the ABT PRO color palette and how well they all blend together.  The ABT PRO markers feel almost painterly in their mix.
I will definitely continue using the ABT PRO markers going forward.  I really loved the range of the palettes and how well the colors mix together – that is something I can continue working with in my own artwork.
Q: What did you enjoy most about working on this project?
I love working on different projects because I get to work with new teams.  For me, it's the people you work with that can really shape your view of the final product.  And everyone at Tombow was so amazing and gracious to work with.  They were all really supportive of me and open to my artwork and ideas and are just as excited about the final product as I am.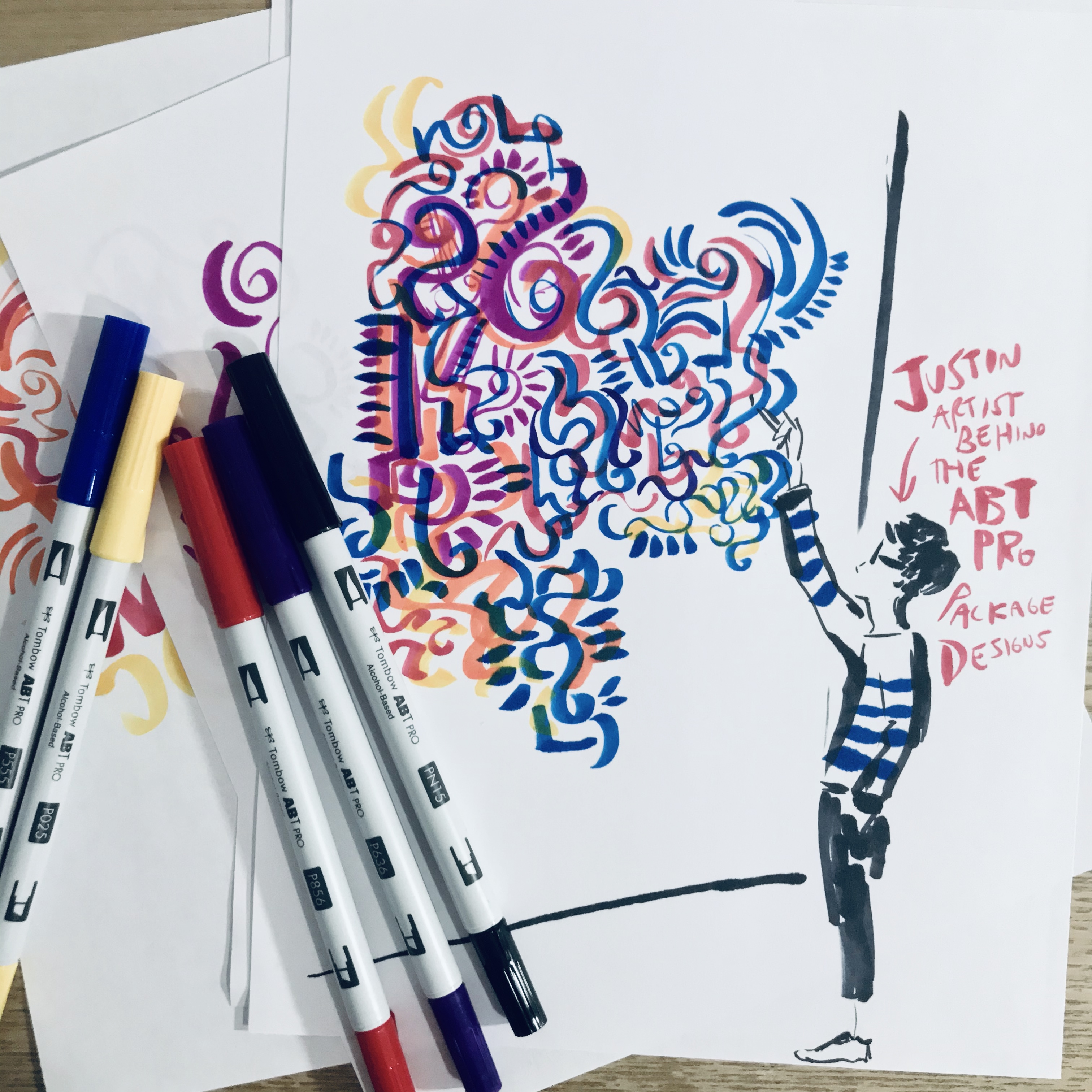 Q: How did you get started drawing/creating?
I grew up drawing since I was a little kid, so art has always been a big part of who I am.  I remember when I was 5 or so I would copy my favorite cartoon characters before I graduated into drawing comics and superheroes and then I eventually discovered my mom's fashion magazines and moved into drawing supermodels and high fashion.  Art was always a creative outlet, so to be to able to continue that today into my working profession is pretty much the dream for me.
Q: What is your favorite type of art to create?
I like drawing people a lot – portraits, figure drawings.  I like to capture emotion and personalities in art, so what better subject to have than people?
Q: Why do you choose to use Tombow in your art?
I remember discovering the Dual Brush Pen a few years ago and falling in love.  It helped me give my work that painterly flow and gesture that I love.  Tombow offers such a great assortment of tools and colors for artists, and for me it is always great to work with a product that I love.
About Justin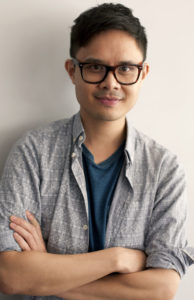 Justin Teodoro is a New York City based artist.  Born and raised in Vancouver, British Columbia, Justin moved to NYC and graduated from the Parsons School of Design with a degree in Fashion Studies.
After building a successful career as a Womenswear Designer, Justin decided to merge together his two passions, Fashion and Art, into a new path as an illustrator and artist.
His work has been featured in such publications as Women's Wear Daily, Huffington Post, Vogue, Glamour UK, Harper's Bazaar and OUT Magazine. And as a creative collaborator & consultant, Justin works with international clients to create graphic imagery and campaigns that are all infused with his own unique & whimsical sensibility.