Hi, Jessica from BrownPaperBunny here to show you a couple of planner ideas for school, using your Passion Planner and the Tombow Creative Notetaking Kit. Here's what you'll need to get started.
Supplies:
*I'm using the Weekly 2022-2023 Academic Hardcover Haven Hills planner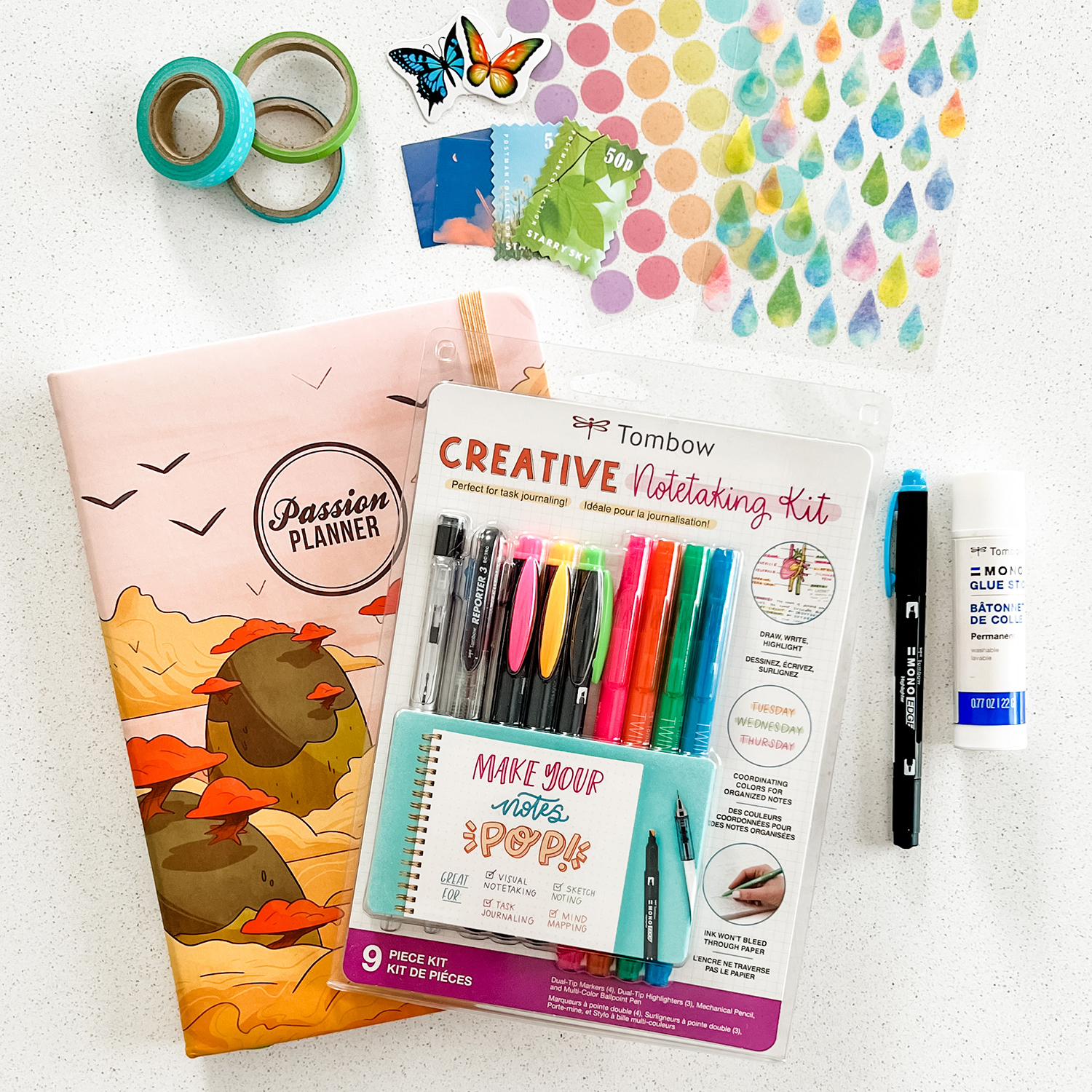 There are loads of ways you can use your planner to help with school and studying. I'm going to show you a fun way to use your Space of Infinite Possibility in your Passion Planner to create a weekly study playlist.
Step 1: Collect Your Songs
Use your favorite music app and find your favorite songs to study. Alternatively, you could google ready-made study playlists.
Step 2: Write Your Title
You could choose to give your playlist a name that suits the types of songs you've chosen or just label it "Study Playlist."
I used the Tombow TwinTone Markers from the Creative Notetaking Kit and wrote the title in my planner's Space of Infinite Possibility.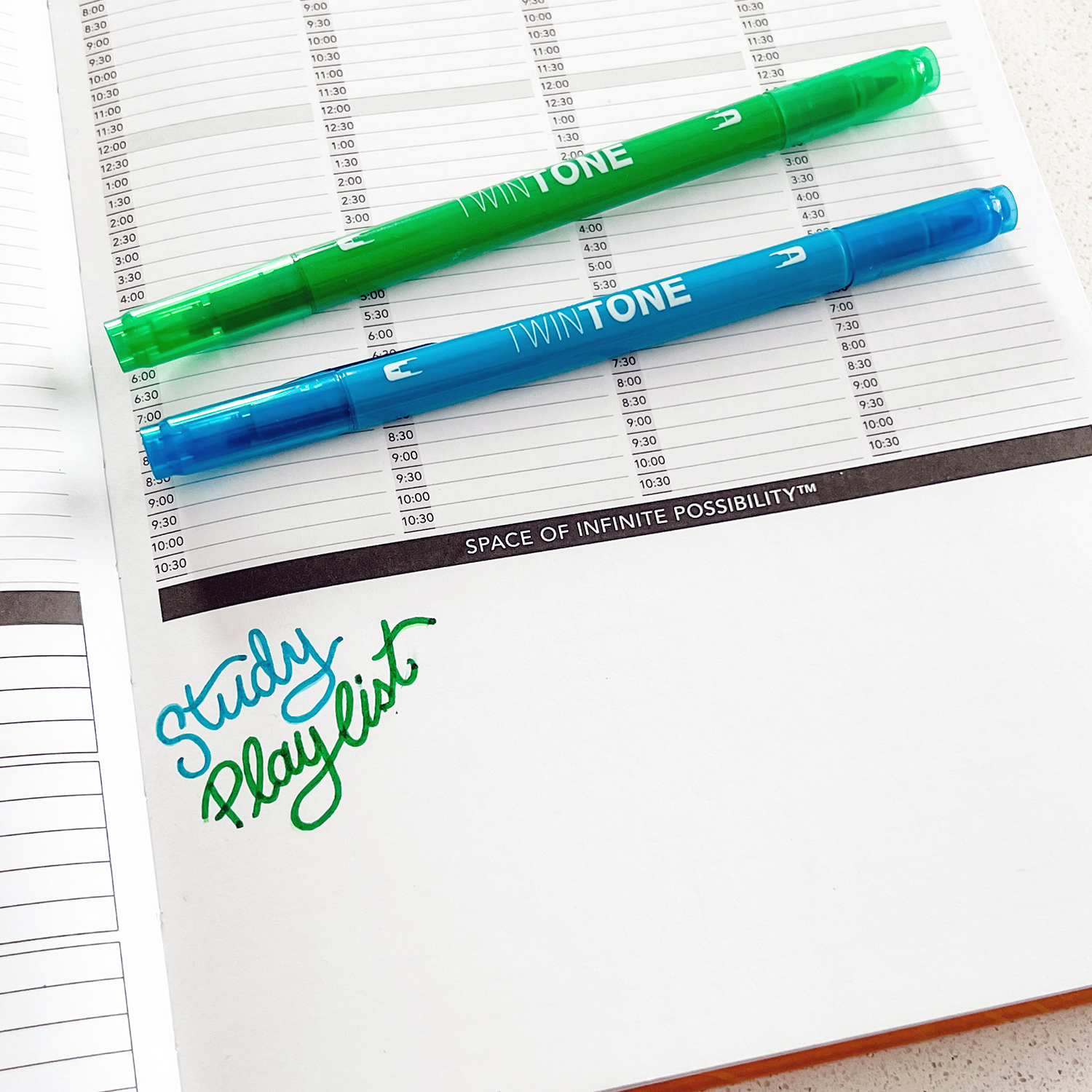 Step 3: Create Your Elements
Using your Creative Notetaking Kit, draw a pattern on a piece of scrap paper. I've chosen to draw a simple grid using the green and blue TwinTone Markers. I'm going to use this piece as the background.
Next, draw some small polaroid-style rectangles using the MONO Edge Highlighters and TwinTone Markers from the Creative Notetaking Kit. Cut them out with scissors.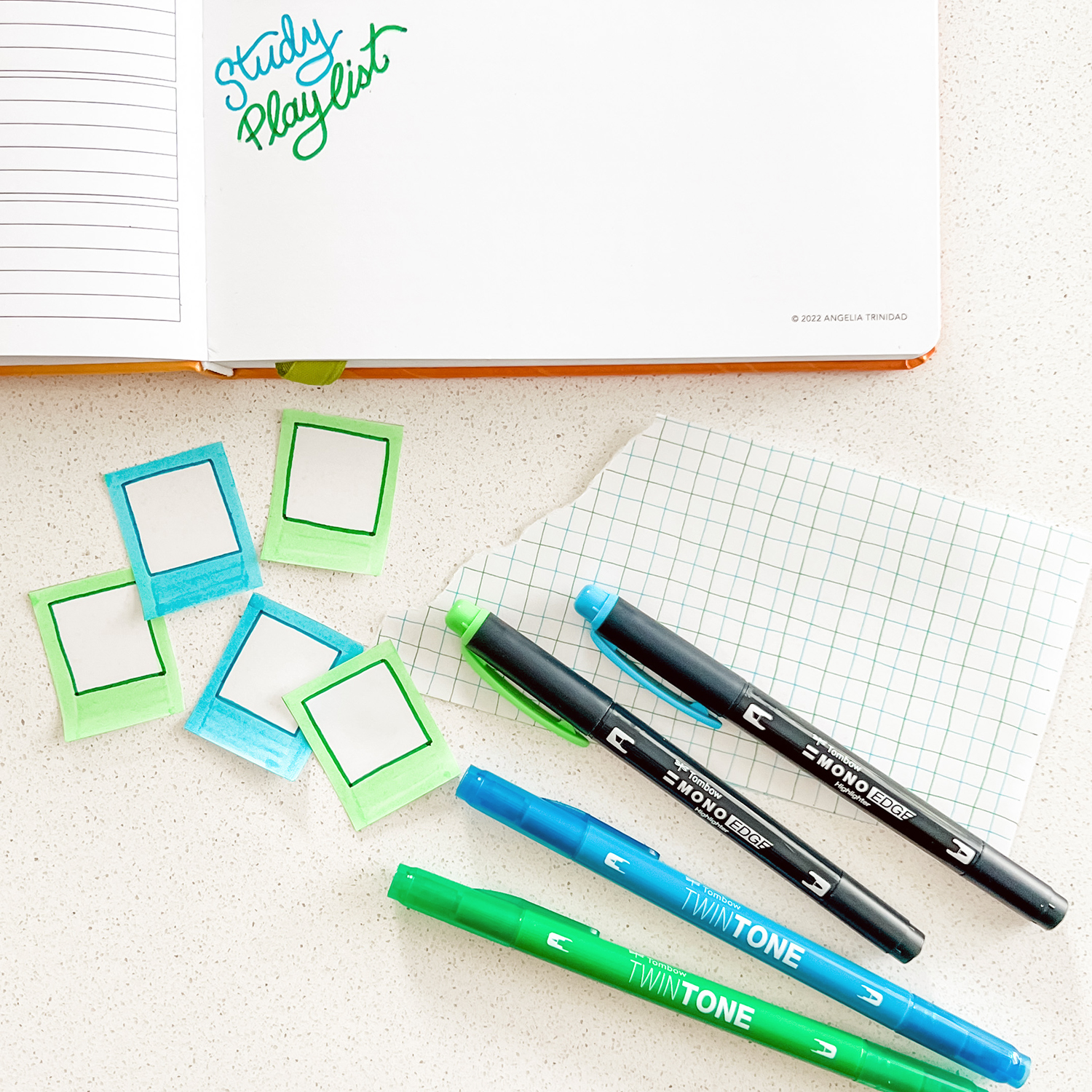 Step 4: Glue Down Your Background
Using your Tombow MONO Glue Stick, glue down the background paper onto the blank space of your journal. You could also use the paper to cover up an area you aren't using or if you made a mistake or don't like something in your planner.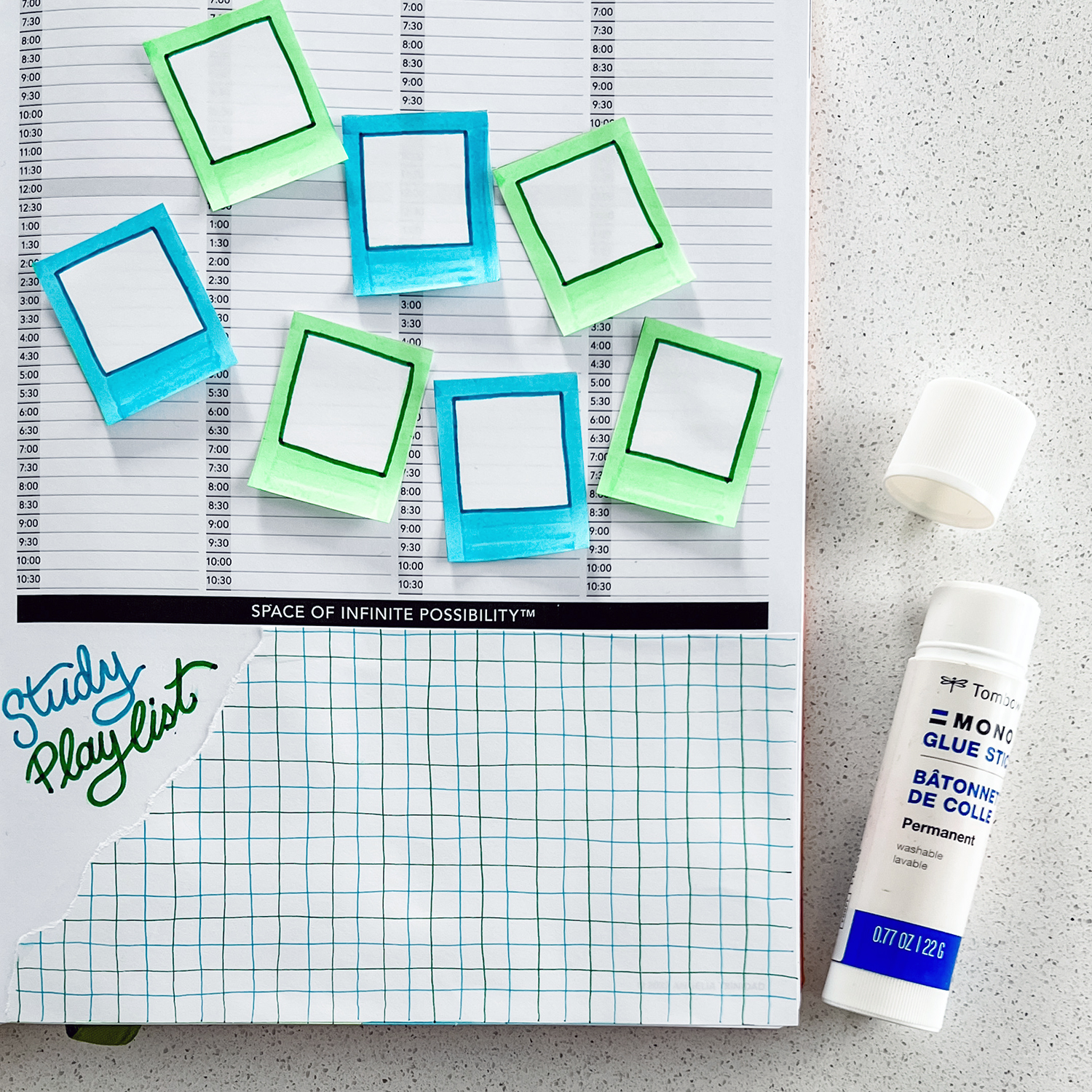 Step 5: Create Your Song Images
Using stickers, your Creative Notetaking Kit, washi tape, etc., make little images for each song you've added to your study playlist. Then, use the TwinTone Markers to write the song's name on the bottom of each rectangle.
Once you're happy with them, stick them on top of your patterned background using your Tombow MONO Glue Stick.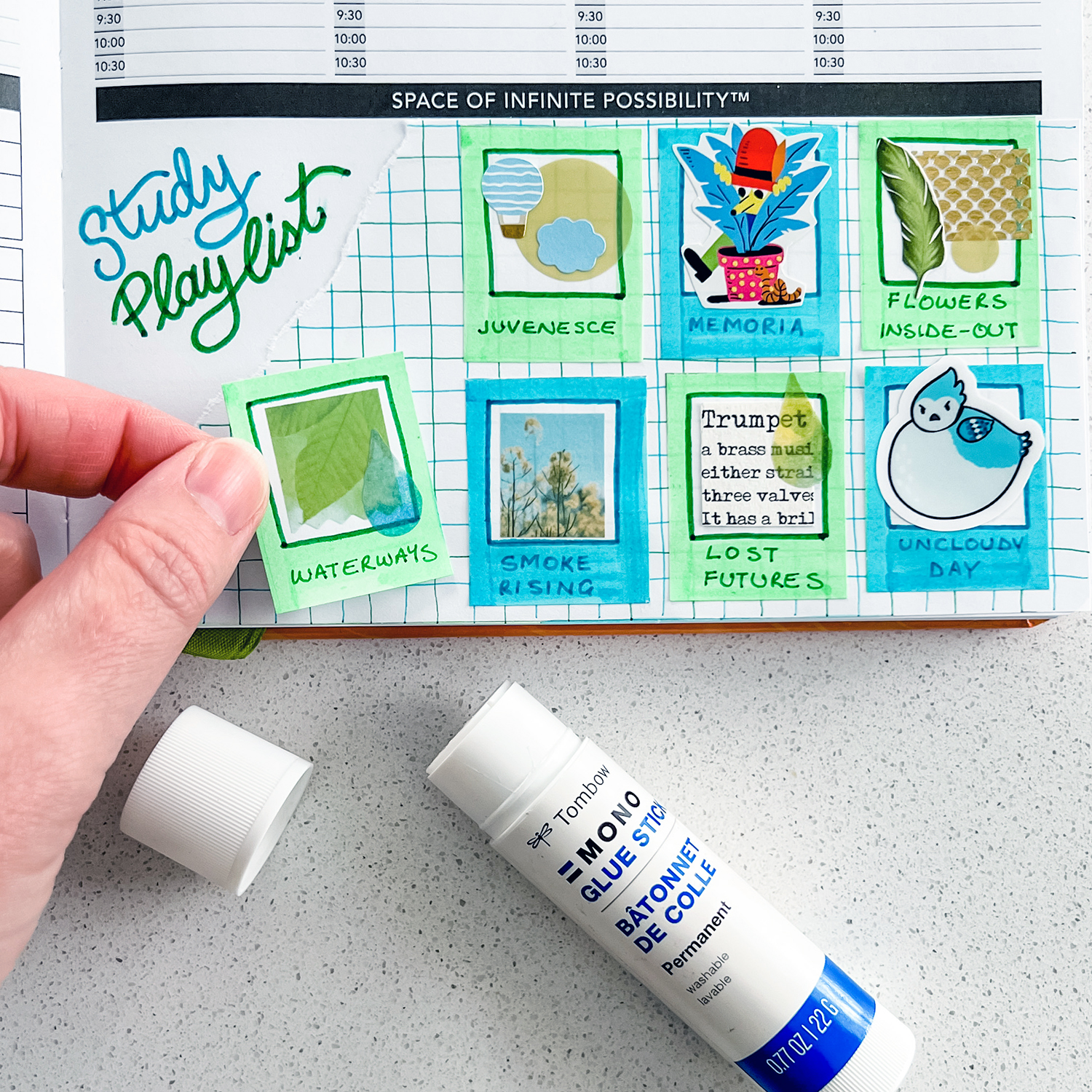 Step 6: Fill in the Rest
Use your Creative Notetaking Kit to fill in the rest of your planner, and you're all set to stay on top of your study week!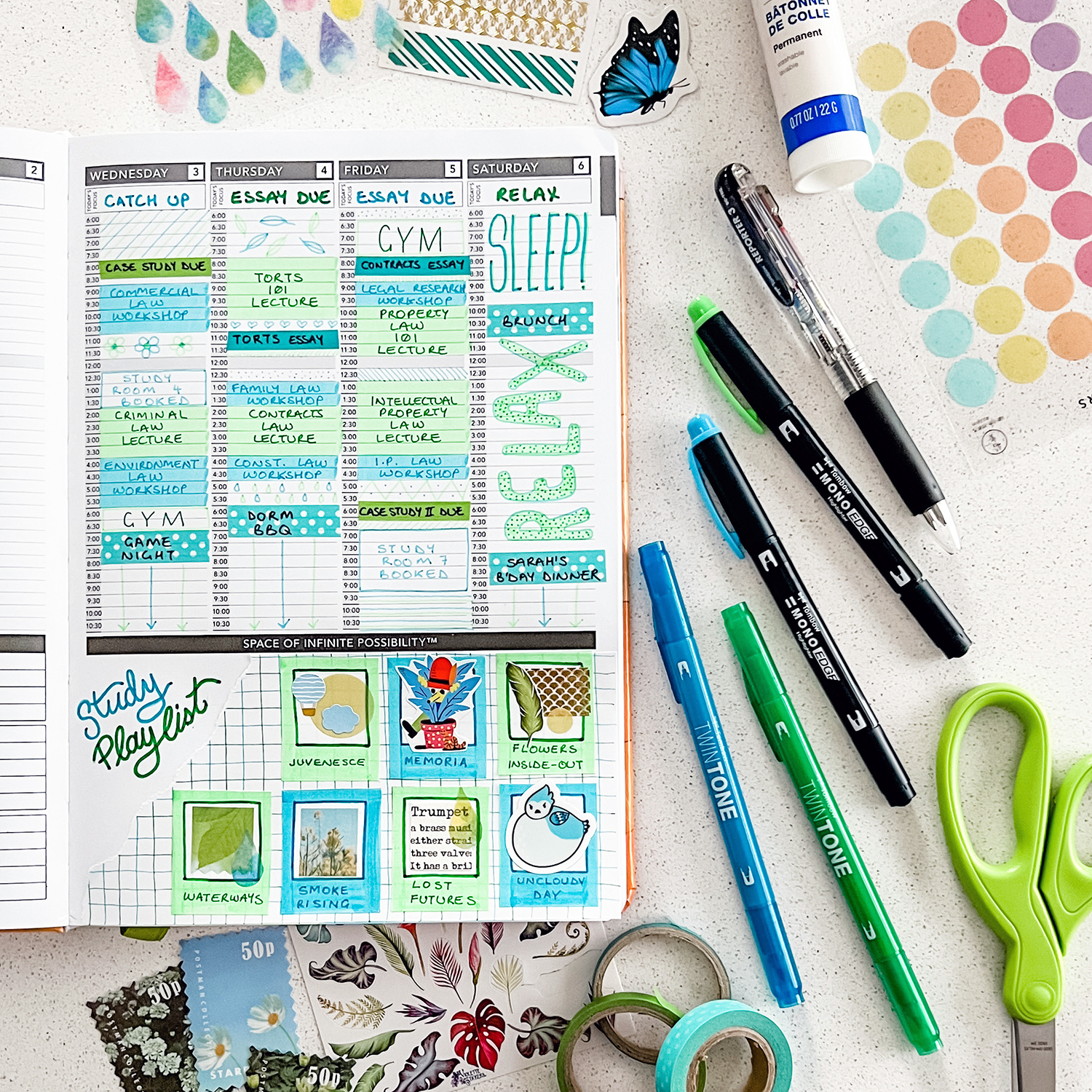 Other Planner Ideas for School
Here are some other ways you might use your planner for school.
Use the Space of Infinite Possibility to track weekly reading, and highlight each chapter as you finish it
Track when assignments are due in your daily schedule
Never miss a class again by adding it to your daily schedule. Bonus points for color coding each class so you can easily find it at a glance.
Set your overall school and study goals for the year and break them into actionable steps using the Roadmap in your Passion Planner.
Use your Space of Infinite Possibility to plan and track self-care or habits you'd like to stick to
Keep lists of important to-do items in your planner and tick them off for a feeling of accomplishment
What other planner ideas do you have for school and studying? Drop them in the comments.
If you're looking for more planner ideas check out this Daily Planner Spread tutorial and Create a Colorful Dutch Door in Your Journal.
If you share your planner on social media, tag @TombowUSA, @PassionPlanner, and @BrownPaperBunny so we can see!