We've arri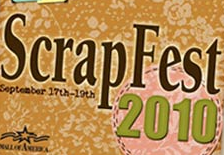 ved at Scrapfest 2010, the nation's premier scrapbooking event at Minnesota's Mall of America. Over 6,000 scrapbookers are expected to attend this weekend and we hope to see you here!
Tombow will host three workshops throughout the weekend using our dual brush pens and adhesives. The workshop classes will be taught by professional crafter and Tombow Design Team member Marie Browning today, tomorrow and and Sunday. We will also offer Make n' Take projects throughout the weekend, so come by and make one with us.
Scrapfest is the biggest scrapbooking party in the nation, and the next three days are going to be fun and filled with new techniques and crafts. We hope that by the end of the weekend you have learned some new Tombow Techniques and love our products even more!
Make sure to follow us on Facebook and Twitter this weekend for updates and if you are at the event use the #ScrapFest2010 hashtag and let us know what you think of the show.