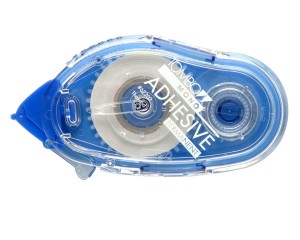 Times are changing and it's no longer about tape. It's about adhesive.
The MONO Adhesive Tape Runner is perfect for putting together documents for a presentation, because it's one of the easiest ways to stick things together! The Adhesive Tape Runner bonds instantly, cleanly and without a wrinkle. Simply slide the Tape Runner across the area that you are working to adhere and in just one easy step you are done!
The Adhesive Tape Runner is safe for use on paper, photos and cardstock so you can use it at work or at home. Easy to refill with the snap-in refill cartridge, it is ideal for use with memory albums and other archival materials.
Never again will you waste your time trying to get the tape unstuck from your fingers and on to your document wrinkle free. So out with old and in with the new through the MONO Adhesive Tape Runner!