This week the design team was challenged to post a project showcasing how we use Tombow in different parts of our lives besides paper crafts and as soon as I got the assignment, I knew I had the perfect project to share…
I am teaching a 3rd-5th grade after school program for 6 weeks and this is one of our projects….a necklace made with a washer! Here it is on me. I wore it for Valentine's Day.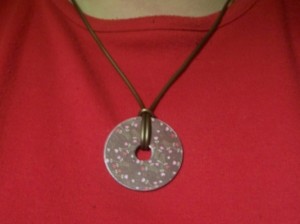 Here is another close up: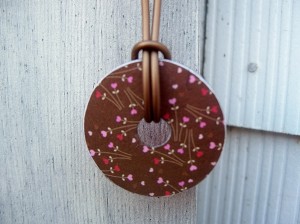 Here is a quick run down of how I made mine:
1. I traced the washer on the back side of the patterned paper I wanted to use.
2. I used are Tombow's Mono Multi Liquid Glue to adhere the paper to the washer. Let dry!!!! Then sand the outside edges smooth. I used a paper punch for the inside, so it was already smoothed out from the cut.
3. I then repeated step #2 for the other side.
4. I used Tombow's Mono Aqua Liquid Glue and SLOWLY (this is key so you don't get any bubbles) all over the top of one side. Let this dry completely! I let it dry over nite.
5. Repeat step #4 for the other side.
6. Then I just added some fun cording I got at Hobby Lobby and added a necklace clasp to the ends.


I hope this has inspired you to try Tombow on fashion projects of your own,