Balloon girl got a little carried away with her balloons but this card says 'Thanks a Bunch' for a good friend. Tombow and Penny Black pair up with some fun techniques such as using the glue pen as a resist and  3-D effects with the foam tabs. The stamp from Penny Black is whimsical and fun, perfect for coloring brightly with the Dual Brush Pens  Materials from Penny Black: Mix & Match Papers, Blue Lagoon, La soirée Stamp, Block Thank You Stamp  

Materials from Tombow: Dual Brush Pens, Jelly Bean 10-set, (761 Carnation, 992 Sand, & 493 Reflex Blue) Permanent Stamp Runner, Foam Tabs, Glue Pen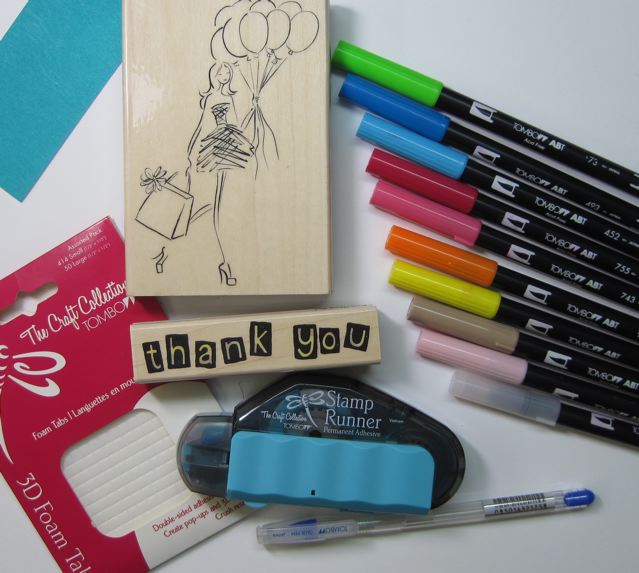 Using a dye-based inkpad, stamp multiple images of the balloons. The sample used had 5 stamped balloon images. You will also need an extra tote bag stamped out.

 

 

For the green swirl design on a blue background for the tote, color the tote with the green Dual Brush Pen. Using the Glue Pen as a resist, draw on the swirls. When dry, color the tote blue using a blended technique. Cut out the tote bag and the flower, apply permanent adhesive to the top and a small foam tab at the bottom. When adhered in place, the tote will have a dimensional flair at the bottom.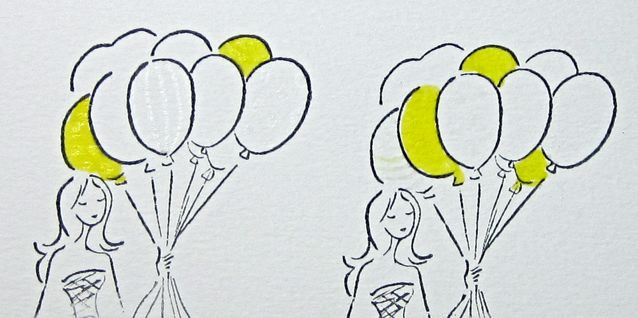 The balloons were done in a similar fashion using the glue pen as a resist. Some of the balloons are colored yellow and a simple design added with the Glue Pen. Add some designs on some uncolored balloons and leave some blank. Use the warm pinks, oranges and corals from the Jelly Bean set to color the balloons. Cut the balloons out and use the Permanent adhesive and Foam Tabs to adhere to the card. Add tiny rhinestones as the highlights using the Glue Pen.