I use a poem or a saying sometimes to inspire a journal page when I can't think of anything to draw or write.  I often need that extra visual stimulation that poetry offers to get me going on polishing my writing and drawing skills.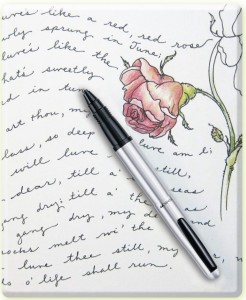 Here I used Robert Burn's "
A Red, Red Rose

" to fill a page with the poem and a rose pen drawing. I colored part of the rose with the Irojiten Color Pencils.
Writing and drawing in the journal is a pleasant experience when I use a fine pen . I am a huge fan of black ink color and blue ink rarely finds it way onto my journal pages!
I like the Tombow Ulltra pen  for it's bright silver color and it's smooth, comfortable writing. I prefer the rollerball but it also comes in a ballpoint. This
 contemporary designed pen is also refillable! Don't forget, Tombow pens make a WONDERFUL gifts….
I hope you enjoyed this tip-nique, see you next week with more wonderful ideas from Tombow…