In my large family nobody gets a birthday party by themselves! It also means I have to be ready with lots of cards and gifts when we have a party. I was a little behind in getting ready this month, so I was happy to pull out my Dual Brush Pens and quickly make plant signs and bag toppers. Lettering is a GREAT technique to have for these 'emergency' creating sessions!
Would you like to learn the art of Fun Lettering with Tombow Dual Brush Pens in an easy and fun way in the comfort of your own home and in your own time? I am teaching a 4 week course at My Creative Classroom starting April 19th.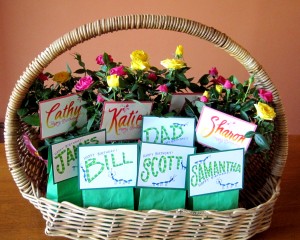 Here is my basket all packed up ready to take to the party – nine, yes nine gifts to prepare in one day!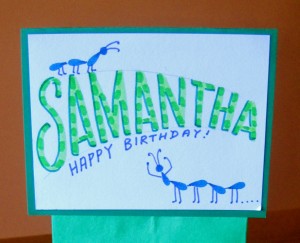 These bag toppers have simple brush lettering with ant and centipede DoodleDab accents. The little centipede is shouting hooray! Depending on the recipient, the bags had chocolates, lottery tickets and money!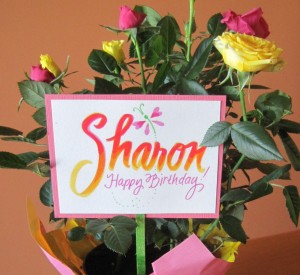 These Miniature Rose plants were beautiful – and perfect as gifts! I made simple plant signs using brush lettering and a Heart wing butterfly DoodleDab. The sign also used Stamp Runner Permanent Adhesive to put both the signs and bag toppers together.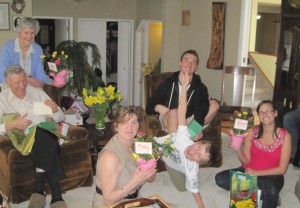 They all look happy with their gifts!
See you in the classroom!