This week my Tombow teammates and I are sharing with you how we like to use
Tombow Foam Tabs
.  I am a big fan of lots of layers on my cards and therefore, I use alot of
Foam Tabs.  
I created this card with a cute little image from Stampavie.  The image was colored with
Irojiten Colored Pencils
and Gamsol.  I layered the image to the peach panel with
Tombow Mono Dots Roller
and then attached it to the print panel with
Foam Tabs
.  The print panel was also popped up onto the light blue card with
Foam Tabs
.  See, I told you I like them!  Alot!  I used
Tombow Mono Multi
on the back of the flourishes and peach colored flowers, this is the perfect adhesive for these intricate die cuts and embellishments.  I used a
Power Tab
behind the yellow flower as I wanted it to sit up on top of the die cut greenery and the
power tab
does the trick!
Here is a view of the card lying flat on the table.  Can you see the height and dimension you get with the
Foam Tabs
?
Another view of the tab placement on the back of the peach panel.  I did go ahead and add another
tab
to the middle of this panel as well as I didn't want it the panel to sag in the middle with the weight of layers on top.  KWIM?
Have a safe and happy weekend!  See you soon!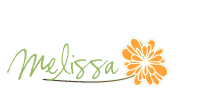 if you enjoyed this post follow us on facebook and twitter!