I have always loved MONO Aqua Liquid Glue  for laminating paper onto wood – but I recently discovered laminating paper together to form a new stronger and decorative paper. I made some ornaments with the newly made paper, cutting shapes and embellishing with custom resin pieces from Epiphany Crafts.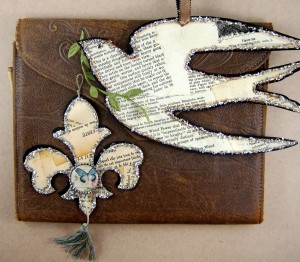 I used pages from an old book. They are sometimes so fragile that they are hard to work with. With this method you layer the pieces with the  Aqua Glue on a silicone mat to make them more decorative and very strong. I use the splat mats from Bazzill – they come in a variety of sizes and work great with this technique.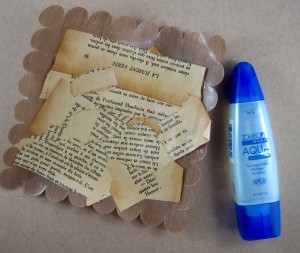 Using the broad tip of the Aqua Glue, layer cut pieces of the book pages onto the splat mat. Add 3 to 4 layers overtop each other. Let dry completely, and then peel off the splat mat. The surface of the book page paper that was against the mat will have nice semi-gloss finish; the top finish will be matte.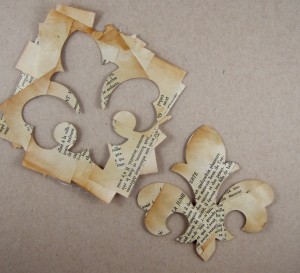 Die cut out the Fleur de lis shape using a die and a die cutting machine from Sizzix.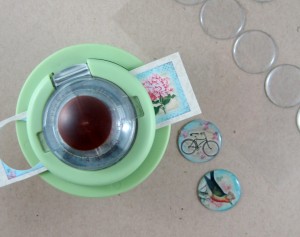 Create the embellishment using a small motif from a scrap piece of paper and the Shape Studio Tool from Epiphany. Glue the finished resin piece into metal frame using the Aqua Glue, with the loop at the bottom. Tie on a piece of ribbon or tassel.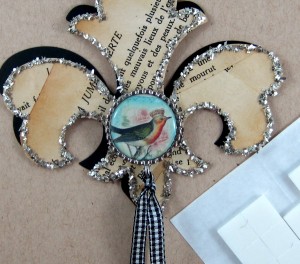 Use the fine tip of the Aqua Glue to apply a glittered edge around the book page Fleur de lis shape. Add the finished embellishment to the front using a Foam Tab.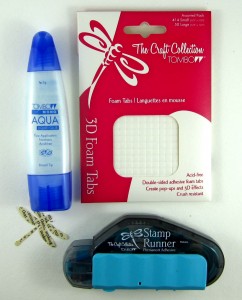 If you enjoyed this post please follow us on: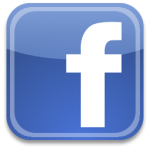 http://www.facebook.com/tombowusa
and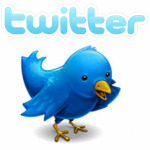 http://twitter.com/#tombowusa