You can use Tombow's Dual Brush Pens on vellum with great success! It's a great introduction to blending for beginners as the vellum is forgiving and beautiful!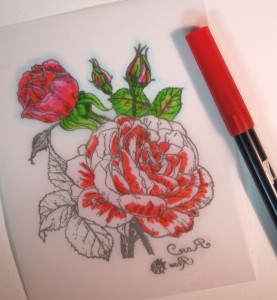 The trick to working on Vellum is to stamp on the front, and then do all the coloring on the back. You can use a good permanent ink such as StazOn, or even a digital stamp such as this rose from Crafty Secrets. As you are not coloring on top of the image, you have no problems of compatibility with the ink and and the Dual Brush Pens. Here I am adding the deep red to the roses, letting the shadows on the stamp be my guide. I will then add the medium and light hues to create the blending.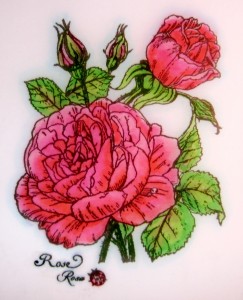 Here is the completed blended rose. Look closely at the leaves, I added a bit of the red flower color to the leaves for added interest.
Place your finished stamped and colored panel up against different backgrounds to see what looks best. The translucent vellum has the background showing through and can achieve very different effects.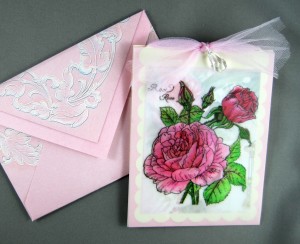 Here is the finished card and envelope. Vellum is beautiful to stamp and color, but also makes adhering difficult as everything seems to show through. I used Permanent Adhesive at the top of the panel and camouflaged it with a pretty tulle bow and crystal.
Have you tried blending on vellum lately? You will be surprised how easy the soft translucent vellum magically blends the colors together when you work on the back!