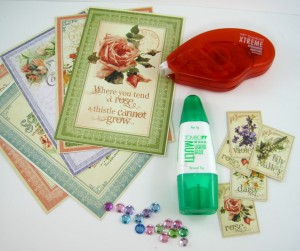 Melissa's Tombow challenge is "Spring Bling", so I decided to use some beautiful Secret Garden cardstock from Graphic 45 and create some individual-use packages of fragrant bath salts! Mainly because my spring is still a little damp and cold and comfy, fragrant warm baths are still on my mind these days! Not only are these sachets a breeze to make, but very economical.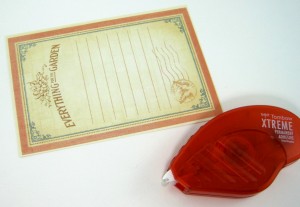 Cut the May Flowers cardstock into 4" x 6" panels. You can make 6 sachets from one sheet of 12 x 12 cardstock! Cut out the Seed Fairy 1.25" x 2" labels.
Apply the Xtreme Adhesive to the long top and the two short sides of the large panel.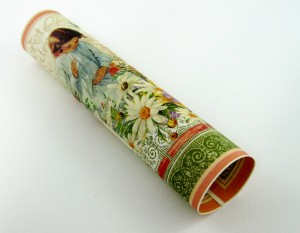 Roll and adhere the paper panel into a long cylinder. The Xtreme is excellent for creating the sachets, it's an instant strong bond that will not allow any salts from leaking out!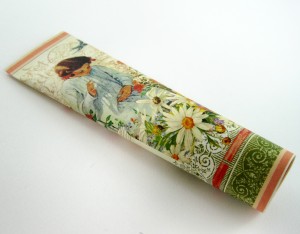 Pinch the bottom closed and then fill the tube with 1/4 cup bath salts. Use a paper funnel so you don't get any of the salts stuck to the adhesive.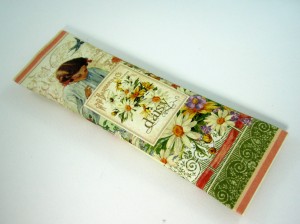 Pinch the opposite side to close your package. Add the "Seed Fairy" label using the Xtreme.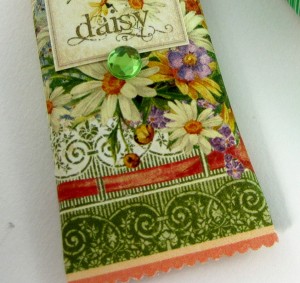 Use decorative scissors to trim the ends and a drop of Multi glue to attach a rhinestone for the bling!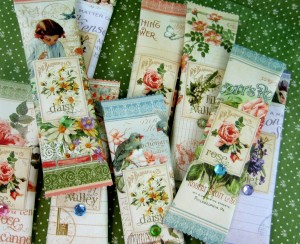 You can use bath salts from the store, or make your own! here's how:
Bath Salts
1 cup Coarse Sea Salt
1 cup Epsom Salts
1 Tablespoon Liquid Glycerin
30 drops Fragrance oil
Measure and place the salts in a glass jar. Add the liquid glycerin, and fragrance oil to the jar. Place the lid on the jar and shake until all the salts are coated evenly with the glycerine and fragrance.
Here are some nice fragrance blends to match the project labels!
Daisy Fresh: 10 drops each lime, lemon and lavender
Effervescent Floral: 10 drops each Jasmine, Lavender and Violet
Luscious Lily: 10 drops each Lemongrass, Orange and Lavender
Rose Dream: 15 drops each rose and vanilla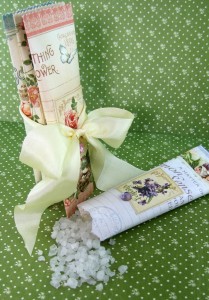 Bath Time!
Draw a warm bath and add one package of the fragrant salts to the running water. Hop in and relax, inhaling deeply to experience the soothing aromas and wait for spring!
Play along by adding your Spring Bling Project at
Tombow's blog
  for a chance to win!