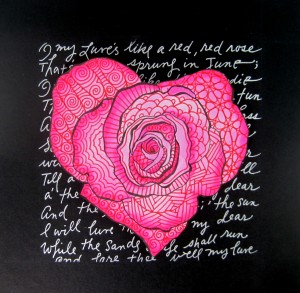 Here is a ZIA (Zentangle Inspired Artwork) rose that was created using the Fudenosuke Pen, Dual Brush Pens, Blending Palette and Foam Tabs.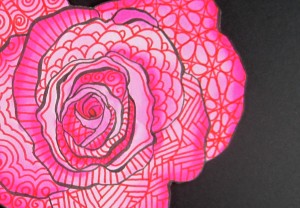 Look closely at the black lines of the rose. they are varied lines, or lines that go from thin to thick. These are the lines the Fudenosuke Pen creates. With using different pressure, the flexible tip makes these beautiful black, permanent lines that make the drawing that much more interesting.
The shading on the rose was created using the 'Indirect Blending' method. The color is placed on the Blending Palette and then picked up with the Colorless Blender, much like picking up paint from a palette using a brush. You then color a section and it magically shades from dark to light. A dark toned Dual Brush Pen is then used to add the tangles, using the fine point.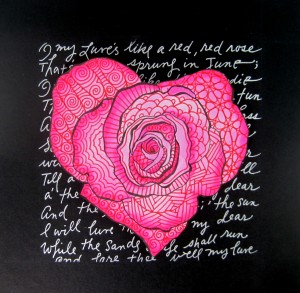 A square of script is added to a piece of black paper using a silver gel pen. The rose is cut out, then mounted on black paper with Foam Tabs for dimension.
Liking these techniques? Watch in September 2014 for a my NEW BOOK 'Brush Marker Magic', from Design Originals Publication! It's filled with techniques and DoodleDabs using Dual Brush Pens!