I love how some craft project inspirations just pop into my head out of everyday tasks!  I was putting away some new ribbons that I had purchased recently.  While taking the ribbon off of the spools and stacking the spools on my desk, I started looking at the stack of empty spools wondering what I could make from them.  Then it dawned on me – they looked like the chunky candle holders that I have seen in all of the Home Decor stores recently.
Hang on to those ribbon spools instead of throwing them away and create some trendy Candle Holders!
Step 1 – Select your ribbon spools and stack them until you are happy with the composition.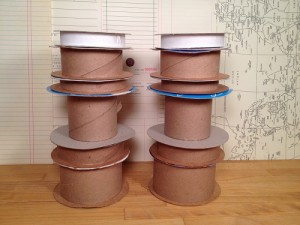 Step 2 – Base coat top and bottom of ribbon spools with Design Master Color Tool Primer, let dry.  Top Coat with Design Master Color Tool October Brown, let dry.
TIP – Primer is an excellent way to cover up labels, etc. when upcycling and allows you to start with a paintable base.  Always spray paint outside or in a well ventilated area.
Step 3 – Measure each spool and cut 2 strips of Decorative Scrapbook Paper, one for each spool on each candle holder.  My project required 12 strips of paper in widths from 3/8″ up to 1 7/8″.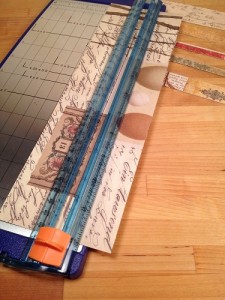 Step 4 – Attach decorative scrapbook papers to spools with Tombow Xtreme Adhesive, making sure to snap the Xtreme off at a 90 degree angle to break the adhesive.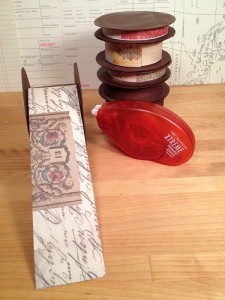 Step 5 – Attach spools together with Tombow Xtreme Adhesive.  Line up your spools so the bases match up perfectly.
TIP – If you want your candle holders to be a matched set, make sure to line up the spools on your work surface in the same order, so you put them together using the same pattern.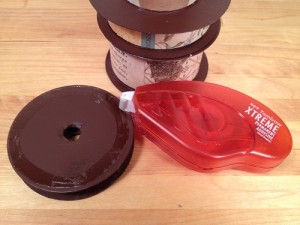 Step 6 – Measure and cut 24″ length of ribbon.  Attach to base of candle with Tombow Adhesive Dots, to secure.  Tie ribbon in a bow and dove tail ends for a finished look.
TIP – Ribbon is attached to the candle for decorative purposes ONLY. Do not burn candle with ribbon attached -OR- use flameless candles.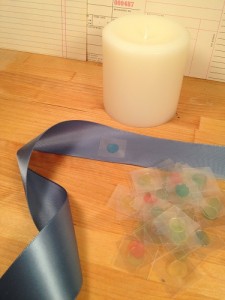 Additional Supplies Needed – Pencil, Ruler, Paper Trimmer, Scissors, Decorative Scrapbook Papers, Candles (2), Blue Satin Ribbon (two 24″ lengths)
Be creative!  I made my candle holders shabby chic to match my home decor.  But I encourage you to play around with shape, height, number and color to create your very own Ribbon Spool Candle Holders to match YOUR home decor.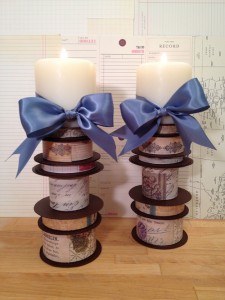 Check out more of my UPCYCLED projects on my blog.
Thanks for stopping by! -Beth