Good Monday Morning and WELCOME to the Tombow USA May Flowers Challenge!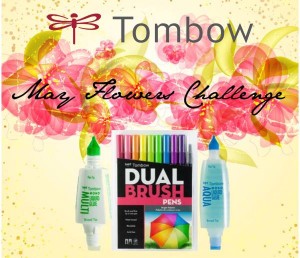 This month of May we are handing down a new challenge with a new theme – MAY FLOWERS!  We want to see all of your flower projects of any color, any shape, any size and any medium.  Be free and let your imagination just CREATE!
I recently took a few classes at Whim So Doodle, my local art store, with Joanne Sharpe and she taught us some techniques using Tombow Dual Brush Pens to watercolor – LOVE!  Now I am addicted. Watercoloring has always been a challenging media for me, but the Tombow Dual Brush Pens makes the process smooth and easy!
Here's How I Made It: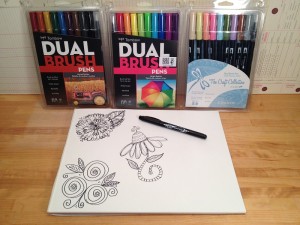 Start out with some 90 lb. Watercolor paper and the Tombow MONO Twin Permanent Pen.  Doodle flowers on the watercolor paper, alternating between the fine tip and the medium tip of the  Tombow MONO Twin pen.  I really like the variation that the two tips gives to the images!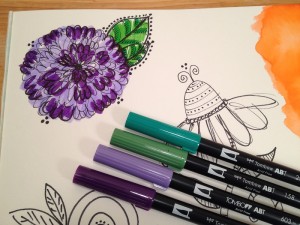 Select colors from the Tombow Dual Brush Pens Muted Set, Bright Set and Soda Shop Set to roughly color in the flowers and leaves.  I used a light and dark in each color selected to create some depth.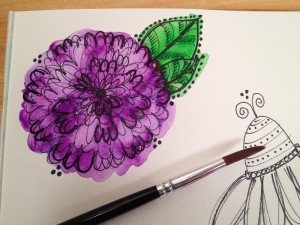 Dip a #6 round watercolor brush in clean water and paint over The marker strokes, blending as you go.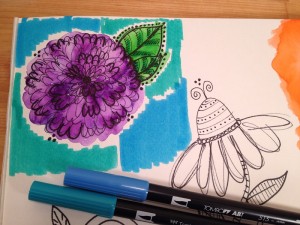 Next, select a background color, again using a light and dark tone to create depth.  Color in the background with random strokes.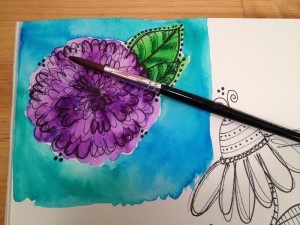 Blend background with water and brush, pulling the color around the flower image.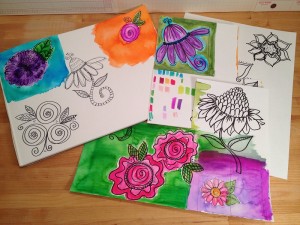 Repeat with additional flowers and experiment with fun color combinations. TIP: if you loose too much contrast when watercoloring, let the image dry and go over again with your Tombow Dual Brush Pen color of choice.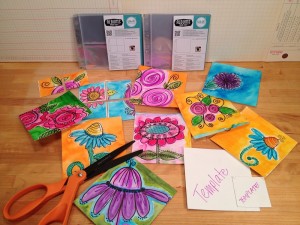 Measure and cut a 2″ by 2″ and a 4″ by 4″ square template to coordinate with We Are Memory Keepers Ring Photo Sleeves.  Trace templates over water colored flower images, then cut out.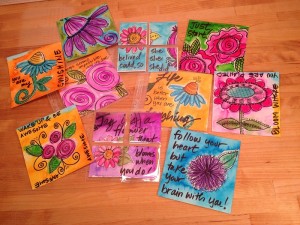 Select special quotes and add them to your flower images with the flexible brush tip and the fine tip of the Tombow Dual Brush Pen in black.
Place finished flower images with quotes in Ring Photo Sleeves, then insert into We Are Memory Keepers Instagram Albums Made Easy.  I created this Album with inspirational quotes for my Niece as she graduates high school and moves on to college.
Join in us for this May Flowers Challenge by linking up your project below.  You have from Monday May 11th through Sunday May 24th at 11:55 pm EST to enter.  The winner will be announced on Tuesday May 26th right here on the Tombow blog!
Thanks for stopping by!  –Beth

Loading InLinkz ...