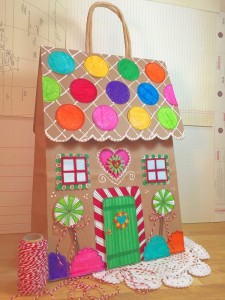 Hi Tombow peeps and Merry Christmas!
If you are like me, I always have a ton of Kraft paper shopping bags collecting on a shelf in my laundry room, because I just cannot throw them away!  At Christmastime I like to upcycle those bags to use for presents, it's good for the planet (and my wallet!)
Now, I have had this idea floating around in my head for quite a while – a Gingerbread House Gift Bag – but it turned out much cuter than I even imagined!
Here's how I made it:
I grabbed a medium size bag (8″ by 10″) and a sheet of 8 1/2″ by 11″ kraft cardstock.  Fold the cardstock in half at the 5 1/2″ mark and crease.  Measure in 1/4″ on each side of the fold.  Draw a diagonal line from each mark on fold to each bottom corner.  Trim with scissors.  Measure to center of fold line and make a mark.  Measure gift bag handles and using craft knife, cut out a rectangle 1/4″ deep by handle width (mine was 3″).
Scallop bottom edge of kraft cardstock with scissors.  Draw diamond pattern on to roof with white dimensional fabric paint, set aside to dry.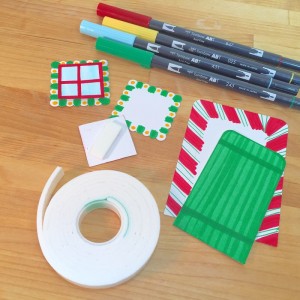 Punch squares and rectangles from white cardstock and dry fit onto front of bag for windows, doors, etc.  Color with Tombow Dual Brush Pens 847 Crimson, 451 Sky Blue, 245 Sap Green and 025 Light Orange.  The shapes still looked flat to me, so I got out my Tombow MONOTWIN Permanent Marker and created depth with doodles and outlines.  That small detail made ALL the difference – I love the creative process!
Layer shapes with Tombow Foam Tape to create dimension.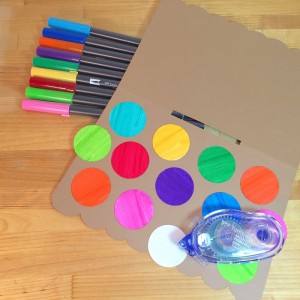 Punch circles from white cardstock.  Color with Tombow Dual Brush Pens 847 Crimson, 245 SapGreen, 025 Light Orange, 173 Willow Green, 730 Pink Rose, 373 Sea Blue, 925 Scarlet, 636 Imperial Purple and 476 Cyan.  Attach to roof with Tombow MONO Permanent Adhesive.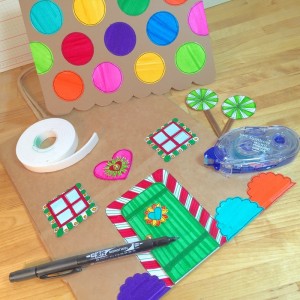 Punch two small flowers and a heart to decorate the front door.  Punch hearts and starburst to decorate between windows.  Punch scalloped ovals, cut in half for gumdrop border.  Punch circles and cut out rectangles for lollipop trees.  Tie bakers twine bows around lollipops.  Attach accents to bag with Tombow Foam Tape and Tombow MONO Permanent Adhesive.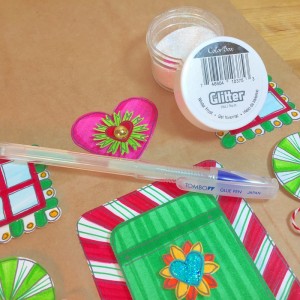 Accent all of the candy embellishments with Tombow MONO Glue Pen and ColorBox Glitter by Clearsnap, set aside to dry.  The Glue Pen is excellent for detailed accents because the pen tip gives you complete accuracy.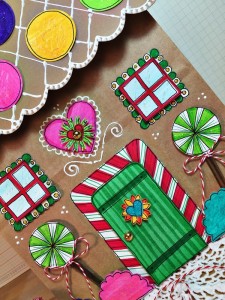 The final ICING on the Gingerbread House is icing accents created with white dimensional fabric paint!  Set aside to dry.
Slide roof on over handles of bag and gift to your favorite person this holiday season!
These bags are quick and easy to put together in an afternoon and can be adjusted to any size shopping bag you might have on hand.  Craft up an entire neighborhood of Gingerbread House Gift Bags with your kids to give to their favorite teacher, babysitter or friend!
Check in each day this week to be inspired by the rest of the Design Teams' creative wrapping skills!
Thanks for stopping by! -Beth