Happy Tuesday everyone!  Beth here to share my Bloom Coloring Page that was inspired by awesome Tombow Design Team Member, Smitha Katti of the Shiny Nest and her fabulous flower filled coloring pages!  I really got to know Smitha and the rest of the Tombow Design Team when we had our DT Summit in Altanta at Tombow Headquarters!  We spent late nights talking, shared our favorite Tombow technique and bonded over an early morning ride to the airport – tons of FUN!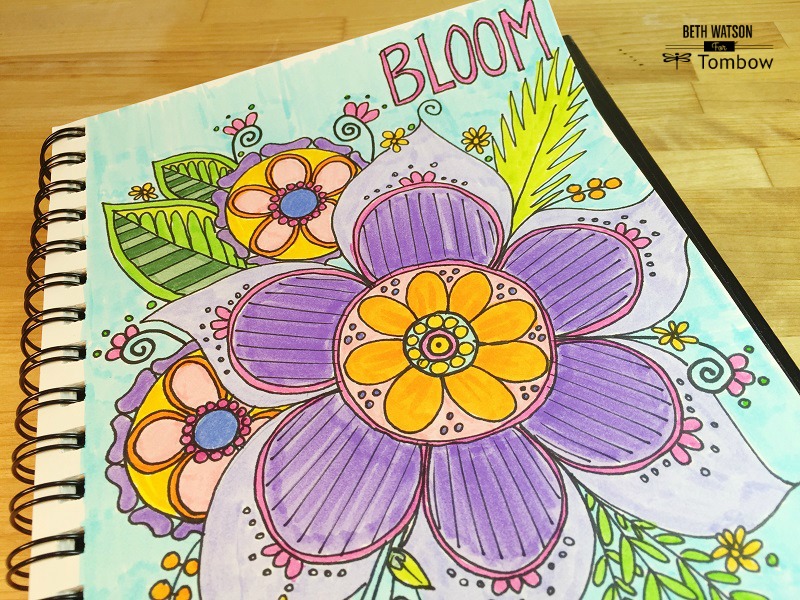 Smitha inspired me to create my very own coloring page full of flowers, one of my favorite quotes and a bright, but pastel palette that is completely out of my comfort zone!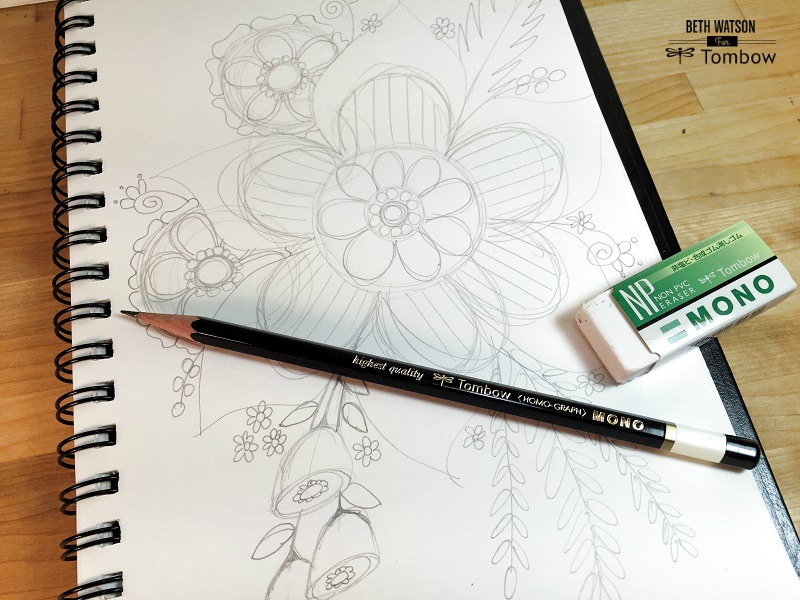 Step One:
Sketch a variety of whimsical flowers with the Tombow MONO Drawing Pencil and Tombow MONO Non PVC Eraser.  I kept my lines very light and very sketchy.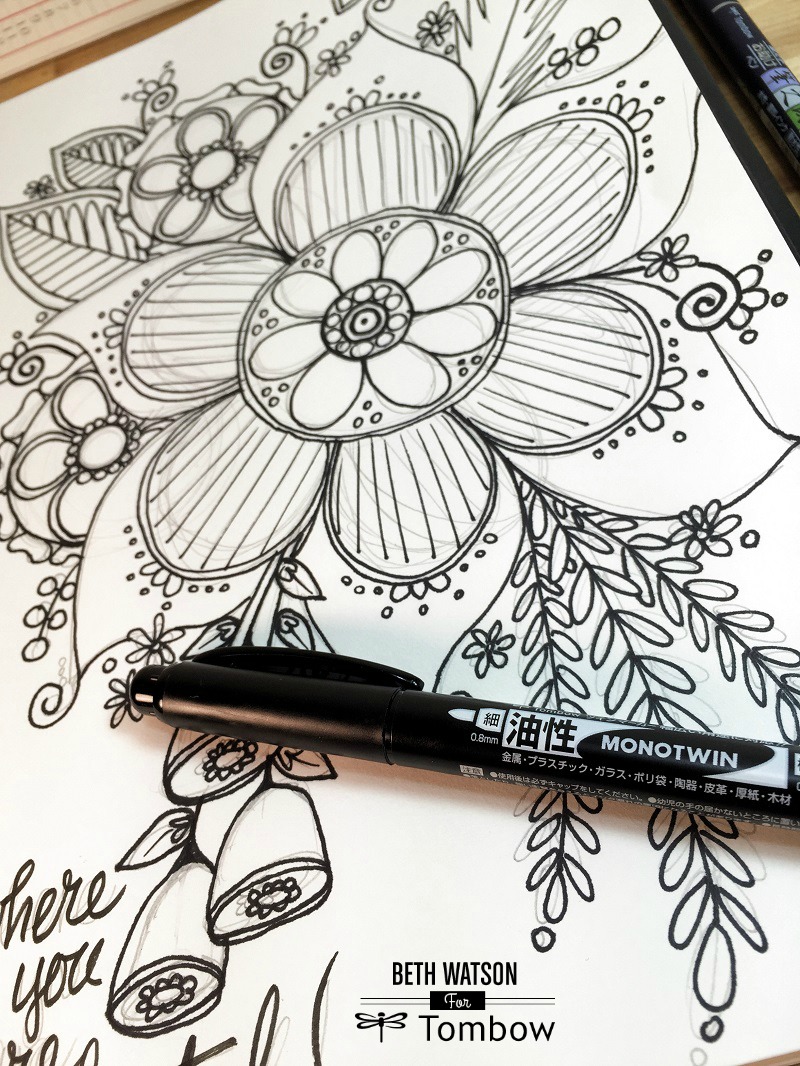 Step Two:
Once you are pleased with the composition, ink in all of your lines with the Tombow MONOTWIN permanent marker.  Erase all your pencil lines completely.  I loved this marker because it has a broad tip and a fine tip, so you can create additional dimension.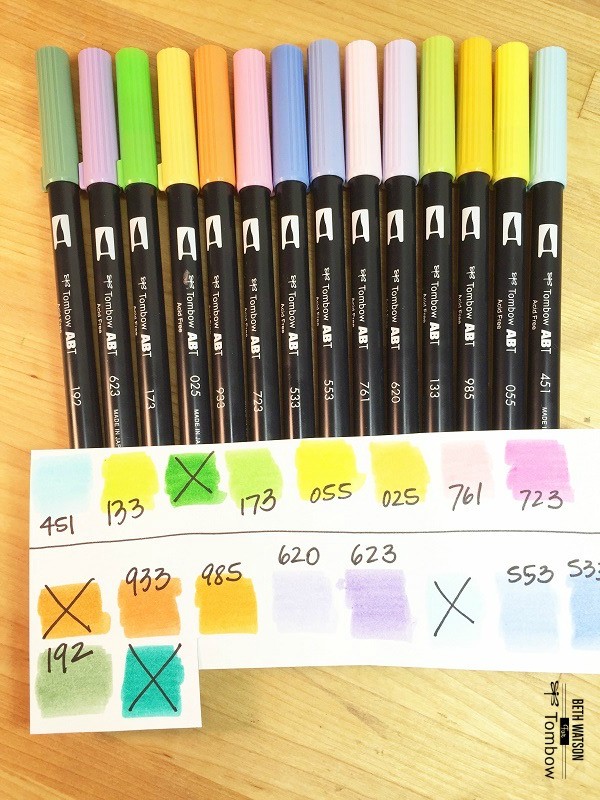 Step Three:
I grabbed a scrap of paper, selected some Tombow Dual Brush Pens and began making a color chart for my Bloom Coloring Page.  I selected bright pastel colors that were inspired by Smitha!  To keep track of the colors I wrote the numbers on the color squares and crossed out the colors that were too bold for this palette.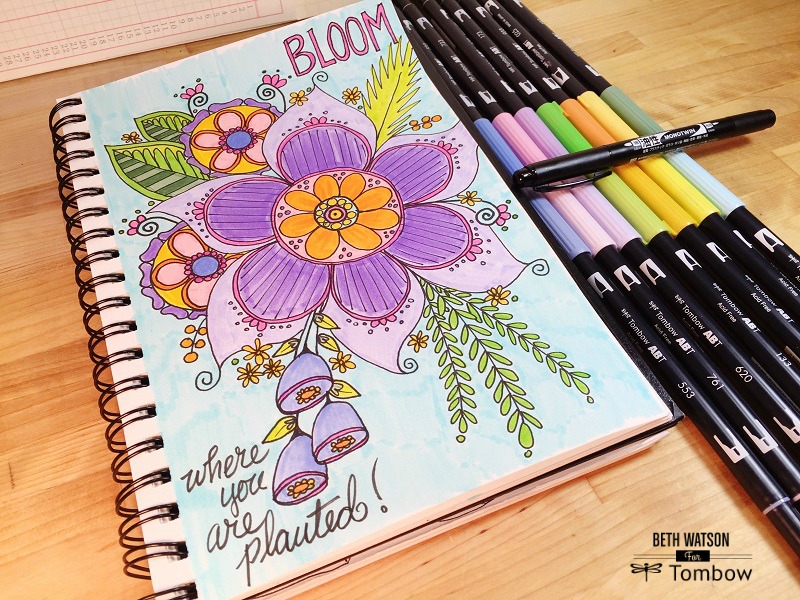 Step Four:
Now for the FUN PART – COLORING!  I filled in my Bloom Coloring Page with my Tombow Dual Brush Pens in about an hour and loved every minute! Blend out the strokes in the background with Tombow Dual Brush Pen N00 – Blender.
I hope that you have enjoyed my Bloom Coloring Page inspired by Smitha Katti!  I certain did and am definitely INSPIRED to create more, soon!
Share your Coloring Pages on Instagram and tag me at @Beth3167 and don't forget to check back each day this week as the Tombow Design Team shares projects that were inspired by each other!
Thanks for stopping by!  -Beth