We don't know about you, but we can't get enough brush lettering around here. If you find yourself oddly satisfied by watching videos of people drawing letters, or you love seeing scripts and prints lettering paired effortlessly, or you can't get enough of an unexpected color combination – these 20 brush lettering artists need to be on your Instagram following list now!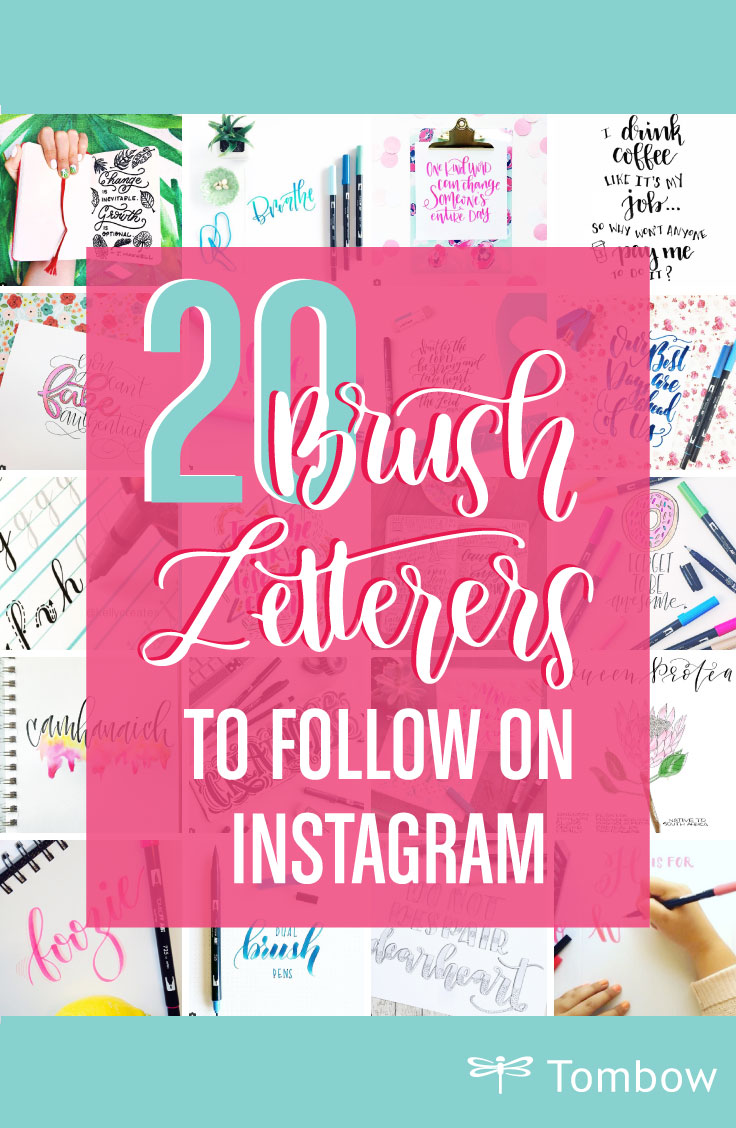 We've chosen these letterers because they almost exclusively use brush pens and are all experts at using our Dual Brush Pens and Fudenosuke Brush Pens. We've listed them for you below in alphabetical order by first name.
Alana Yarbrough // @ReachAlana
Follower her for: the most amazing manicures and inspirational lettering.
Amanda Arneill // @AmandaArneill
Follow her for: hilarious parenting lettering, perfect flourishing and gorgeous pops of color.
Amanda // @BugabooBearDesigns
Follow her for: fun, quirky lettering in vibrant colors.
Amy Latta // @OneArtsyMama
Follow her for: the world's greatest love affair with coffee.
Brittany Luiz // @BrittanyLuiz
Follow her for: behind-the-scenes glimpses of what it's like working at Tombow USA HQ.
Dawn Nicole // @ByDawnNicole
Follow her for: inspirational quotes and lefty lettering advice.
Jordanne Marie // @Jordanne__Marie
Follow her for: faith lettering and the prettiest color palettes.
Kate Rondorf // @ItsKatesHandwriting

  Follow her for: a bold lettering style.
Kelly Klapstein // @KellyCreates

 Follow her for: lettering videos galore!
Kiley // @KileyinKentucky
Follow her for: unexpected color combinations you'll wish you had come up with.
Krystal Whitten // @KrystalWhitten
Follow her for: faith lettering and beautiful sketchnotes.
Lauren Fitzmaurice // @RenmadeCalligraphy
Follow her for: donut puns, perfect pairings of script and print lettering, and lefty tips!
Lindsay Shannon // @LShannonDesigns
Follow her for: quirky lettering with watercolor accents.
Maia Then // @MagicMaia

Follow her for: big, bold lettering and the most amazing flourishing you've ever seen.
Paige Firnberg // @PFirnberg
Follow her for: whimsical lettering.
Peggy Dean // @ThePigeonLetters
Follow her for: the perfect pairing of fine art and lettering.
Sara T // @HandmadeBySaraT
Follow her for: uncommon words in so many different styles.
Sharisse // @PiecesCalligraphy
Follow her for: some of the most stylistically perfect brush lettering out there.
Susanna // @ColdSnowInHarvest
Follow her for: faith lettering in a variety of styles.
Tosha Seeholzer // @HelloTosha
Follow her for: whimsical lettering that is incredibly inspiring and appears effortless.
—
Know of some other amazing brush letterers on Instagram? Drop us their links in the comments below!