Happy Monday Tombow Fans! This is Jennie with a cute and easy DIY project! I don't know if you've heard the awesome news but the Tombow Mono Multi Liquid Glue (a favorite among crafters) is now better! You can get twice the product in the NEW Tombow Mono Multi XL Liquid Glue! Today I'm sharing how I made these DIY Embellishments with products in my stash!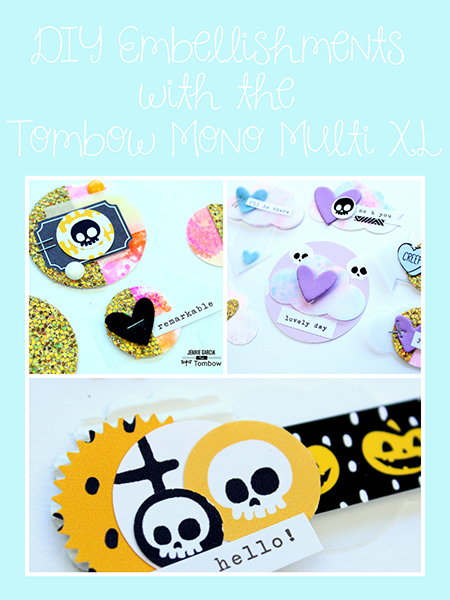 The glitter paper and photo paper are tricky surfaces to glue. The NEW Mono Multi XL is perfect for porous and bumpy papers. You can also use it for foamy and felt. I made these hearts with a die and I use them a lot in my projects. One simple inexpensive trick for DIY projects: use what you have. Any punches or dies are great to cut basic shapes like hearts and circles. If you have dies you can cut felt, foamy, cardboard, patterned paper, etc. and layer them. Crepe paper is also inexpensive, you can get a roll for a dollar and it lasts a long time. You can punch a circle, add Tombow Xtreme Permanent Adhesive to the borders and rouge it to create a medallion. Do borders by rouging it in a straight line and add paper at the top.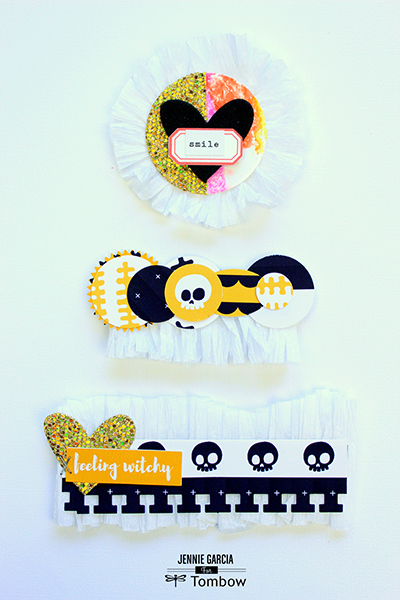 Not all embellishments have to be big. Stack shapes to create a bull's eye or add a few embellishments to a tag. I love corrugated papers but they are quite difficult to use. The Mono Multi is one of the ones that work better with it.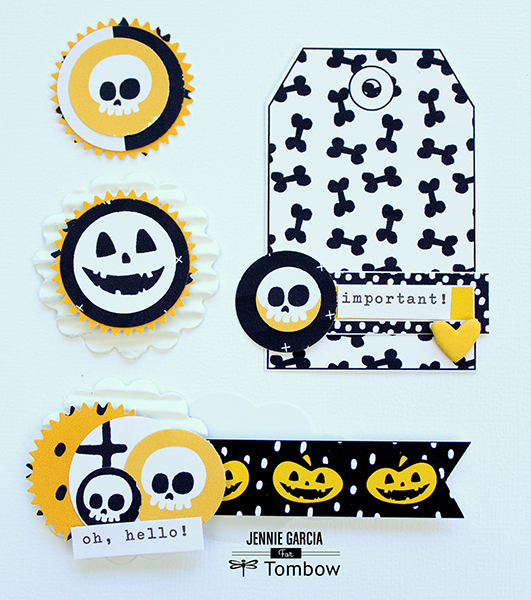 Add vellum to the embellishments to add dimension without being too bulky.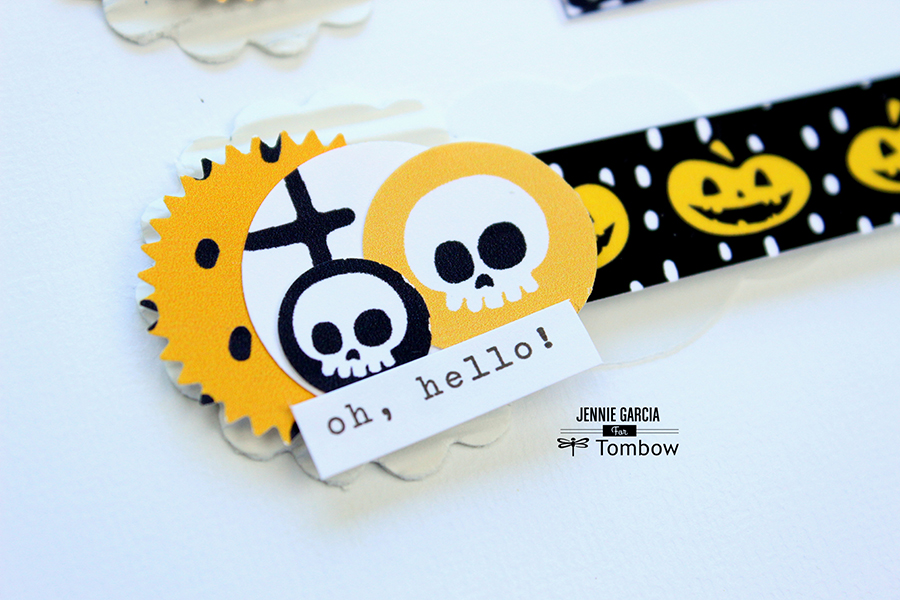 This is a pretty cool technique! I used the Tombow Dual Brush Pens to scribble in a Blending Palette, spray water water with a Mister and pick up the color using photo paper. It dries almost instantly and it's easy to do! Cut circles with the glitter paper and cut them in half, add them to the top of the circles. You can add even more layers or just leave them like that.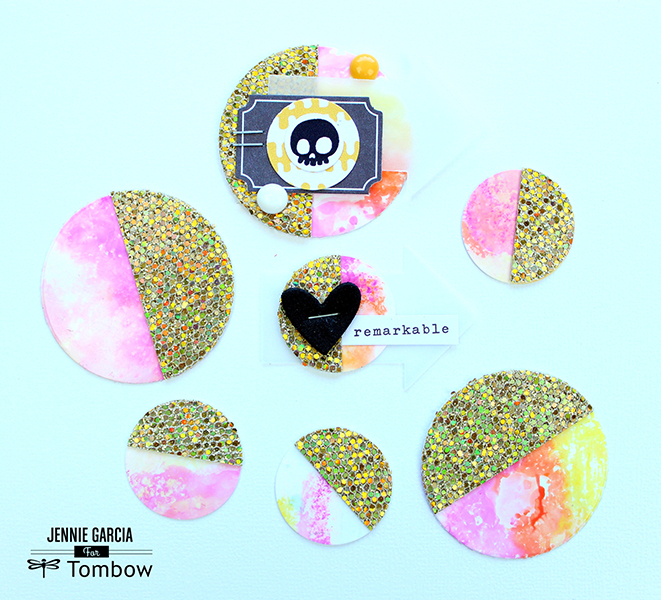 I make my own enamel dots using perler beads. It's really inexpensive and easy. Even the kids can help you line them up in the baking sheet. Heat the perler beads at 325 degrees for 25 minutes or until the dimple on top disappears. Make sure you use a good brand, otherwise they won't be circular. The Mono Multi XL is the perfect glue for these DIY enamel dots.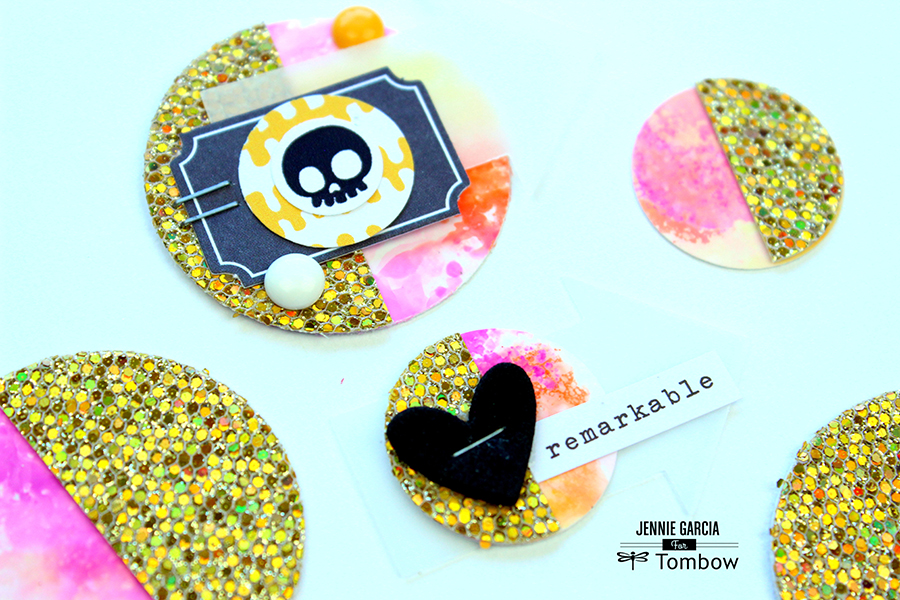 Use embellishments you already have and make them extra special. I had some cork speech bubbles and by adding those 2 hearts it looks extra cute! Use a paper clip, make a long banner and fold it in half. Add the Tombow Xtreme Permanent Adhesive and loop it around the paper clip and close it to glue it together. Add small details, a label or a word and it works perfect for your planner. To make the tag I added the Mono Multi XL around, let it dry and then used Clearsnap Foils to give it distressed look. You can also emboss it by adding a light coat of the Mono Multi XL.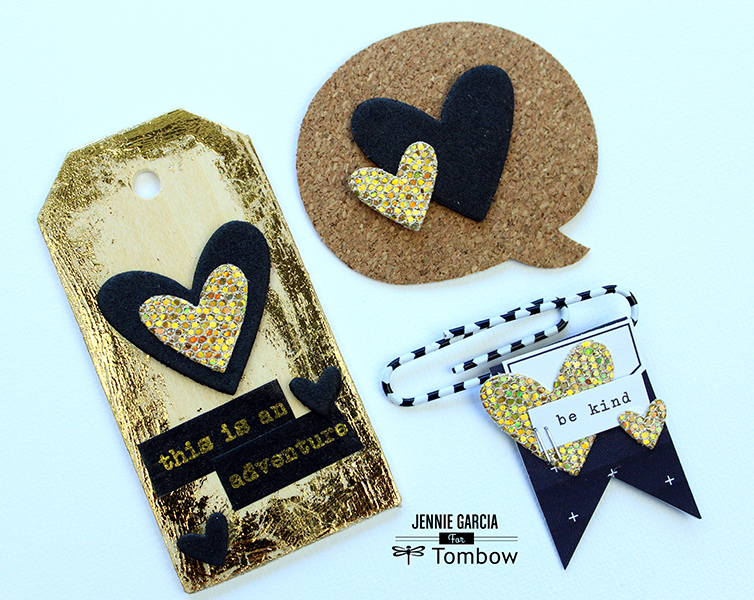 You can punch out the photo paper into any shape you want. If the colors you chose are a little strong add vellum to the top.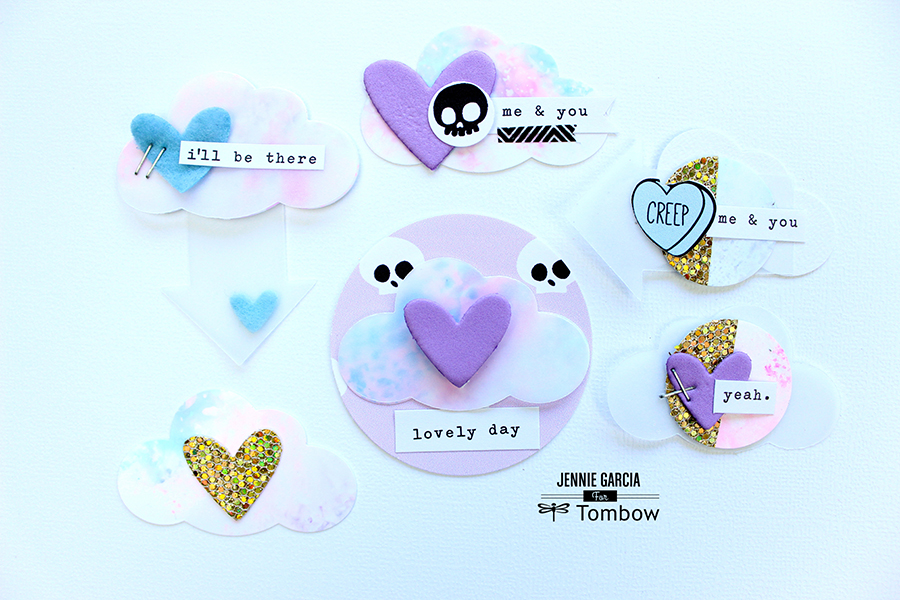 I made the bow with the  Tombow Xtreme Permanent Adhesive. You can see how I made it in THIS video.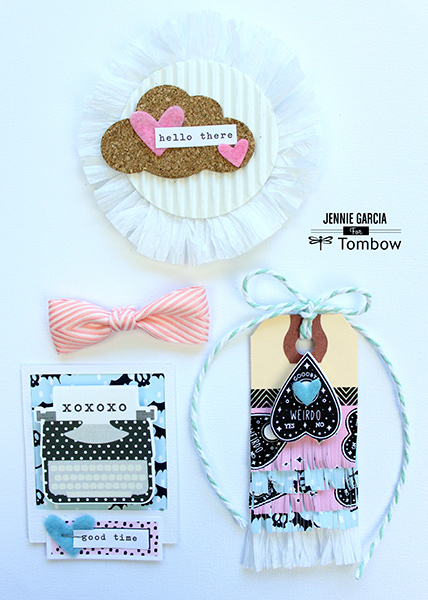 Use the Tombow Foam Tape to highlight a favorite element in your DIY embellishment!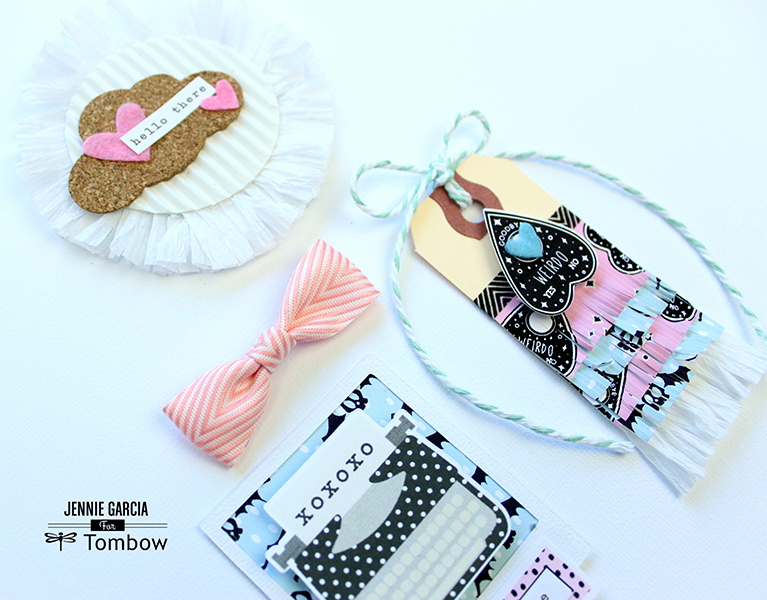 I hope you give these DIY embellishments a try! Don't forget to tag @tombowusa and of course I would love to see them too. Tag me @jenniegarcian on Instagram! Stay tuned this week for more Mono Multi XL goodness!