It's Marie Browning here today to share how to use Tombow products for easy-to-make DIY wedding decorations! This past weekend, my family celebrated the wedding of my daughter and now son-in-law. Although the bride and groom created most of their own decorations, signs and favors, I had the pleasure of making the place cards. On the day of the wedding, I brought a small "decoration mishap kit" with me to the venue, just in case. You'll see soon why I'm glad I did!
Materials
Small bag
Scissors
Tombow Xtreme Tabs
Tombow Xtreme Mounting Putty

Place Card Kit
Did this kit ever come in handy! I made extra place cards, placed them in a small bag along with scissors, the TwinTone Markers in the bride's colors, a Fudenosuke Brush Pen and a MONO Dots Adhesive Runner.  As it turned out, I had to correct two place cards (wrong name for the Best Man!) and had to make three extra place cards for guests not on my original list.
Because I had everything ready, it was super easy to make the new place cards so that everyone got one and helped to make the tables look so nice. I ended up using the Fudenosuke Brush Pen to sign the guestbook with some nice modern calligraphy!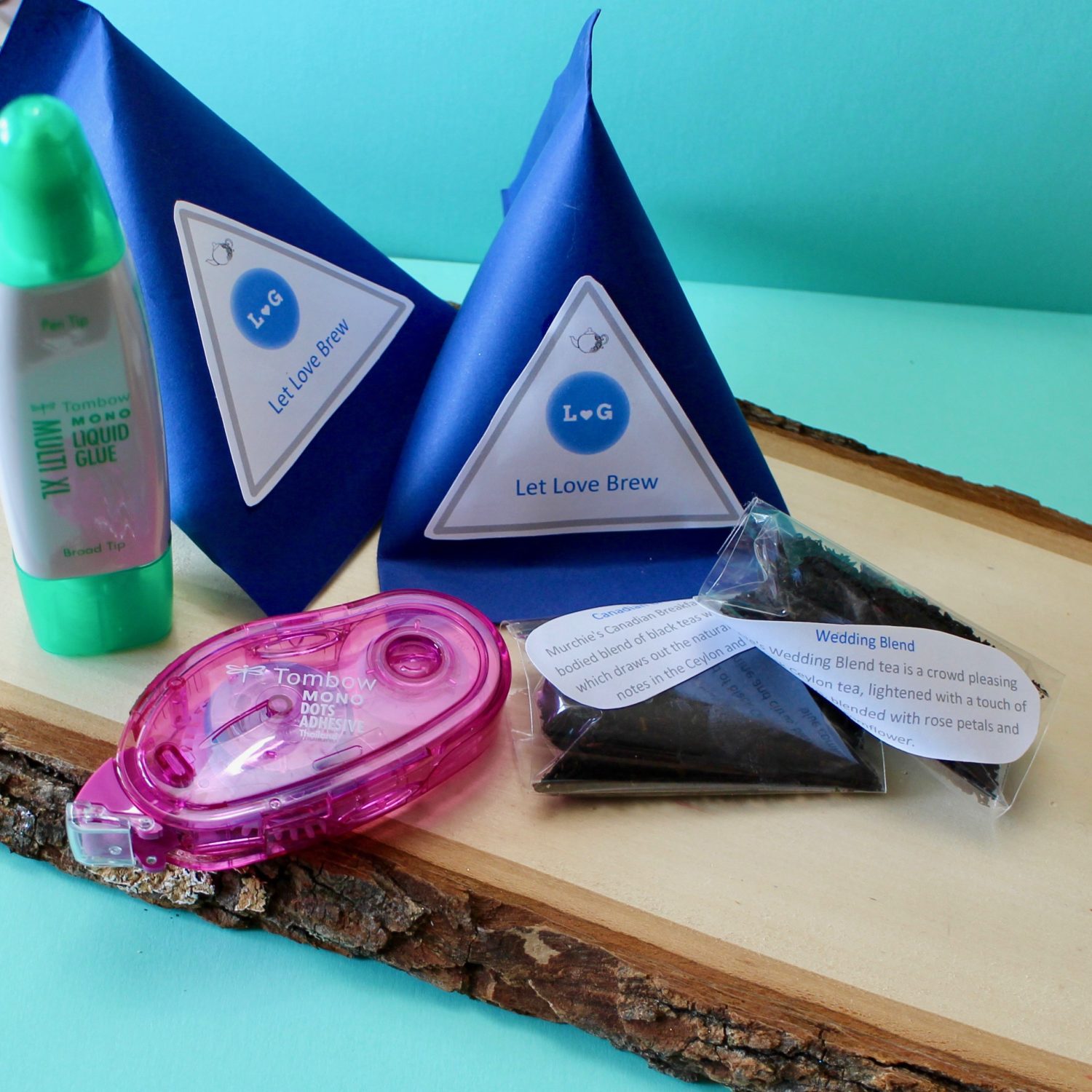 Wedding Favors
The bride called me in a panic a few days before the event, claiming her favors were coming apart! Not the right adhesive to hold together heavy cardstock!
I gave her some MONO Multi XL for the packages. It worked perfectly, just a thin addition of the glue held the packages together beautifully! I also gave her some MONO Dots Adhesive for the labels – again, perfect results! I was really proud of Lena and Gareth designing and making their own favors, they did a really cute job with these bags of tea. (Note: Lena is known for her tea obsession, so it was no surprise she used it for her favors!)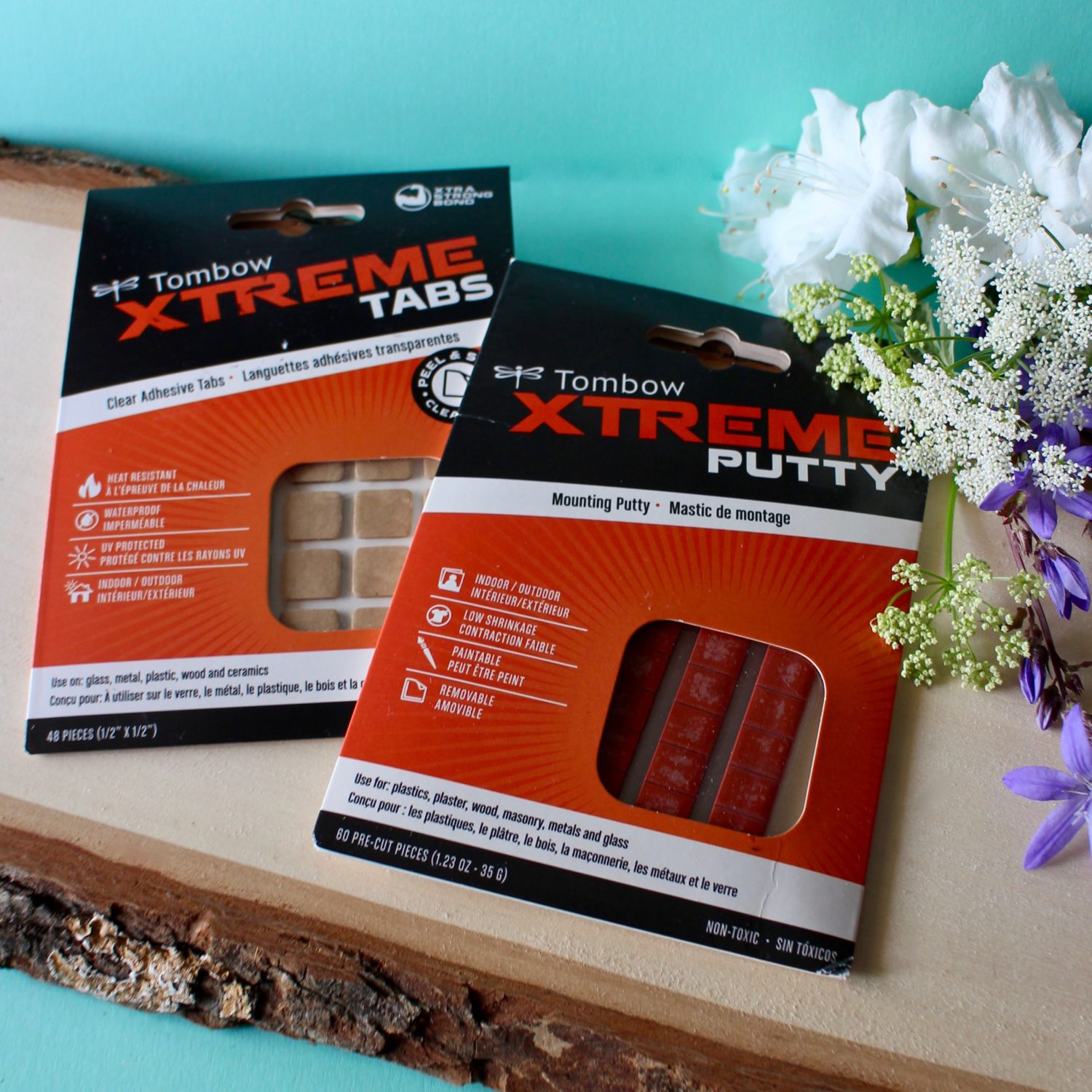 Wedding Uses for Tombow Xtreme
Tombow Xtreme Tabs are another safety net product no party should be without! Thankfully, I didn't have to use them! The Xtreme Putty is perfect for putting up balloons, banners, and signs. Tombow Xtreme Putty doesn't leave marks and can be reused both indoors and out. The Tombow Xtreme Tabs are even stronger; you could even replace a silk flower onto a sign or dress. Yes, one of the flower girls pulled a flower from their dress, but I didn't notice until I found the flower in my purse at the end of the night! Make sure you use them to hang your decorations and there will be no mishaps during the night! Here's a photo of the flower girls before the ceremony, super cute, right?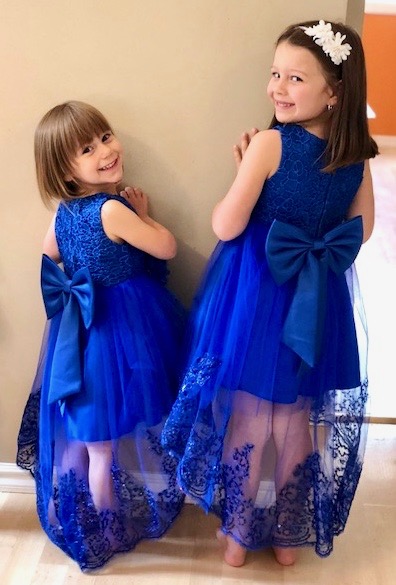 Proud Mom showing off alert!
Lena and Gareth cutting the cake and our children; Jon (Master of Ceremony), Lena (our beautiful bride) and Katelyn (child wrangler). I didn't take many photos at the wedding, we let the professional take care of that! That meant I didn't have very many photos to choose from for this blog as the official photos were not ready yet! Thanks Tombow for coming to the rescue; the mishaps were small, but it made it easier to enjoy this beautiful country wedding!