Hi friends! Dani from @popfizzpaper here today! Thanksgiving is coming up and it's giving me all the fall and gratitude vibes. So, I'm using the colors of fall and sentiments of gratitude to inspire today's project – thankful bookmarks! Isn't the muted rainbow watercolor background so pretty? Let's get started!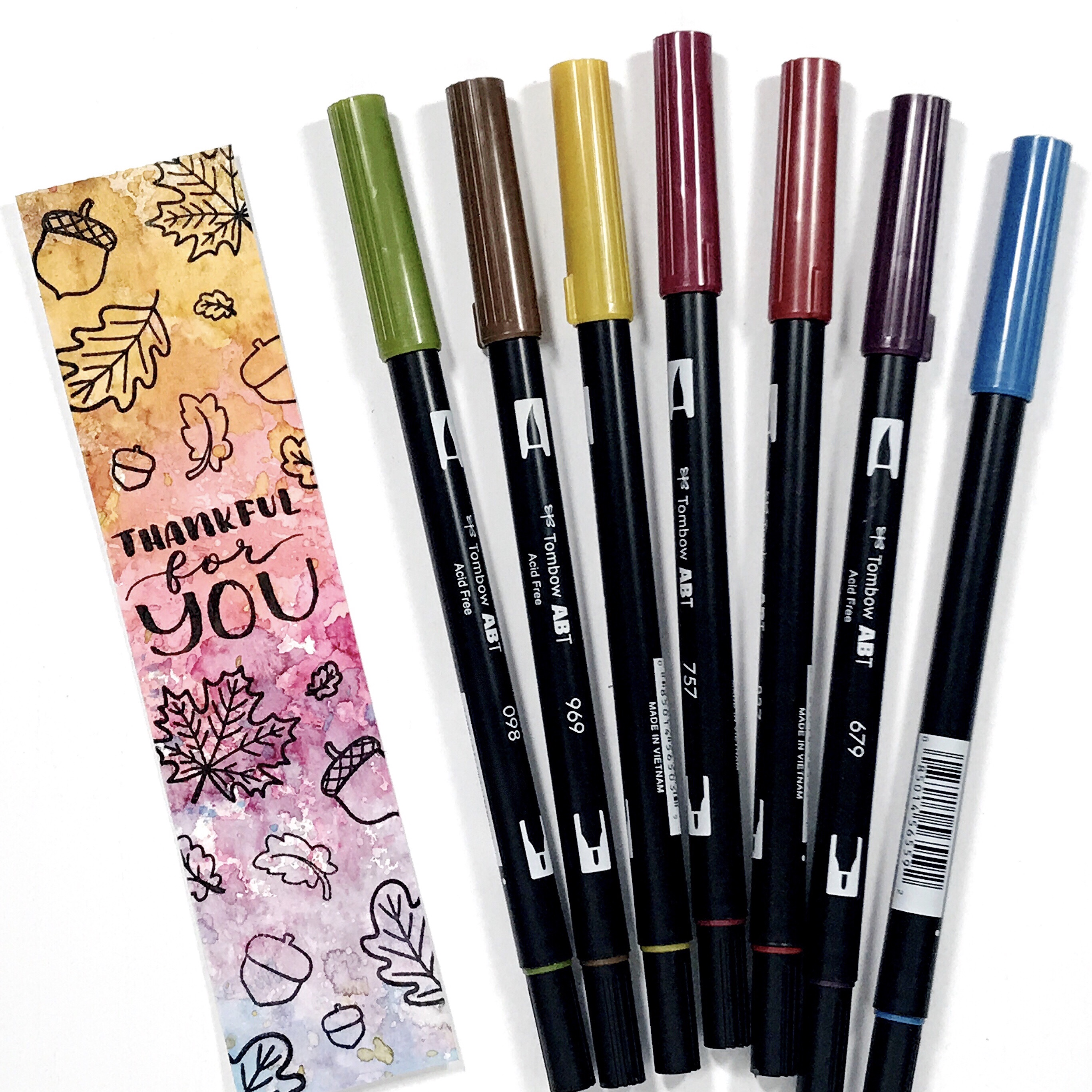 SUPPLIES:
Watercolor paper
Washi tape
Plastic bag
Spray bottle
Stamps and stamping block
Ink pad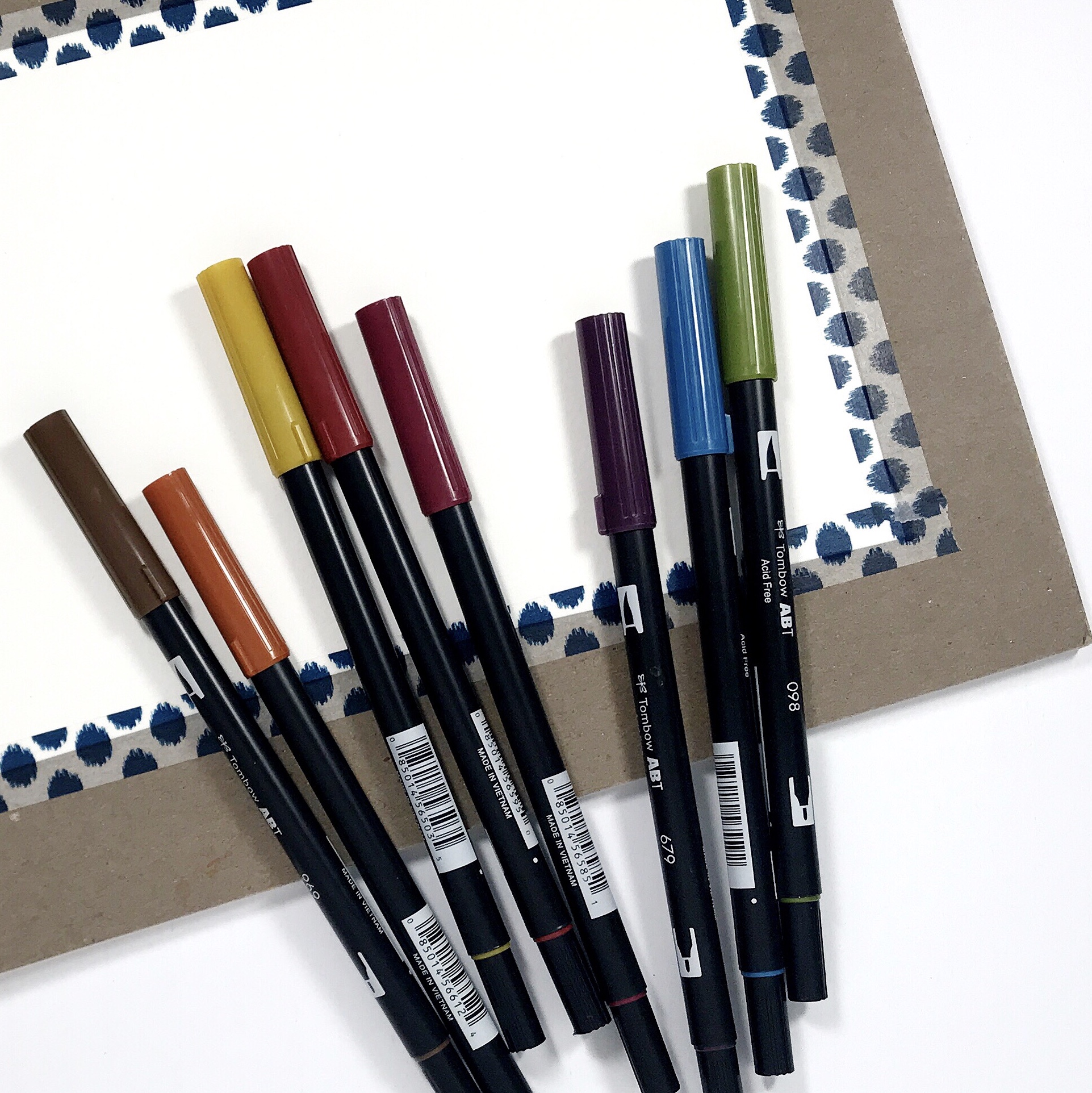 STEP 1
Before we add color, tape down the watercolor paper to a board with the washi tape. This will help keep it from warping when moisture is added to it.
We'll be creating a muted rainbow for the background. TIP: Dry the colors completely before moving on to the next color.
To start, apply some of the brown Tombow Dual Brush Pen ink (969) from the Muted Set to the plastic bag. Then, spritz with water. Flip the bag over onto the watercolor paper, keeping the color to a vertical rectangular strip on the far left of your paper. Dry completely and repeat with the yellow Dual Brush Pen (026). Keep repeating for each color (837, 757, 679, 528), finishing with the green (098).  A bit of green was added to the far left, over top of the brown. I also layered a bit more of the yellow to brighten up the first layer and soften the reddish pink edge.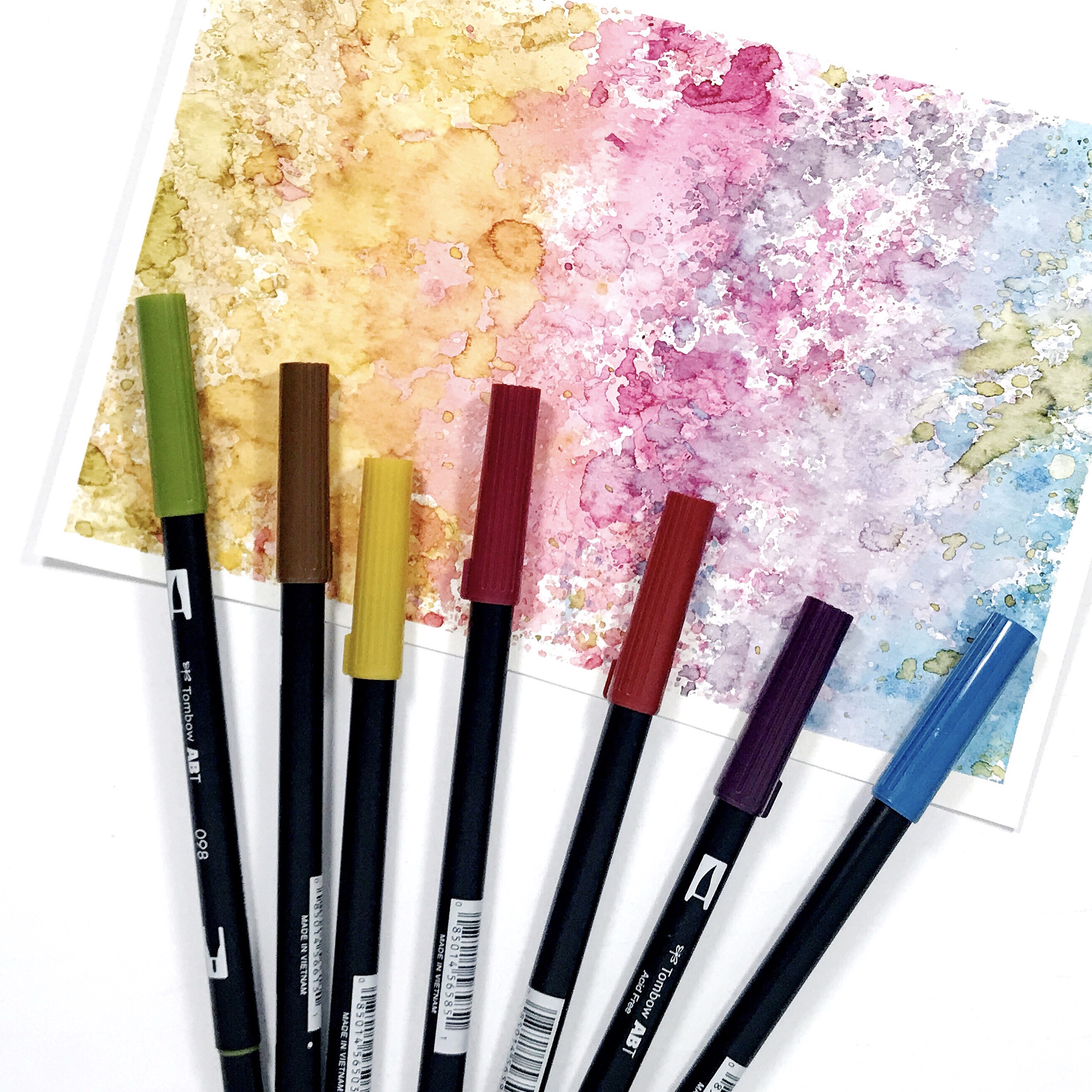 STEP 2
Once your paper is dry, peel off the washi tape and cut down your bookmarks (my final size is 7″ by 1.625″). Next, use a Tombow Fudenosuke Calligraphy Brush Pen and write "Thankful for You" on the middle of your bookmark. You could also personalize these and use them as little gifts during the holidays.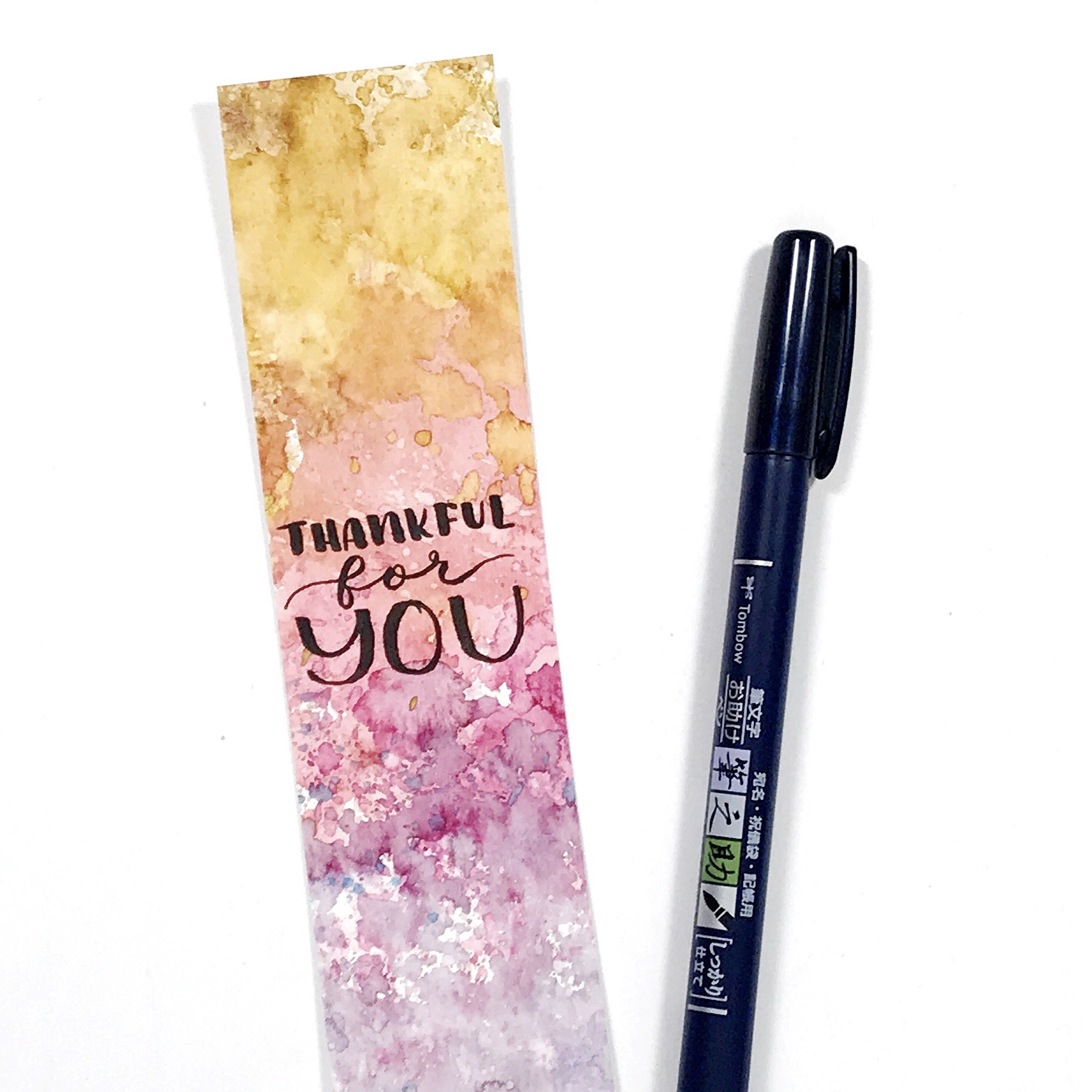 STEP 3
Cover the rest of the bookmark with fall themed stamps. I'm jealous that we don't get all the gorgeous fall leaves where I live in Southern California, so I sprinkled them on my bookmarks! I left a bit of room in the middle of the two below, so I personalize them with friends' names.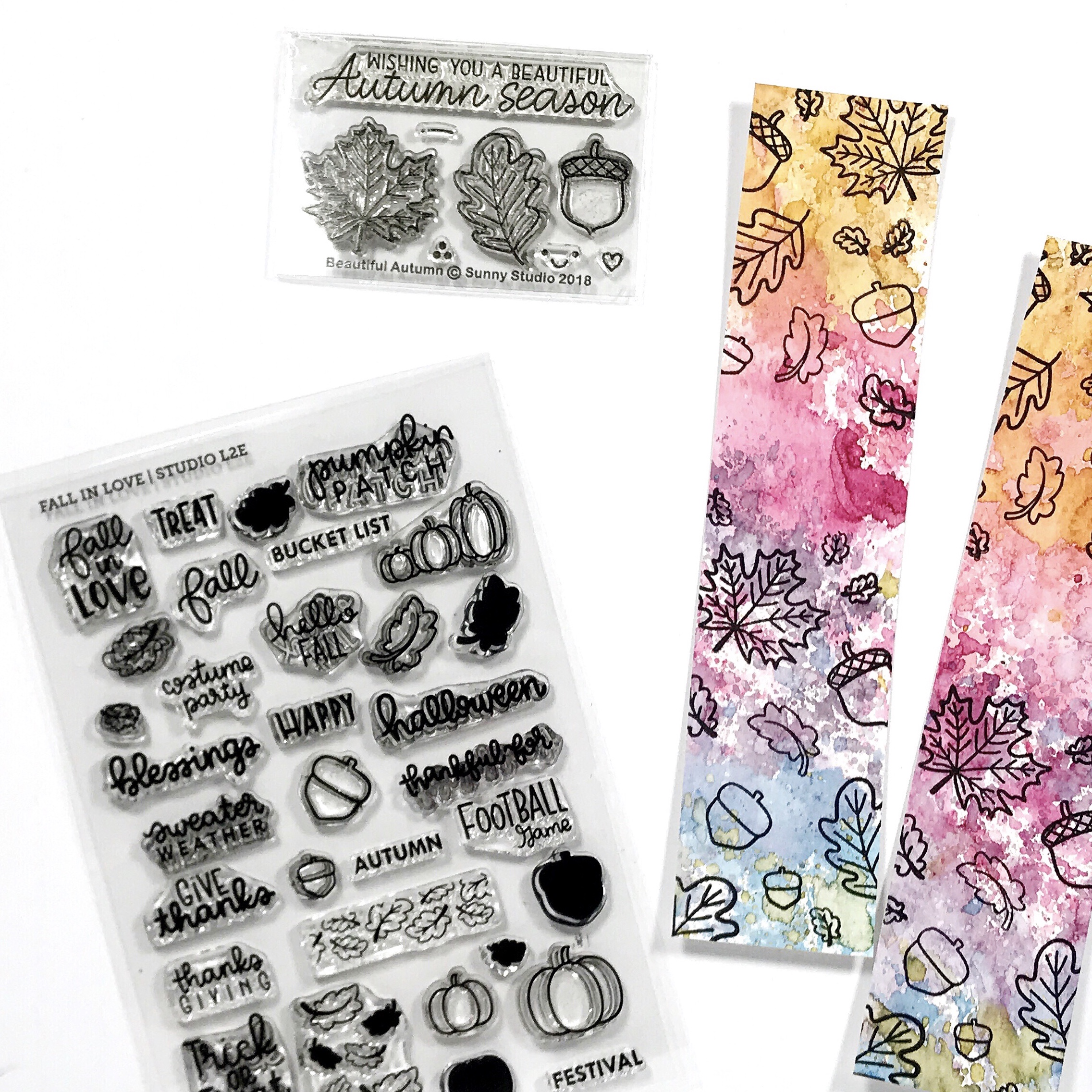 STEP 4
This step is optional. If you have clear packing tape, you can do a faux lamination on these bookmarks! Just lay a piece of packing tape on both the front and back of your bookmark (watch out for bubbles!) and trim off the excess. Easy!
I hope you enjoyed my tutorial today! Do you enjoy creating watercolor backgrounds? Please tag me @popfizzpaper if you try my muted rainbow for yourself. I would love to see! For more tips, tutorials and exclusive crafty content, make sure to check out my Crafty Club!! See you there!