Hi y'all, it's Grace from Grace Anne Studio. It's color week for the Design Team and I'm exploring the color green! Let's walk through how to create your own color palette (and a pretty cool journal spread) with the Tombow ABT PRO Markers or Dual Brush Pens.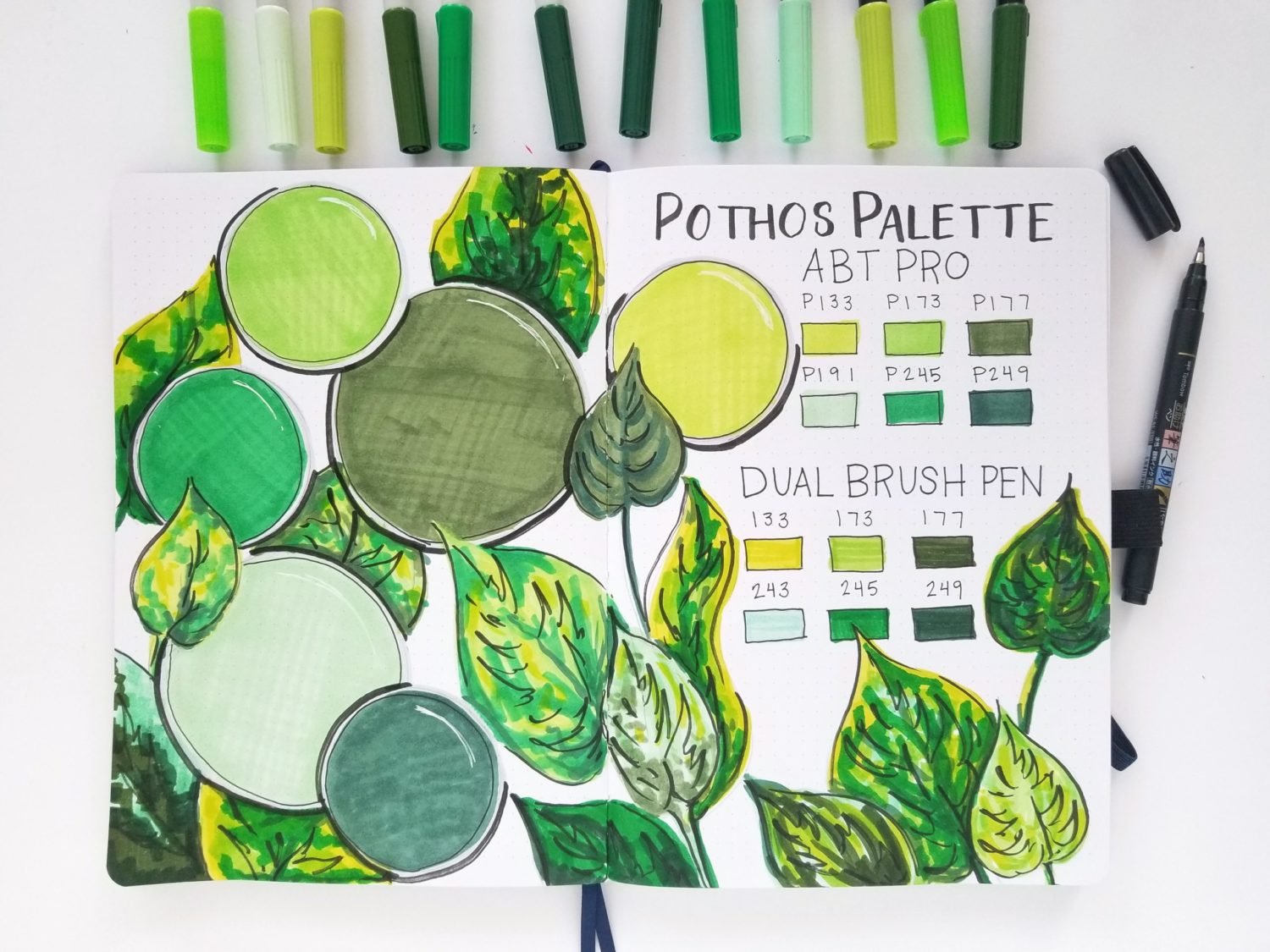 Supplies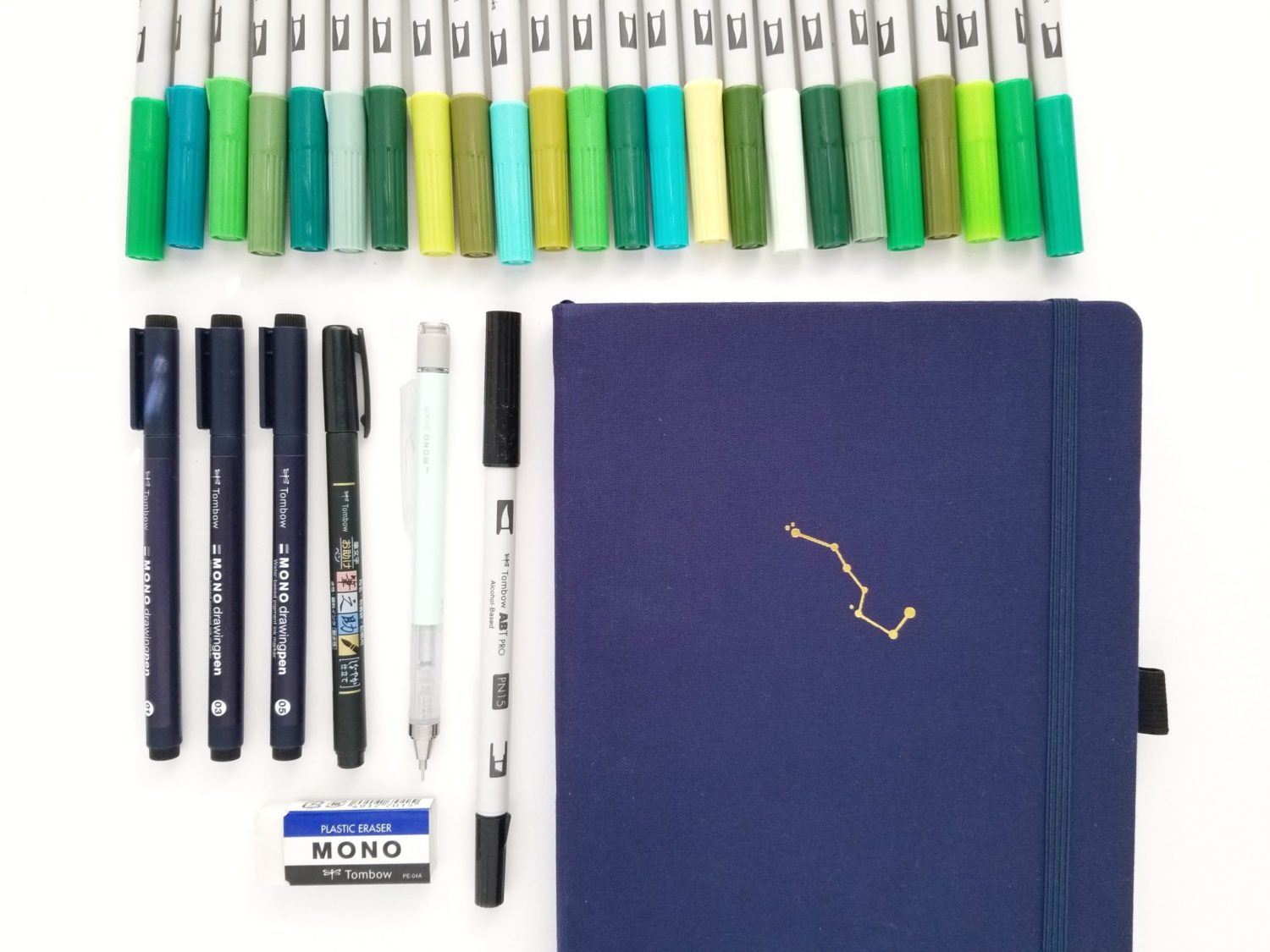 Step 1: Choose Inspiration
Before you begin creating a color palette, choose an inspiration. It can be anything from a season, a holiday or a person. Choosing inspiration for the color palette will help you to narrow down and identify the right colors. I chose a pothos plant for my inspiration, so we're exploring all greens!
Step 2: Swatch Colors
First, swatch all of the green colors on the paper you'll be using. This gives you an idea of what you have to work with. Next, choose a few colors that you think will work for the color palette. Include several light colors, mid-tones, and dark colors. Depending on your inspiration, explore different warm and cool colors also.
Then, create a test swatch section for them. Placing the colors next to each other on the page often brings out tones you may not have noticed before. Continue to refine the color palette until you find the perfect shades! I decided on the colors:
ABT PRO Markers: P133, P173, P177, P191, P245, P249
Dual Brush Pens: 133, 173, 177, 243, 245, 249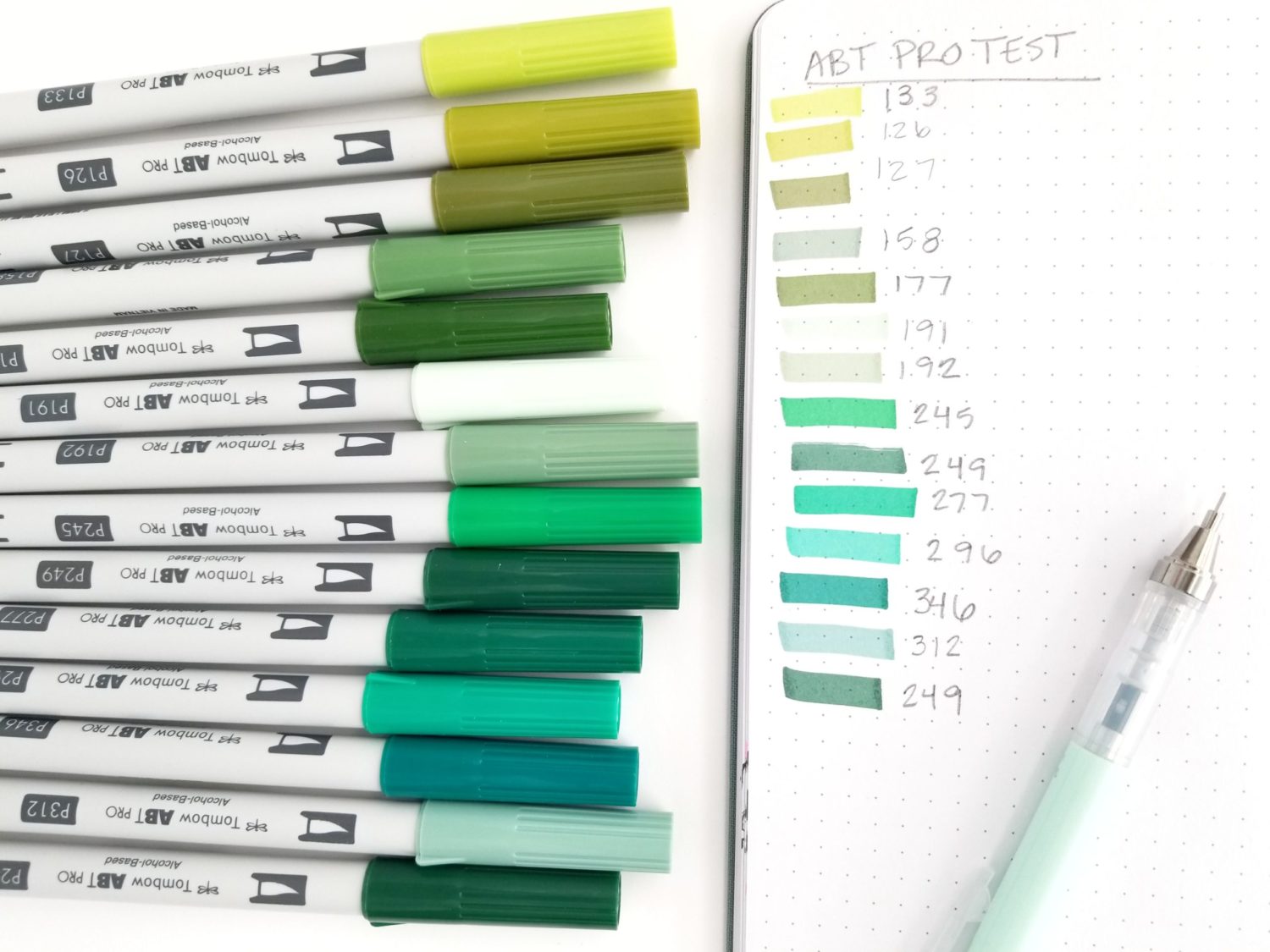 Step 3: Plan Layout
Next, record your color palette for future use. I created a spread in my bullet journal for this color palette. Use the MONO Graph Mechanical Pencil to lay out a few circles and sketch in some pothos leaves. The circles will become paint can lids showing the color palette and the leaves will show them in use. Be sure to leave space for labeled color swatches!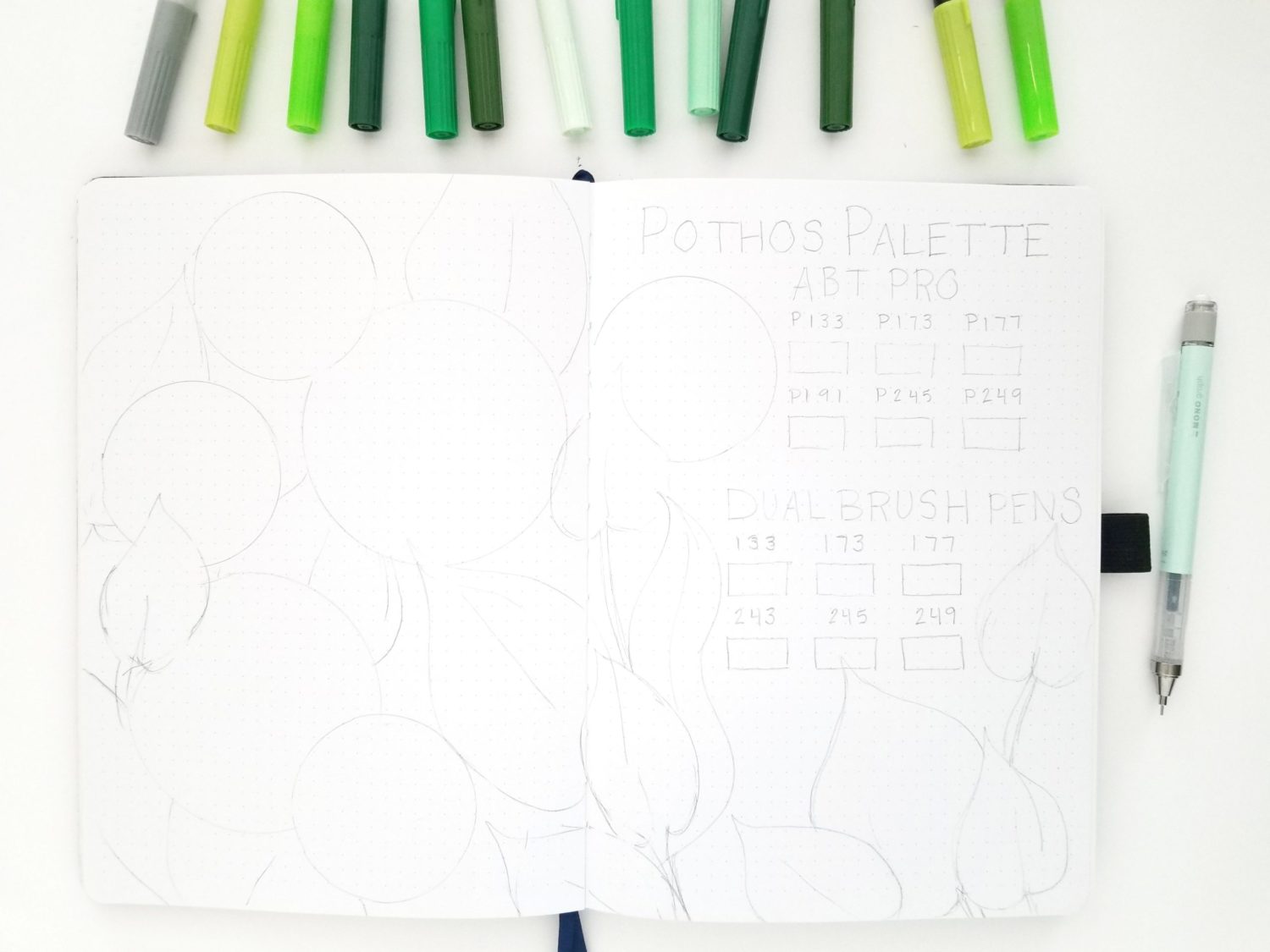 Step 4: Add Color
Then, use your final color palette to fill in the spread. I used the ABT PRO Markers to fill in the paint can lids and a combination of ABT PRO Markers and Dual Brush Pens for the illustration.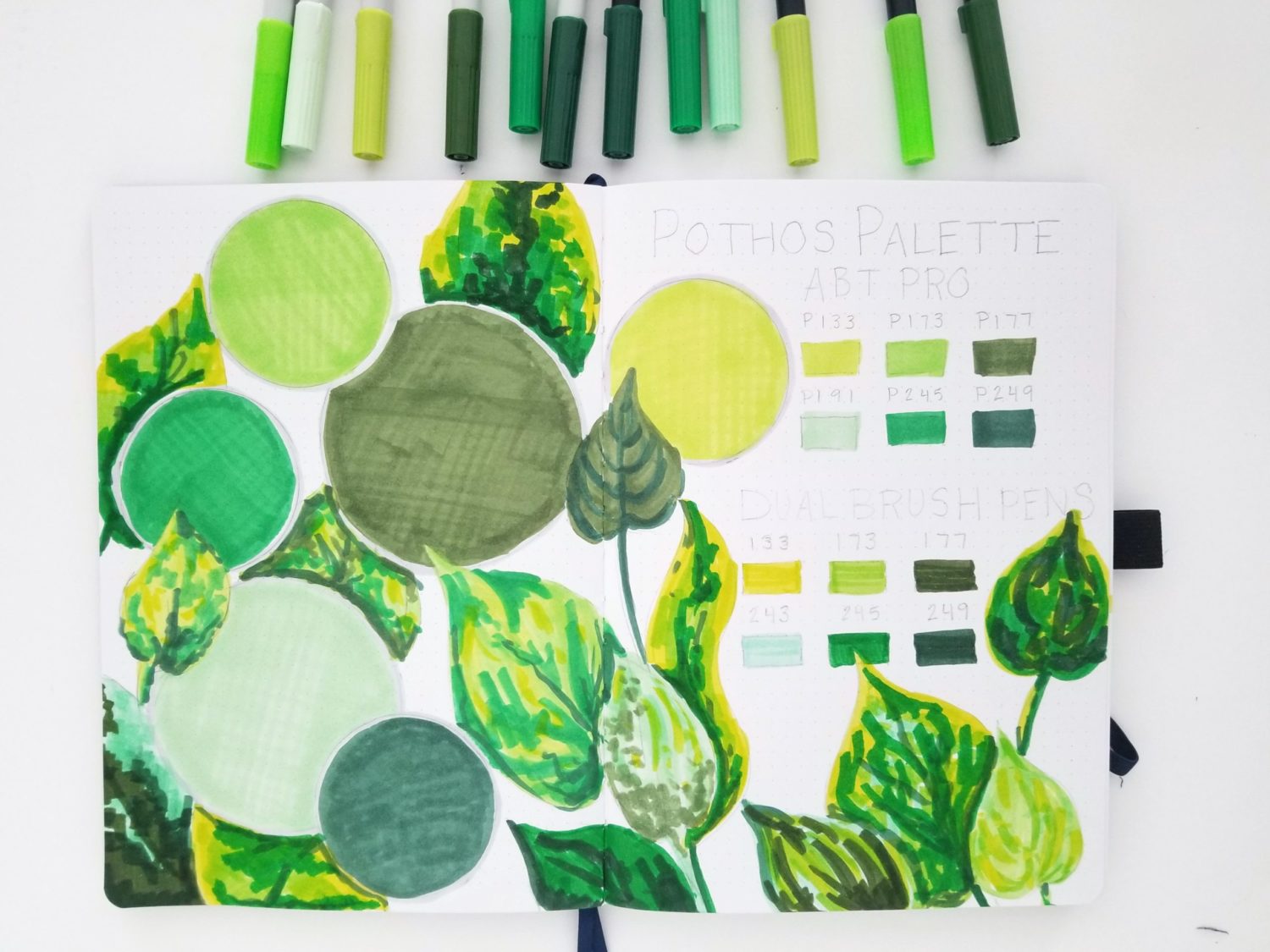 Step 5: Add Details
Finally, finish the spread by using the MONO Drawing Pens and a Fudenosuke Brush Pen to add details and text. I used the Fudenosuke Brush Pen for the title and to add line work to the illustration. I used the MONO Drawing Pens to define the labeled swatches.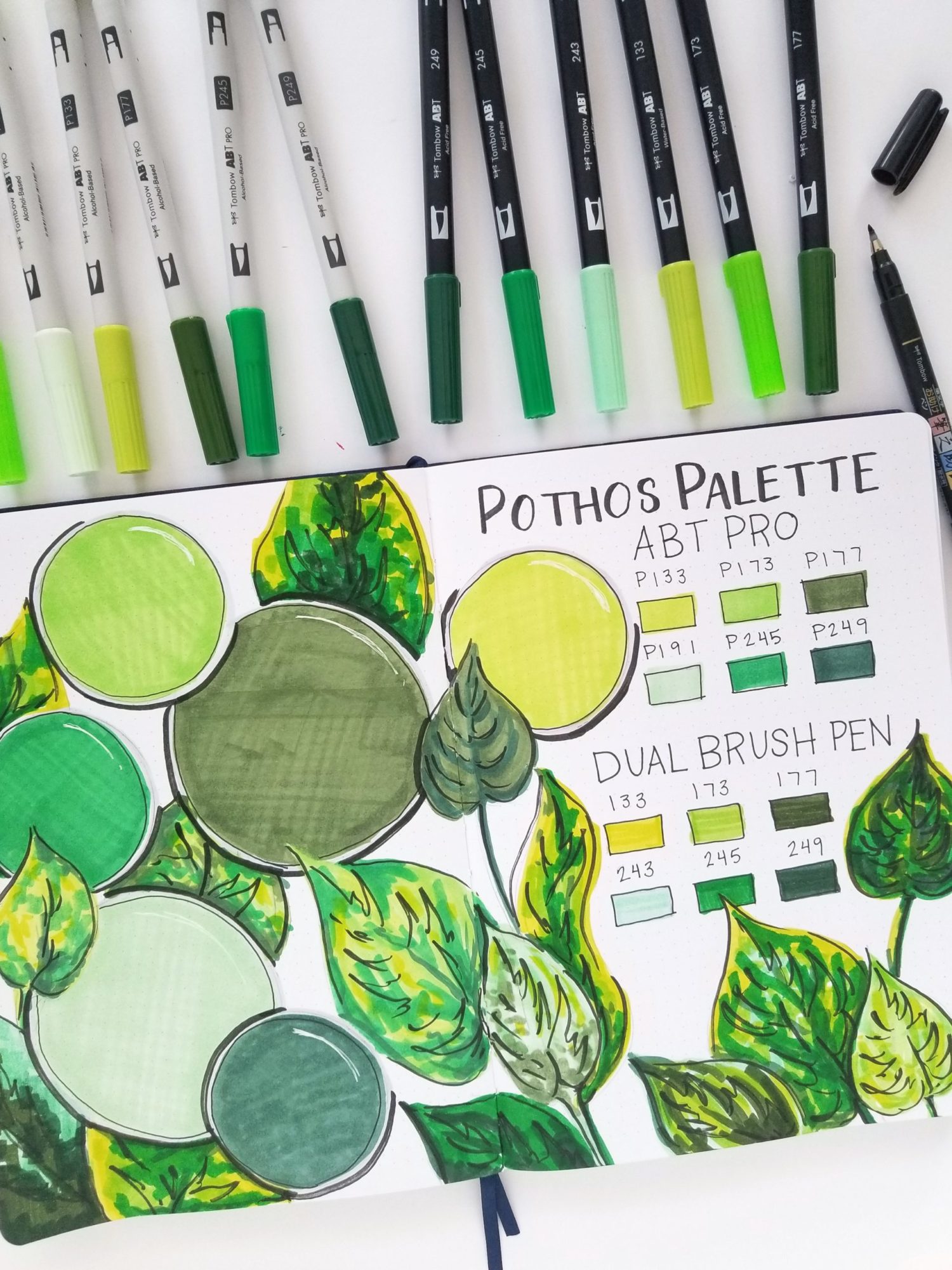 Thank you for following along! If you use this tutorial to create your own color palette or pothos inspired journal spread, be sure to tag @graceannestudio and @tombowusa on social media so we can cheer you on! For more color palette inspiration, check out these posts:
Happy coloring!
Grace