Happy crafting month! This may be the month when you bring the photos out of your phone to make a nice craft project. I'm Jennie Garcia and in this post, I'm going to share with you ten fun things to add to a travel album! I love sharing my vacation photos on social media, but I love physical albums and photo prints. Here are a few things you can save to make your travel album extra special.
Materials:
#1: Photos:
This may seem like a no brainer, but here are a few ideas of photos you could take:
A photo of yourself. The documenters tend to take a back seat when it comes to photos. Ask someone to take a few nice photo with a landmark as the backdrop.
If you shop during the trip, take a flat lay photo of the stuff you bought.
Photos at the airport or during the road trip and non posed photos of others interacting without looking at the camera. Don't be afraid to play with perspective.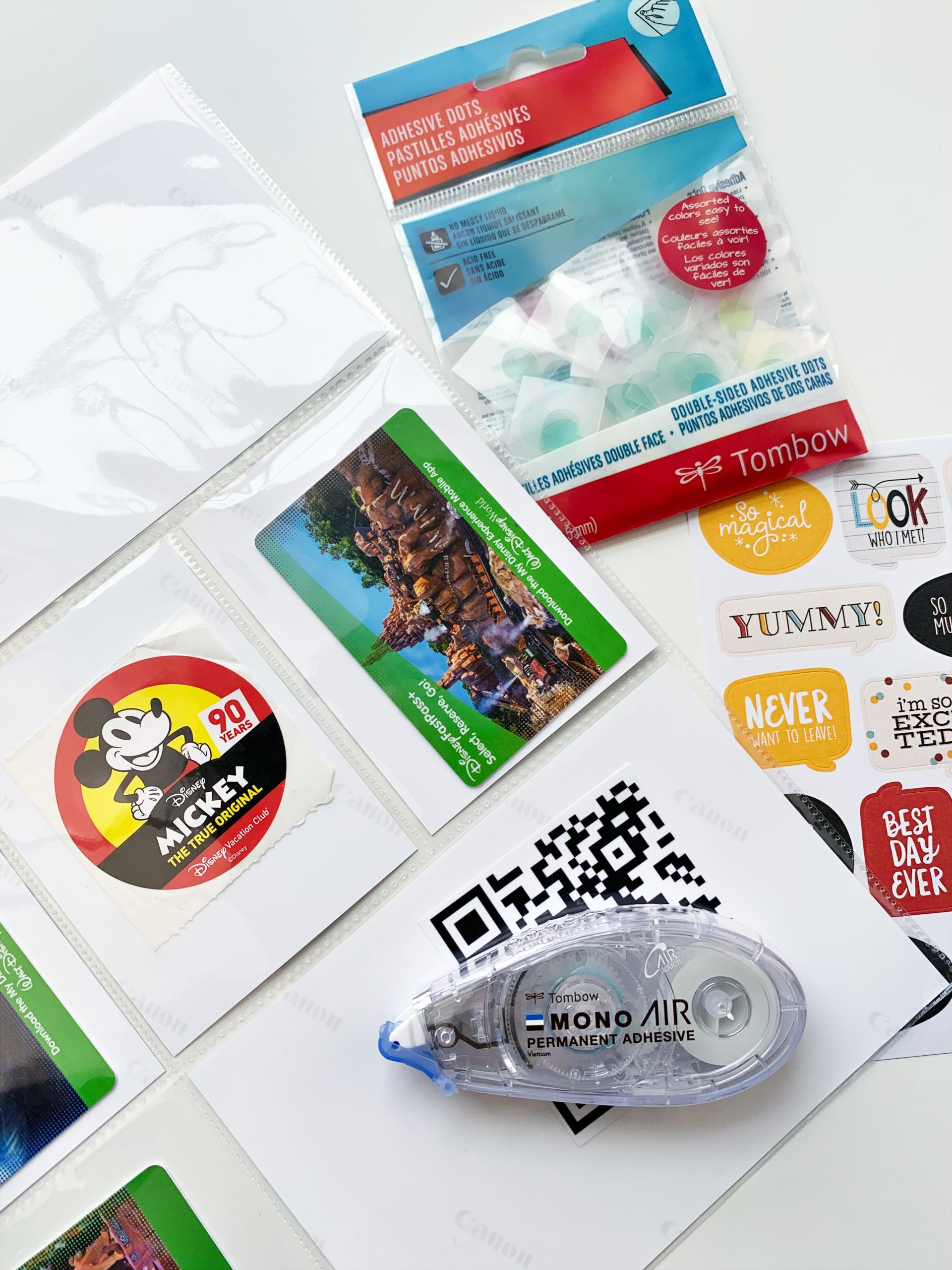 #2: Ephemera and Memorabilia:
You can also collect business cards, postcards, stickers, passes, packaging, advertisements, etc. If you want to glue them down, make sure you use an acid-free adhesive, so the pieces don't turn yellow and don't deteriorate faster. All Tombow Adhesives are acid free. For bigger items and papers, you can put them inside a clear page protector.
I used the Tombow Adhesive Dots to glue this pass card. It's easier to remove from the paper if you use a Tombow Adhesive Dot rather than a strong adhesive like the Tombow Xtreme Adhesive.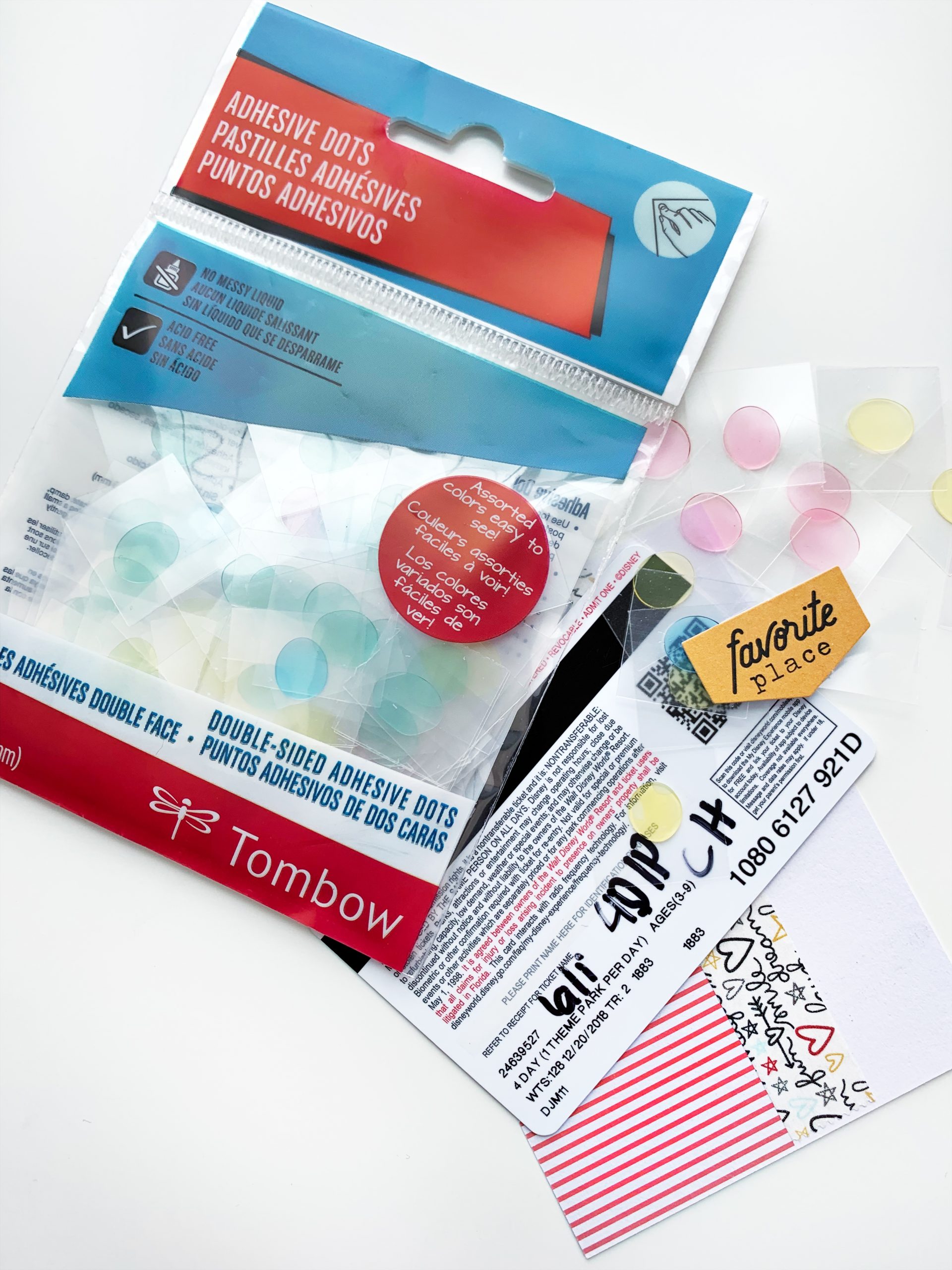 #3: Videos:
One way to add your videos to your album is by using QR Codes. There are websites and applications to create QR Codes. You can use links from Google Photos or post videos on YouTube as unlisted. The last option only shows the video to those with the link.
#4: Journaling:
During your trip, take time to write a few words. You can use the notes application on your phone or create voice notes. You can also capture the point of view of others. Look for simple prompts like "what we ate", "we are here" "who was here", etc.
#5: Your Handwriting:
Once in a while, it's important to add a little bit more of your own style. Your handwriting will be very special to future generations. I like to use the Tombow TwinTone Markers when I want to add color. For a regular black pen, I use the Tombow MONO Drawing Pen.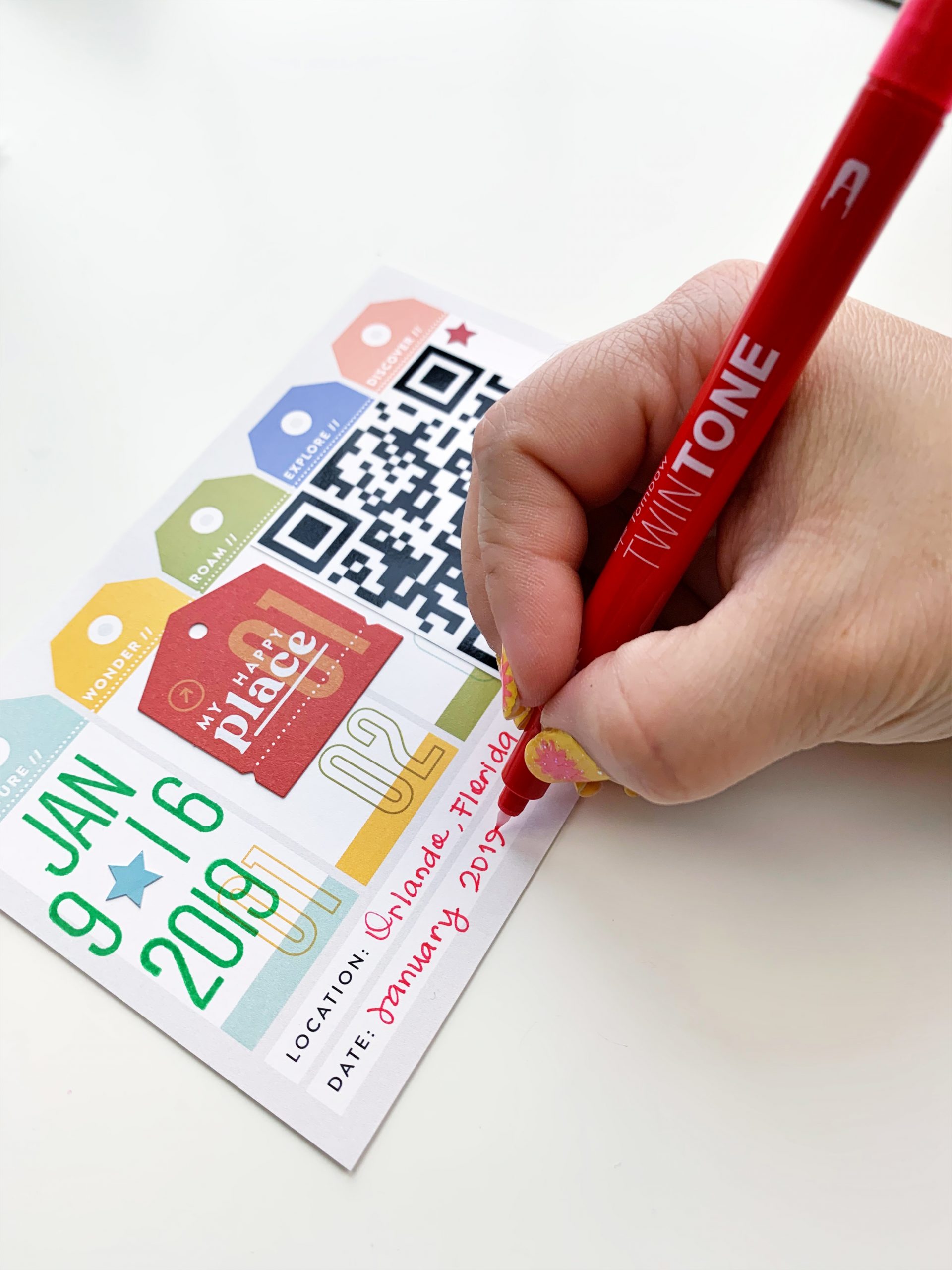 #6 Travel Documentation:
You can save boarding passes, brochures from travel agencies, and mail related to the trip.
#7 Maps:
This is just the introduction of my album, but for each park, I collected a map. I used a page protector, similar to the one below, to protect them but easy enough to take them out to look at them.
The Tombow Xtreme Adhesive is my favorite adhesive to glue on difficult surfaces, like the plastic on this page protector. These are cardstock stickers, but I like to reinforce them with the Tombow Xtreme Adhesive.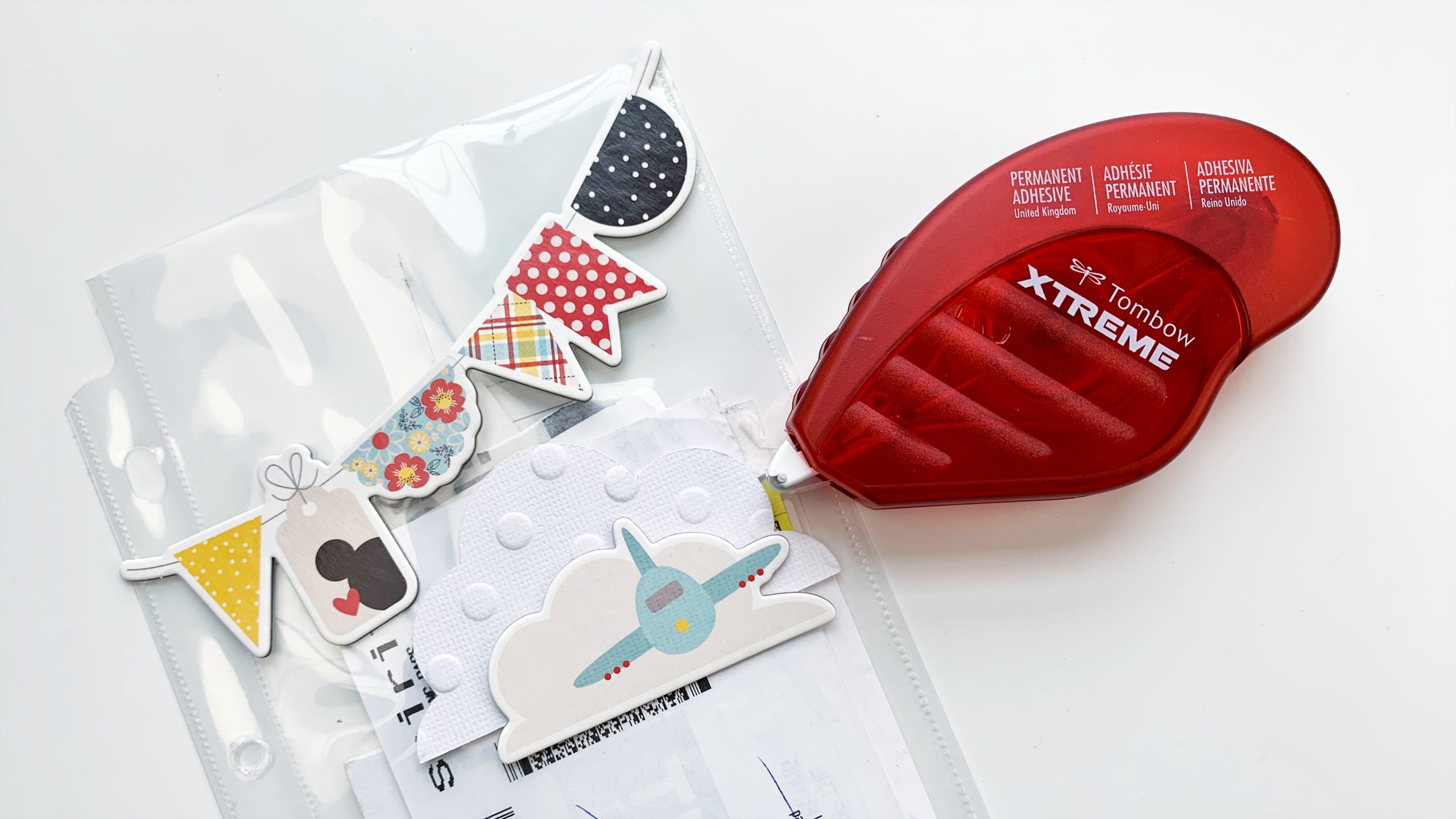 #8: Document Food:
In other pages of this album, I documented the famous Dole Whip drink and the Butterbeers of the Wizarding World. Every place has a special drink, food, or candy. It would be fun to save some packaging as long as it's clean and it's not a temptation to ants.
#9 Papercrafting Products:
You can get a specific travel kit to document your trip or you can look around for place-specific items, like Disney, the beach, or a place or country. If you have been papercrafting for years, it's safe to assume you already have everything you need.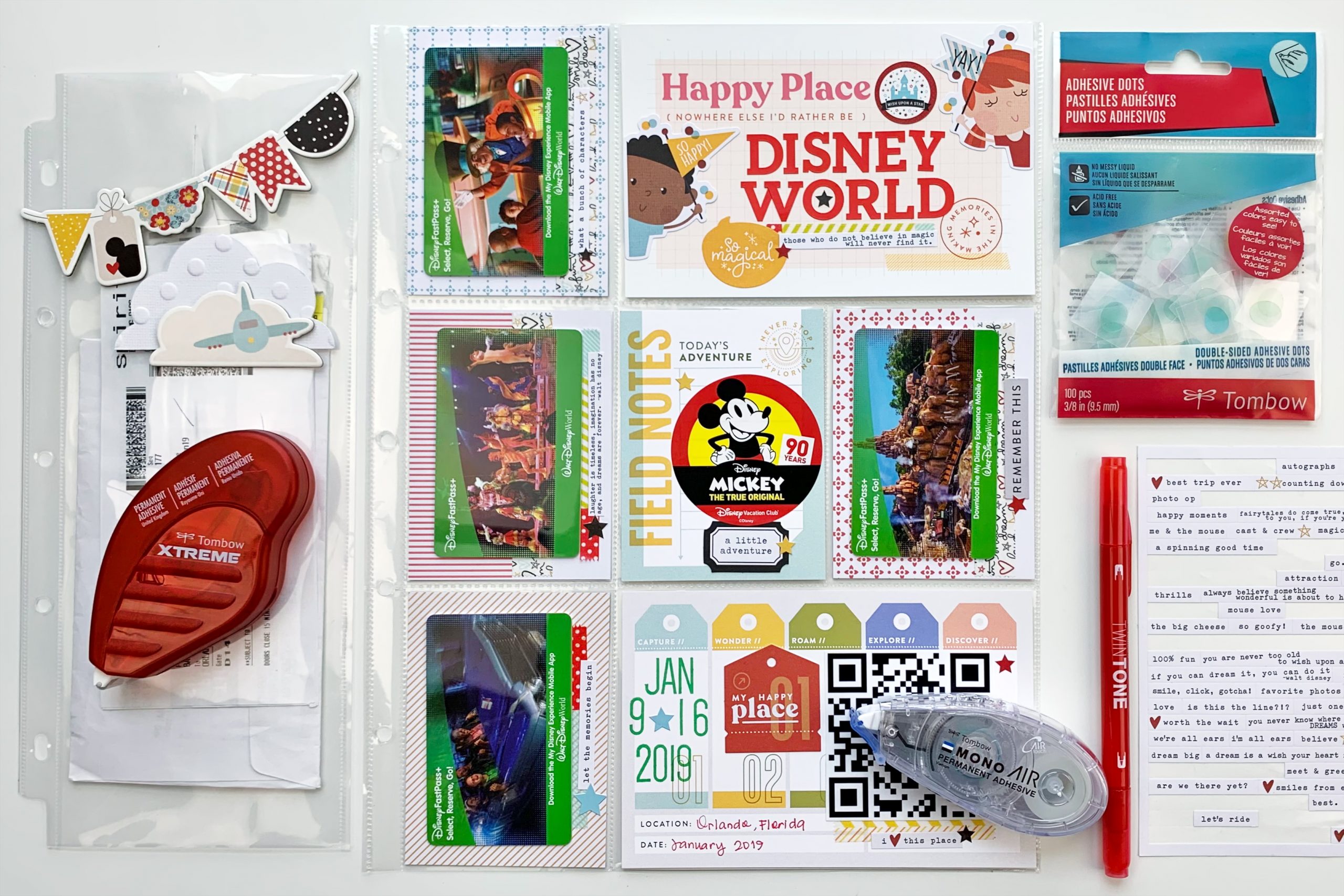 #10 Tombow Adhesives:
I mentioned a few of the products and features in this post. This is a quick recap. For things you want to have the option to remove, you can use the Tombow MONO Adhesive Removable or the Tombow Adhesive Dots. When adhering to difficult items like plastic, cards or heavier cardstock, use the Tombow Xtreme Adhesive. For photos and cardstock, avoid liquid glues because it will cause ripples and bubbles underneath. Instead use adhesive runners like the Tombow MONO Air Touch and the Tombow MONO Adhesive Permanent. Some embellishments might work better with the Tombow MONO Aqua Liquid Glue or the Tombow MONO Multi Liquid Glue.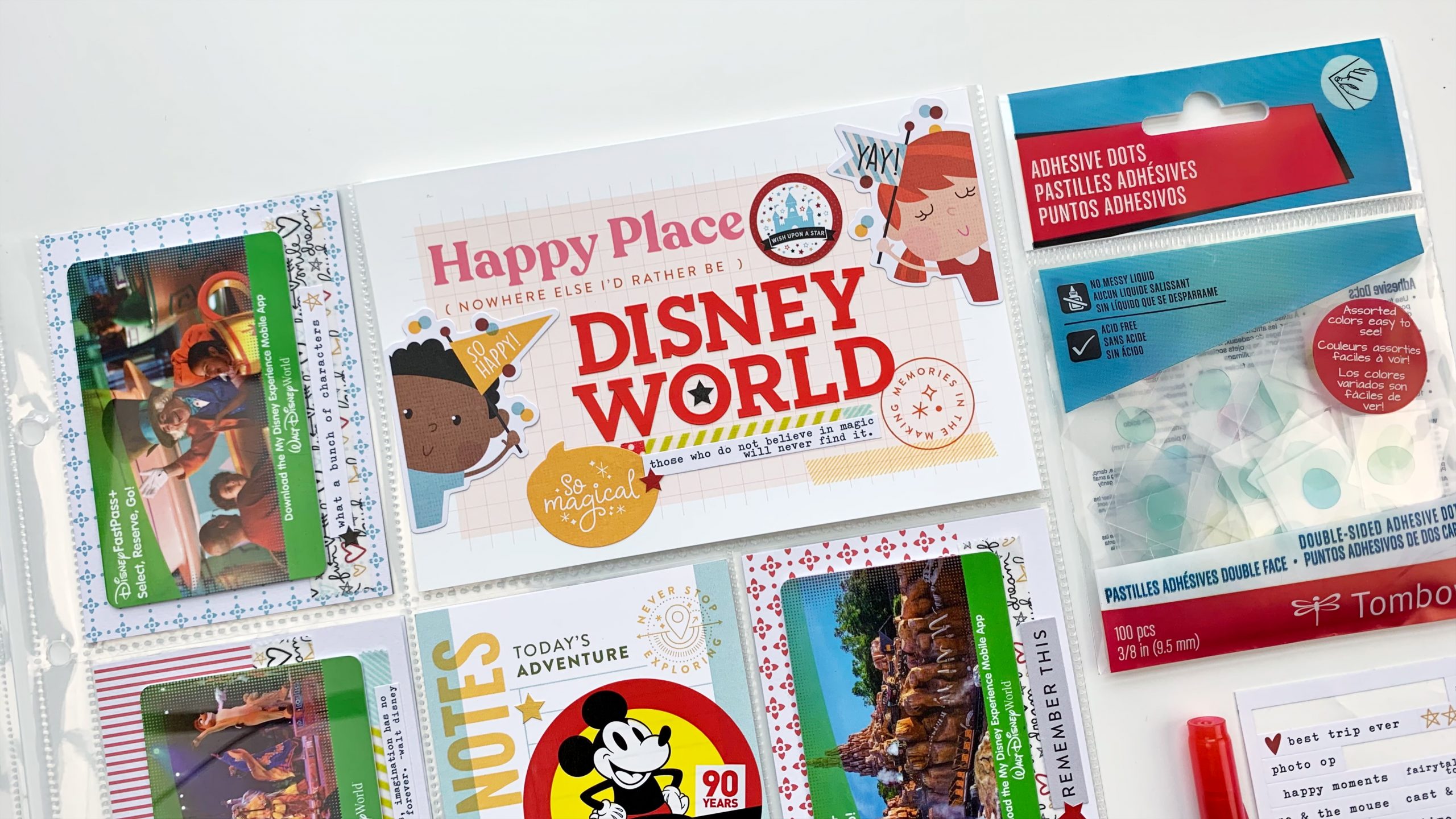 We hope you found these tips useful!