I use Tombow Power Tabs a lot – and I especially love them when creating a mixed media project! They are quick and easy,  stick on contact  and have tremendous holding power.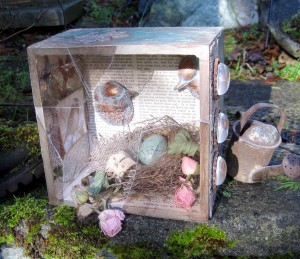 This nature inspired shadow box had me adhering different mediums – polymer clay, metal bottle caps, and fabric – into the paper covered wooden box. The Power Tabs allowed me to fasten all these items, even the heavier polymer clay pieces with ease.  One Power Tab can hold up to 6.5 ounces so I know  all my different items will be held securely with a strong bond. When creating a mixed media piece I also tend to change my mind when placing items. The Power Tabs allow me to pull off the tab without damaging my surface. Before adding objects with the tabs, I finished the surfaces with a  clear varnish on both the paper covered background and textured paint background to make sure I can use this reapplying technique.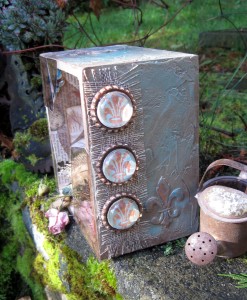 Here is the side detail showing clear cabochons glued into flattened bottle caps using the MONO Multi Liquid Glue. The pieces were then attached using the Power Tabs.
Hope you enjoyed this weeks Tipnique! Hurray for spring!