I made these fun sparkly Dragonflies to brighten up our booth at CHA! They were fun to make using MONO Multi Liquid Glue, glitter, rhinestones and clear acetate sheets.
I simply 'draw' the dragonfly body and add the rhinestones, then the wings and the glitter. Let dry, the Multi will go completely clear, then cut out the dragonfly. I then bend up the wings to give them a three-dimensional appearance and use a Power Tab to attach them to a card, scrapbook page or anywhere that needs a sparkle!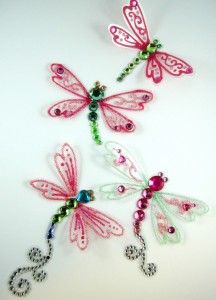 I am definitely going to use one on my birthday hat to celebrate Tombow's 100th birthday!