Hello!! Today I'm sharing a simple card I made using the Tombow Dual Brush Pens and a stencil. I used washi tape to hold the Blazer Designs stencil while I colored the paper with the markers. I followed the colors of the rainbow.
 When I was done coloring I used stamps from Market Street. I glued the paper I colored and stamped on black paper to make it pop a little bit. To glue the papers I used the Mono Adhesive Permanent.
I hope you enjoyed my post!!
Take Care!!
If you enjoyed this post please follow us on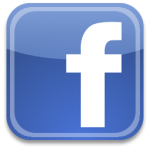 http://www.facebook.com/tombowusa