Is everyone tired of winter? I sure am! So here's a little spring project to celebrate warmer days ahead. I constructed the shadow box using corrugated cardstock and cardstock. The box was put together using Xtreme for an instant super-strong bond.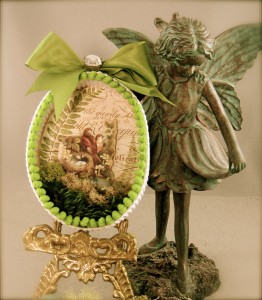 When working with the Xtreme, remember to 'side swipe' when you finished applying the tape for a clean break.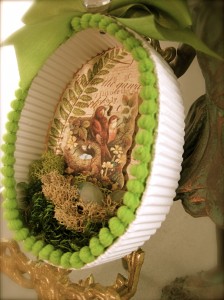 Here's a close-up showing the side of the shadow box. Instead of circles of paper in the center of the corrugated strip, I used ovals to make the shadow box egg shaped. The bird image was attached into the box using Foam Tabs, for beautiful dimension. The moss, eggs and mini green pompom trim was added using Multi Liquid Glue. When working with ribbon or trim, apply the Multi glue and let it dry clear and sticky before securing the trim for a mess-free application.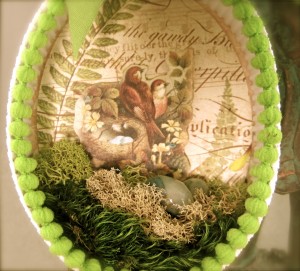 Here is a close-up of the inside of the shadow box. So spring, we are ready for you!  This was so quick to put together using Tombow Adhesives! Watch the Tombow web site for instructions in making both the round and oval shaped shadow boxes!