Valentine's Day is just around the corner and LOVE is definitely in the air here on the Tombow Blog!  Have you entered our Valentine's Day project contest yet?  Well, if you haven't there is still time – You have until February 15th at 11:59 PM EST at this LINK!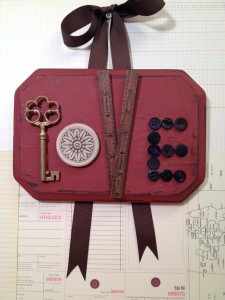 I LOVE to upcycle and think of new ways to use ordinary or discarded materials, so inspired by Pinterest, I gathered up some materials from my craft stash and created this LOVE plaque – now on to my project!
Here's what you'll need:
NEW! Tombow Adhesive Dots
Tombow Dual Brush Pen Set – Muted
NEW! Tombow Xtreme Mounting Putty
Americana paints by DecoArt – Dazzling Metallics Glorious Gold, Charcoal Grey, Dark Chocolate, Bleached Sand and Heritage Brick; wooden plaque 7″ by 9″; large metal key; wooden medallion; vintage ruler pieces; black buttons – 11; paint brush; palate; water basin; baby wipes; brown ribbon – 3 yards.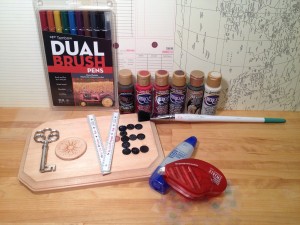 Here's how I made it:
1.) Base coat metal key in Glorious Gold by pouncing with paint brush, let dry.  Base coat wooden medallion Bleached Sand, let dry.  Base coat plaque Dark Chocolate and Charcoal Grey using random strokes, let dry.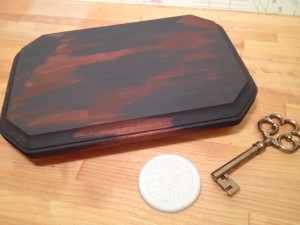 2.) Apply Tombow MONO Aqua Liquid Glue to surface of plaque, evening out with a paint brush, let dry completely (I let mine dry overnight).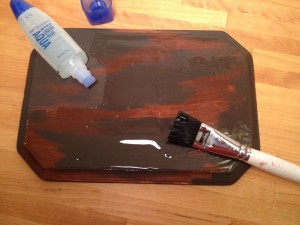 3.) Distress wooden medallion by covering surface with Tombow Dual Brush Pen #969 from the Muted set, let dry.  Buff raised surfaces with baby wipe, leaving color in crevasses.  Distress vintage ruler pieces by repeating process.
4.) Top coat plaque with a thick coat of Heritage Brick paint, set aside to dry and watch the cracks forms!  I was so EXCITED to see this process work with the Tombow MONO Aqua Liquid Glue – SUCCESS!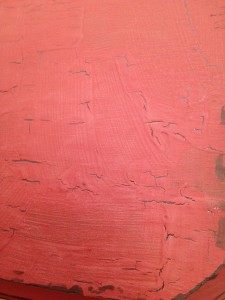 5.) Attach pieces to the plaque as follows: Use NEW! Tombow Xtreme Mounting Putty on the metal key and the wooden medallion.  Use Tombow Xtreme Adhesive on the vintage ruler pieces.  Use NEW! Tombow Adhesive Dots (the red ones) on the buttons.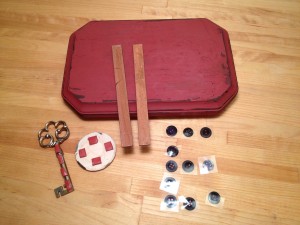 6.) Tie bow in the center of the ribbon and attach to the back of the plaque with Tombow MONO Aqua Liquid Glue, let dry.  Hang and enjoy or give to someone you LOVE!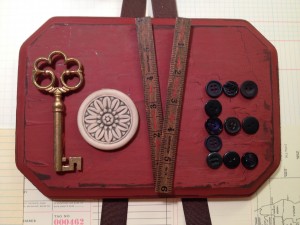 Check out more upcycled projects on my Pinterest and Instagram.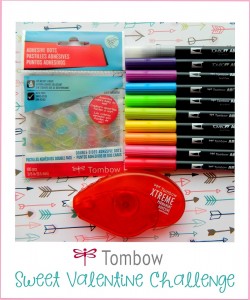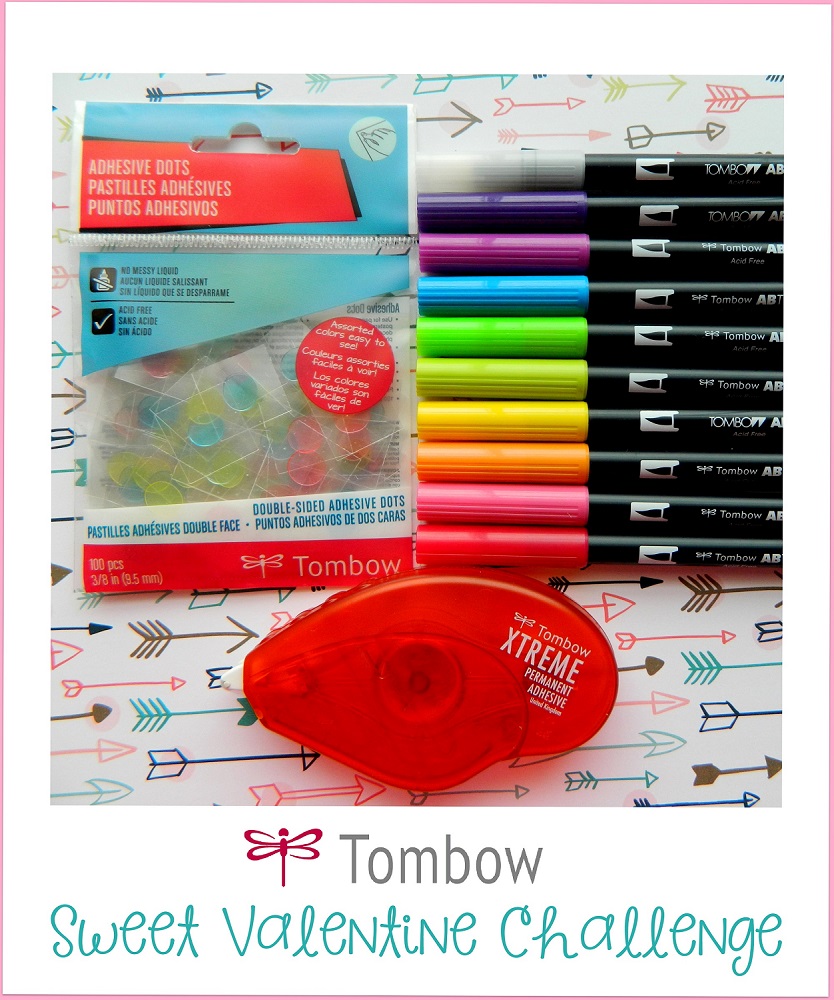 This month Tombow has a great challenge for you!  We are all getting prepared for February 14th!  That special day where we exchange little bits of love with our favorite people.  The challenge is easy, make something for Valentine's Day.  It could be a card, layout, a gift or whatever your crafty heart wants!  The challenge started February 2nd and ends February 15th at 11:59PM EST.  You have 2 whole weeks to make your project and link it.  Tell your friends to join the challenge too and spread the love!
The winner will be picked randomly and that person will WIN Tombow Xtreme Permanent Adhesive, Tombow Adhesive Dots and a Dual Brush Pens Bright Set!
Link up your Valentine's Day projects HERE until February 15th at 11:59 PM EST!
Thanks for stopping by! -Beth