Happy Thursday! I'm thrilled to be blogging for the team today from my hotel room in Atlanta Georgia!! I can't even believe that I've been blessed to get to hang out with Tombow and the other DT girls for a few days. Having a blast.
Today I have a fun and simple technique for you. I'm calling it Tissue paper texture. Very similar to the art projects back in the day with the glue and tissue paper and pencil eraser, but more Mixed media-esque. I used it on a fast card today, but you could used in on just about any kind of project.
Some others ideas:
Art Journaling
scrapbook layout backgrounds
cover something in it (Like a vase or jar)
card making
punch it (like I did)
This technique also lends itself well to painting or using mists after it has dried. How about adding different colors of tissue to create wall art on a canvas? I think I just gave myself my next project idea. Below is everyhting you need to know about creating this card here.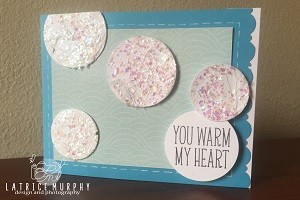 Mono Aqua Liquid Glue, 1.69 Oz, Liquid [Set of 3]
amazon.com
steps for textured tissue by latrice-gray-murphy on Polyvore
Hope you enjoyed this photo tutorial. Can't wait to share more techniques with you!