Today I will be sharing more creative ways that you can get lettering. I am a former Architect so my lettering style is much more linear, geometric and clean. Not too many swirls and strokes. I want to show you how you can make your simple lettering fun by adding it inside a shape. The shape I'm using is a large 3.5″ circle cut from white cardstock. I also created a couple more examples for you to see at the bottom of this post. I always starts a project out by sketching. Here you can see that I literally just practiced anything. I had this random piece of paper and tried out a few things.  I loved the large circle.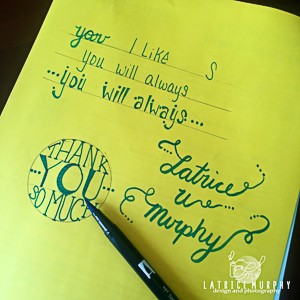 Here are the materials you will need today:
Lettering week with Tombow by latrice-gray-murphy on Polyvore
I also created a step by step photo collage for you to see how I created my circle from beginning to end.
Step by step by latrice-gray-murphy on Polyvore
Pretty simple right? I inked my edges to make them look more finished and before creating the card below with one of them I scanned them all into my computer for later use. I can now reprint that first hand drawn image as many times as I want. Print onto some high quality cardstock with the setting on best. Check out how I used my hand lettering piece. Perfect for anything though. Invitations, cards, scrapbooking pages or do it in a larger scale on canvas or something to frame?
Thanks for stopping by today. It's been fun seeing the whole teams take on lettering. I"m inspired, how about you?