Father's Day is a great time to pamper Dad because, well, Dads don't typically pamper themselves. We have a lot of fun finding cool lotions, breath sprays, and other unique items to give to my husband on Father's Day. This past week I was in Salt Lake City and I found this great mens' store with unique lotions and candles in masculine scents like bergamot. The problem is, the labels were kind of boring.
When giving store bought gifts, there's not alot of actual hands-on involvement from the kids. We decided to add our own touch to some store-bought gifts for Dad this year by wrapping them in pretty papers, which is something the kids can totally help do. Here are 3 "gifts" for Dad that have a little personal touch with the help of Tombow:
The lotion is wrapped in a wood grain paper and then a thin strip of blue paper was added as an accent. Consider having the kids draw their own art onto white paper with Tombow Dual Brush Pens and then using that as a wrapper.
The breath spray is funny on its own but what if the breath spray or lip balm you got for Dad is just average? Wrap it with paper as well for a personal touch. Tombow Xtreme Adhesive is perfect for holding paper around tubes and other odd shapes.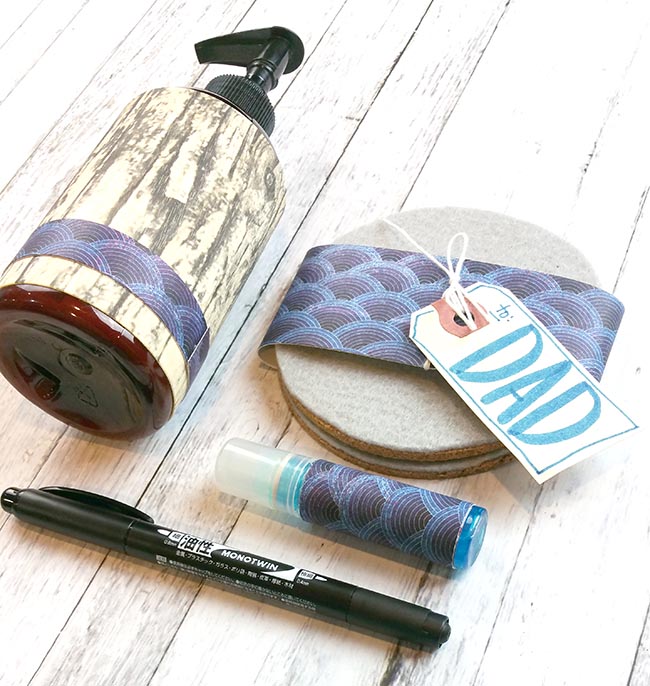 Jazz up basic cork coasters with a layer of felt on one side. Use Tombow Mono Multi Liquid Glue to adhere felt to the cork. Trim the edges with scissors. Wrap a strip of paper around the set of coasters and secure with Tombow Xtreme Adhesive in the back. Write "to: Dad" with a Tombow Dual Brush Pen on a tag and tie to the paper strip.
Here's how I put it all together:
This Father's Day, consider adding a little flair to your purchased gifts with Tombow adhesives. As a bonus, give Dad a Tombow Fine Pen, like an Olno Swift Mechanical Pencil or Tombow Mono Twin Permanent Marker.
For more crafty inspiration, visit me over at Just JP.