My hubs loves himself some sweets. So when thinking up something fun to give him for Father's Day I instantly thought candy. All kinds. He drives around all day for work checking on job sites and going to appointments, so I thought that a treat every once in a while is perfect for him. Of course I didn't want to just give him something in a bag. I needed to make it extra special. Here is the special treat we're creating today.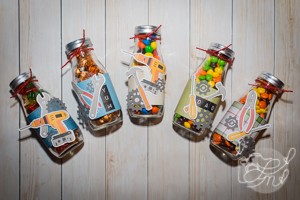 I chose blues and earth tones for the paper since his favorite color is blue and he's a Landscape Designer and loves wood grains.
The kids and I chose these tasty candies for our gift. You can find them all in big bags and cheap on Amazon.
Here are the easy steps I took to create my sweets bottles:
1. Choose your die cutting. I cut mine from Silhouette, but you can print and cut from images online, stamp and color them with
Tombow markers
or use stickers. I just loved these tool shapes so much. I also added a gear shape to enhance the theme.
2. Fill your bottles with candy and place the lids on.
3. Add ribbon/twine to coordinate with the shapes or stickers you chose.
4. Wrap your bottles in some patterned paper. I used all scraps that I had on hand.
6. Give to dad with the kids and watch him open one right up to have some right away.
Here are some close ups of my bottles all finished up.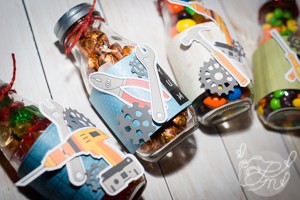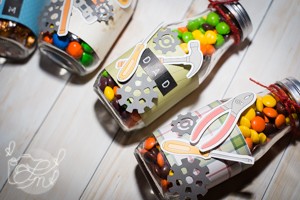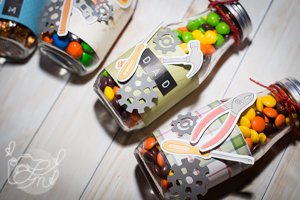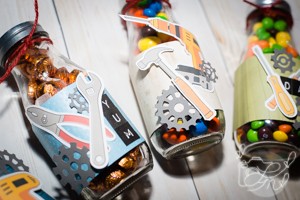 Here's another look at all five bottles as a set.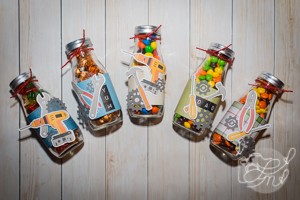 I hope you get crafty for the Father in your life. Thanks for stopping by. You can always visit me over on my blog. I love hearing from you all.
Latrice Murphy Design
.