This week we are getting our inspiration from our favorite color combinations and mine is AQUA & SILVER!  I used this as my color inspiration board from my Pinterest: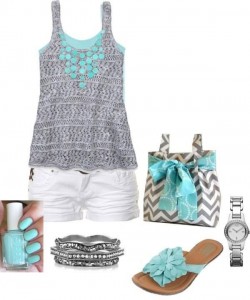 I also love the texture on this inspiration board – the shiny metal juxtaposed with the laces and fabrics.
Now, I am not a fashion queen, so the inspiration taken from this color board I have turned into cute and trendy home decor!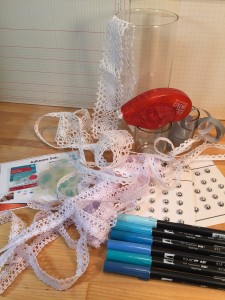 I have used my Tombow Dual Brush Pens to color paper, canvas, water color and wood, so today I decided to experiment and see if I could color cotton crocheted lace.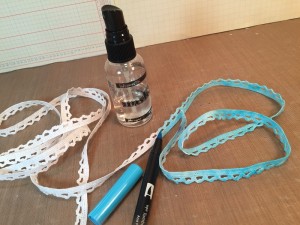 Start out with a craft sheet and a spray mister filled with water.  Lay out the lace, mist lightly, on both sides.  Then begin coloring with your pens.  The lace really absorbs the color, so the lighter the better.  Test the colors on a scrap piece of lace prior to see exactly what colors you will get.  The looser your strokes, the more water color (or tie dyed) effect you will achieve.  The color does bleed through to both sides as well, so you a have a finished final product to use on your project.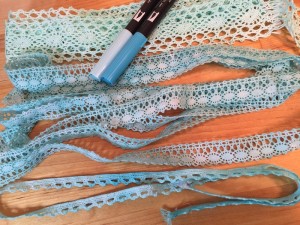 I used Tombow Dual Brush Pens #451 and #452 on each of the three laces selected from my craft stash.  The laces took the color a bit differently, I think, based upon how much cotton was in the lace.  After the lace is colored, dry it for a few minutes in the dryer with a towel.  Once dry, you may have to iron it to remove and wrinkles.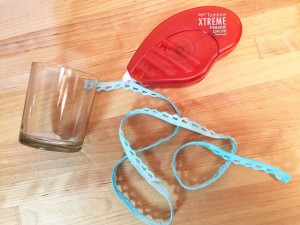 Apply Tombow Xtreme Permanent Adhesive to the end of the lace and attach to the glass votive candle holder.  Measure around the circumference,  apply another section of Xtreme Adhesive, then trim in the center of the adhesive with scissors.  I use Teflon coated scissors for any easy cut.  TIP: Cutting in the center of the adhesive prevents the lace from unraveling.
Repeat with additional sections of lace and Xtreme Adhesive on two glass votive candle holders and a matching glass vase.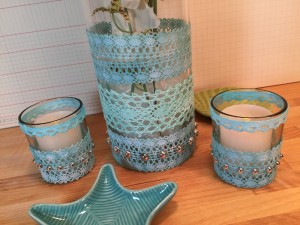 Accent the votives and vase with silver studs by applying to the lace with Tombow Adhesive Dots.  Now, these Adhesive Dots are PERFECT for a project like this because they are colored – red, yellow, green and BLUE!  The blue Adhesive Dots just disappear in to my project.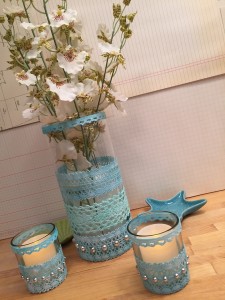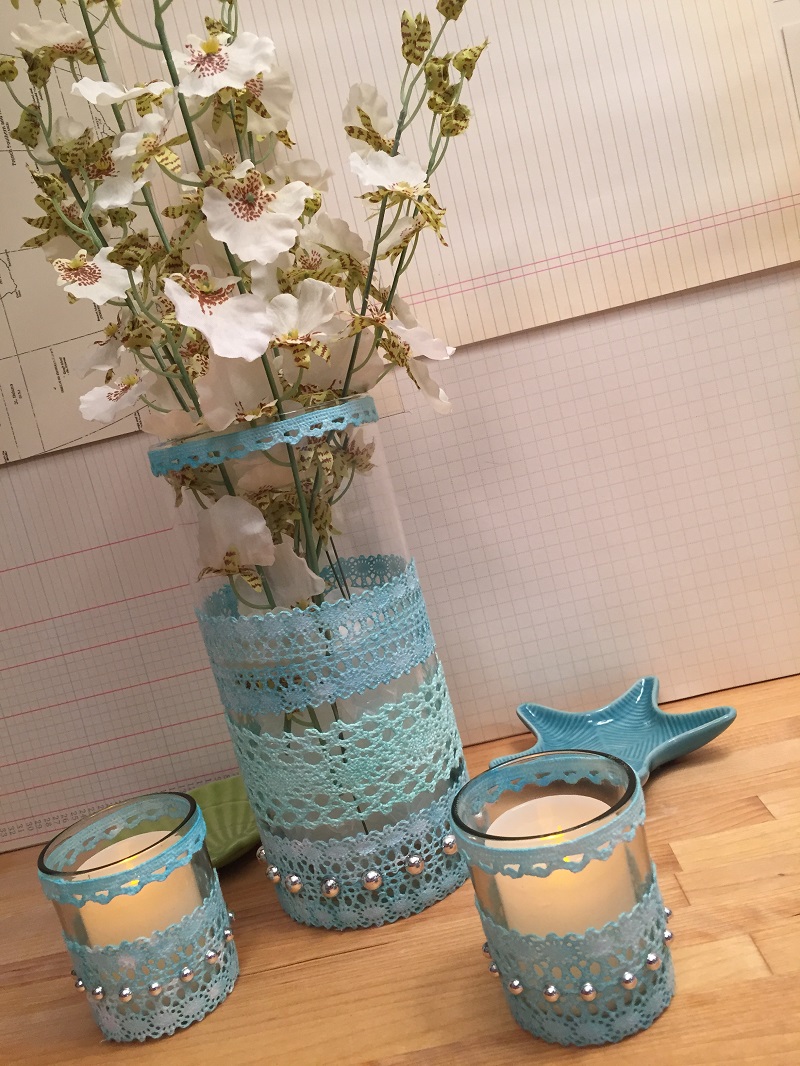 Fill with candles, flowers and display on your favorite table.  I think that the Aqua and Silver definitely has a Summer and Beachy feel to it, but this project can be re-created in YOUR favorite color combination, quickly and easily!
Thanks for stopping by!  -Beth