This week the Tombow Design Team members are featuring projects created with goodies sent to us by Fancy Pants Designs.  We each received some of their new releases Making Waves, Summer Sun and Office Suite – double sided papers, button mix and alphabet & number packs. I was immediately drawn to the Octopus from the Making Waves Collection and I created this canvas around it!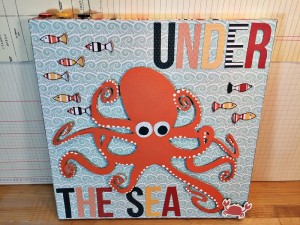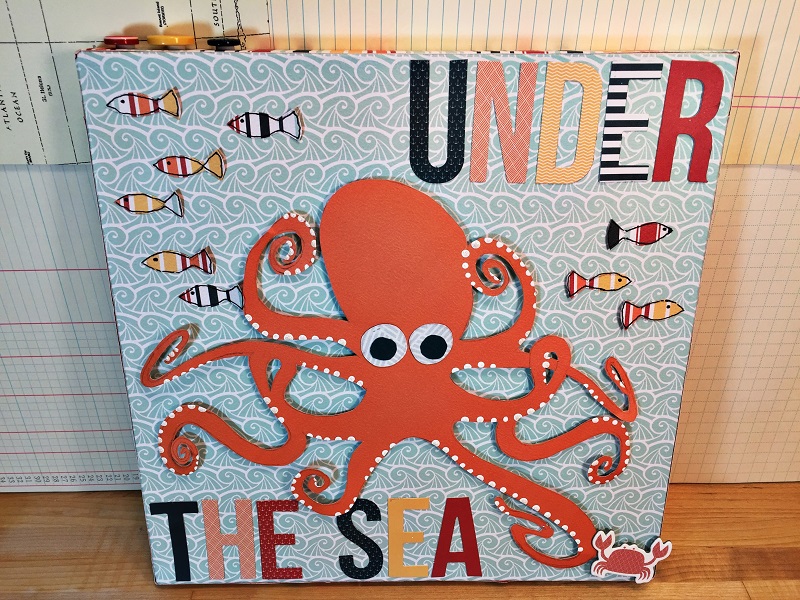 Measure and cut Plunge paper to fit your canvas (mine is 10″ by 10″).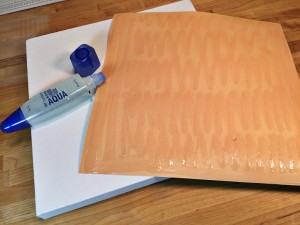 Apply Tombow MONO Aqua Liquid Glue on the back of the Plunge paper.  Attach to canvas and smooth with a bone folder.  Set aside to dry.  The Aqua Glue is perfect for this type of application because it is made for paper, so it does not wrinkle and dries super fast!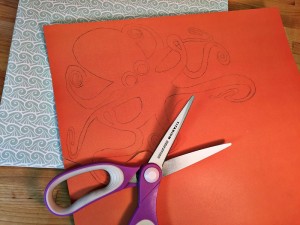 Enlarge Octopus image from Seafood paper to 650% on copy machine.  Trace onto orange side of Wakeboard paper using graphite paper and a ball point pen.  Fussy cut, with large scissors, then smaller detail scissors.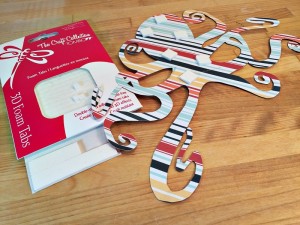 Apply Tombow 3D Foam Tabs randomly to back of Octopus to give dimension.  TIP:  Use the larger squares in the bigger sections of the image and the smaller squares on the skinnier sections of the image.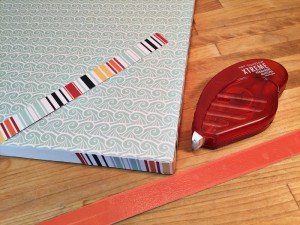 Measure and cut Wakeboard paper to frame edges of canvas (mine are 3/4″ wide and I cut four strips).  Apply Tombow Xtreme Adhesive to back of strips and trim around edge.  Smooth with a bone folder.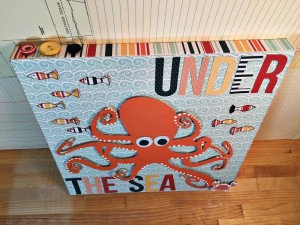 Using the Fancy Pants Designs Making Waves Collection Alphabet Letters & Numbers, spell out UNDER THE SEA and attach to canvas with Tombow Xtreme Adhesive.   Remove backer paper from Tombow 3D Foam Tabs and attach Mr. Octopus to the canvas.  Trace and cut the Octopus eyes from All Tied Up and Seafood papers and attach with Tombow Xtreme Adhesive.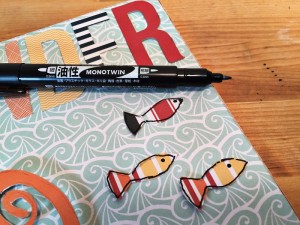 Draw small fish on Wakeboard paper, cut out and attach to canvas with Tombow Xtreme Adhesive.  Outline and draw in eyes with Tombow MONO Twin Permanent Marker.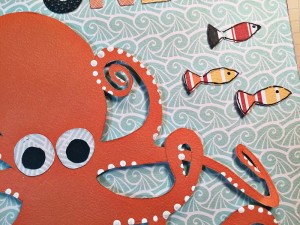 Highlight Mr. Octopus by giving his tentacles suckers using white paint and the handle end of a paint brush to create the dots.  Sprinkle with extra fine glitter to give a little shimmer.  Attach Crab from Button Mix to bottom of canvas (to keep Mr. Octopus company!) and three buttons to top left edge of canvas as a finishing touch.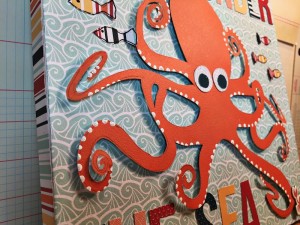 Here is another detailed angle of the canvas.  LOVE the way this turned out and it will be a great gift form my friends Sammy who will give Mr. Octopus a good home!
Check out the Tombow USA FB Page and the  Fancy Pants Designs FB Page for more inspiration!
Thanks for stopping by and remember to visit us each day this week to see what the other Tombow Design Team Members create with their Fancy Pants Designs goodies!  -Beth