Hello Everyone! It's Lauren, again! I'm super excited to talk all about one of my favorite adhesives, the Tombow Xtreme Adhesive. Being a letterer and calligrapher, I never really knew much about adhesives, until recently.  Now I am completely hooked on them and find so many practical and crafty ways to use then all the time in my work and every day life.   Today I'm going to tell you the five reasons that I LOVE the Tombow Xtreme Adhesive while showing a super fun and springy craft that will be a super festive addition to your Easter decor.
Before we start counting down all of the reasons why I love the Tombow Xtreme Adhesive, let's talk about my super fun project, a mason jar with an embellished lid and filled with decorative eggs of all kinds.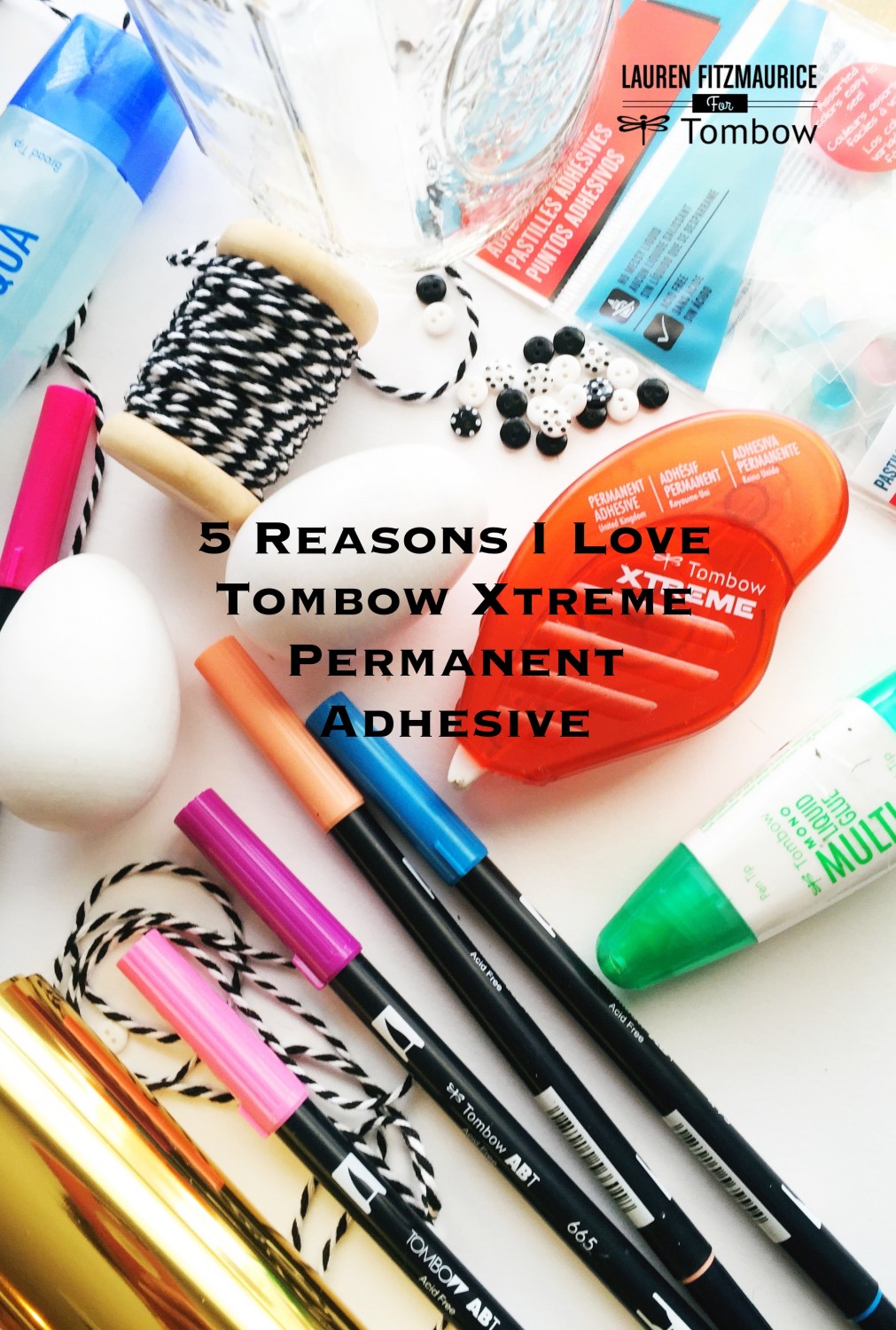 For this project I used:
-1  Clear Glass Mason Jar
-Baker's Twine
-White Decorative Wooden Eggs from a craft store
-A Water Brush
-Small Buttons
–Tombow Fudenosuke Soft Tip Brush Pen
–Tombow MONO Multi Liquid Glue
-Gold Foil (that does not require heat)
-Mixed Media Paper
-Burlap
You'll have to wait to see the final product at the end! Now let's get started on our list, shall we?!
1. A Very Strong Bond
The first reason that I absolutely love the Tombow Xtreme Adhesive is that it has an incredibly strong bond.  This high performance tape runner is five times stronger than regular strength adhesive.  This strong bond makes this the perfect adhesive to use for projects that you want to hold up well over time or with wire texture materials.  It is extra strong, very sticky, and I have yet to find anything that it wouldn't stick to.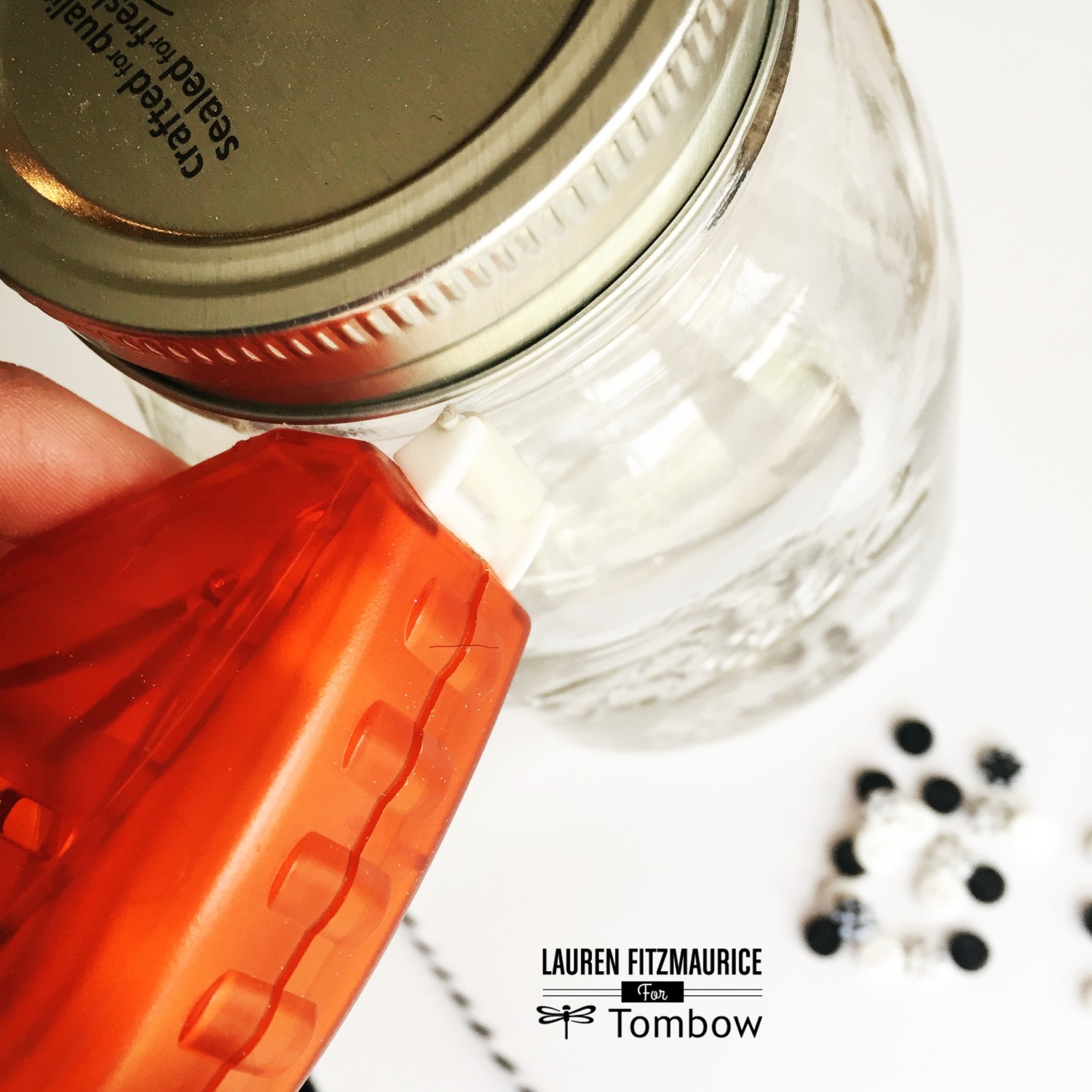 To begin my project, I first used the Tombow Xtreme Adhesive tape runner to apply the twine around the mouth of the jar.  The tape runner smoothly applied the adhesive and it was easy to wrap the twine around until all of the adhesive was covered, then I used the two ends of the twine to tie a bow and made sure to center it on the very front of the jar. This adhesive will keep the twine in place so that my jar stays super cute for a long time.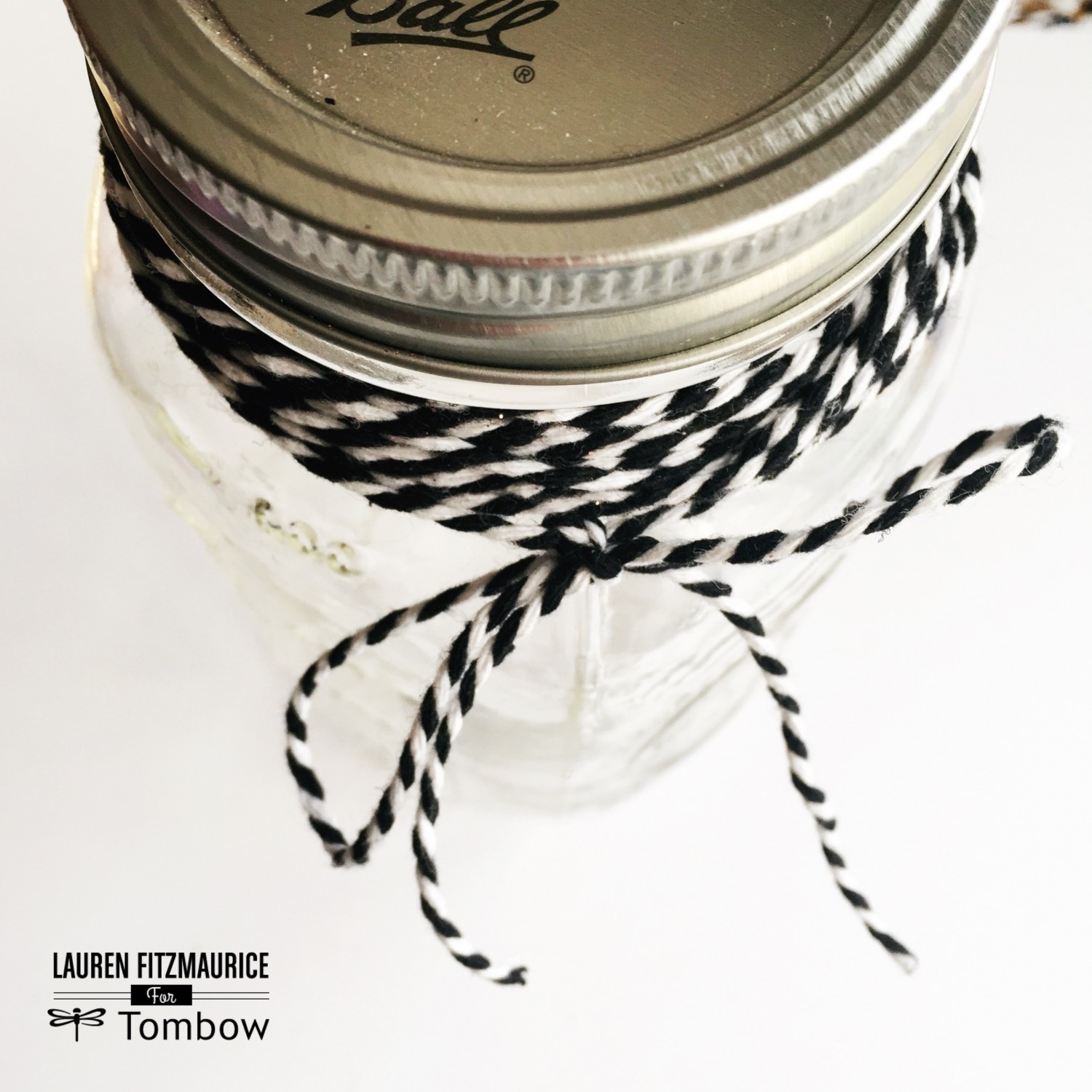 2. Works on a Variety of Surfaces
In the past, I have had the hardest time of finding a glue  that would actually hold together the project I was working on and would many times resort to use of the hot glue gun, but not any more.  The Tombow Xtreme Adhesive works perfectly with many kinds of surfaces including paper, cork, glass, plastic, fabric, and wood.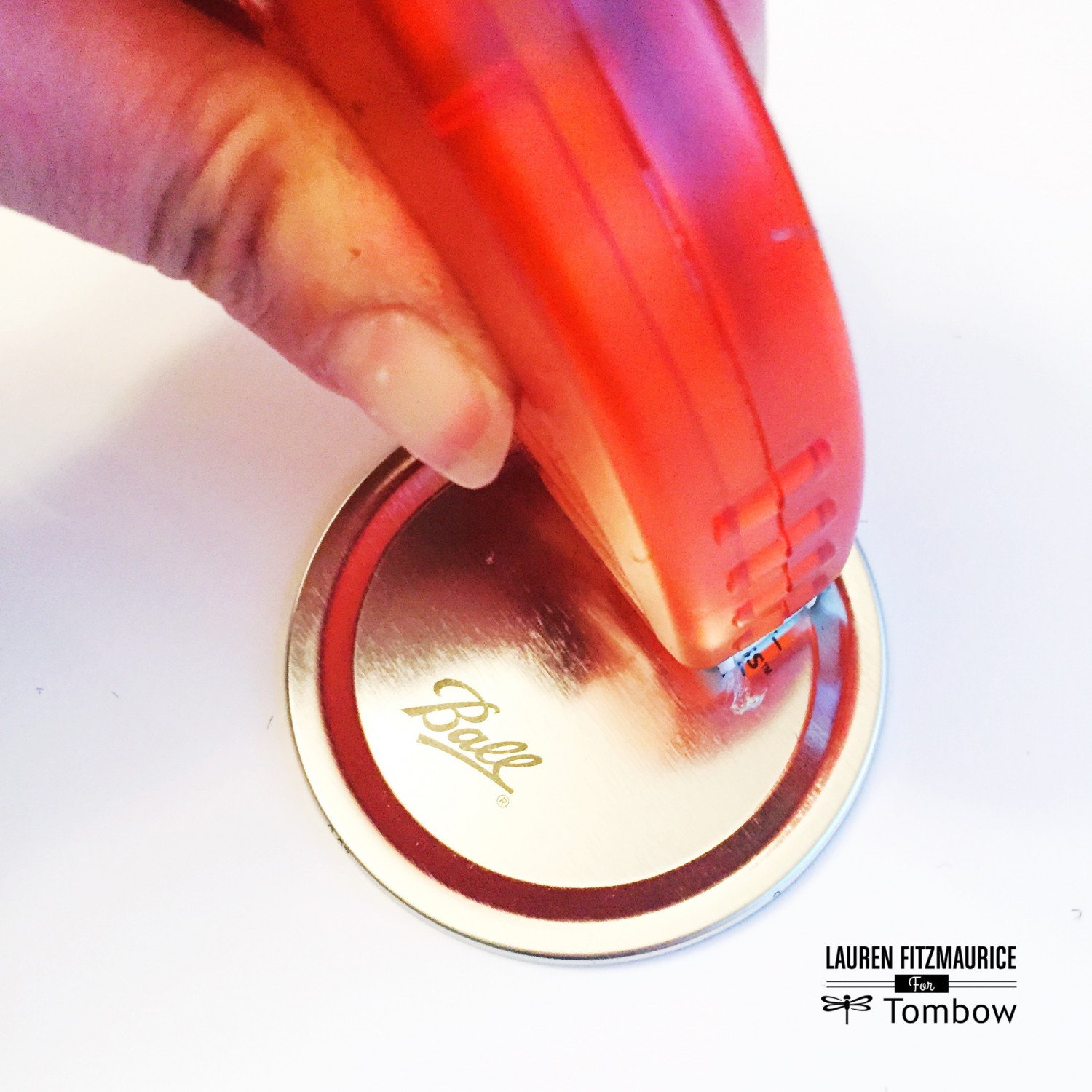 To embellish the jar lid,I wanted to attach some black burlap. So, I covered it with Tombow Xtreme Adhesive with the tape runner. I made a nice little field of adhesive so that the burlap would seamlessly stick to the metal lid. Then I gently applied the burlap and smoothed it out on top of the adhesive.  Then, I cut the excess burlap off, so that only the top of the lid was covered.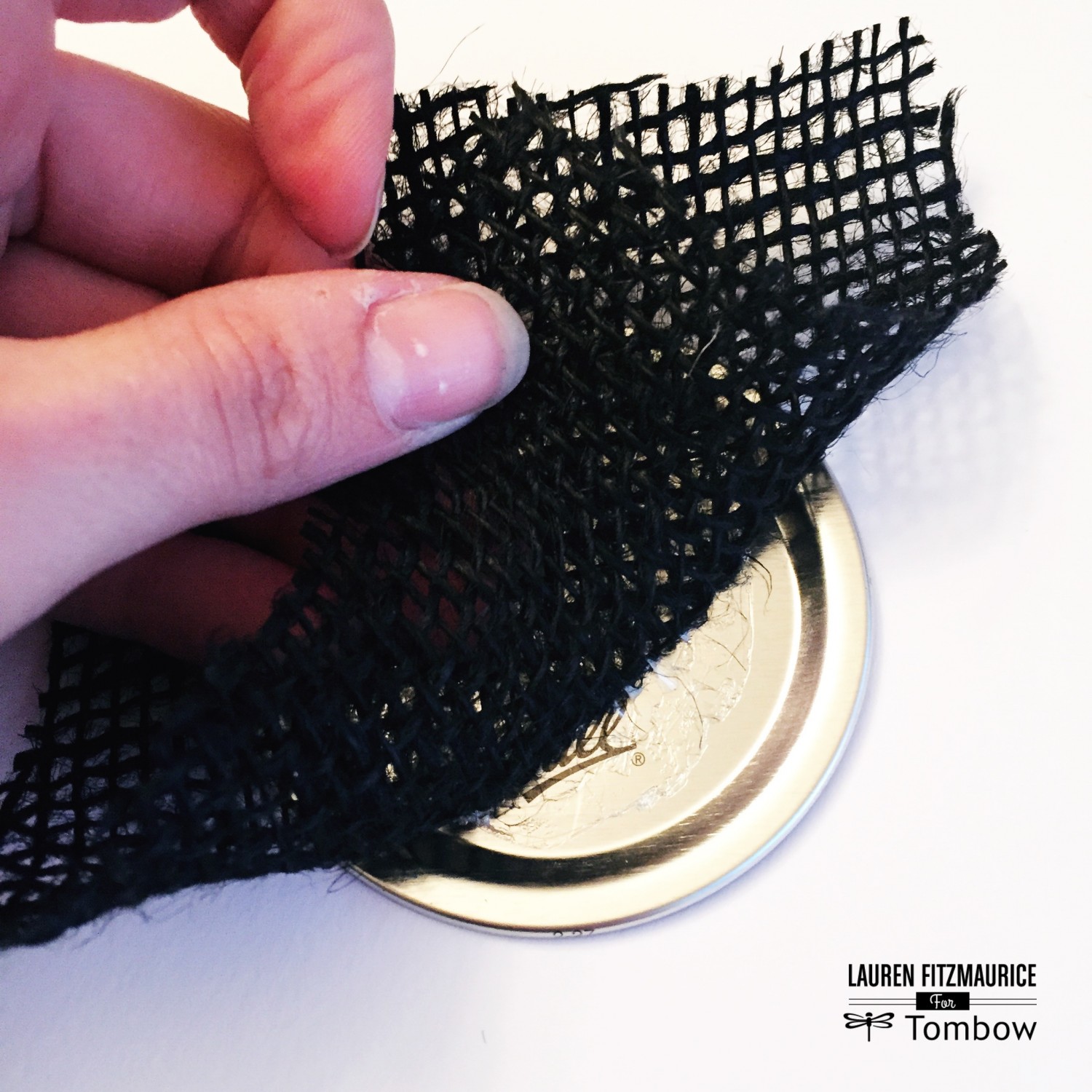 3. Easy to Use & Not Messy
Another reason why I love Tombow Xtreme Adhesive is that it is super easy to use and gets a high performance bond without a worry of a mess.  It is super important to know how to correctly use the Tombow Xtreme Adhesive tape runner. Since the adhesive is so strong, as you are using the runner, instead of just lifting the adhesive, you have to snap your wrist, swiping the adhesive so that it has a clean break.  I demonstrate this in the video below.  The first few times in the video I use it correctly but the last time I did not and it made a string of adhesive. If it happens it is no big deal just open it up, straighten it and start using it again!
The next step to making the jar was adding a touch of lettering with the Tombow Fudenosuke Soft Tip Brush Pen and a pop of color with some Tombow Dual Brush pens.  I cut a little strip of paper and lettered the word "Love", then layered it on top of a heart that I created from mixed media paper that I blended Dual Brush Pens on with a water brush to get a watercolor effect. I applied Tombow Xtreme Adhesive to the paper and stuck it on the lid.  It fit together perfectly and is sure to hold up nicely.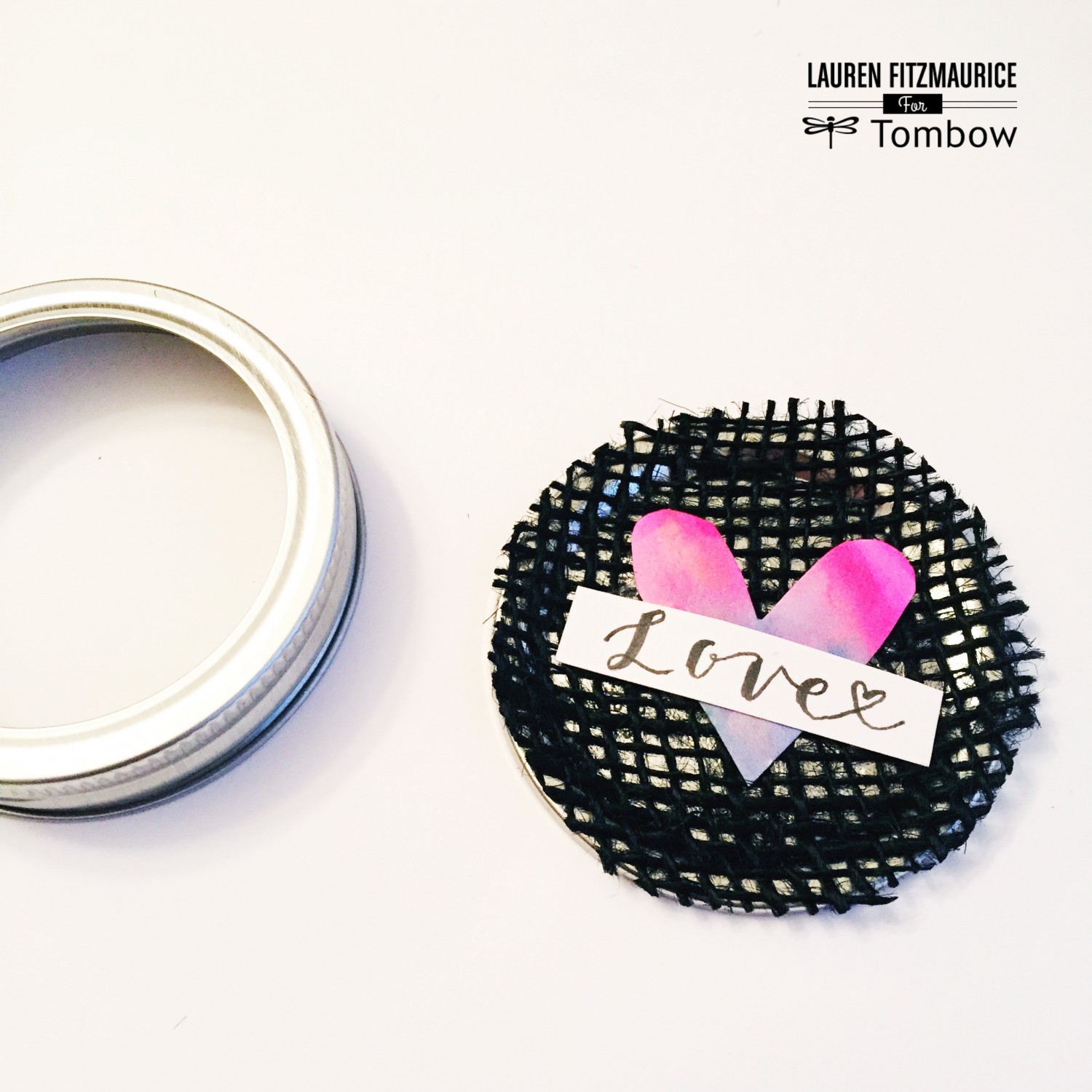 4. Great When Paired with other Tombow Adhesives
Tombow has some AMAZING adhesives that are great to incorporate in any project. I have learned that not every adhesive is meant to do the same thing so I think it is such a great idea to keep some Tombow Xtreme Adhesive in your craft stash along with some other great adhesives to enhance and embellish. That way, you are never in a pickle when you need a high performance adhesive.
The jar was complete and it was time to create some cute, decorated eggs to fill it with.  I used some light, white wooden decorative eggs that I got at a local craft store.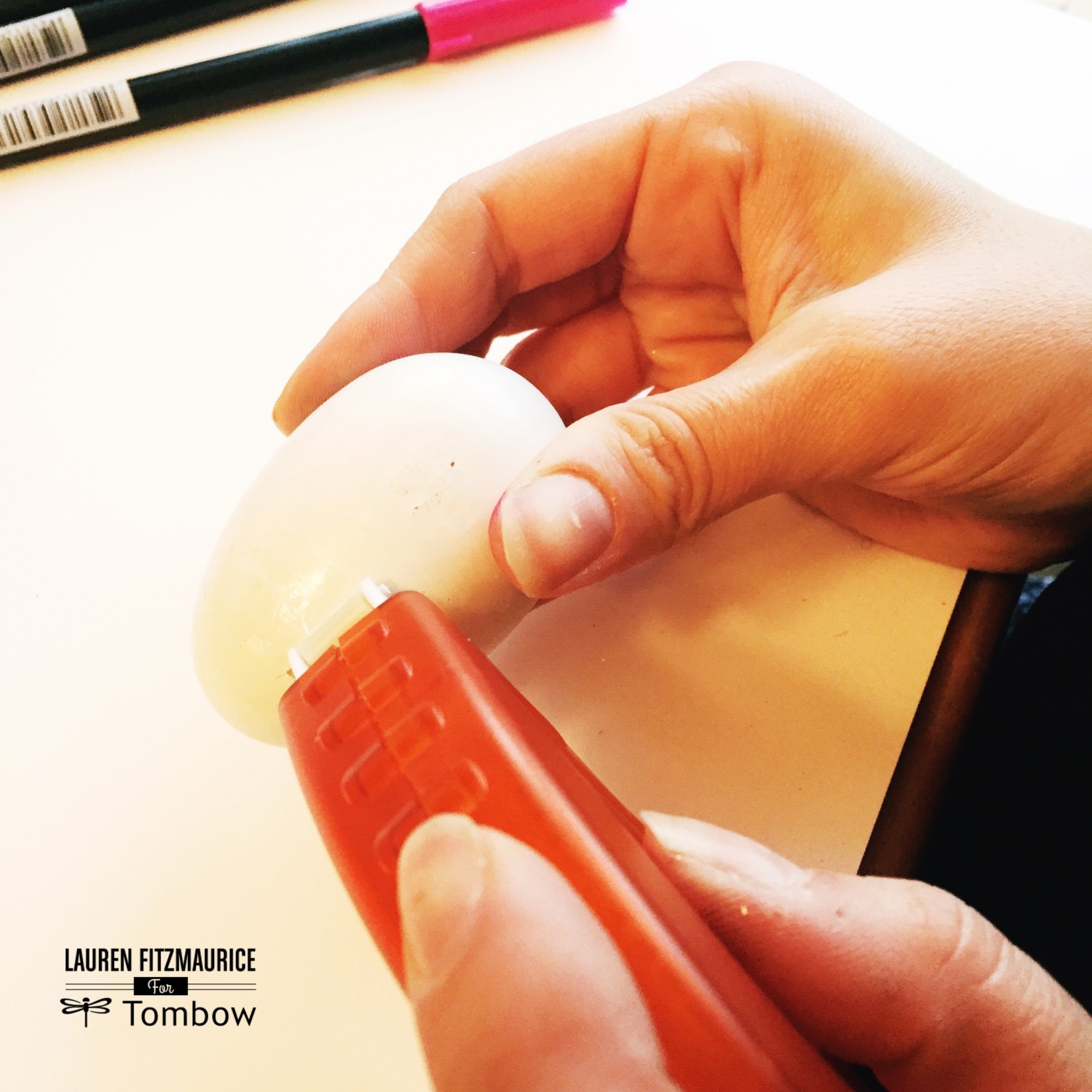 For my first egg, I wanted to apply some baker's twine.  I carefully applied the Tombow Xtreme Adhesive to the middle of the egg and then wrapped the twine around, pressing firmly.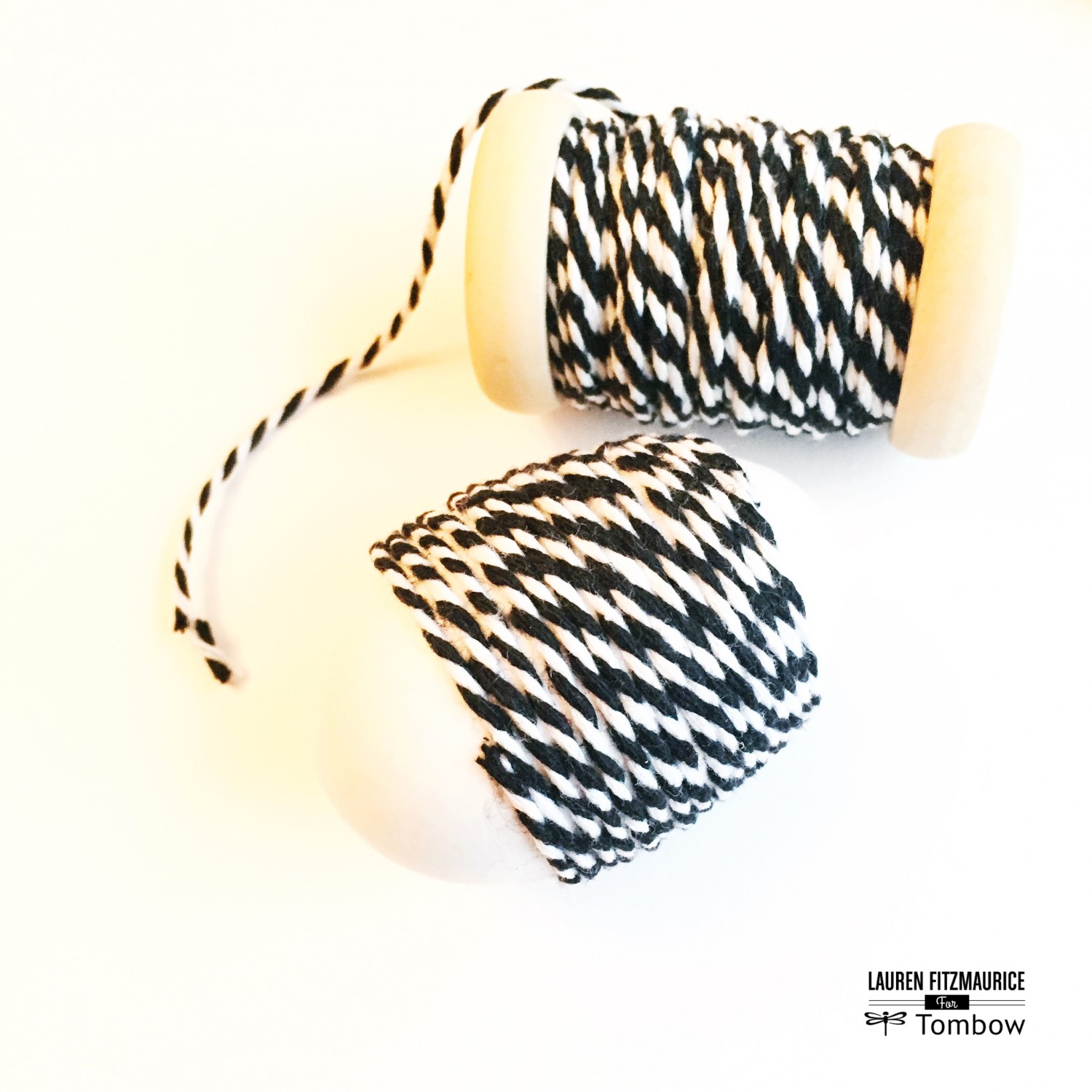 I added color to a few of my eggs by using my Tombow Dual Brush Pens and a water brush.  There are so many items that would look super cute on the eggs.  I also used the Tombow Xtreme Adhesive to apply little buttons on the colorful egg.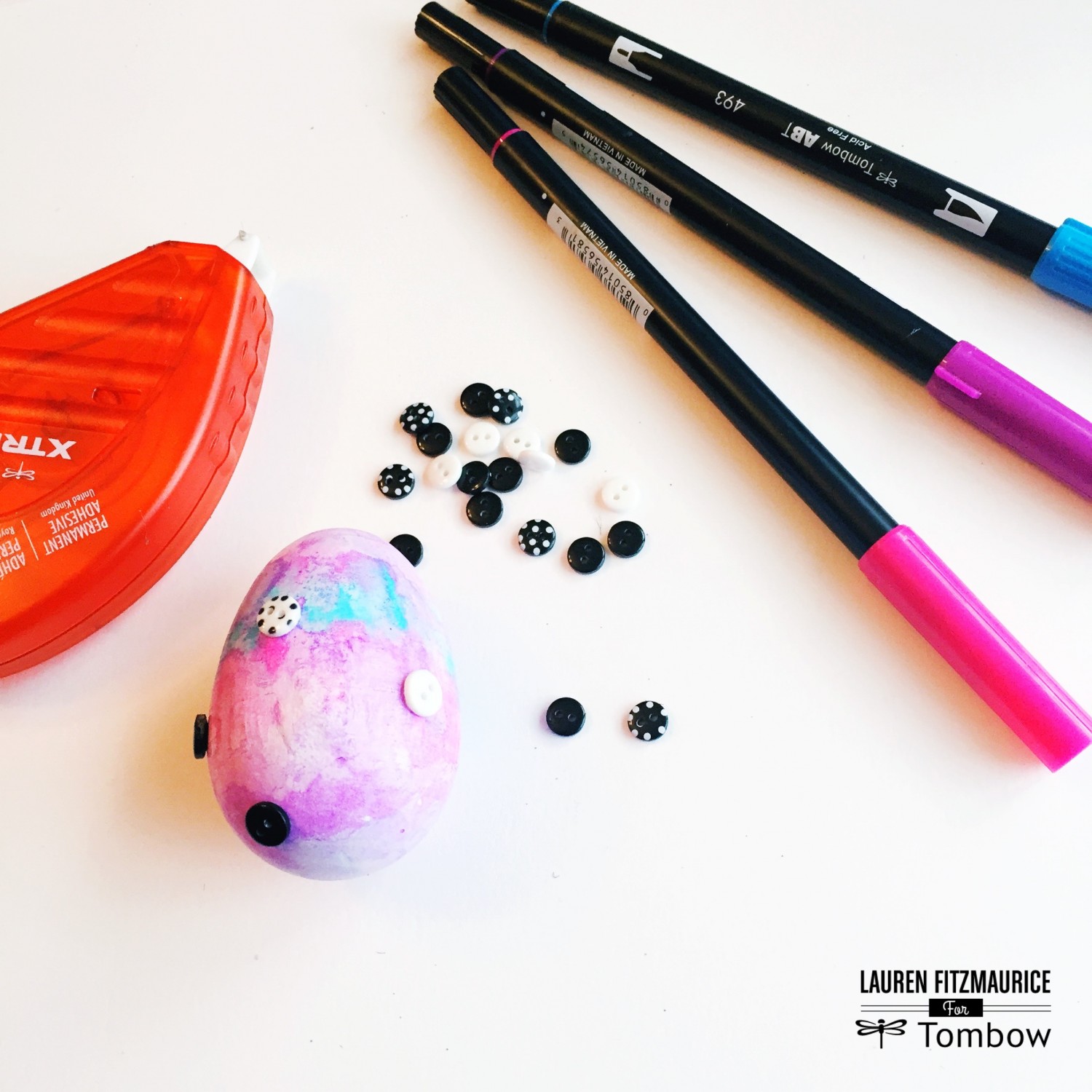 Another great adhesive I love is the Tombow MONO Multi Liquid Glue.  I applied some around the middle of the egg, smoothed it out with my finger, let it dry, and then gave it some foil love.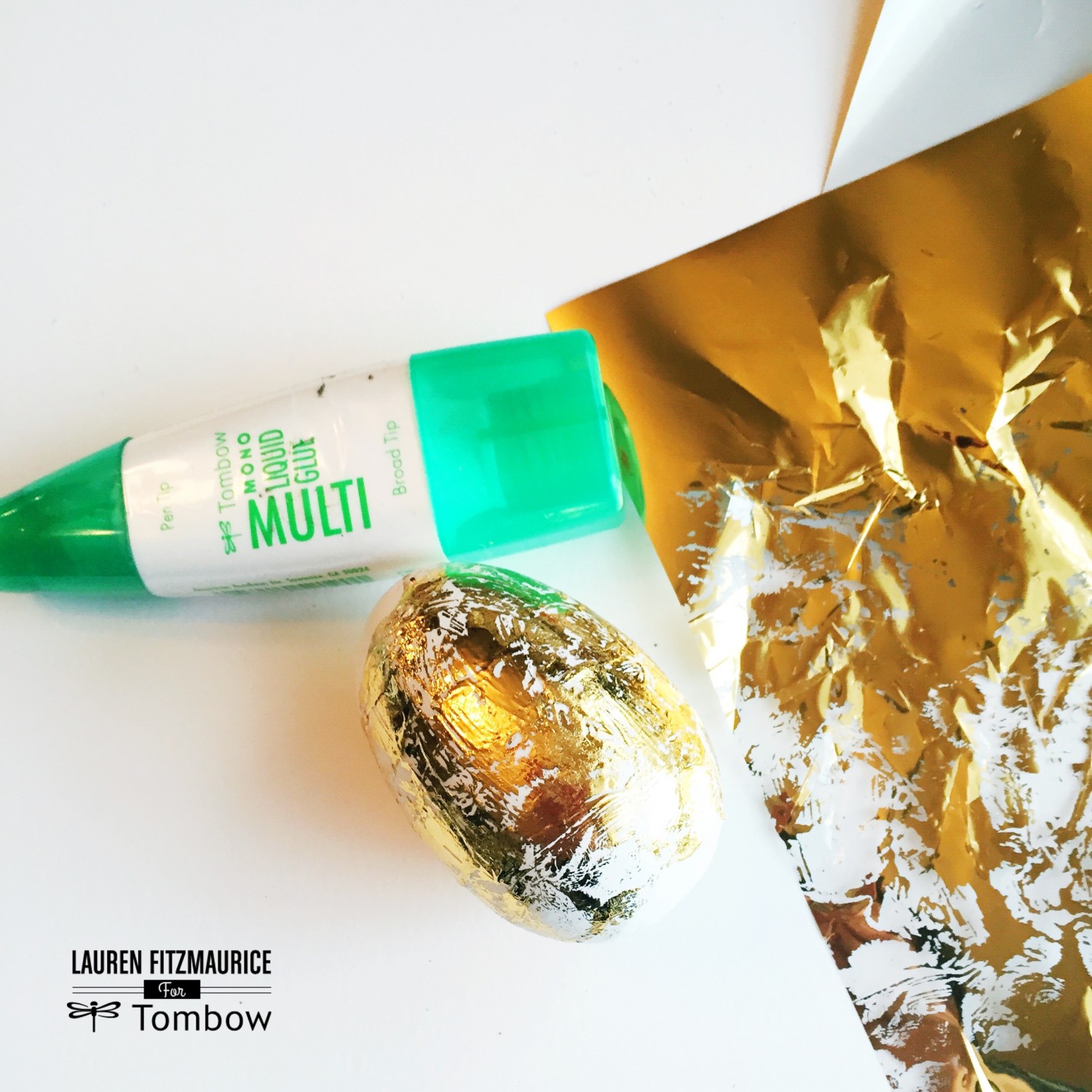 I also love the Tombow MONO Adhesive Dots.  I stuck them on an egg quickly and applied foil for a golden polka dot look.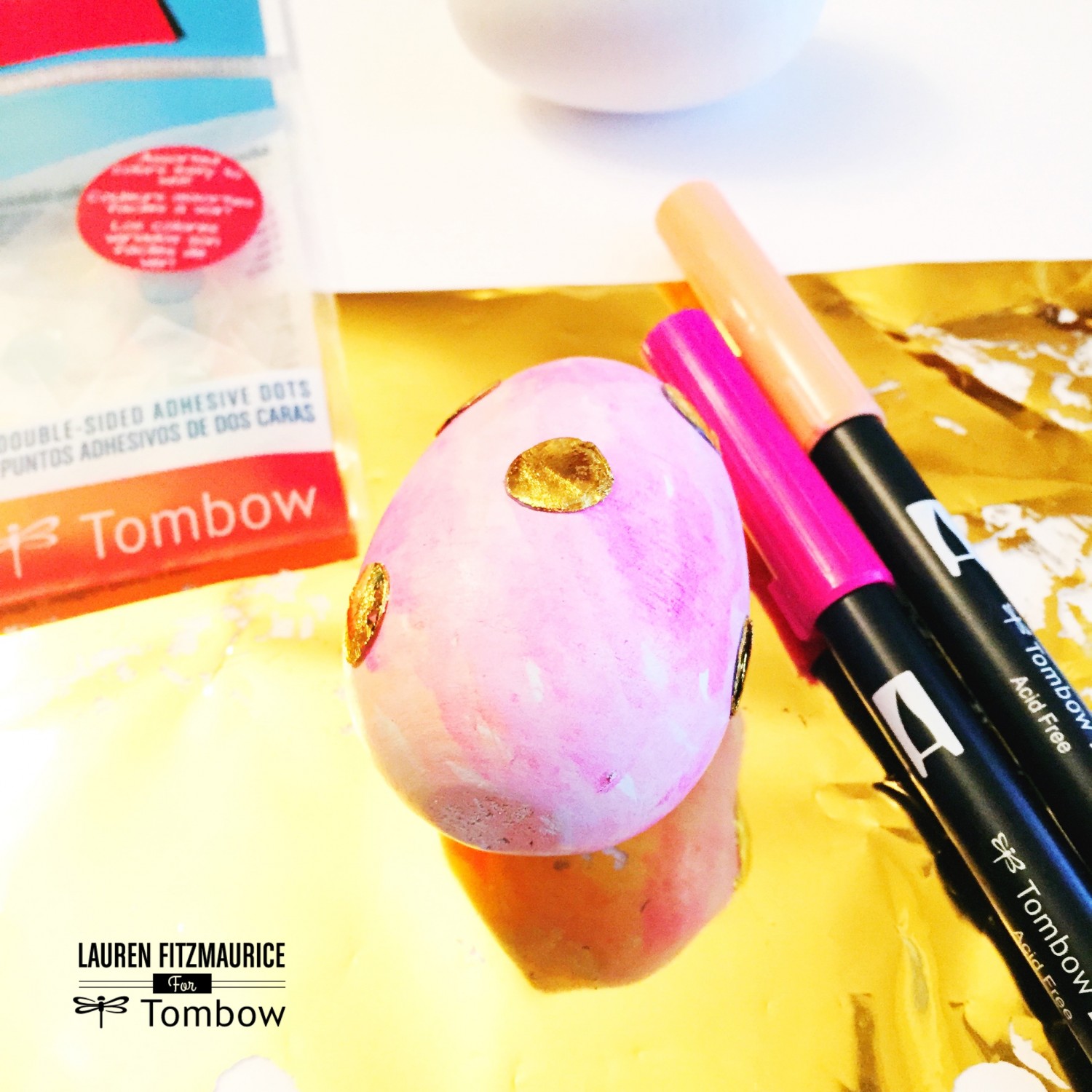 Another great idea would be to use the Tombow MONO Aqua Liquid Glue to apply glitter. I decided my last egg needed some lettering love so I used my Tombow Fudenosuke Soft Tip Brush Pen to write the word "Happy".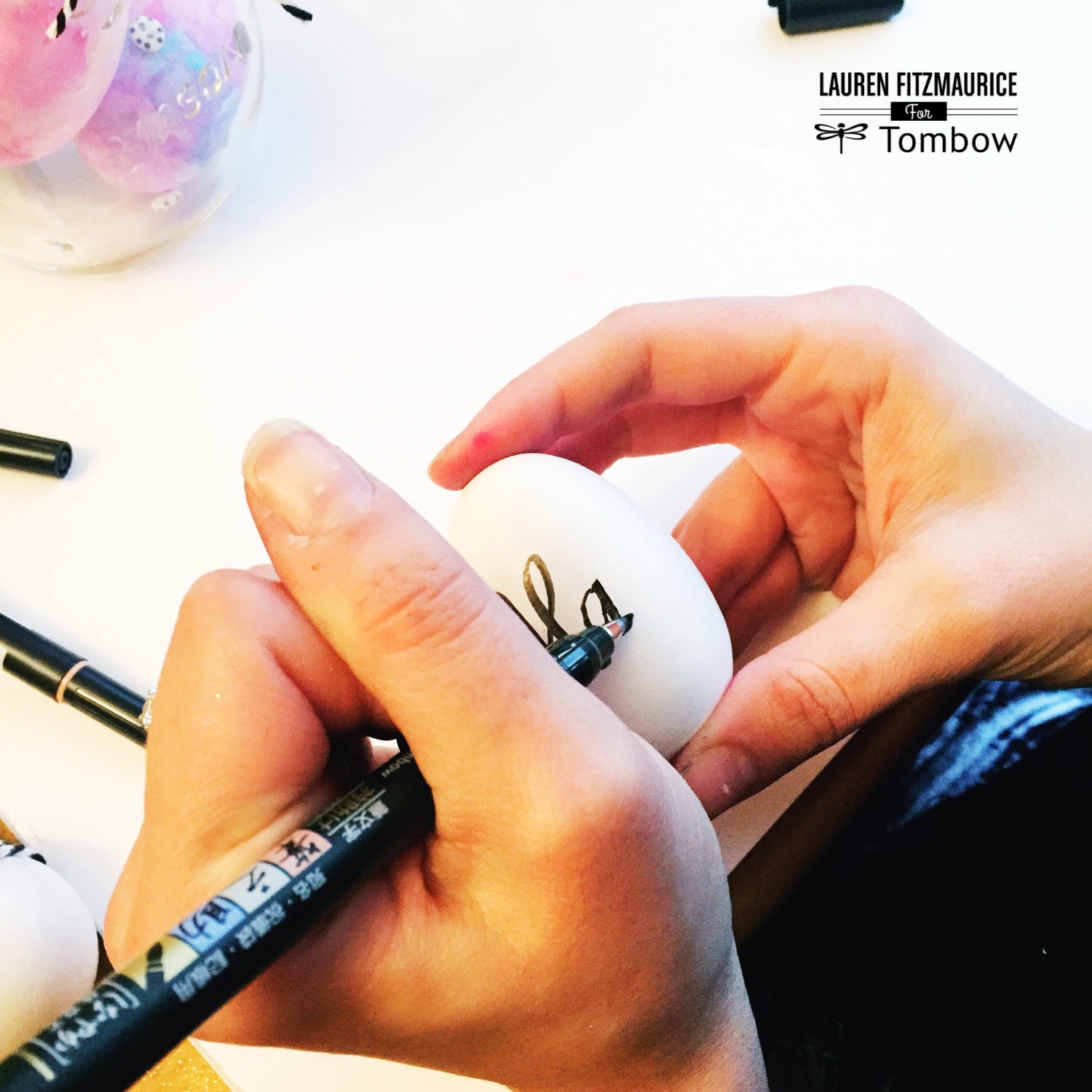 After all of the eggs were dry and ready, I positioned them in the jar and was ready to attach the lid.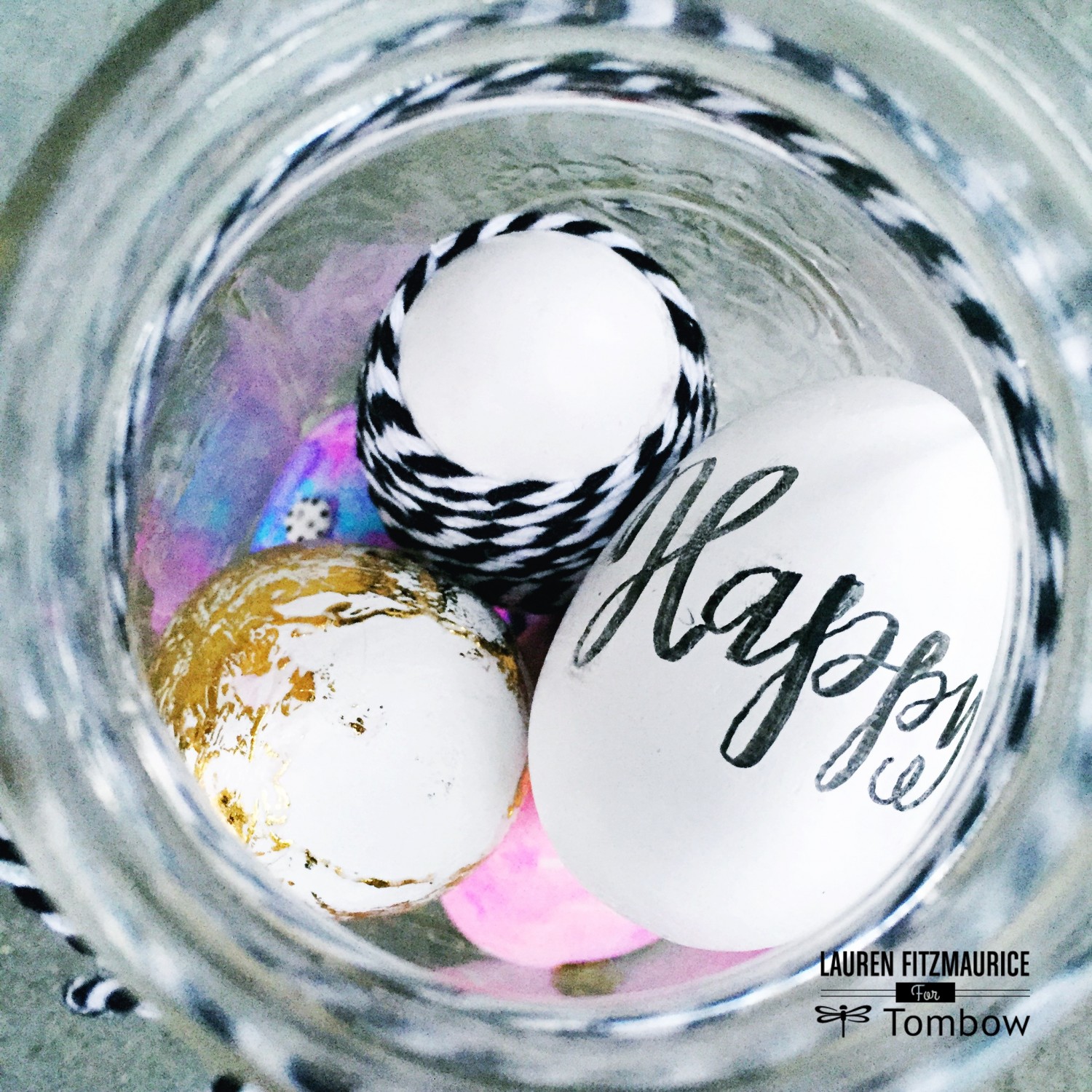 I love how all of the different adhesives worked together in this piece to create fun textures that will be very eye catching as a decoration on a table in my home.
5. It's Refillable
Another great part of the Tombow Xtreme Adhesive is that it is refillable. If you run out of adhesive all you have to do is order a refill, pop open the tape runner, replace the old with the new, and click it back together.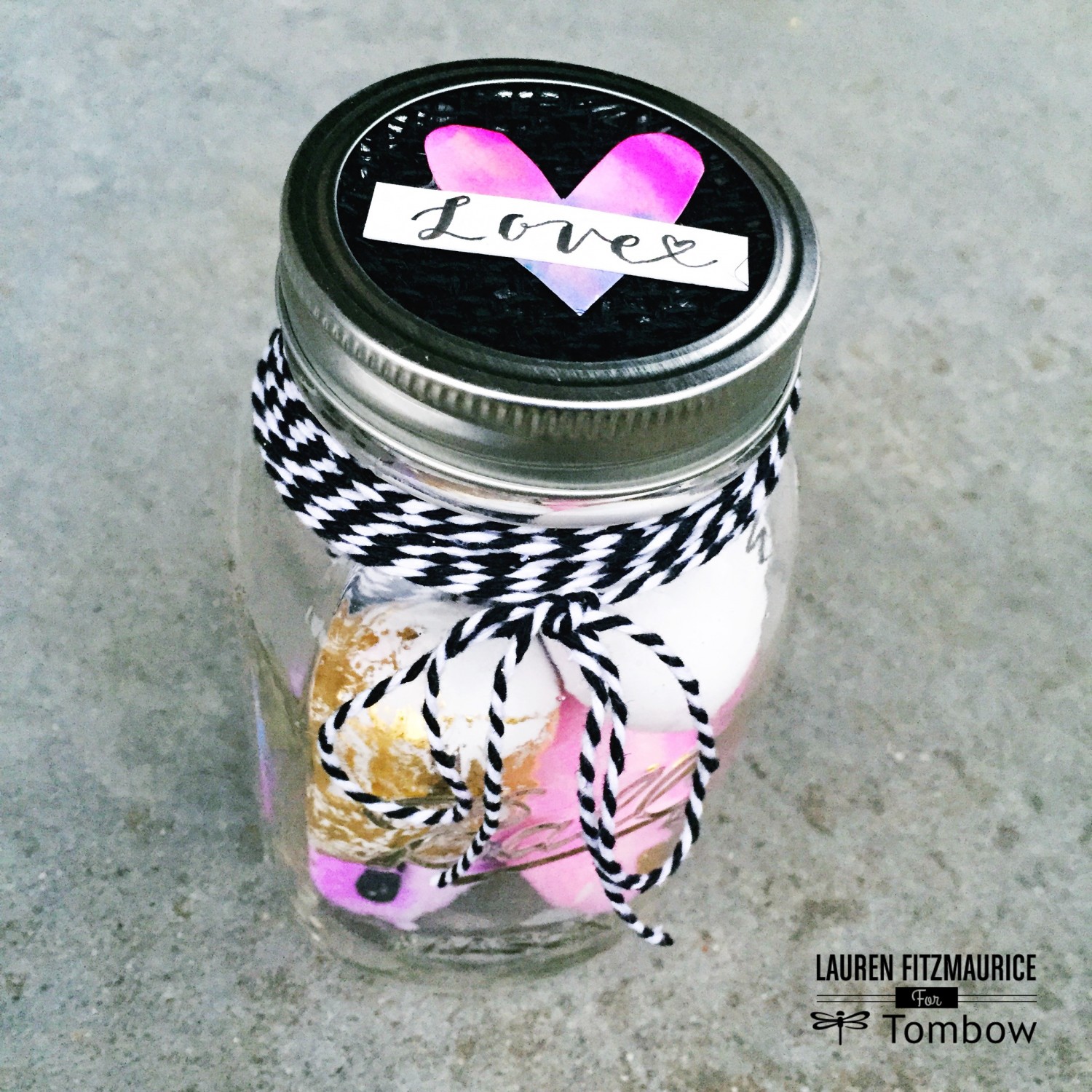 Thanks for reading all about my LOVE of Tombow Xtreme Adhesive.  It is really an amazing product and the possibilities of what could be created are endless.  For more information about Tombow products check out TombowUSA.com.  Also follow along my lettering and crafting journey on instagram and my blog.
Happy Crafting!
Lauren