Happy Monday! This is Jennie with today's easy and affordable project! Guess what? Wedding Season is upon us! This week the Tombow Design Team is taking care of the wedding party! The ladies responsible for holding the dress, keeping the bride calm and wearing ugly dresses… The Bridesmaids! In this post I'll share with you budget friendly bridesmaid gift ideas.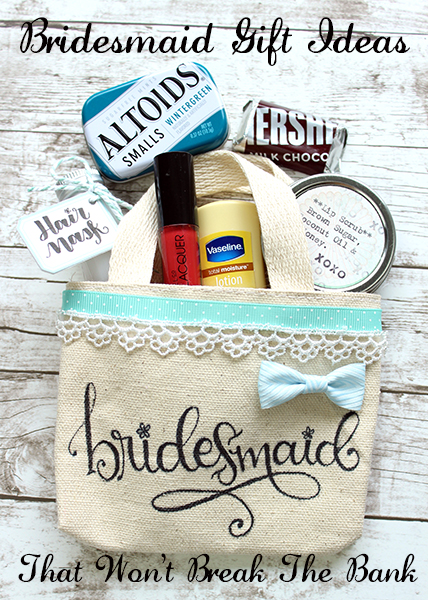 This cute canvas bag could also be a wooden box or a cute cardboard box. Every time you letter on an article you should practice first to try size, style and composition. Once you a ready to commit to the surface use a Tombow MONO Drawing Pencil to draw or letter your design. On the canvas texture the B pencils work better, I used a 4B here. Another plus is that you can erase mistakes using the Tombow MONO Sand Eraser. Even though is not paper, I used the same pressure of the strokes as I would use on a paper. Lighter pressure in upstrokes and heavier pressure in downstrokes. That way I knew which lines would be thicker.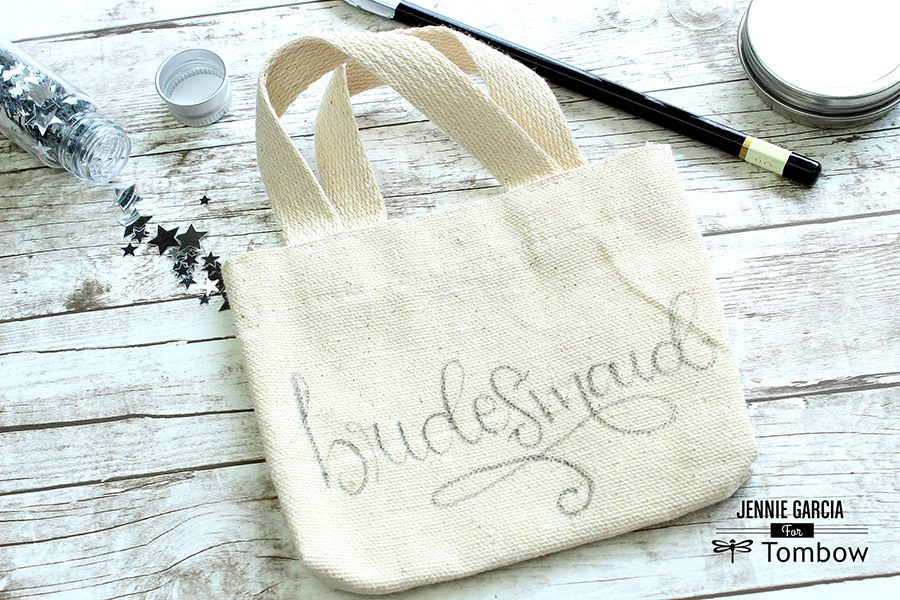 Once you are happy with your design use the Tombow Mono Twin Permanent Marker fine tip over the lines. Add more weight in the downstrokes.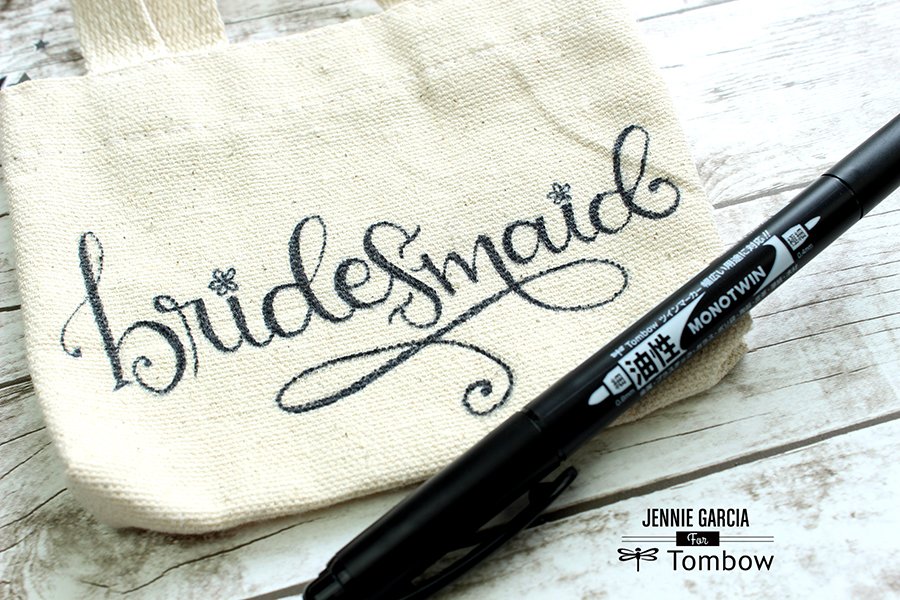 I also came up with something extra to add to this goody bag. DIY beauty items are super simple and affordable items you can add these little gifts. I made a hair mask and a Lip Scrub. I like to stay away from face scrubs and masks because everyone's skins reacts different to the components and you don't want your bridesmaids breaking out during the big day. Always write the ingredients somewhere in the container and make sure you label them correctly since sometimes we don't know which person could have an allergy.
Lip Scrub:
Ingredients: 2 tsp. Brown Sugar, 2 tsp. Honey and 2 tsp. Coconut Oil
Apply to lips and leave for a few minutes. Wipe off with a warm cloth. Enjoy soft and kissable lips!
Mix your ingredients. If you want to make a big batch just use equal quantities of each ingredient. After pouring into the container, refrigerate. Type the instructions on the bottom. Glue the labels with the Tombow Xtreme Permanent Adhesive.
Hair Mask:
Ingredients: 2 tsp. of Coconut Oil, 2 tsp. of Honey and 1 tsp of apple cider vinegar.
Warm up bottle in a bath of hot water. Apply to hair from roots to tips. Leave for 30 minutes and Rinse!
Since you have to put these containers in a bath of hot water I don't recommend putting a label on it. My option was to use labels and glue them back to back using the Tombow Xtreme Permanent Adhesive. Poke a hole in the corner and attach to the tube using twine. I lettered "Hair Mask" with the Tombow Fudenosuke Brush Pen Hard Tip. On the back I have the ingredients and instructions.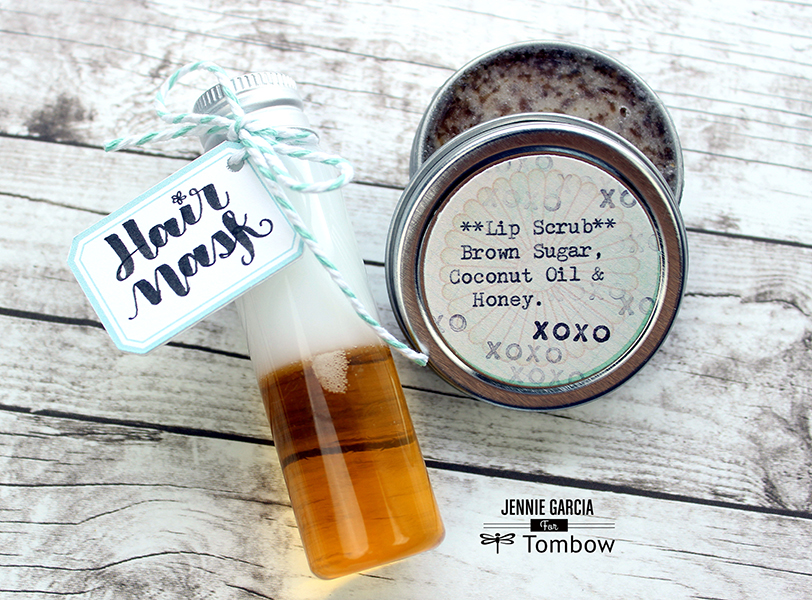 I added trim and a handmade bow to my bag using the Tombow Fudenosuke Brush Pen Hard Tip. To make the bow check out this Bow Tutorial.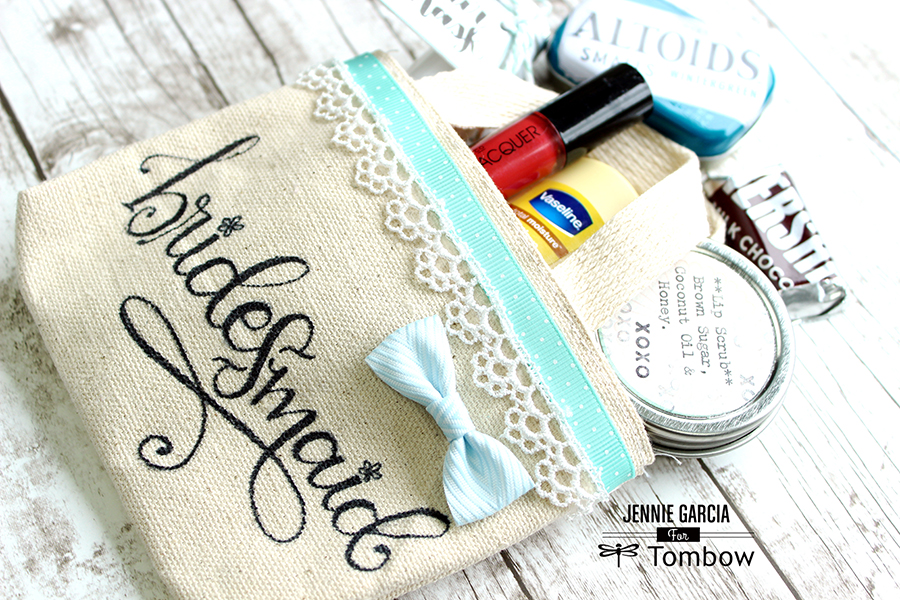 Here is a list of items you can add to Bridesmaids gift bags.
DIY Beauty Items
Makeup Items
Makeup Remover Wipes
Nail Care Items
Lotion
Perfume or perfume samples
A Cookie and the recipe
Mints
Chocolate
Stationery Items
Monogrammed Journal
Monogrammed or Personalized Items
Handkerchief
Hair Spray
Gift Cards
Books
Movies
Pajamas
Key chain
Jewelry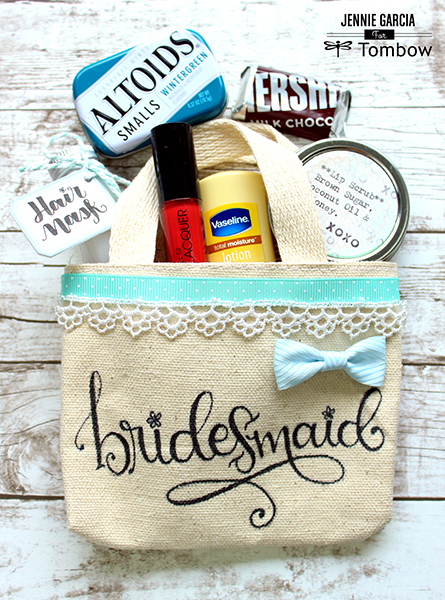 You know what else would be a great Bridesmaid Gift Idea? Awesome Tombow Products! You will also need Tombow Adhesives to make your favorite Wedding DIY Projects. You know what makes this deal even sweeter? You can get FREE Shipping with your $25.00 Order! Don't miss this deal and stock up!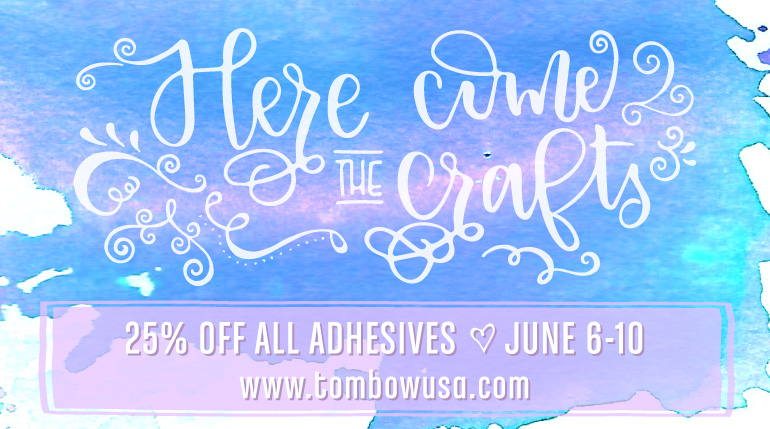 I hope you enjoyed this post! Make sure you share with your friends! We all have that Pinterest board with Wedding Inspiration!
Take Care!