My Lettering Story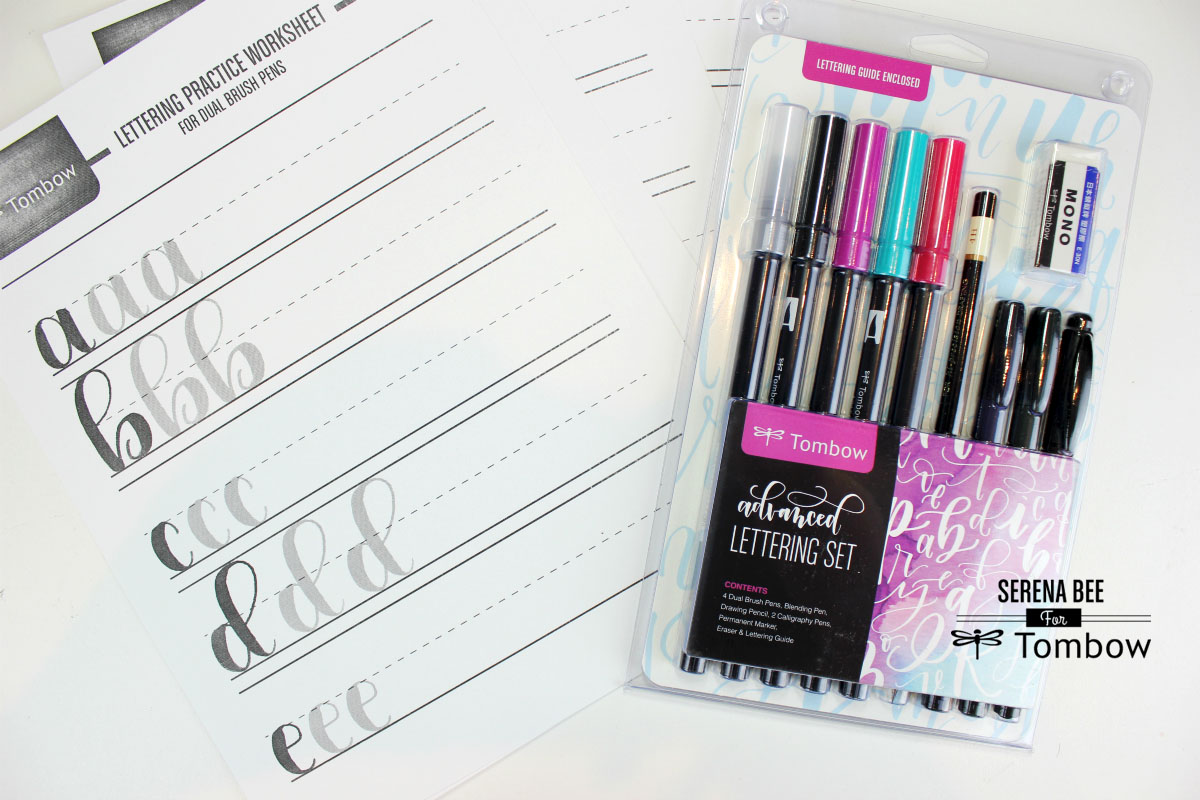 Serena Bee here and today I want to share my lettering story. Ever since I was a kid in elementary school I always wanted to do fun lettering. I remember trying really hard to master the bubble letters in grade 4 but I always told myself "I'm just not good at lettering" and til this day I avoided it at all costs lol. Well I'm finally committing and learning how to letter with the Tombow Dual Brush Pens. If you are like me, a beginner who always felt overwhelmed by lettering but always wish she could do it, then I hope this post can motivate and inspire you to give it a try. Tombow recently released 2 new Lettering Sets– one for Beginners and one for more Advanced Lettering. These lettering sets are so well loved that they are now all sold out! But you can join the waitlist and still receive the promotional discount of 30% off if you sign up! Join the Advanced Lettering Set Waitlist! or Join the beginner Lettering Set Waitlist!
The First Step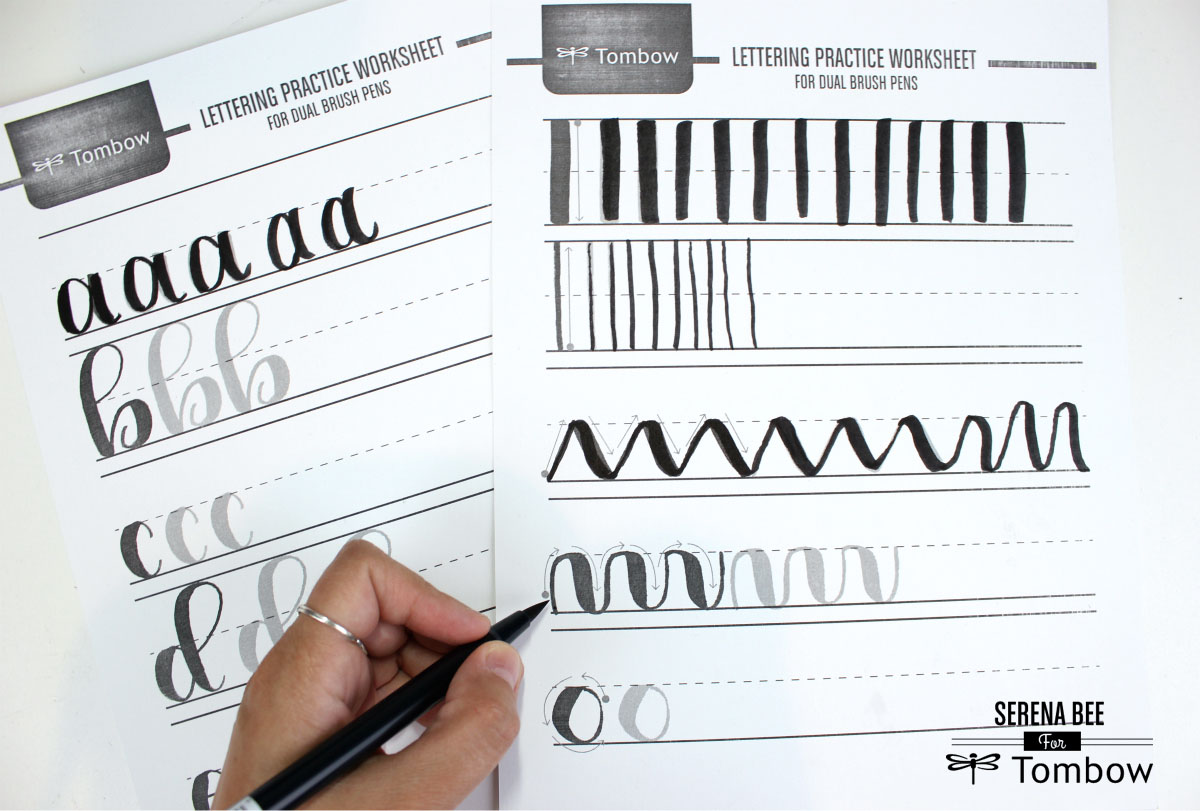 The best way to start lettering is to find a practice worksheet like the one provided by Tombow. These worksheets were a great help for me because it acted as a guide for learning which direction the strokes go. I must admit, that is something that would stump me when looking at lettering, I never knew how people made the strokes until now. It all looked like one continuous word to me. Now when I look at lettering my eyes trace the strokes and curves and I understand where it stops and starts. Download the free Tombow practice worksheets!
Practice, Practice, Practice
As I practiced with the colored Tombow Dual Brush Pens that came in the Advanced Lettering Set (which by the way is a great color combo!) I began noticing that my own personal style started showing through so quickly! Particularly, with the 'p', 'q', and 'r'. For instance, my 'p' is larger and more open than the one on the worksheet. My 'r' has more of a straight edge going upwards compared to the 'r' on the worksheet. Also, my loop is centered whereas the loop on the worksheet 'r' is more at an angle.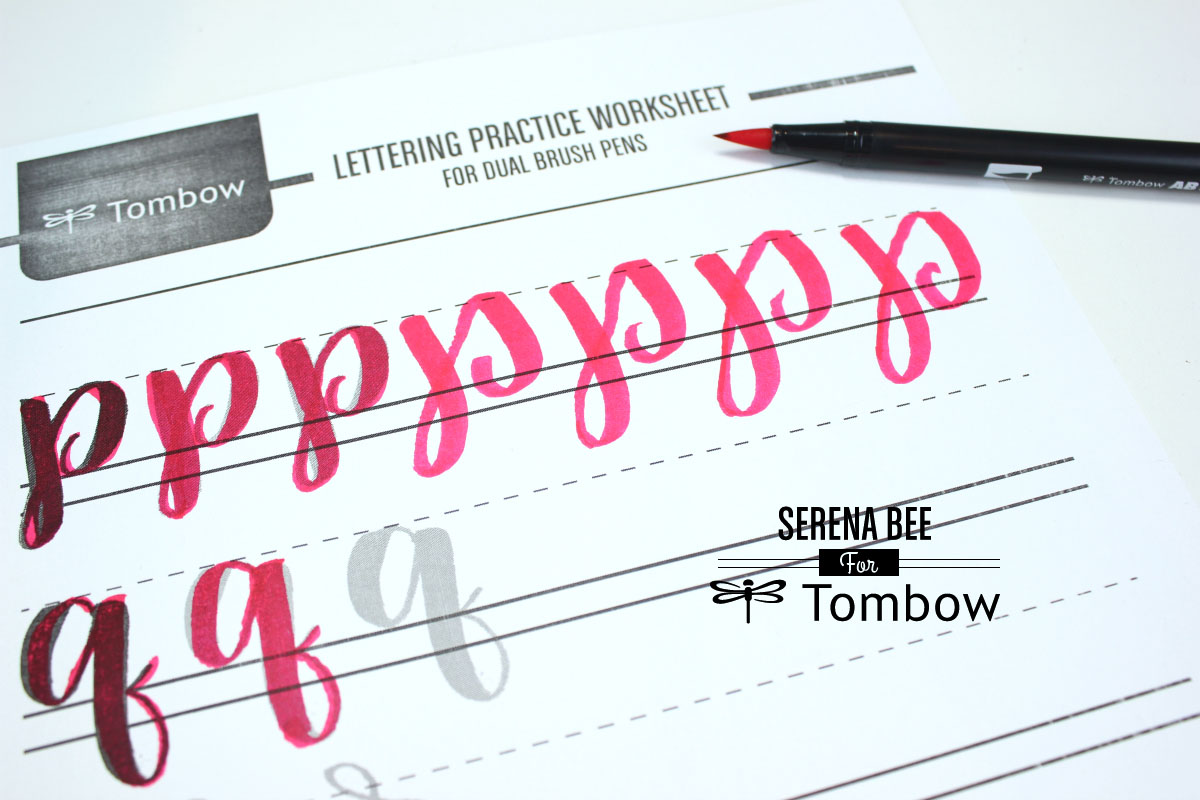 I continued playing around on my own. At first my hand movements felt so awkward, I had trouble making a continuous stroke up and down but the more I played on my own the more I notice my hand naturally taking the movements easier. Making skinny and thick strokes in the same movement became easier. Mind you, I am no expert but you can notice a difference almost instantly the more times you practice.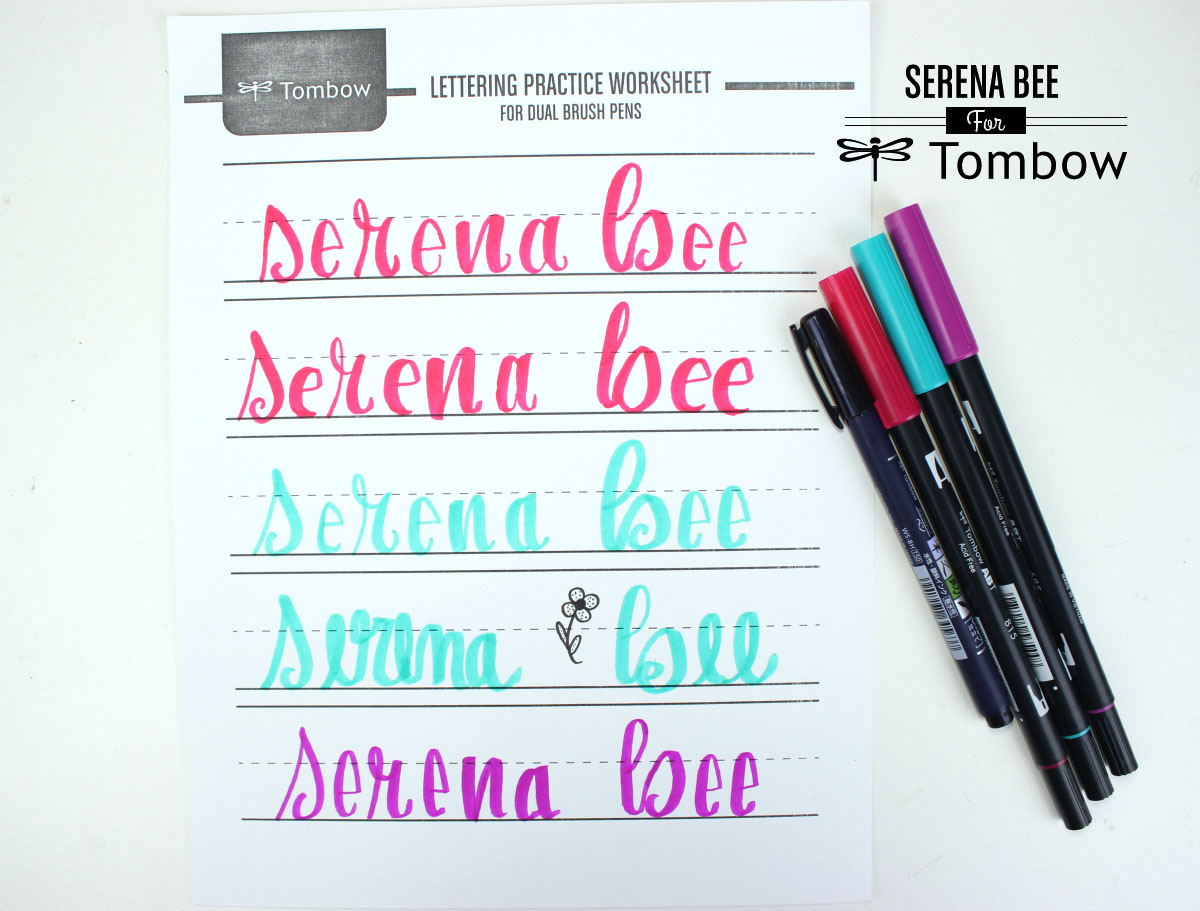 At this point I started feeling excited and surprised that I am actually making pretty letters! Which is motivation enough to continue!
Once I felt comfortable with my lettering I began drawing some fun doodles with the Tombow MONO Drawing Pencil in 4H. The Tombow MONO Eraser is perfect for erasing  the pencil markings once the doodle is outlined. For my outlining I use one of my favorite pens, the Fudenosuke Hard Tip. I use this pen when drawing and designing my images for my photopolymer stamp sets. I just adore it!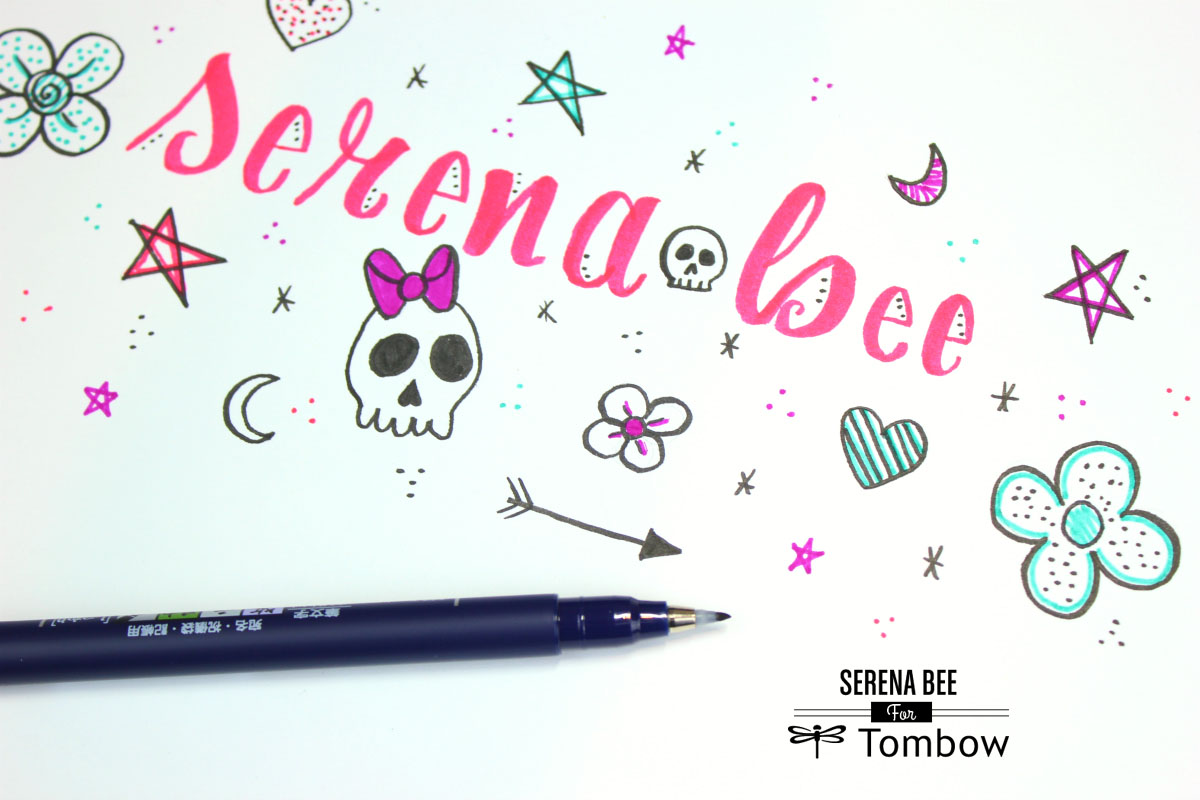 I am still a long way from becoming a lettering queen but I'm proud to say I am no longer scared to try it out! These Lettering Sets are perfect for beginners like me. To be honest, I was a little worried before sitting down to practice with the lettering sets. I was afraid nothing would look good and that I just couldn't do it. Well, it was nice to prove myself wrong!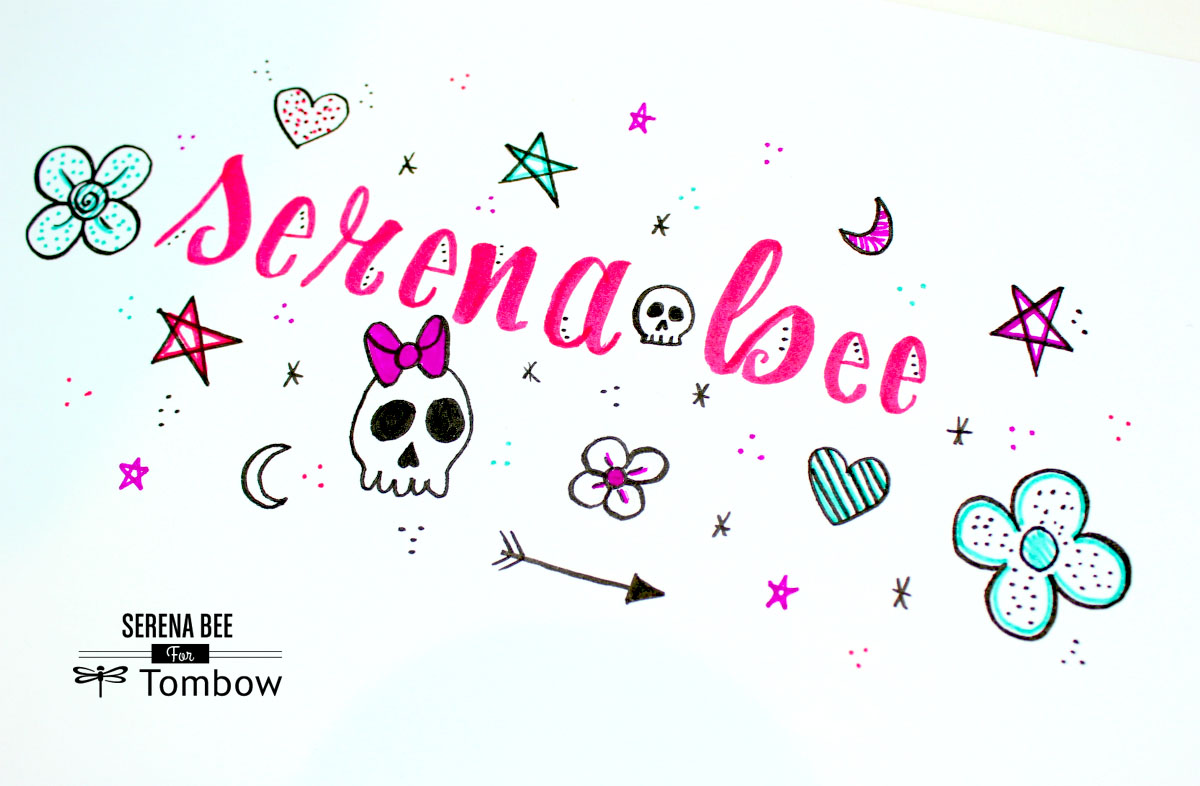 Thanks for stopping by today and learning about my lettering story. If you always wanted to try lettering but were to scared, I hope this blog post helped you. I know how it feels and now I am happy to say that I am on the path to lettering!
Follow me on Instagram @seresbee and share your lettering story with me!
Serena Bee