Christmas Envelope Card Ideas
Happy Wednesday! Serena Bee here with 3 Christmas Envelope Card Ideas for you this holiday season! I like to think outside the box when it comes to paper-crafting and this year I decided it would be fun to switch up the tradition Xmas cards by making Christmas envelopes! This blog post will give you ideas for 3 styles of decorated envelopes.
These are perfect to hand out to those people who don't always keep their cards yet still allowing the perfect handmade touch without all the extra work.
Christmas Envelope Card #1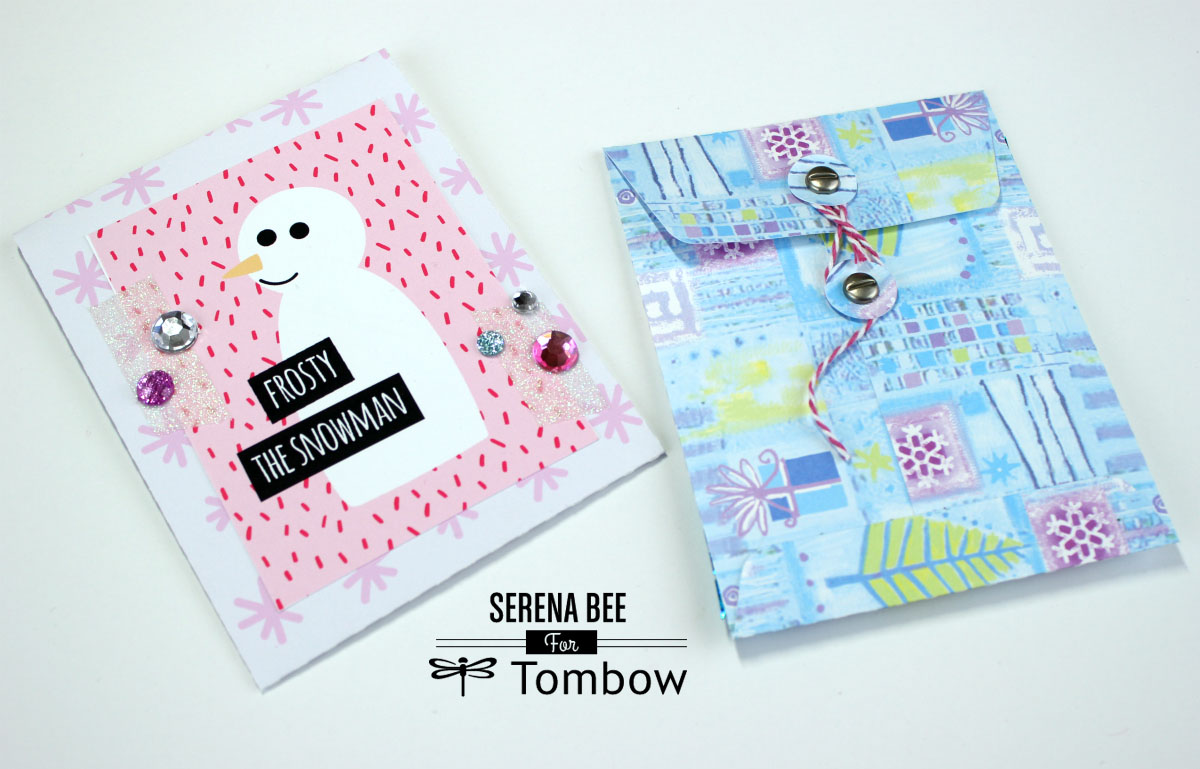 Last year I made my first envelope card and I loved how it turned out. I used a policy envelope with a string tie closure. This year I made my own using this cut file, but I'm sure there are plenty tutorials out there too.
Decorate the cover using any paper, stamps, and embellishments you have, remember to keep it as simple and easy as possible. I used cards and paper from my new Snow Day digital collection and adhered them with the new Tombow Mono Adhesive + Permanent. Simply write your holiday wishes on a piece of paper and slip it inside the envelope along with other little goodies you might want to include and you're done! This is perfect if the recipient wants to re-use the card they simply remove the message and pass it on!
Christmas Envelope Card #2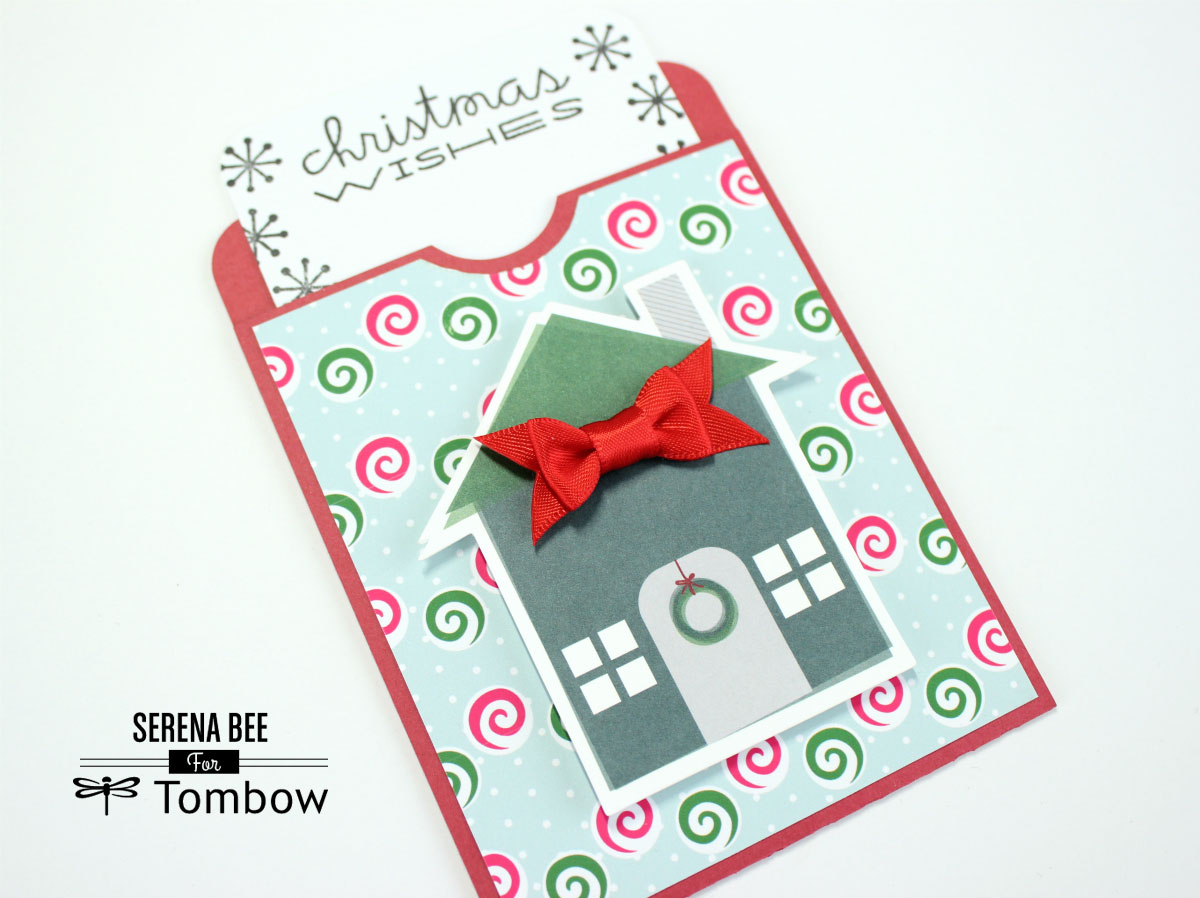 This next idea is made using pockets. You can use any sort of pocket you may have or create your own. I'm using this library pocket cut file. You can also use a coin envelope and cut it into a pocket.
I recommend using this Christmas Envelope Card idea for the paper-crafter in your life. They can use it in their December albums or insert it as a decorative element and a place for extra journaling!
Make sure to use the Tombow Mono Adhesive + Permanent for a strong hold. I added a pattern paper from my Feeling Grinchy digital collection. I just love those peppermints!
Next, I added the Tombow Foam Tape on my embellishment to give it some dimension and adhered a red bow using a Tombow Adhesive Dot to the center.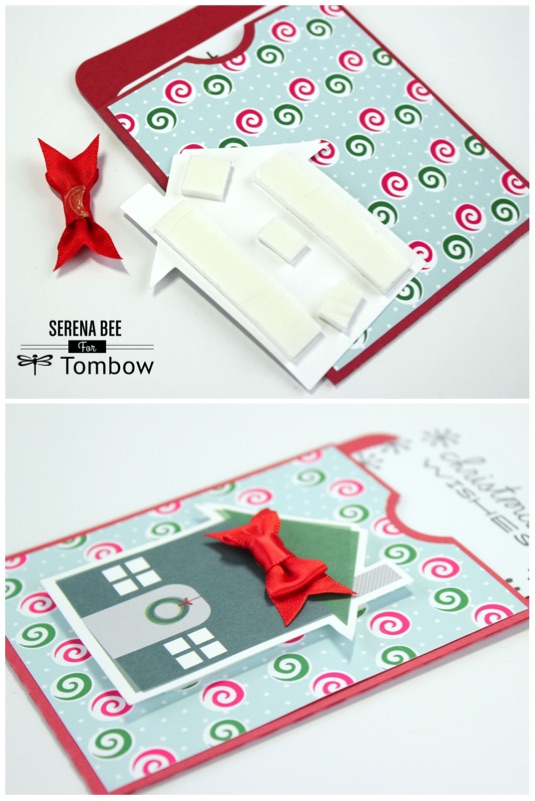 You can see how great the house embellishment looks popped up with the Foam tape!
Next, stamp a sentiment on a piece of paper and add your holiday message inside the pocket. This Christmas envelope card idea is perfect for giving gift cards as well.
Christmas Envelope Card #3
For this last idea, I'm going to show you how to decorate a plain kraft envelope.
Using the Tombow Xtreme Adhesive create a curve line of adhesive to mimic a snow bank. Fill in the bottom of the card with Xtreme adhesive.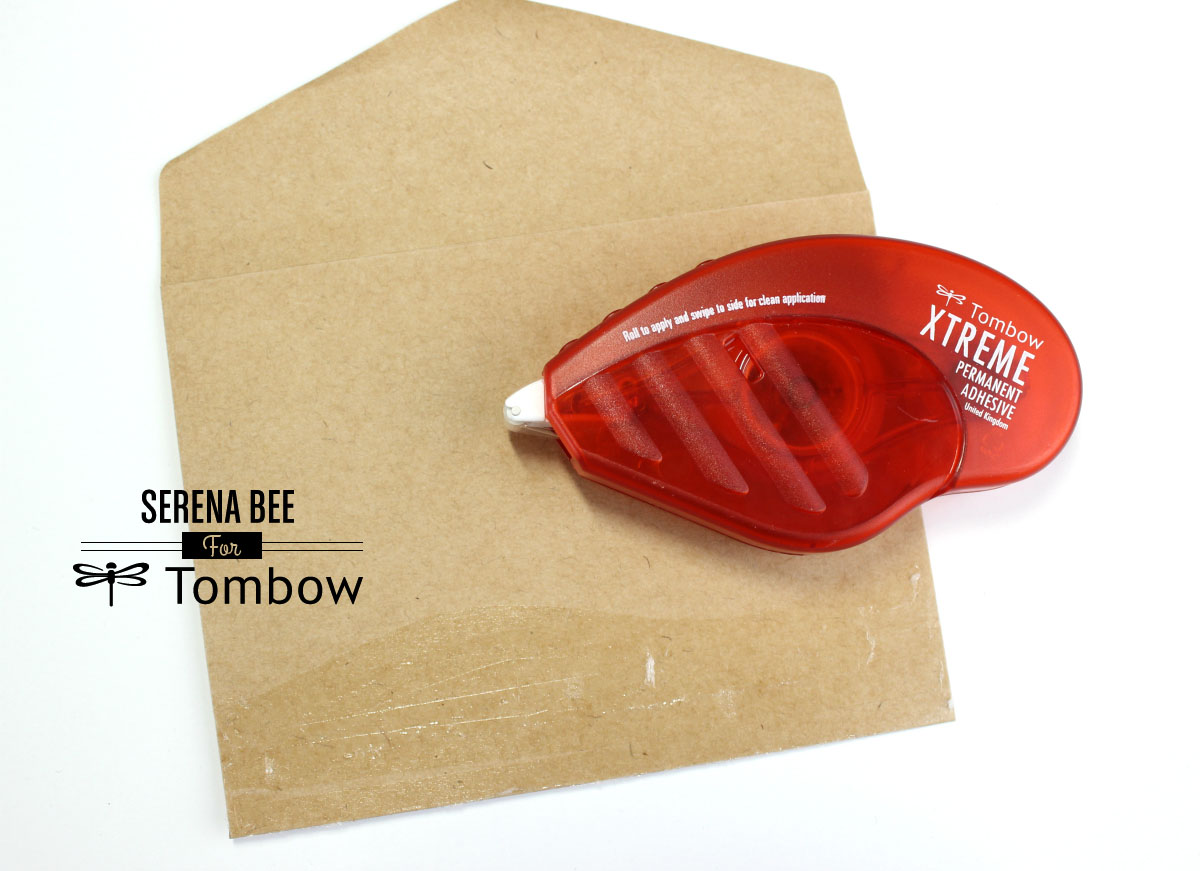 Next using fake snow, add some to the top of the Tombow Xtreme Adhesive  and press firmly with your fingers.
If you want to add another layer of snow on top, my trick is to use the Tombow Mono Aqua Liquid Glue. Add a generous layer of glue and add more fake snow on the top, and once again pressing firmly.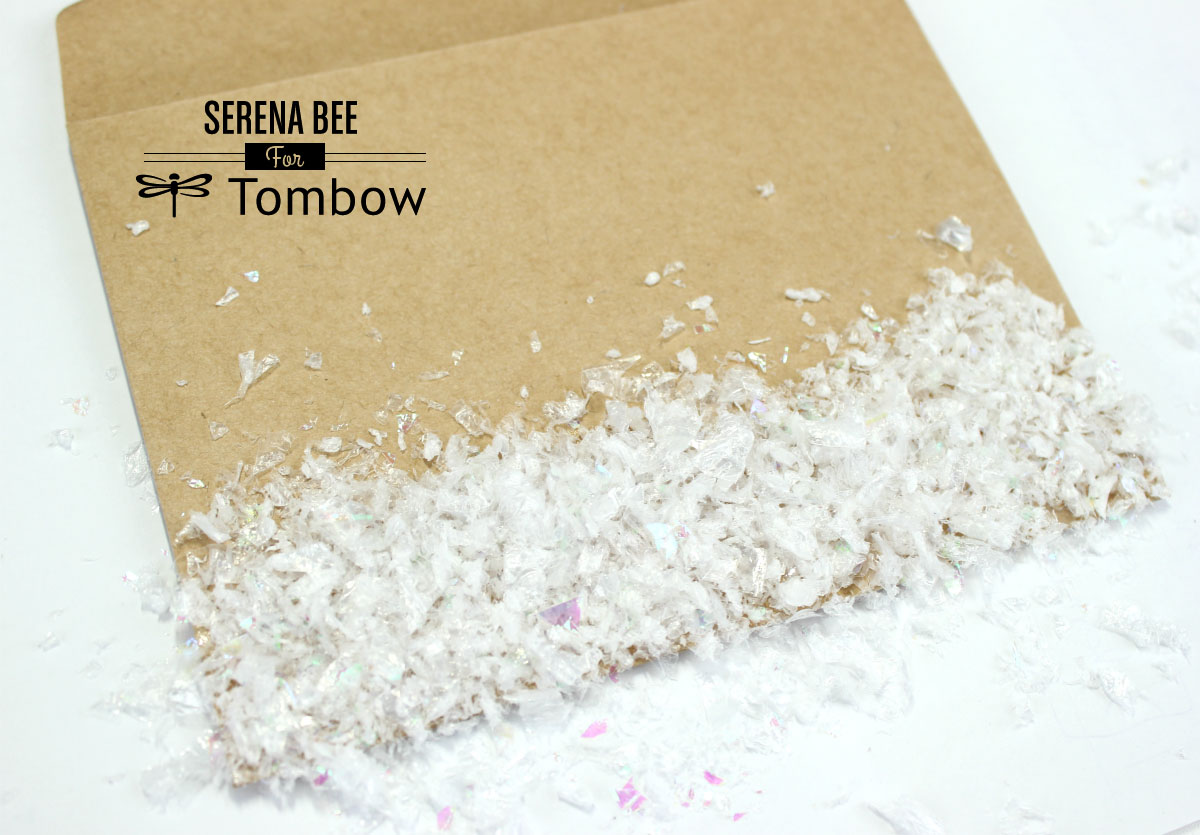 Now it's time to decorate! I'm using stickers and this adorable stamp set from MFT Stamp called Beast Friends.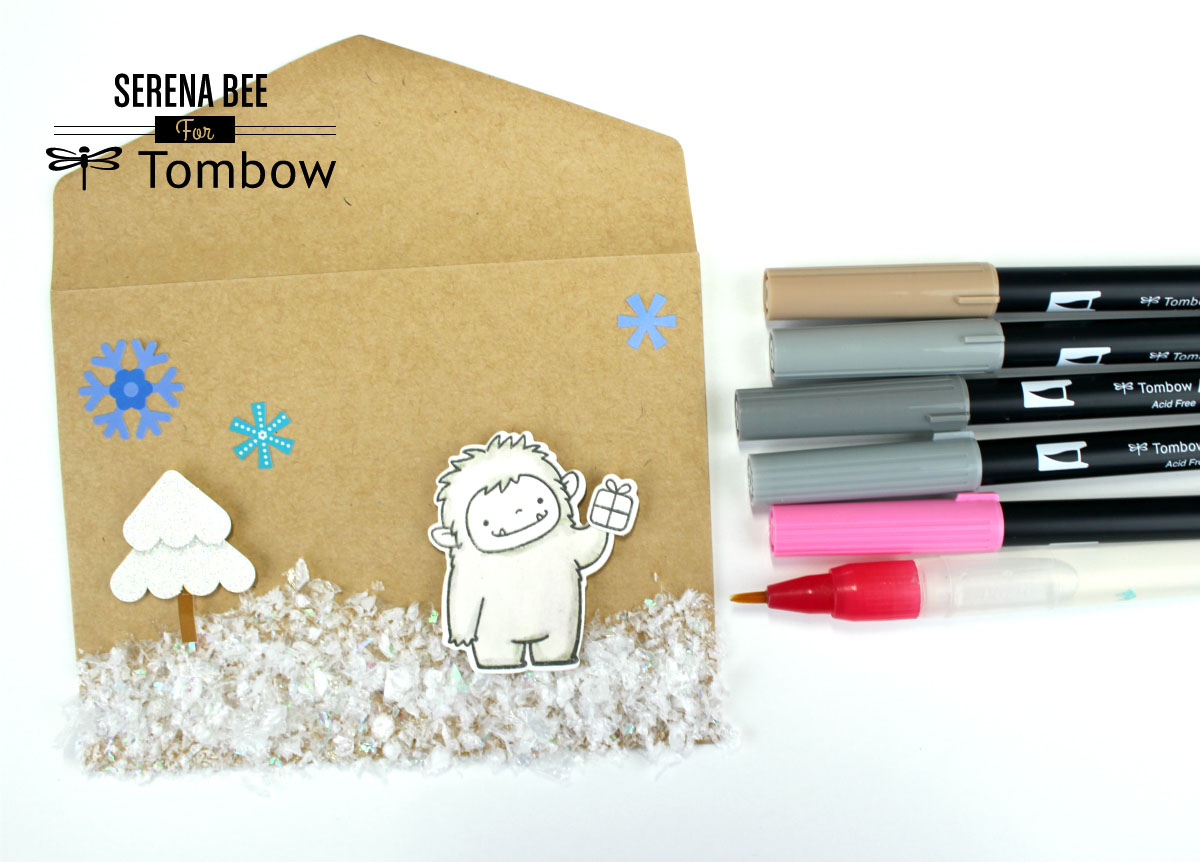 Watercolor him in with the Tombow Dual Brush Pens in your colors of choice. Add some Tombow Foam Tape for added dimension.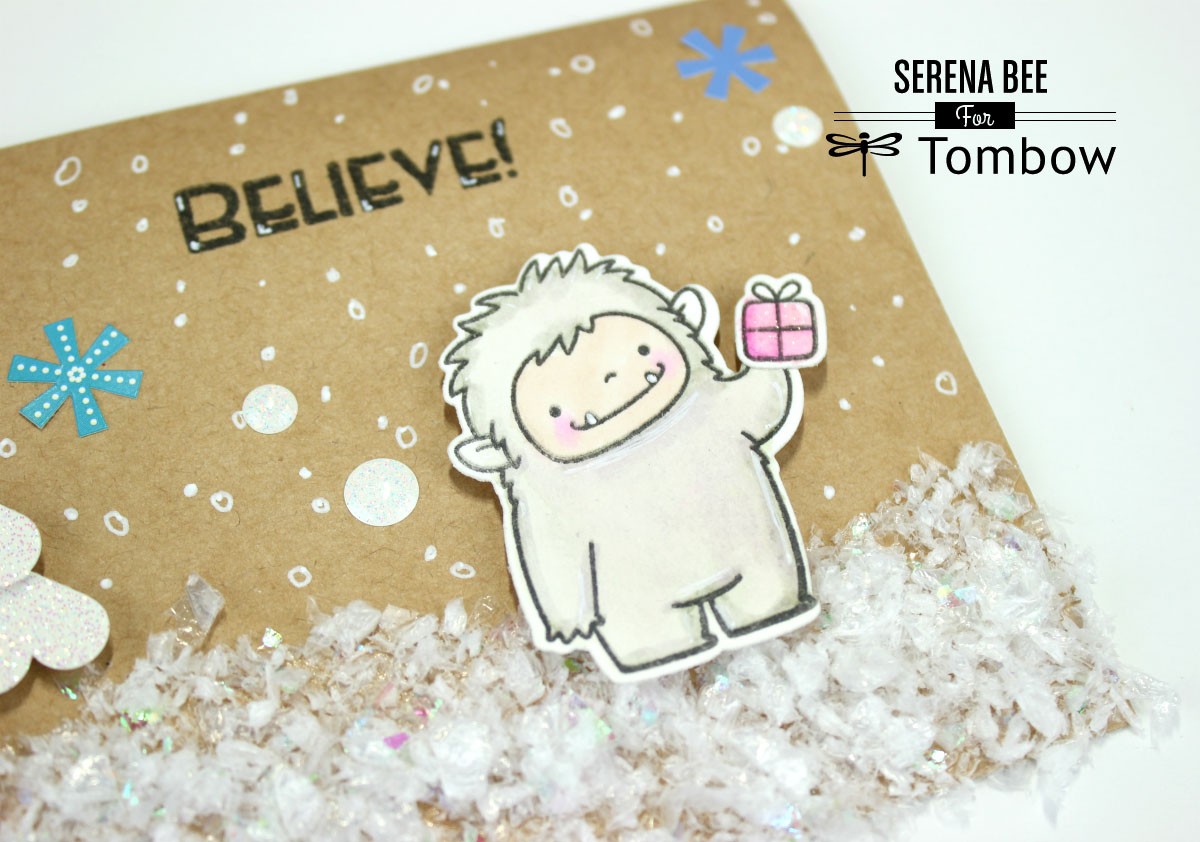 Finish off the card drawing faux snow with a white gel pen. Isn't he so cute!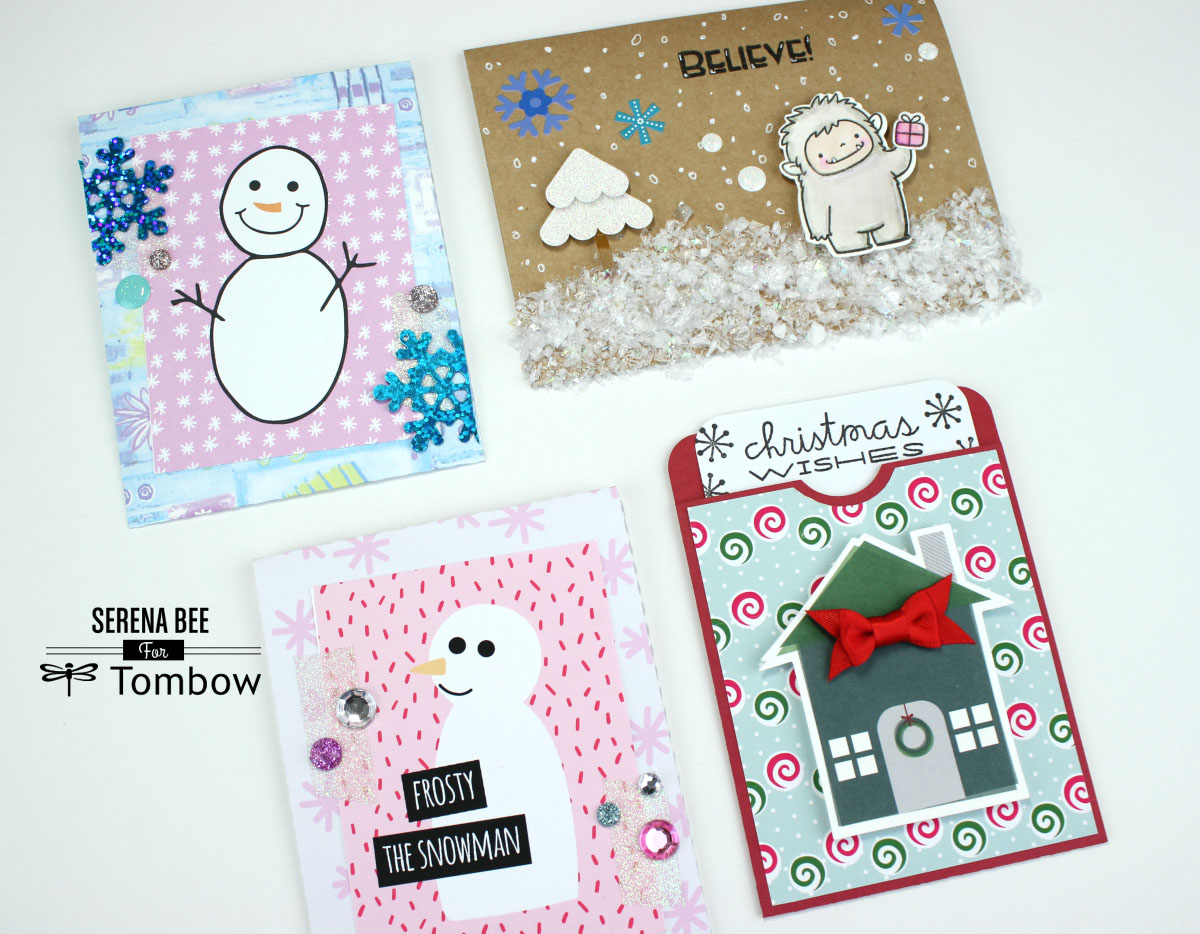 I hope you enjoyed my take on the traditional Xmas cards with these 3 christmas envelope card ideas! If you make some of your own I'd love to see! Tag me @seresbee and used the hastag #inspiredbyserenabee.
Happy Holidays!