It's that time of year where stacks of Christmas cards and envelopes take over your kitchen table and your to do list.  Hey lovelies, it's Lauren and I'm here to share 5 easy and fun ways to create cute holiday-inspired envelopes using some of my favorite products from Tombow USA! If you want to take your rushed, plain envelopes and turn them into your own form of holiday art, this is definitely the post for you! Use the following 5 tips to design a unique envelope that is completely you!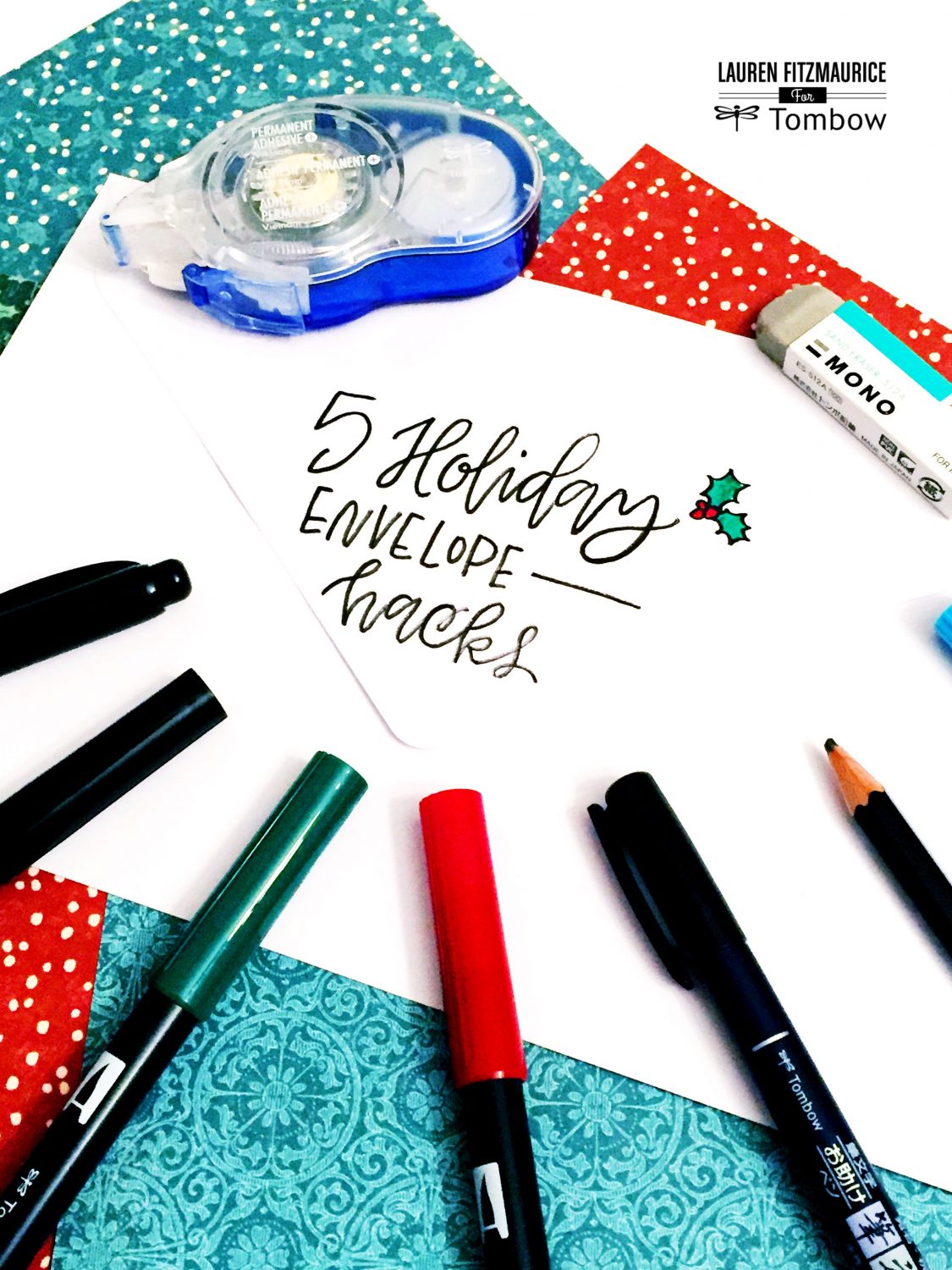 1.CREATE YOUR OWN ENVELOPE LAYOUT TEMPLATE
I will be the first to admit that sometimes it's quicker to just eyeball envelopes and jot down those addresses warp speed fast without paying attention to space or style.  You are probably thinking, "Lauren, envelope designs take too much time." Guess what… taking time to sketch out a layout for your envelopes not only give you an idea of what you want them to look like but also creates a template for you to use to help speed along the process of spacing, measuring, and centering.
To begin, grab an envelope, your Tombow Mono Drawing Pencils, and some card stock. Trace around the envelope on a piece of white card stock with the Tombow Mono Drawing Pencil of your choice. I use card stock because it seems to hold up better through an entire batch of envelopes.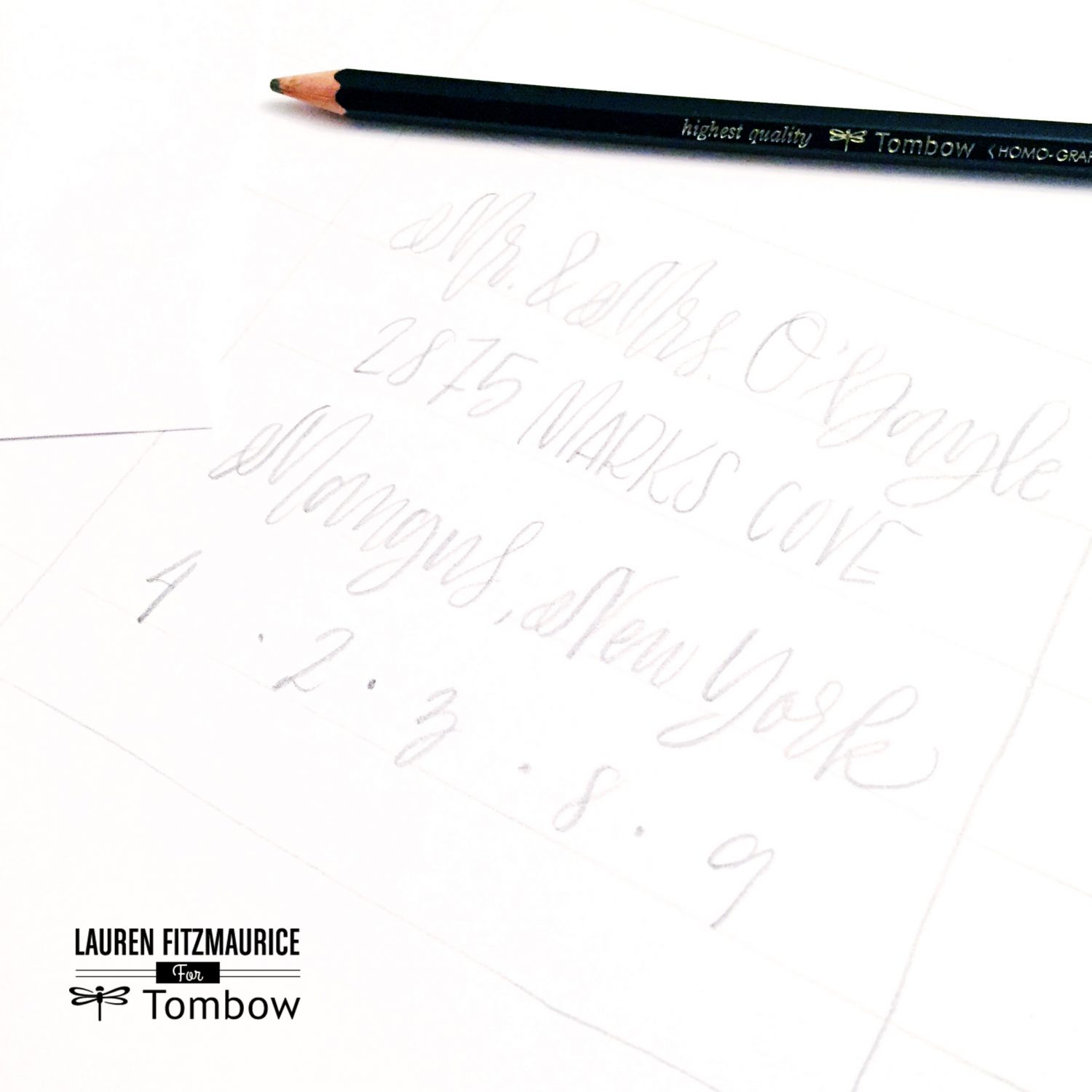 Then start visualizing how you want your envelope to look.  Do you want it to be centered in the middle or off to the side.  Will you write in a script or block style and will your words be straight and perfect or full of bounce? It's completely up to you! Once you have decided on a style, you can quickly draw in guidelines to help you write quickly.  I make sure to draw these straight across the full length of the paper.  This creates a way for you to use a laser level or light pad to easily write your lettering on the envelope the way that you want to.  These guidelines really help and are super easy to erase with the Tombow Mono Eraser. Have a super long name or a weird address  that you aren't sure will fit right on the envelope? Sketch it lightly on the template and use it as a guide when you do the real thing!
2. ADD FUN LETTERING & COLOR
We all know that what truly makes an envelope into a piece of art is the lettering and color that are used.  Whether you are an experienced letterer or a new to the art, you can totally find a style you are proud of with your favorite Tombow lettering tools! Don't be scared to jot out your alphabet and decide on the tool that is best. Use your tools to write out all of your letters and create a style that does your cards justice.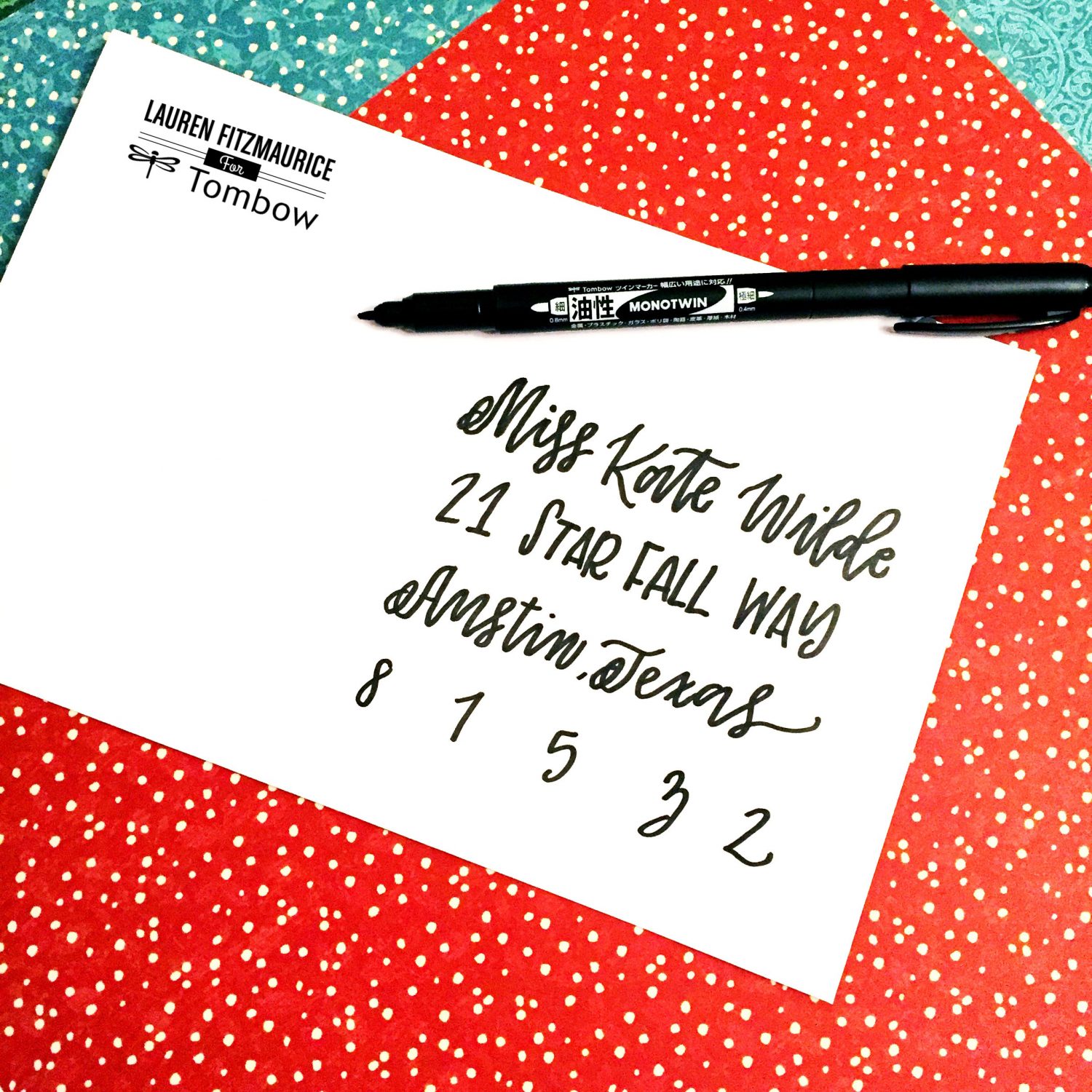 The Tombow Mono Twin Permanent Marker is great for mono line script addressing.  The marker has a broad tip and a fine tip; both create a fun and simple address. It's also great because it is basically odorless and you can address a whole stack of envelopes and not have a headache from marker fumes.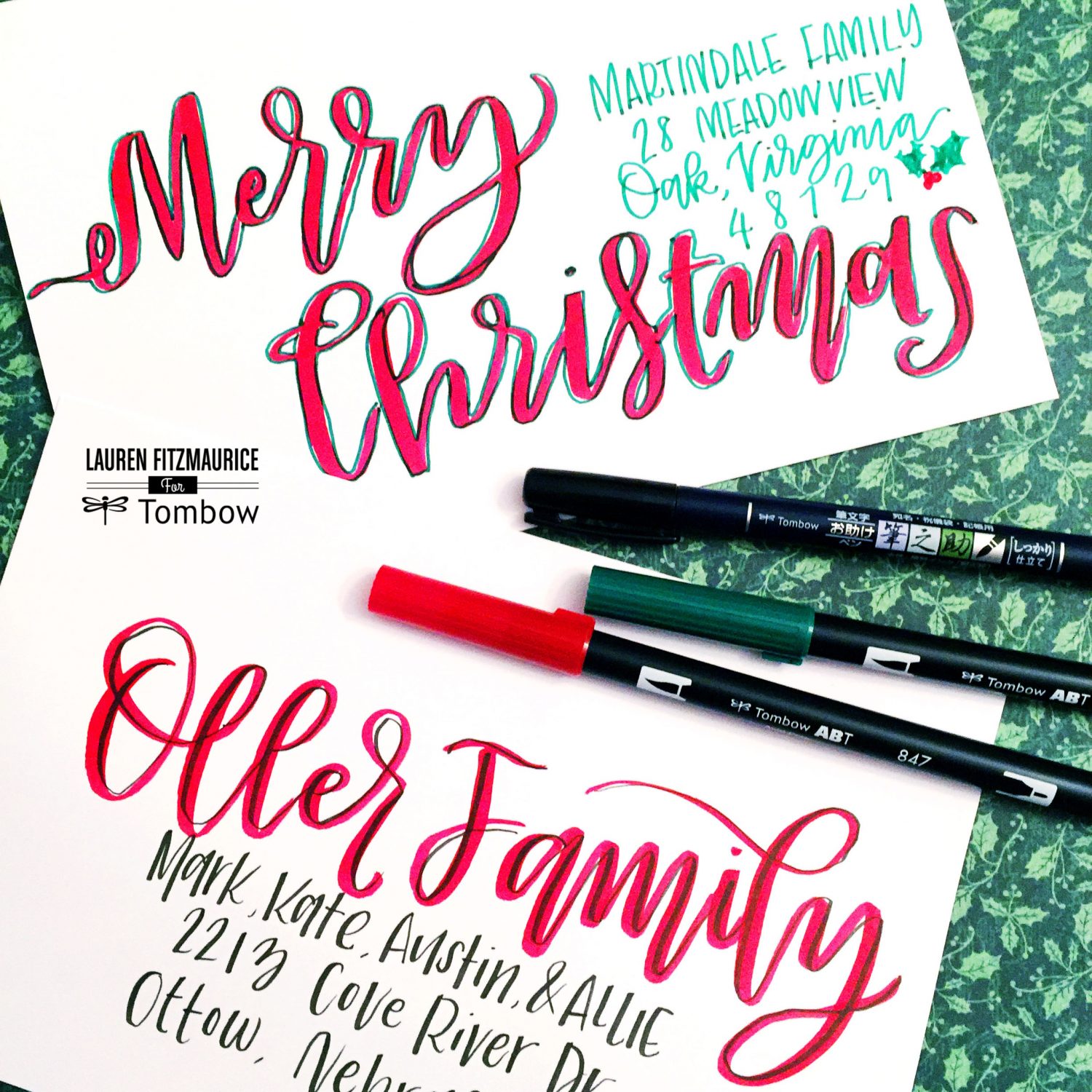 Tombow Dual Brush Pens are also a great way to add color and fun lettering styles to any envelope design.  There are great holiday colors available and the brush tip and fine tip both have the potential to create a fun address.  Dual Brush Pens are also great to layer and mix with the Tombow Fudenosuke Soft Tip, Hard Tip, and Twin Tip Brush Pens.  These brush pens have a smaller tip with black ink that creates beautiful calligraphy. No matter what tool you choose, don't be afraid to be a little different and have a little fun in your addressing.
3. SAY GOODBYE TO SMUDGES AND MISTAKES
Have you ever gotten to the end of an address and notice you accidentally put a wrong letter or drug a smudge across the envelope? I have, but the perfect tool to fix these mistakes is the Tombow Mono Sand Eraser.  This eraser takes a little elbow grease but can remove little smudges and mistakes like a pro.  This eraser is a must have for every letterer (especially you lefties, like me).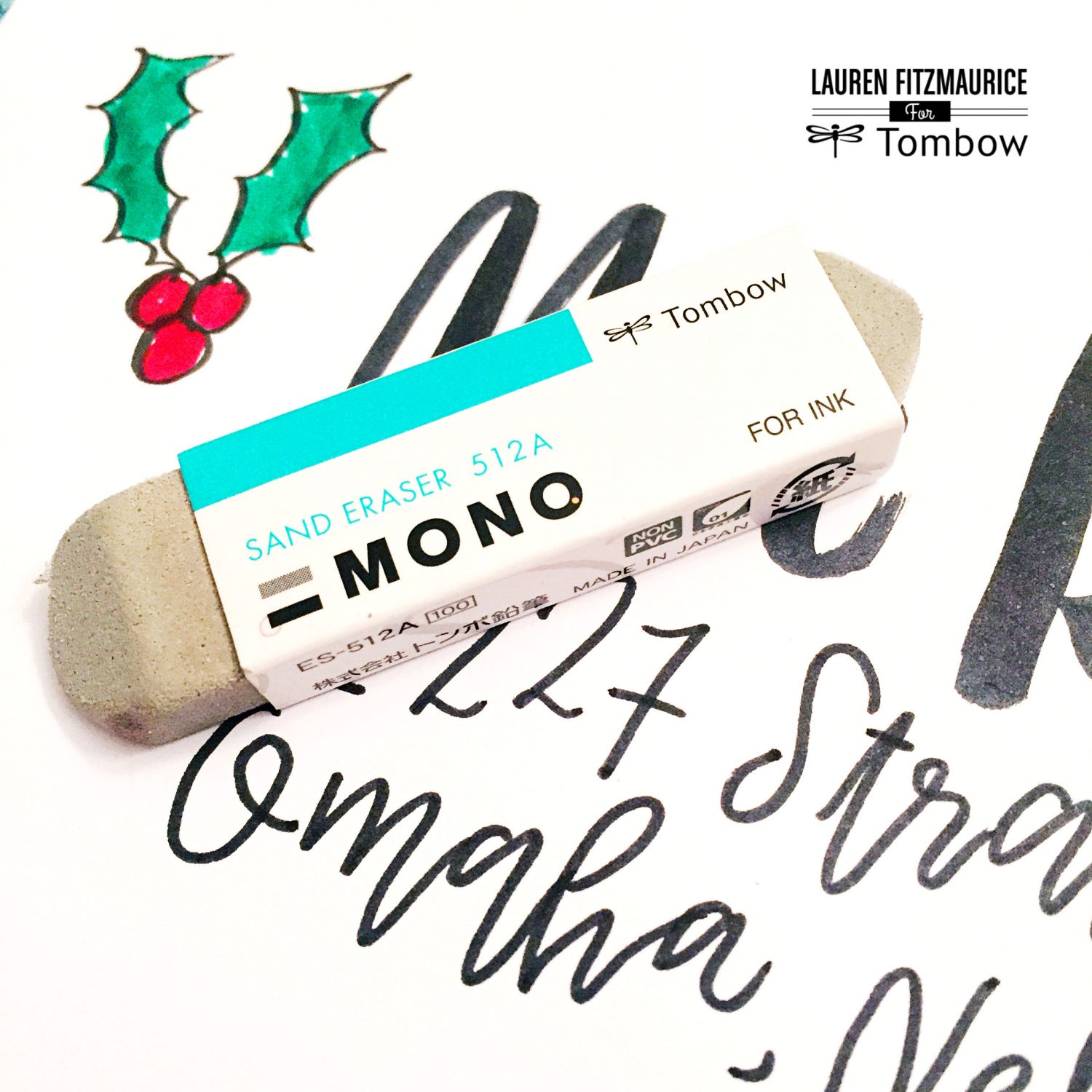 4. INSERT A GOOD HOLIDAY DOODLE
So you splurged for that amazing patterned Christmas card or made a really fun and colorful one yourself.  Why stop at the card? Shouldn't the envelope be fabulous too? Look at your card and get a little inspired.  Add a fun doodle with with your Tombow Dual Brush Pens or Tombow Fudenosuke brush pens. Whether it's a scallop trim along the outside of the envelope, a few hand drawn snowflakes or doodled holly leaves and a berries, a little doodle can really add a lot to any envelope!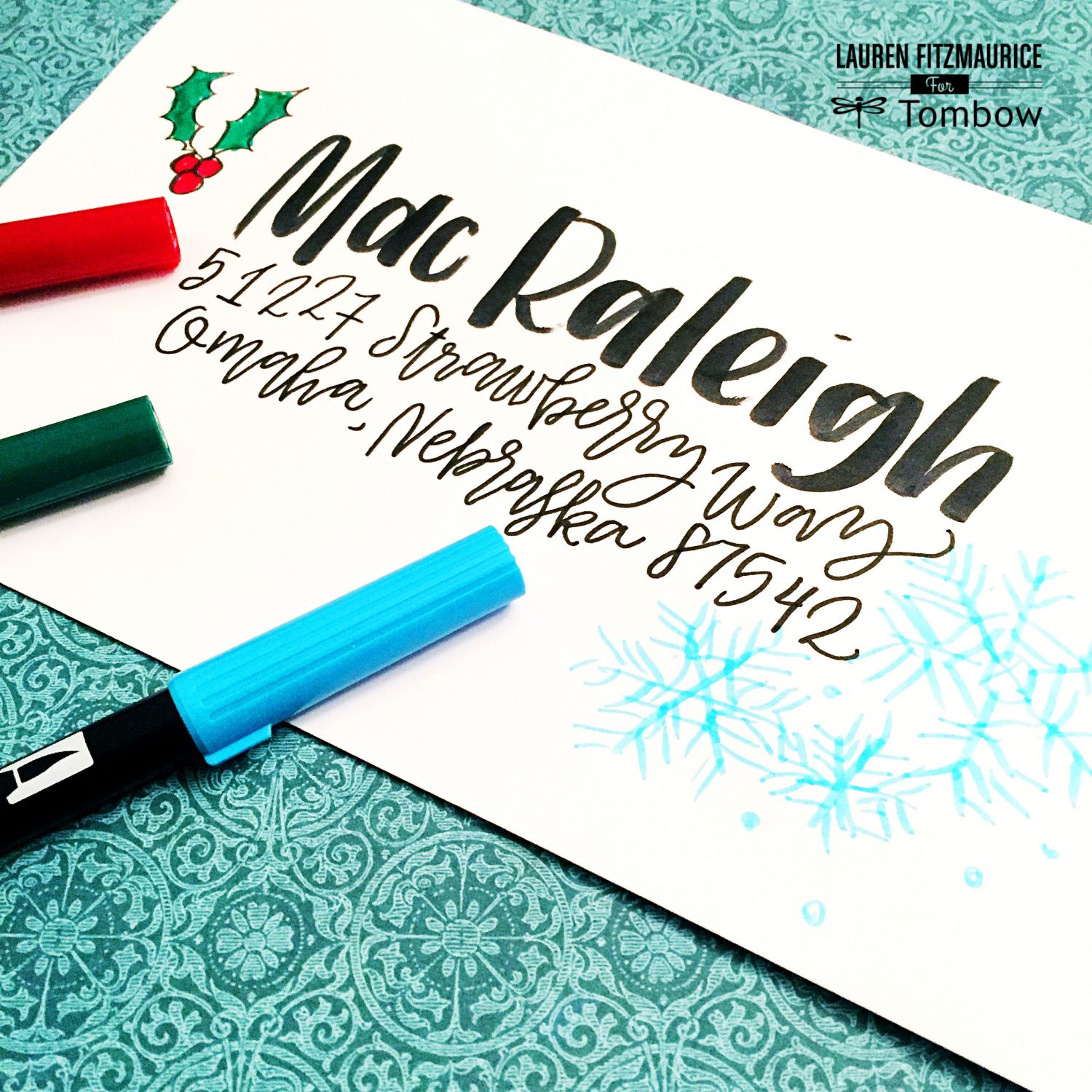 5. NEVER LICK ANOTHER ENVELOPE
Ok so you lettered and stuffed the envelope and you hate the idea of licking 100 envelopes to seal them.  Problem solved! Tombow USA has some amazing adhesives perfect for sealing envelopes quickly and neatly. My favorite tape runner for this task is the Tombow Mono Adhesive +. Simply take the tape runner and run it along the area of the inside flap of the envelope.  Then seal is closed, add a stamp, and pop it in the mail. You can even use the adhesive to adhere vintage stamps.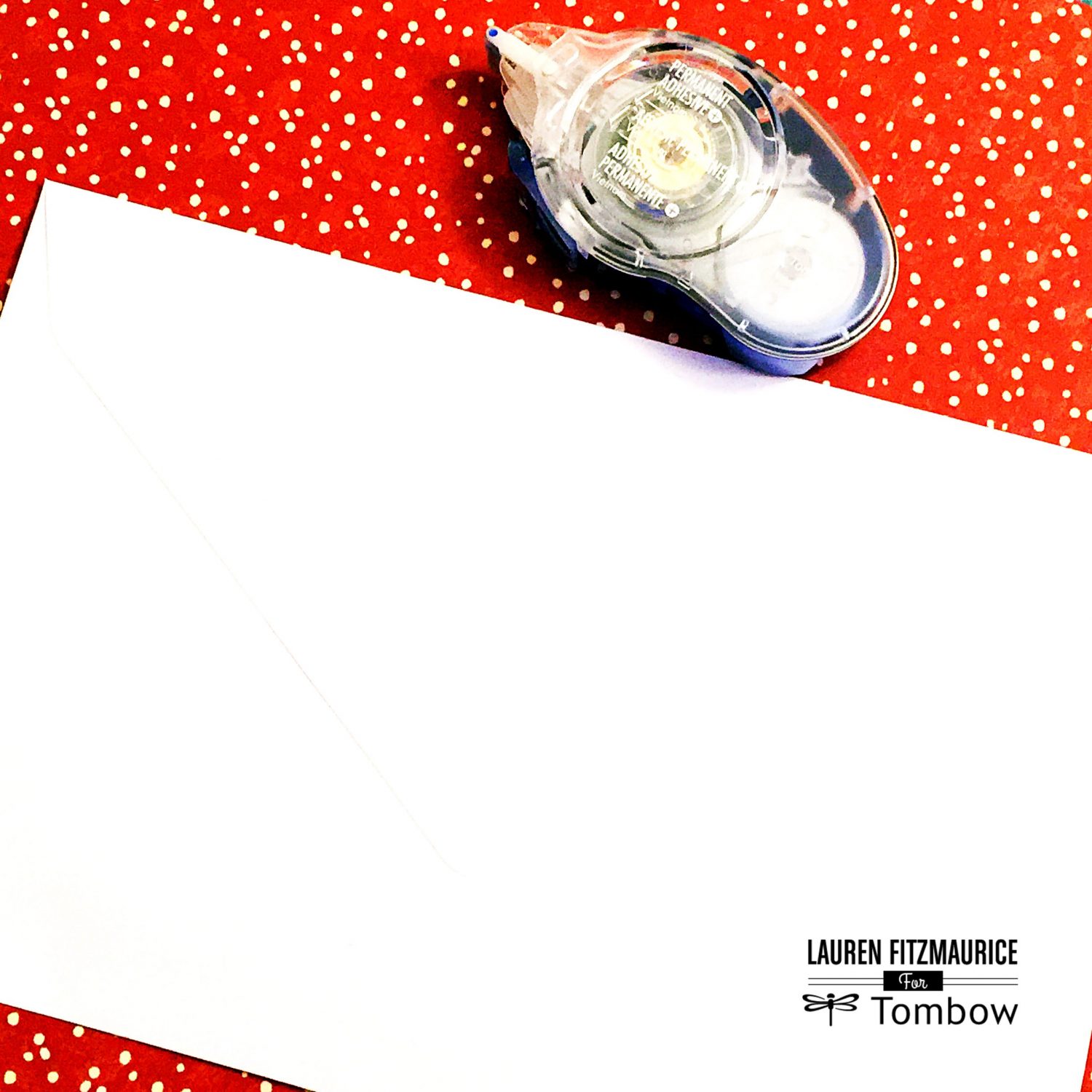 And there you have it! 5 quick and easy hacks for your Christmas envelope addressing. Try them out and share them on instagram! Make sure to tag me @renmadecalligraphy so I can see what you come up with! May your holiday season be full of joy, lettering, and loveliness! Now go get started on those envelopes!
Lauren