Hi everyone, Adrienne here from Studio 80 Design! Nothing says summer like a fresh, yellow pineapple! In this post, I want to show you how you can make a summer party pineapple invitation!
Materials you'll need:
Watercolor Paper (hot press, smooth is best)
Pink Cardstock Paper (or any color you choose)
Tombow Dual Brush Pens in Yellow and Green Shades
Round Paint Brush
Water
Scissors
Gold Glitter

Step 1
After you've gotten all your materials together, lightly outline a pineapple on your watercolor paper using the MONO Drawing Pencil and MONO Eraser. It's important to use hot press paper (or smooth watercolor paper) so it won't damage your brush pens!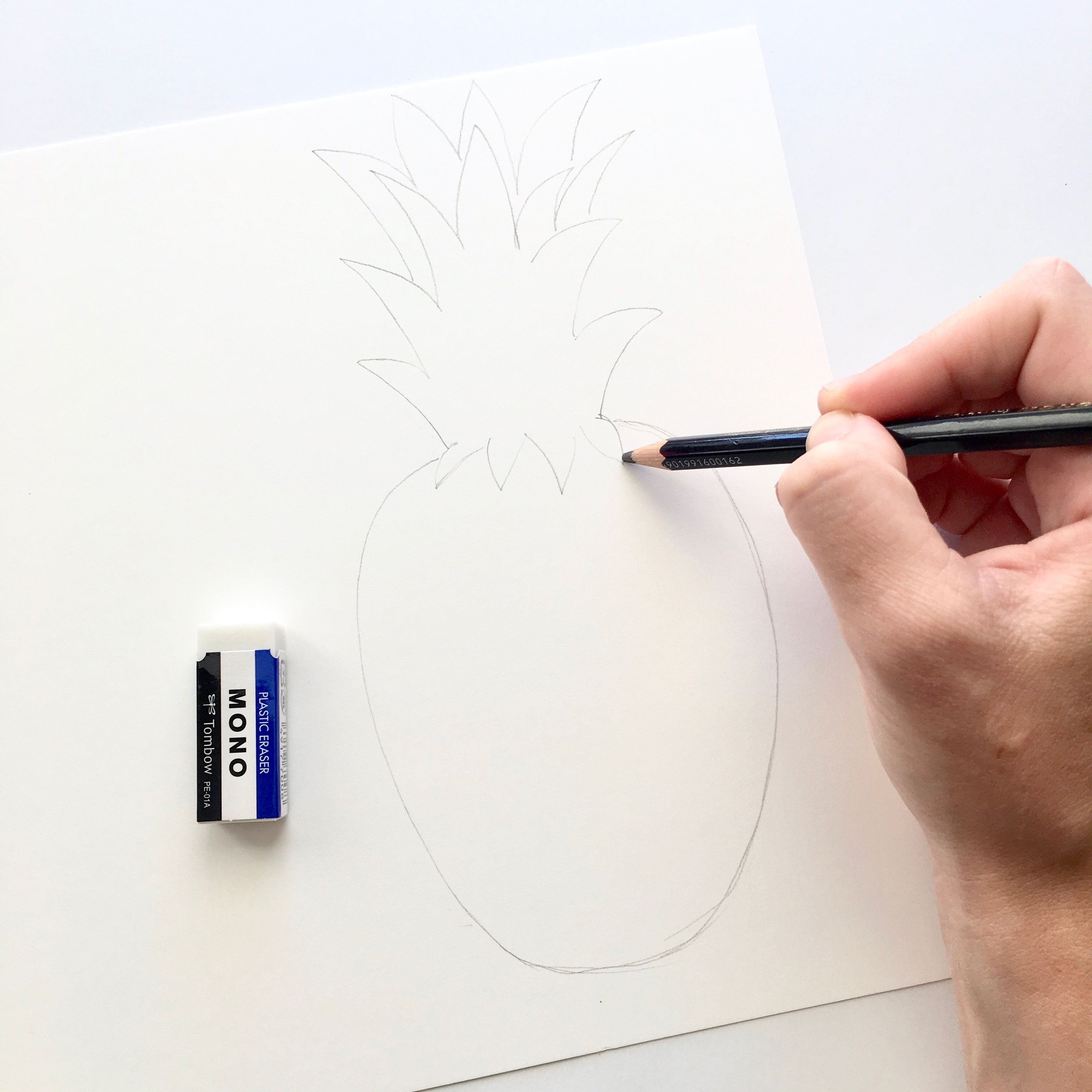 Step 2
Using your yellow Tombow Dual Brush Pens, create a diagonal-striped pattern across the body of the pineapple. I used the colors 133, 062, and 055. Don't worry about being too precise with these stripes, we'll be blending these later! Then use your green Dual Brush Pens and color in the leaves in the crown. I used the colors 195 and 245.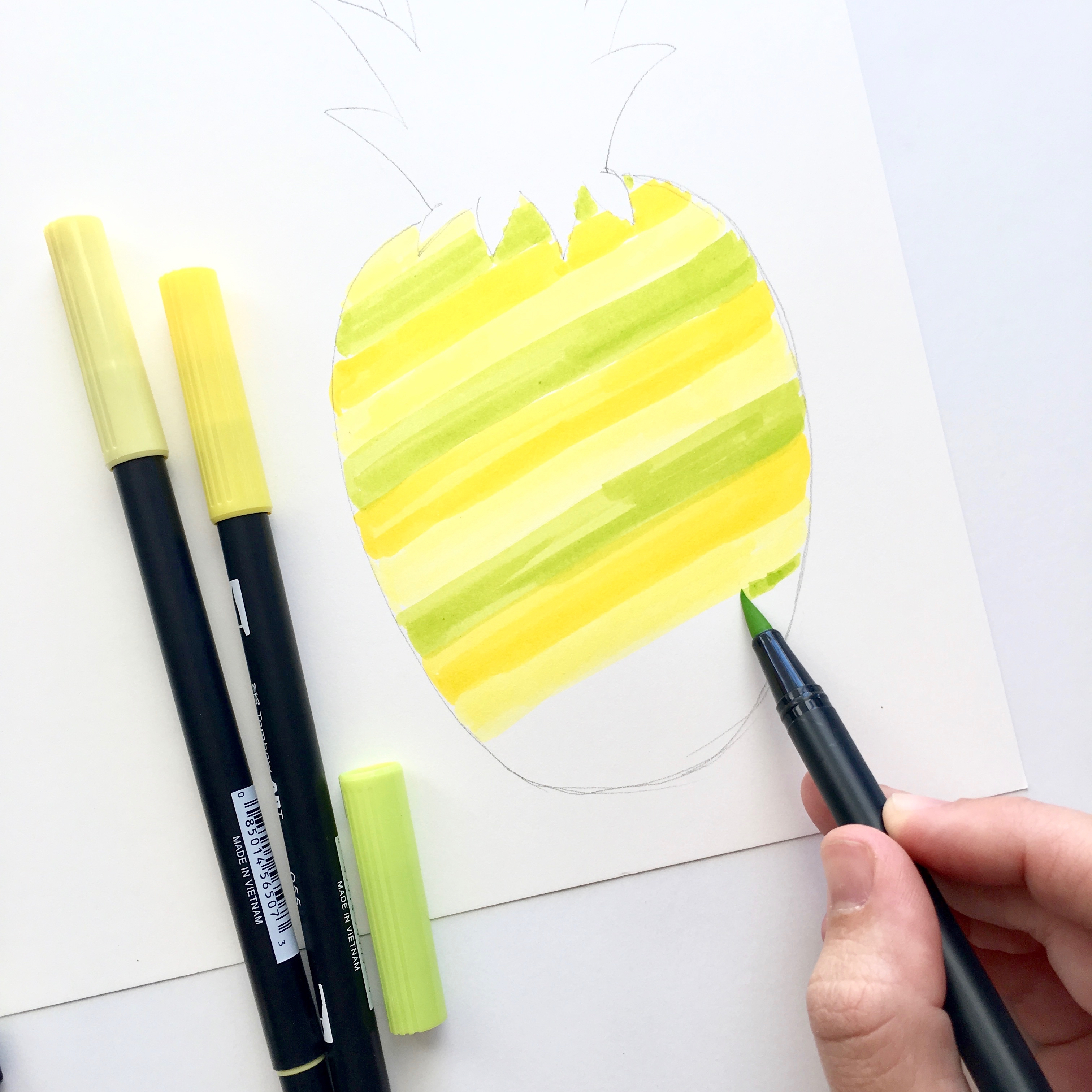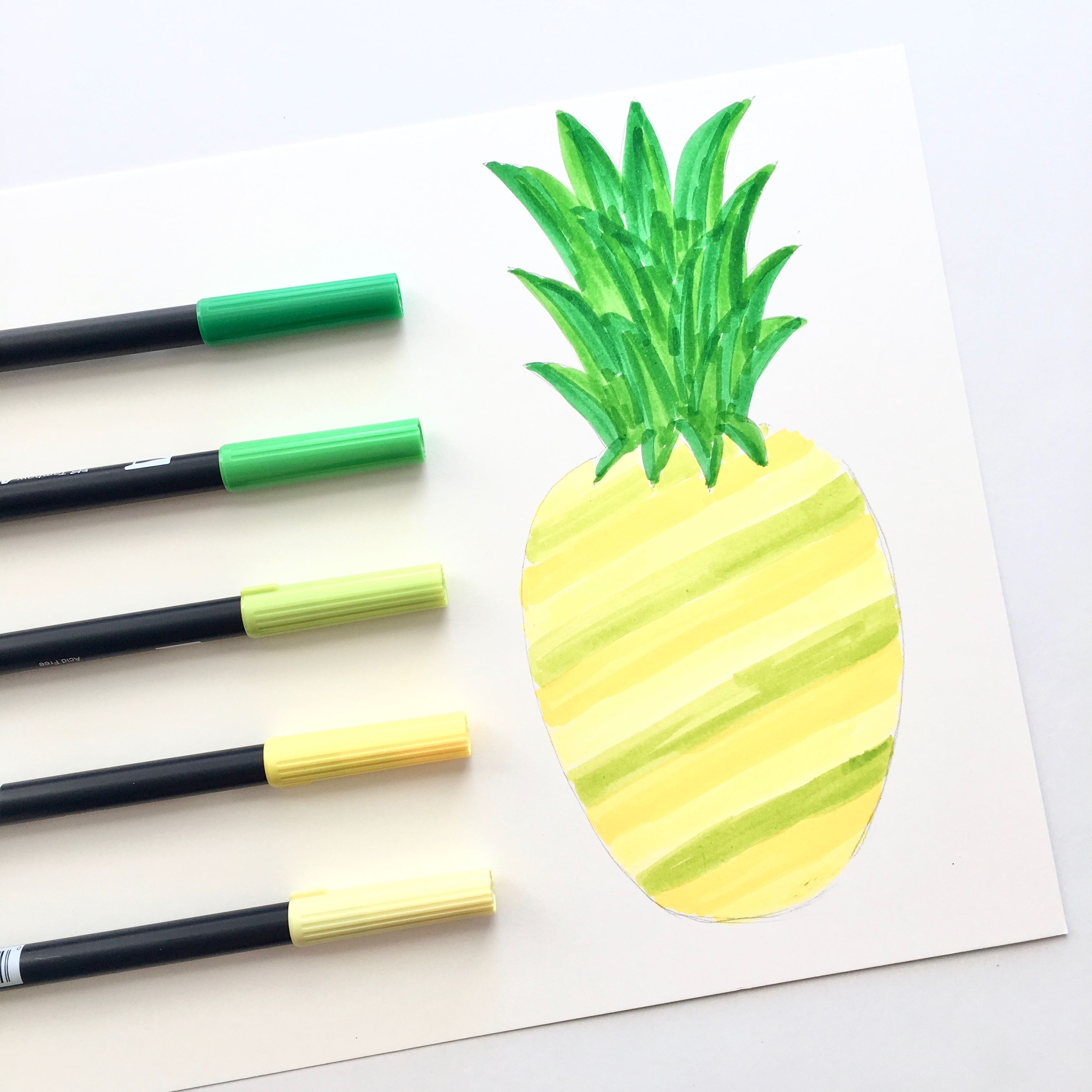 Step 3
Get your round paint brush wet and go over the body of the pineapple, going back and forth with the water to blend the colors together and create a watercolor effect! Then go and blend the leaves in the crown together. Then here comes the hard part – wait for your pineapple to dry!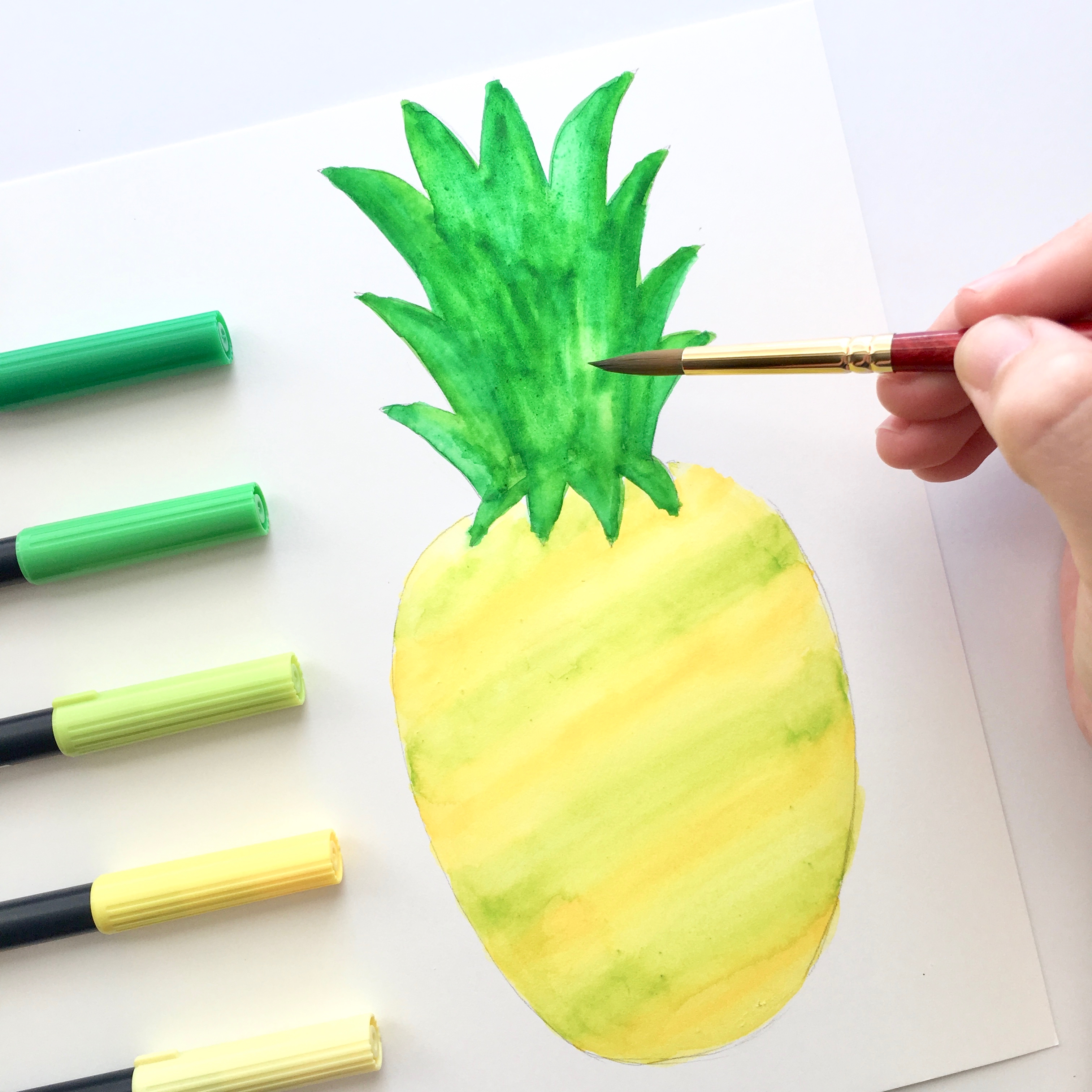 Step 4
With your Fudenosuke Twin Tip Brush Pen, outline your pineapple and the leaves using the black marker. Letter out "Summer Party" on the front. If you need to, use your MONO Drawing Pencil lightly to sketch it out and then go in with your Mono Eraser after to erase any unwanted lines. The MONOEraser is great because it will erase pencil lines but won't compromise your color from the Dual Brush Pens!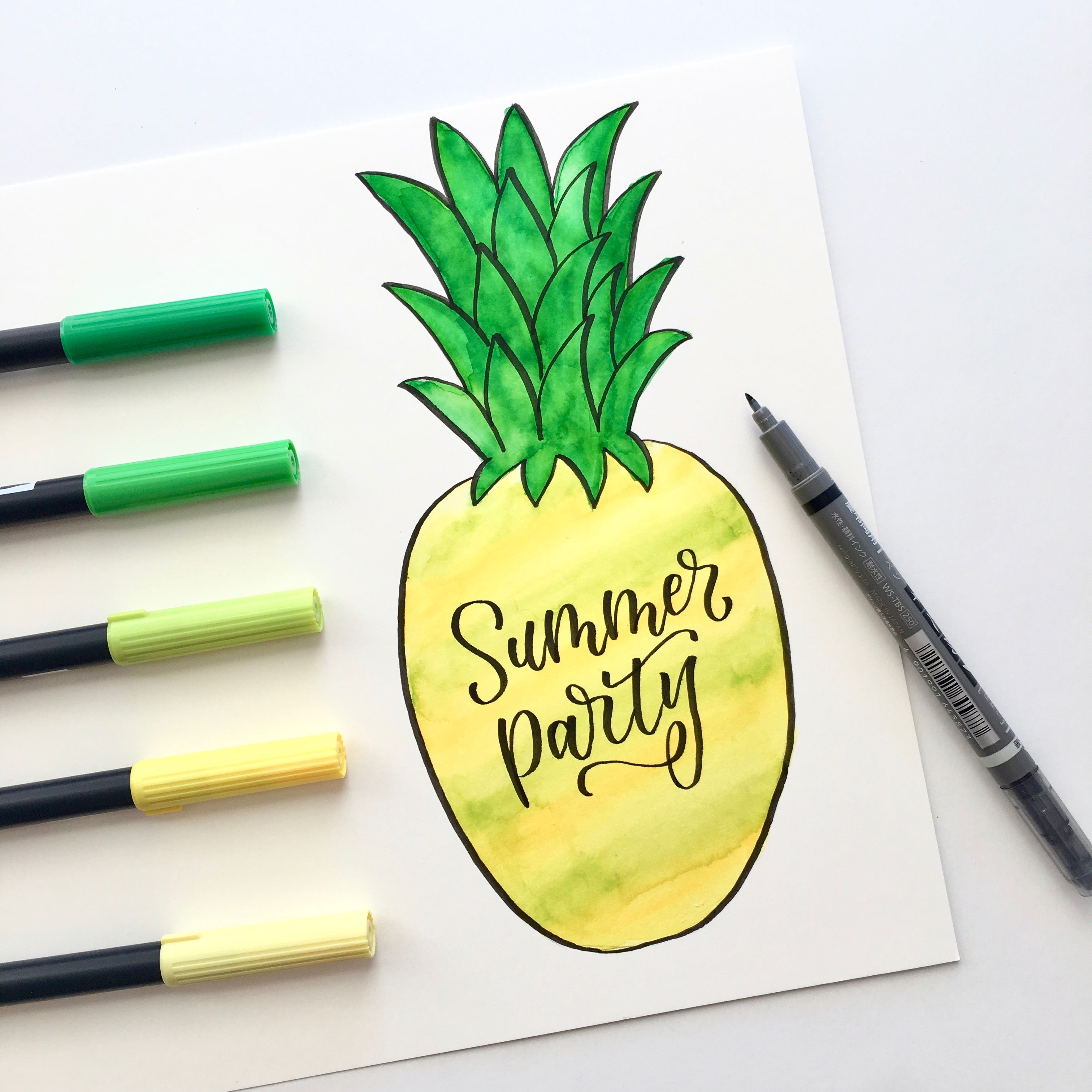 Step 5
Create light diagonal lines around your "Summer Party." You can also add detail lines to the leaves of the crown to add dimension.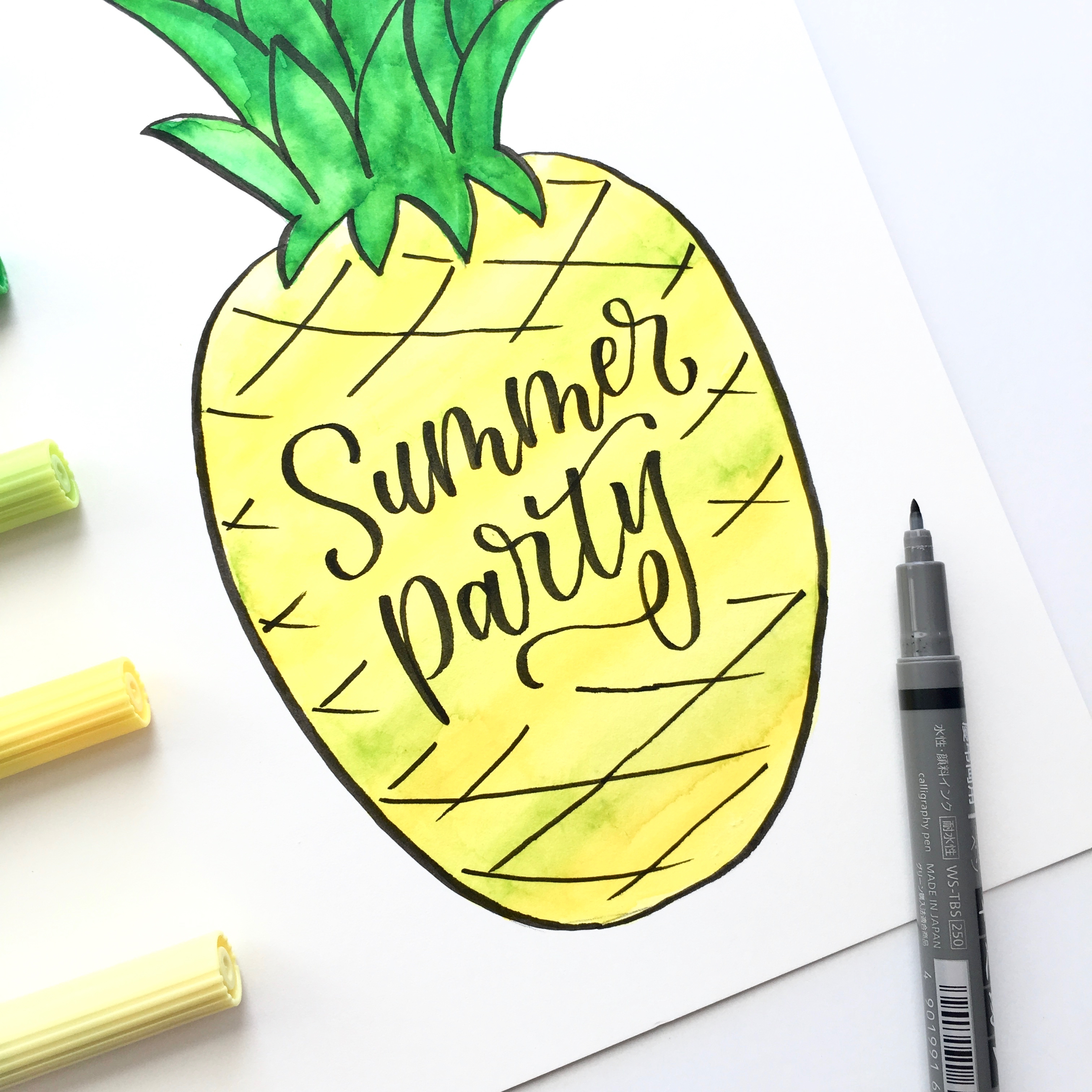 Step 6
Cut out your pineapple with your scissors. You can cut right to the black lines, or leave 1-2mm of white border around your pineapple, it's up to you! I chose to leave a little white border around my pineapple.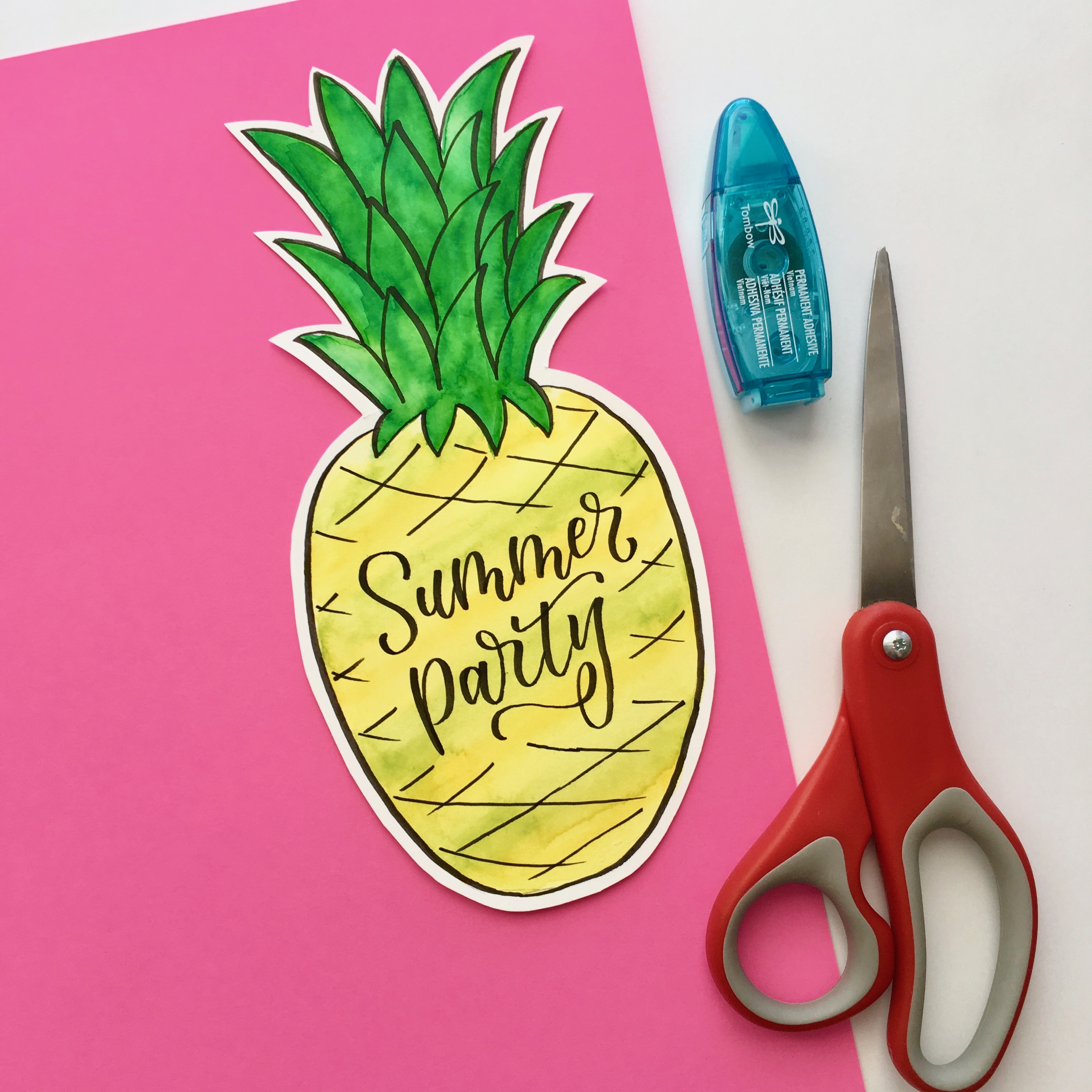 Step 7
Take your Power Mini Glue Tape and apply strips of glue to the back of your pineapple and glue to your card stock. Make sure to leave enough space at the edges to create another border. Cut around the edges again, leaving a small border around the pineapple.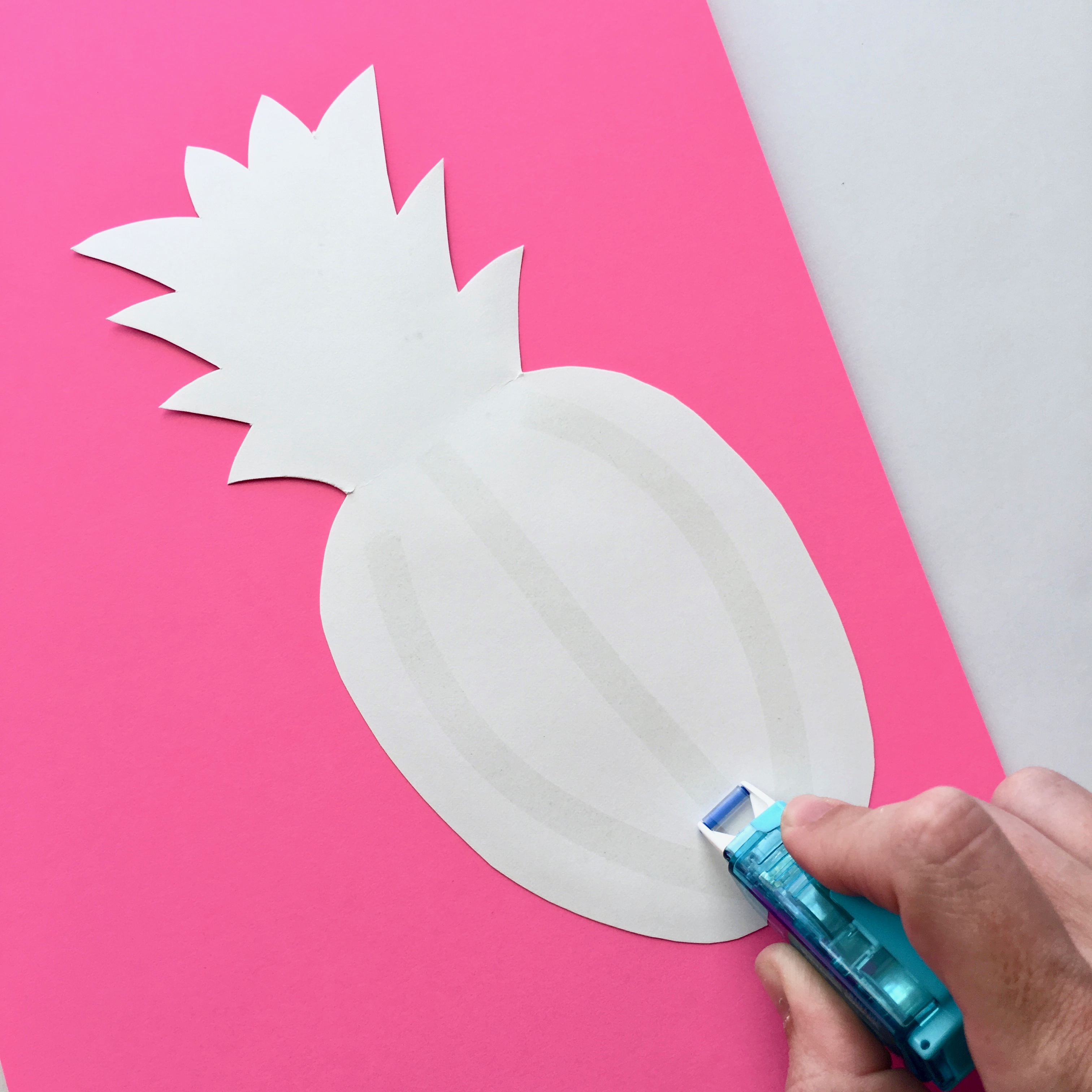 Step 8
Add your party details on the back of your pineapple with your Fudenosuke Twin Tip Brush Pen. Include things like when and where your party will take place and if you want them to RSVP. You can also add a message at the top, such as "Come party with us!"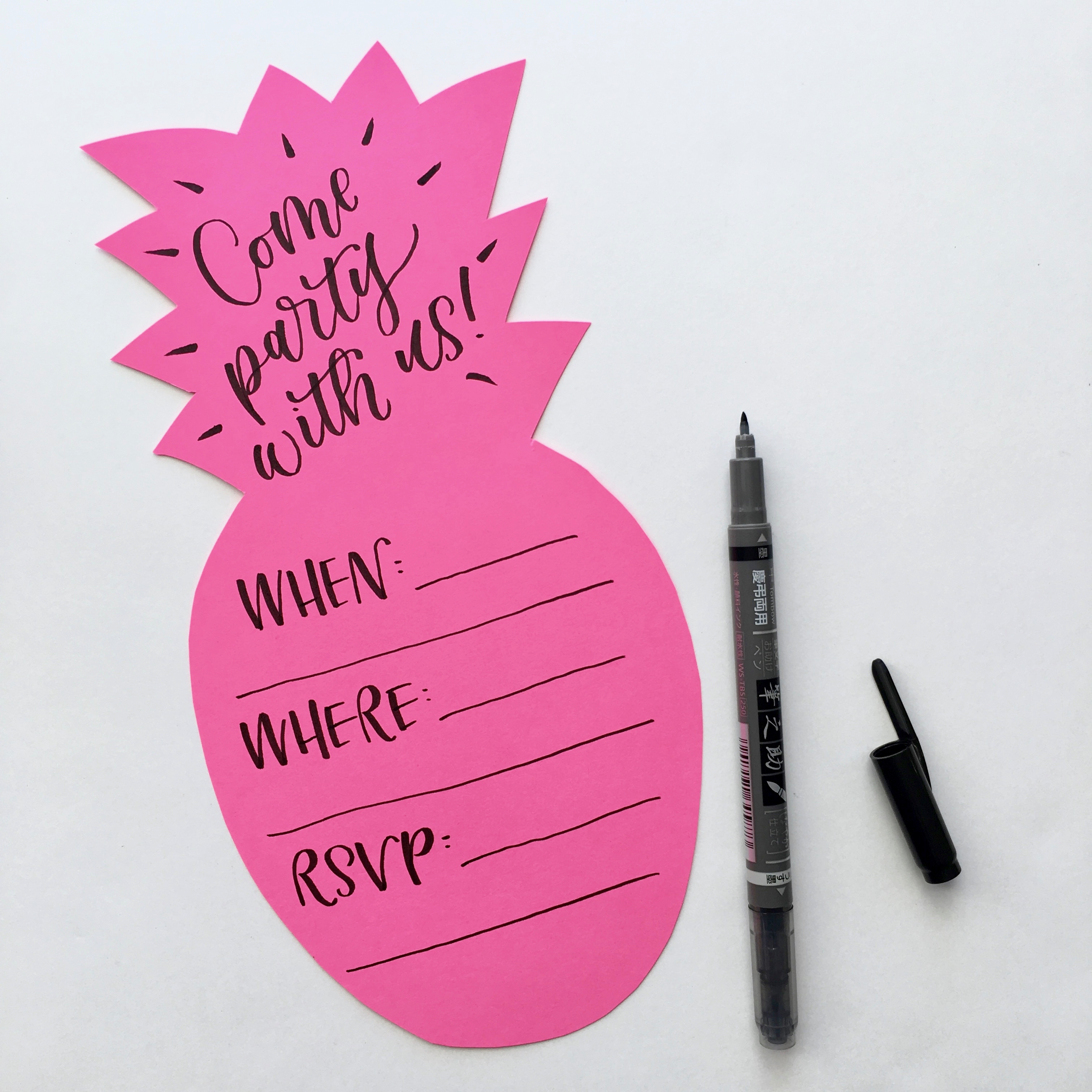 Step 9
Take your Tombow MONO Glue Pen and on the front of your pineapple, create diamonds inside your black lines. Take it a few diamonds at a time (so the glue doesn't dry) and sprinkle gold glitter on top. Wait a few seconds and then tap off on a scrap piece of paper. Keep going all the way down your pineapple until it's all glittered up! You can pour the extra glitter from the paper back into your glitter bottle.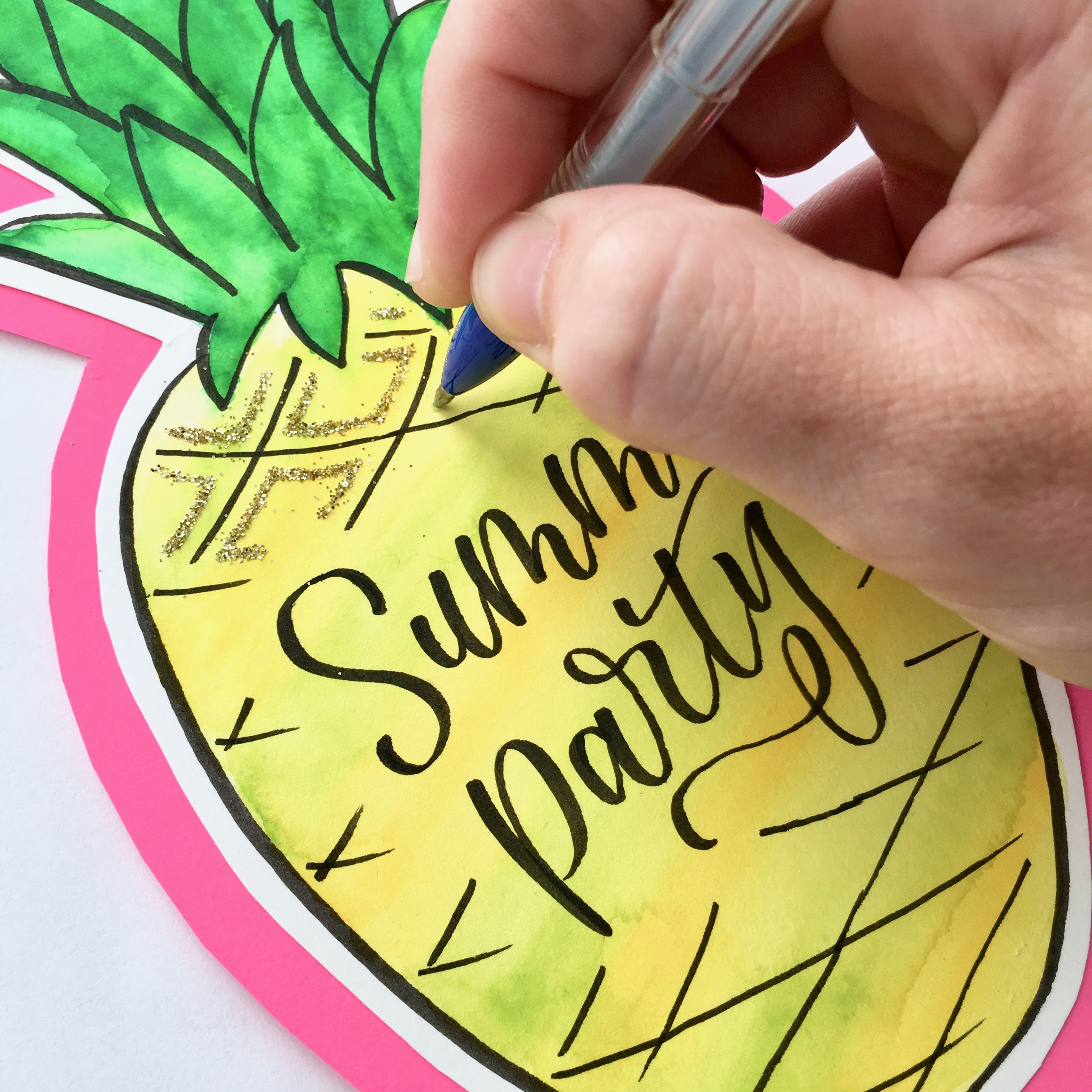 Step 10
You're done! Deliver your invitations and get ready to party!!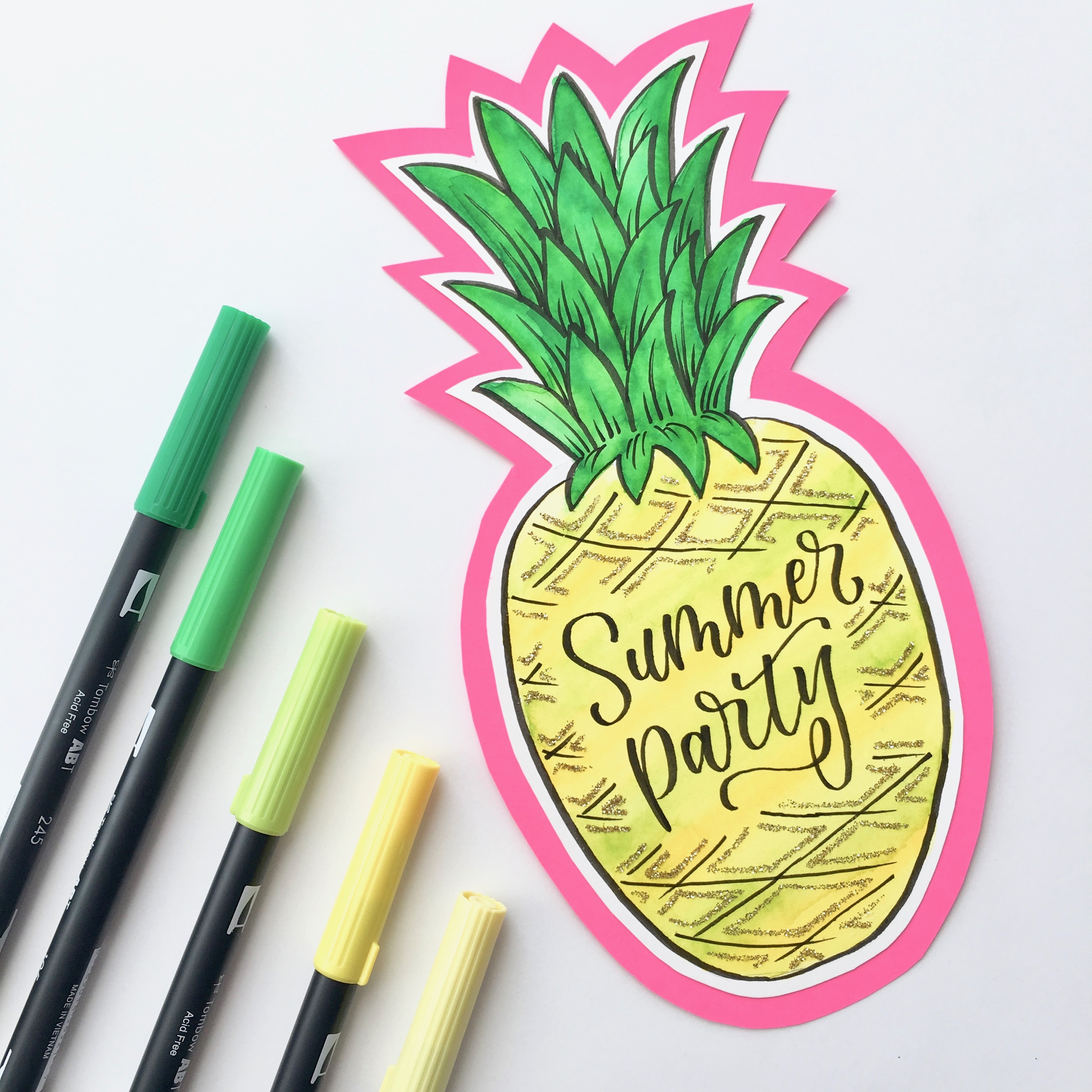 Happy summer, friends!
Adrienne