Hey everyone! It's Mandy from @a_heartened_calling and today I'm showing you 5 creative ways to use Tombow's Fudenosuke Colors Brush Pens.  These pens are a must-have for me. They are fantastic for hand lettering of all levels, are water-based, and they won't bleed through most papers.  Those features make them THE perfect pens for the 5 projects I'll be showing you.  So let's gather our tools and learn some creative ways to use the Fudenosuke Colors!
MATERIALS
Mixed Media or Watercolor Paper
Water brush or paintbrush with water
Journaling Bible and Journal of choice
CREATIVE WAY #1 – Bible Lettering
Bible Llettering is one of my favorite ways to use these pens. Bible pages are very thin and almost see-through. The Fudenosuke Colors do not bleed through these pages, making it a perfect choice for Bible art. And now that these pens come in different colors, you can letter out verses in coordinating colors, and add illustrations like flowers.
TIP: When I create in my Interleaved Bible, I will sketch out the verses and art using a MONO Drawing Pencil first. This helps me see the entire layout it before it becomes permanent. Once I am happy with how it looks, I ink it out.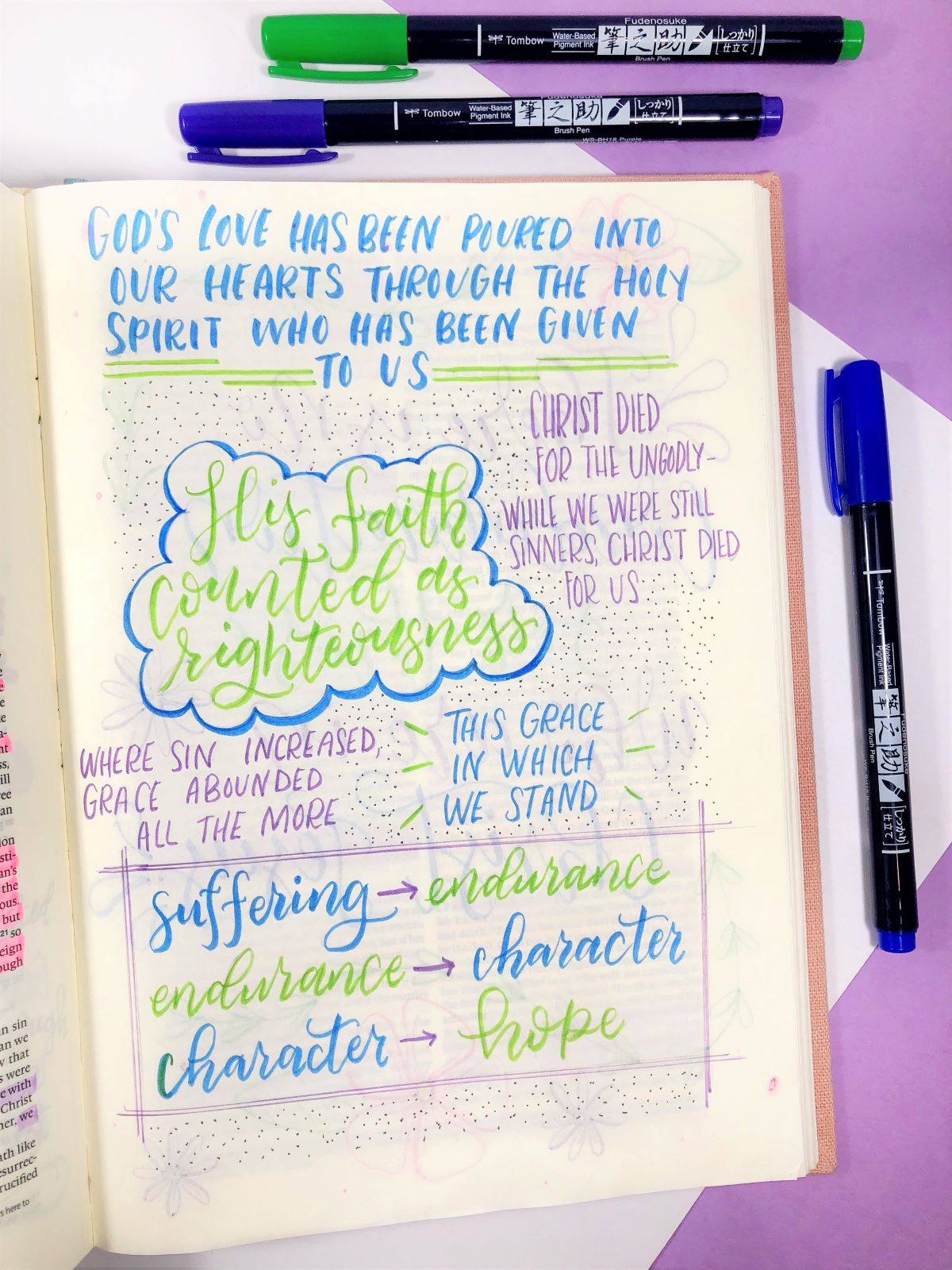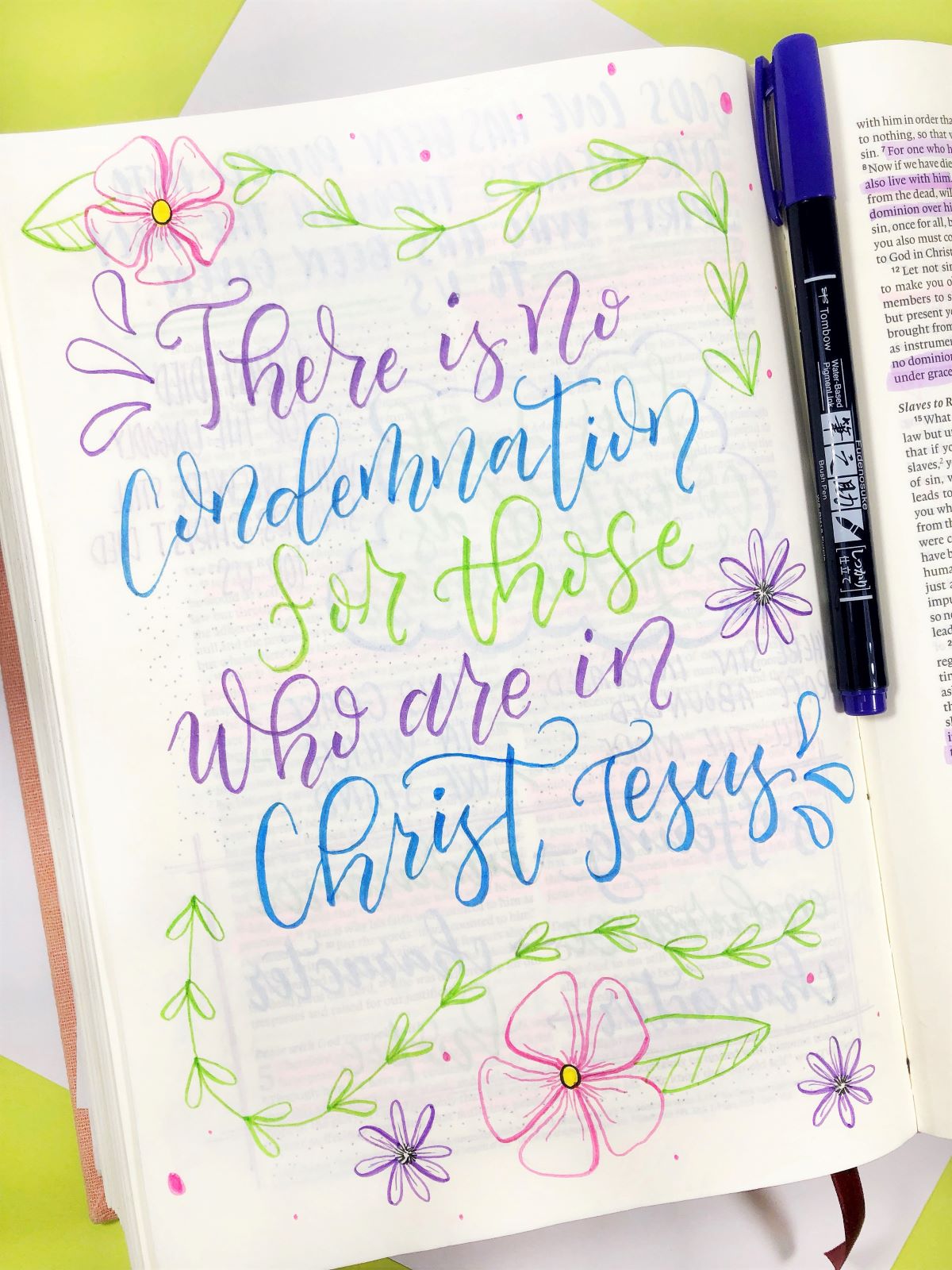 CREATIVE WAY #2 – Sermon or Sketch Notes
Along with Bible lettering, the Fudenosuke Colors are perfect for taking sermon or sketch notes. You can color coordinate each sermon, lecture, class, etc., which helps break up the pages in your journal.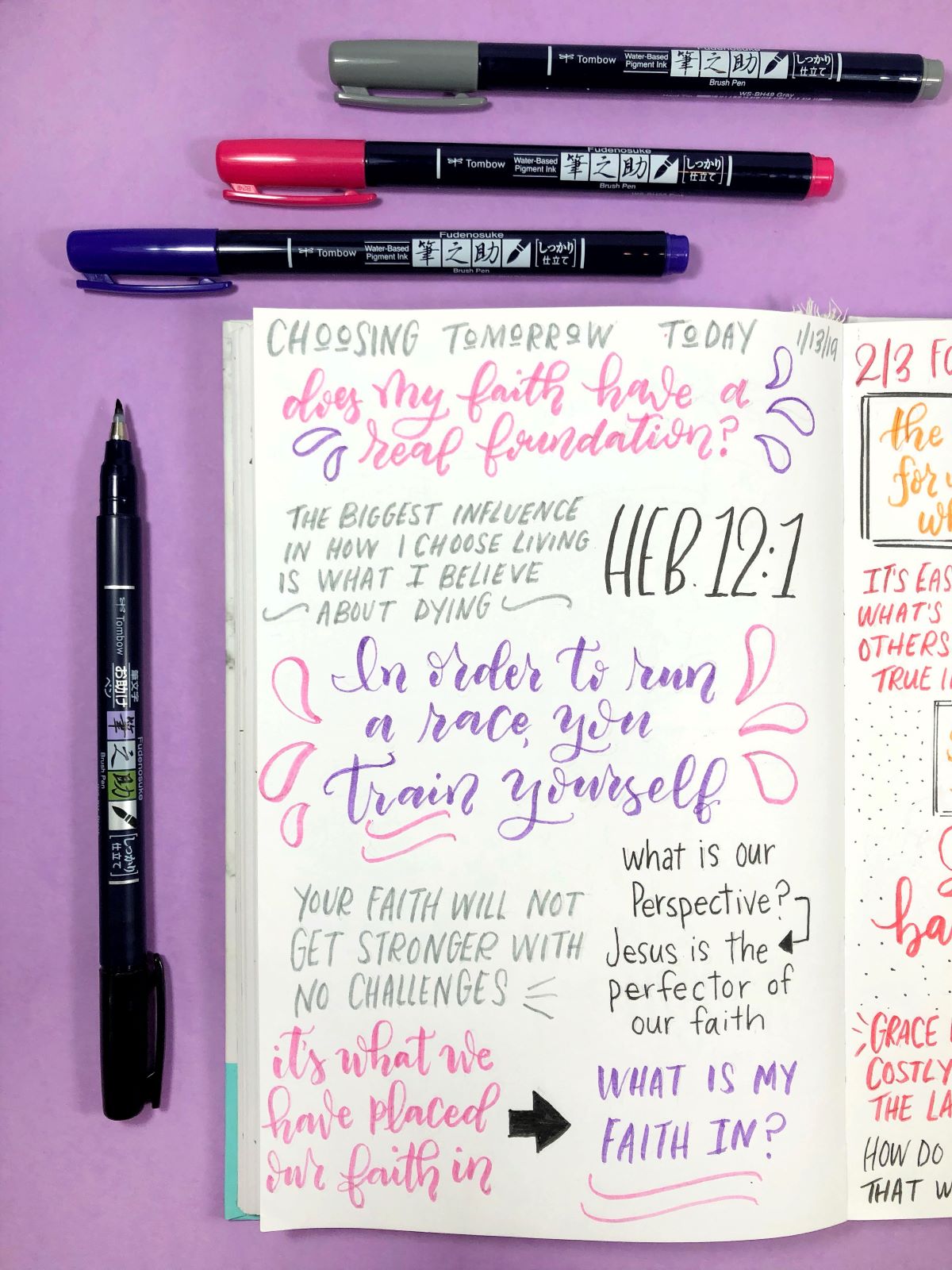 CREATIVE WAY #3 – Outlining Your Lettering
This is a fun way to add some depth to your lettering. This technique works best if you choose a very light Dual Brush Pen color to use with the same Fudenosuke Color (so if you're using the Pink Fudenosuke, choose a very light pink Dual Brush Pen color). First, letter out your word or phrase using a light colored Dual Brush Pen. Then, using the same Fudenosuke color, outline your lettering, and then add a thicker line to your down strokes to add a shadow.
For some extra fun, add little embellishments to your lettering like polka dots or swirls! Below I used the following combinations; for Pink: Dual Brush Pen 761 Carnation and Fudenosuke Pink. For Purple: Dual Brush Pen 620 Lilac and Fudenosuke Purple.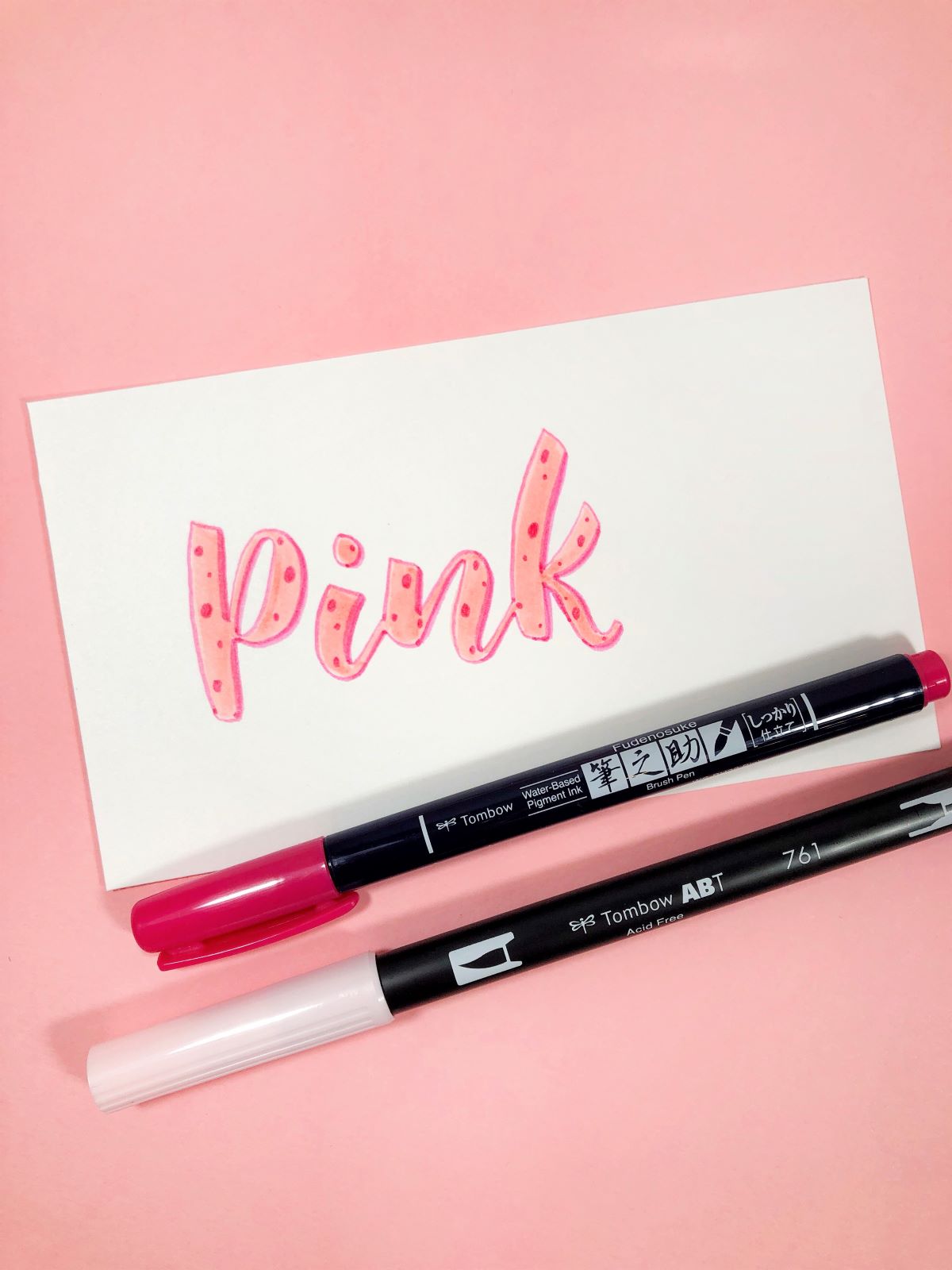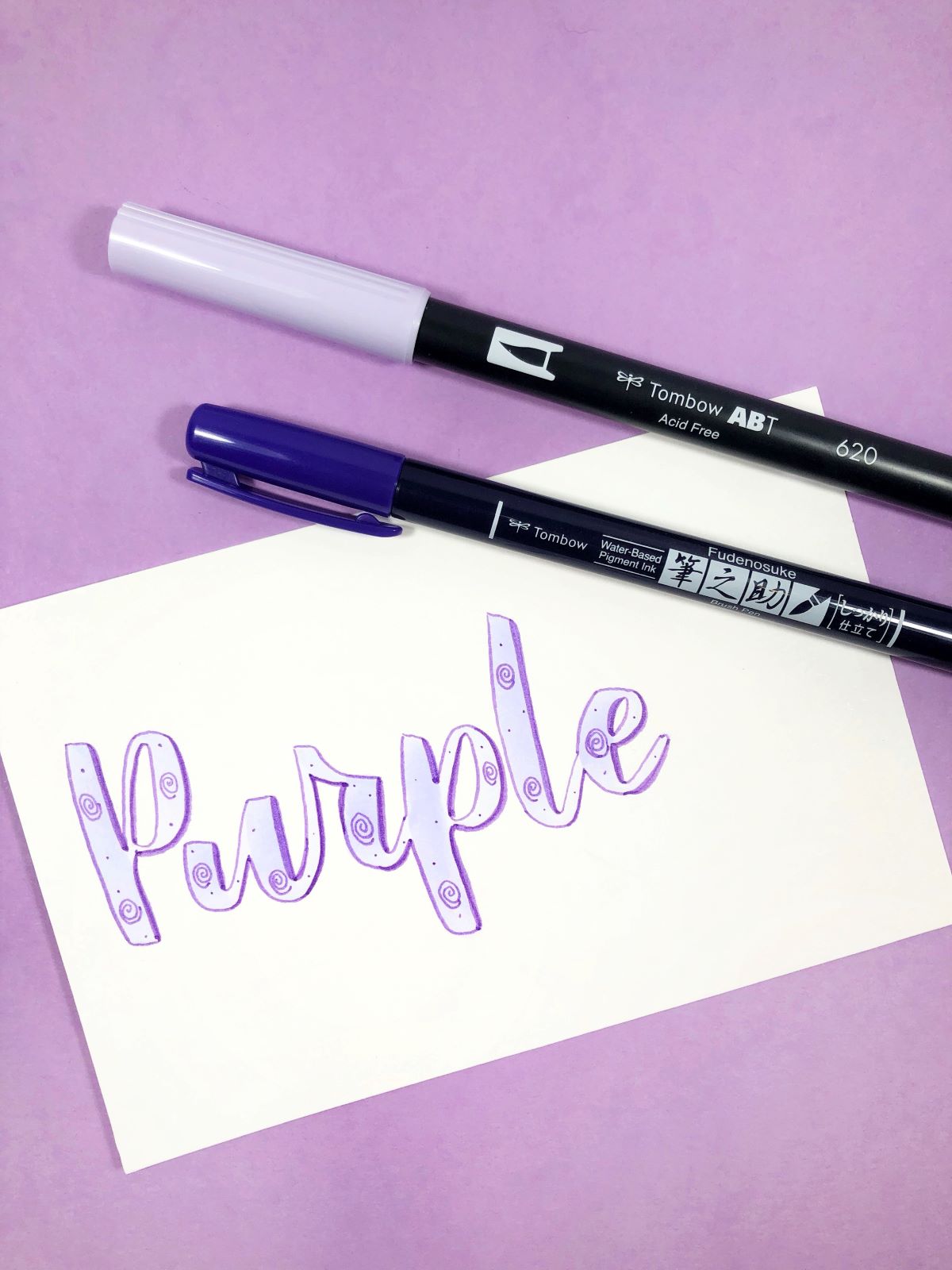 CREATIVE WAY #4 – Blending
These pens can be blended! My favorite color combinations are Pink and Purple, Blue and Green, and Red and Yellow. Let's do a Pink and Purple blend. First letter out your phrase using the Pink Fudenosuke.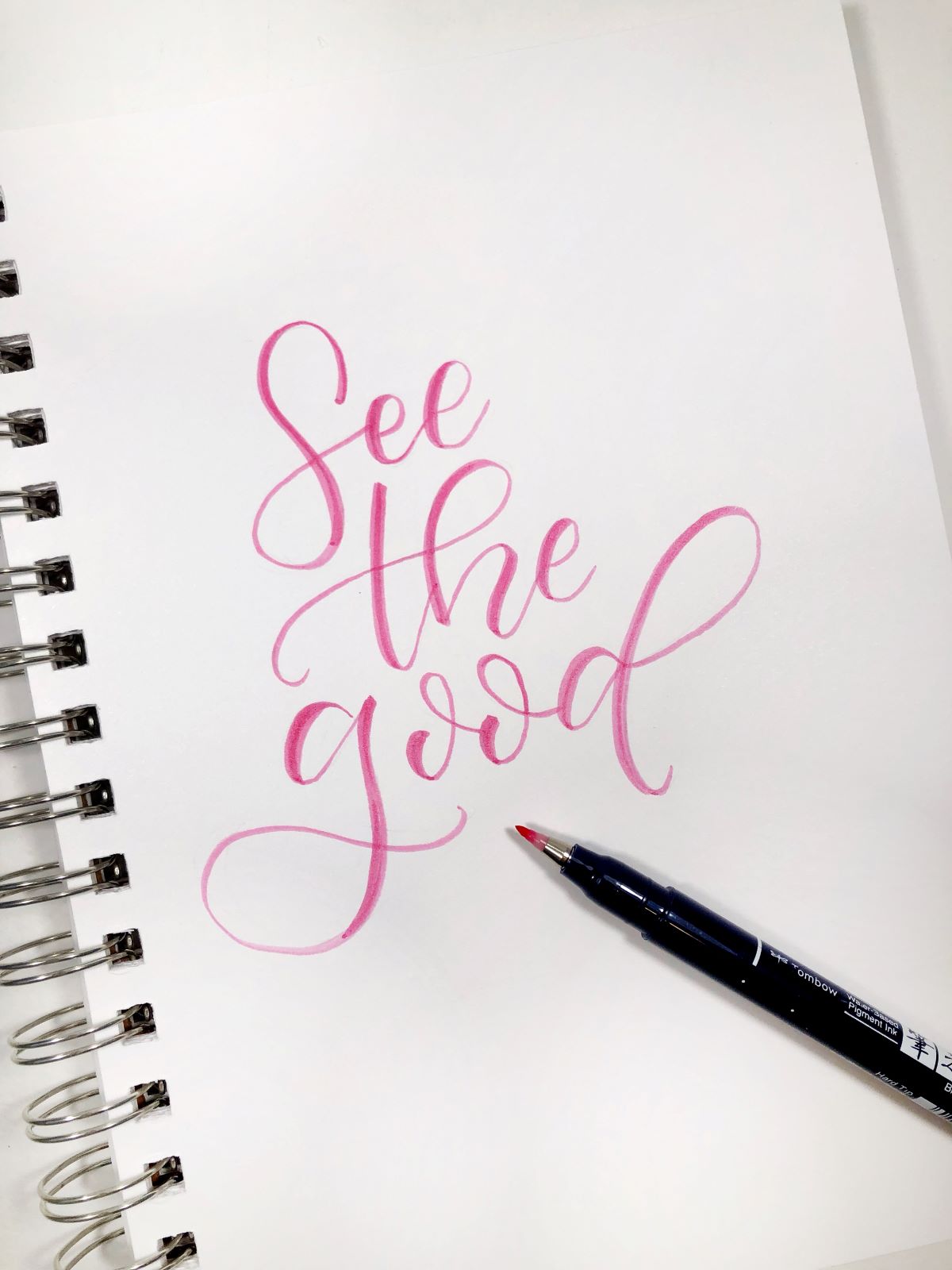 Next add Purple to the bottom half of each letter. Then using Pink, lightly blend the purple upwards into the pink.  Light strokes using the very tip of the pen work best, this helps avoid pilling in your paper. Lastly, use Gray to add a shadow to your lettering.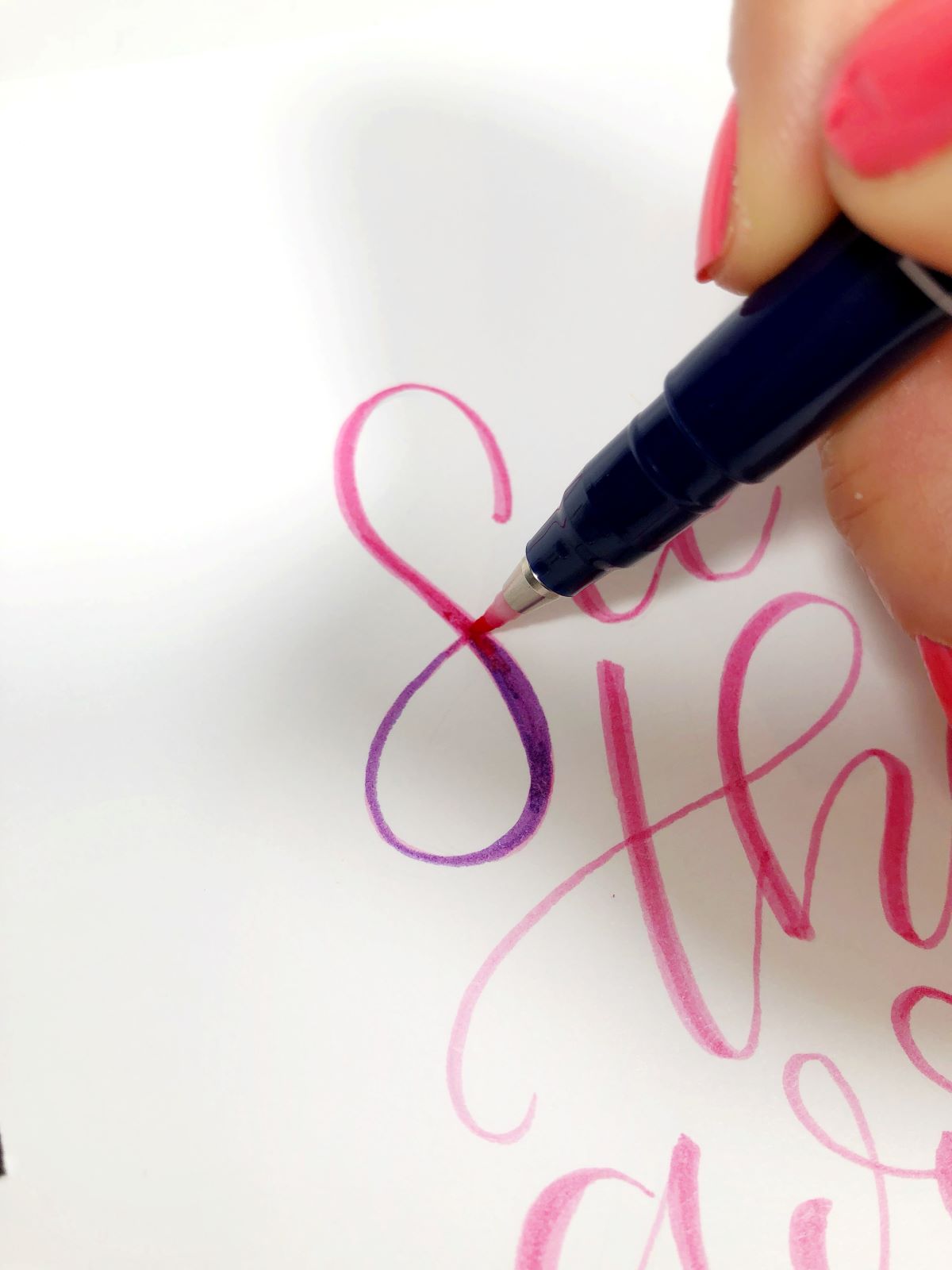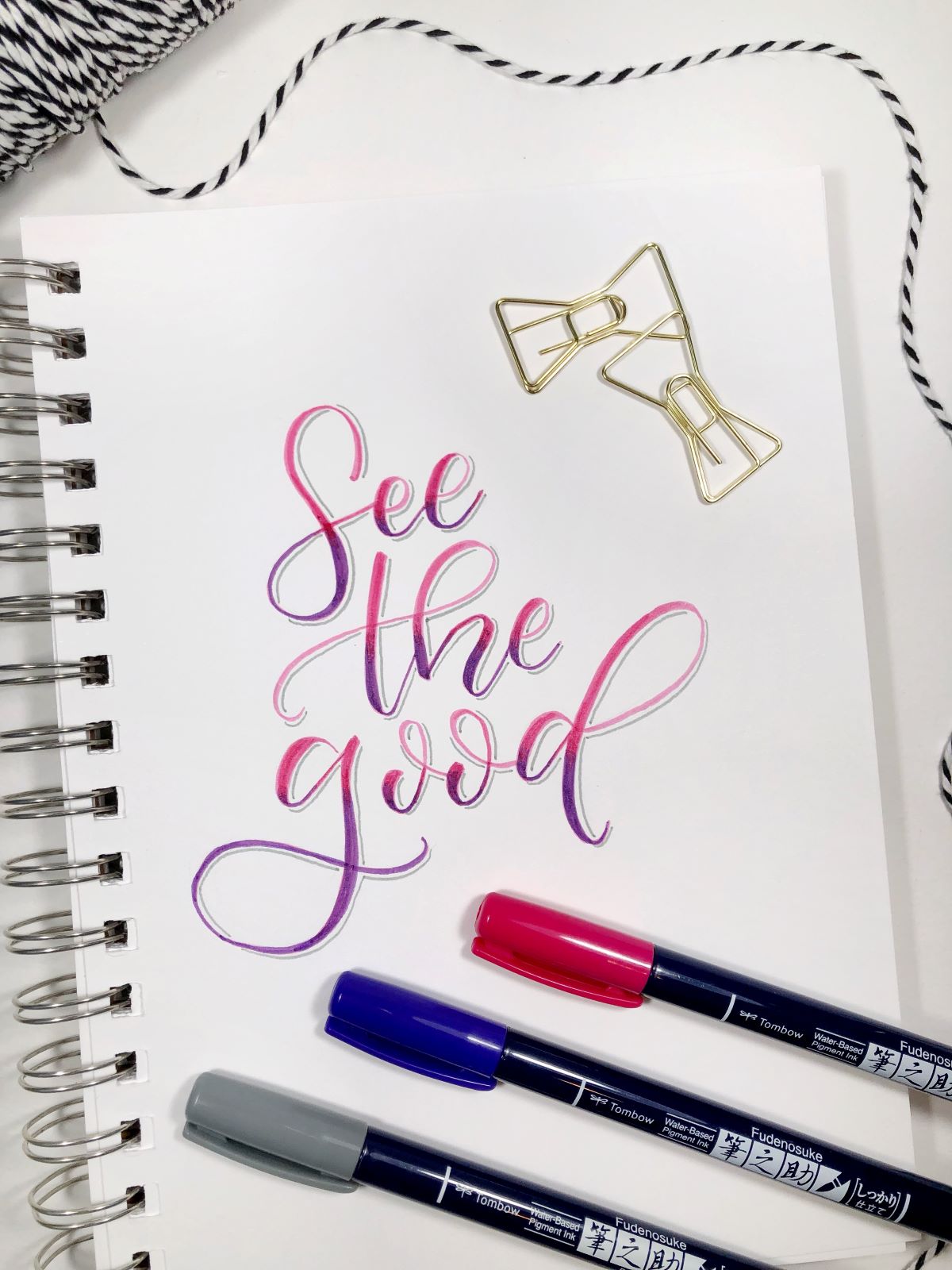 CREATIVE WAY #5 – Watercolor
Did you know you can watercolor with these pens?! They are water-based so you can add water to the ink and create watercolor art!  Let's create some pretty flowers. First, sketch out your favorite flower shapes using the MONO Twin Permanent Marker. Since this has permanent ink, it won't bleed when wet.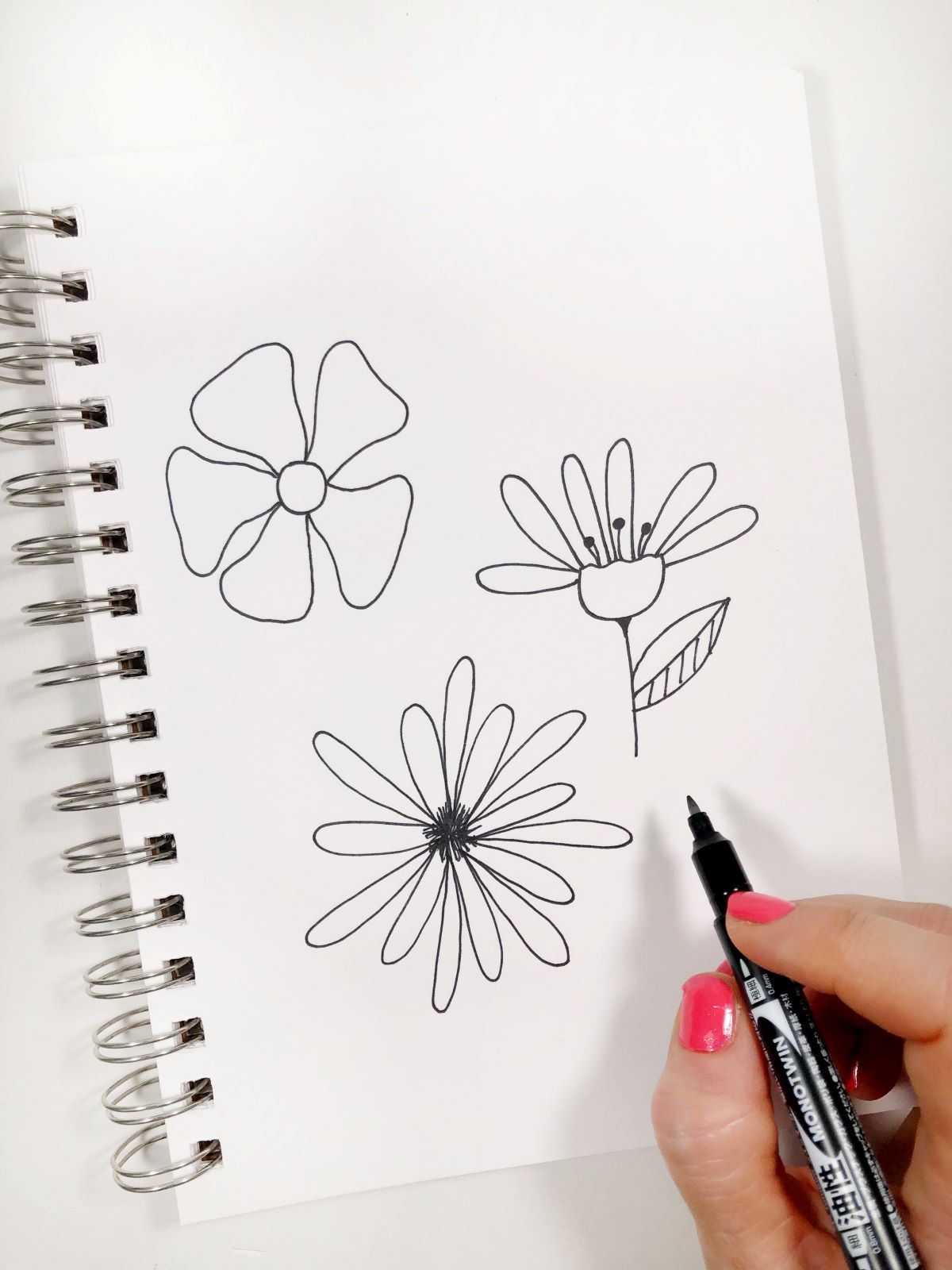 Next, scribble ink from the Fudenosuke pens in whatever colors you'd like onto the Blending Palette. Then use a water brush or wet paint brush to pick up the ink. Color in your flower.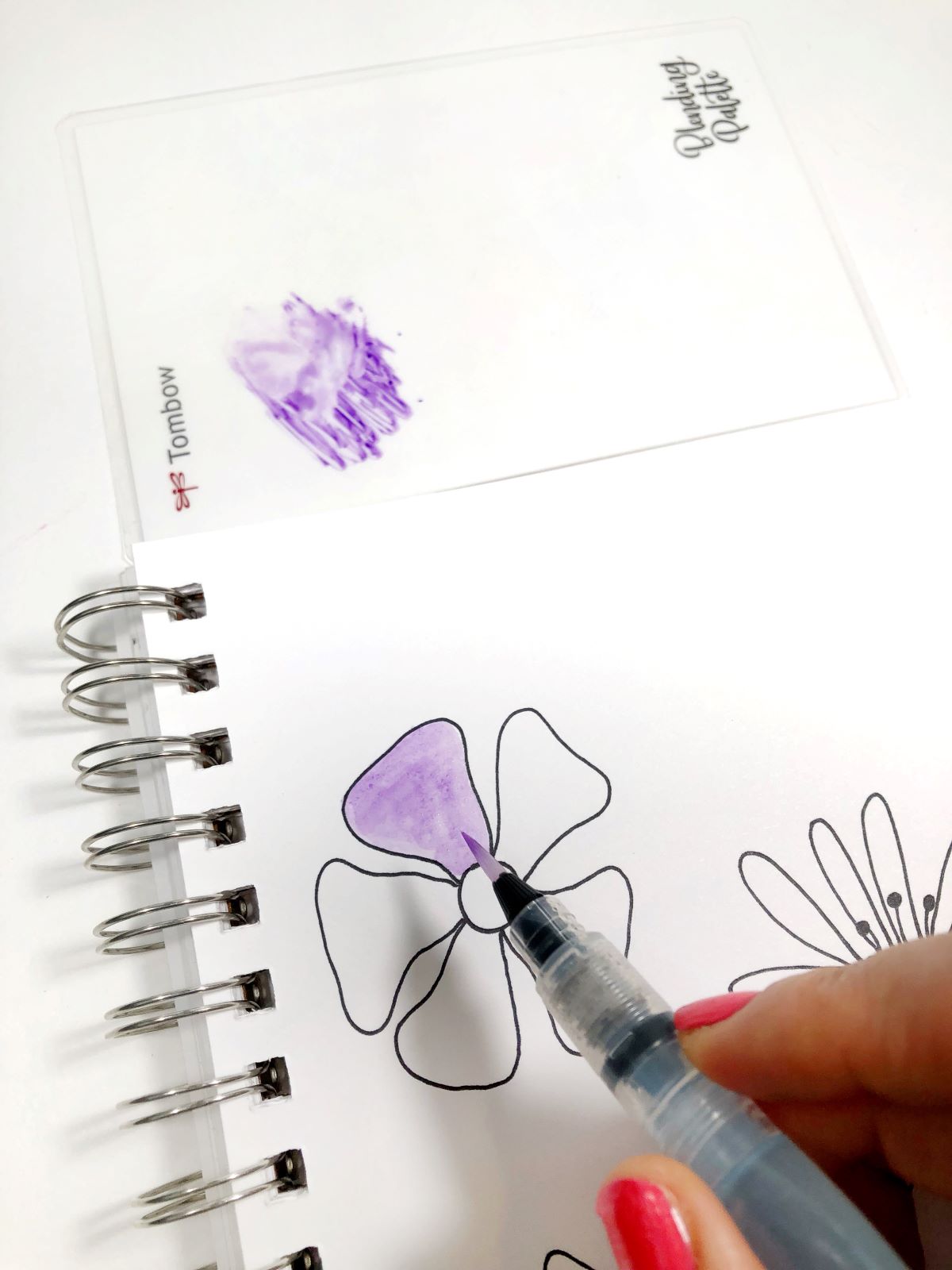 You can get even more creative by using other colors to add dimension to your flowers. For the Purple flower I added Blue to each of the petals. For the Pink flower I added some Red to it. And for the Yellow flower I added Orange to each petal. You can also add more detail to your flowers with the MONO Drawing Pen 01 like I did below.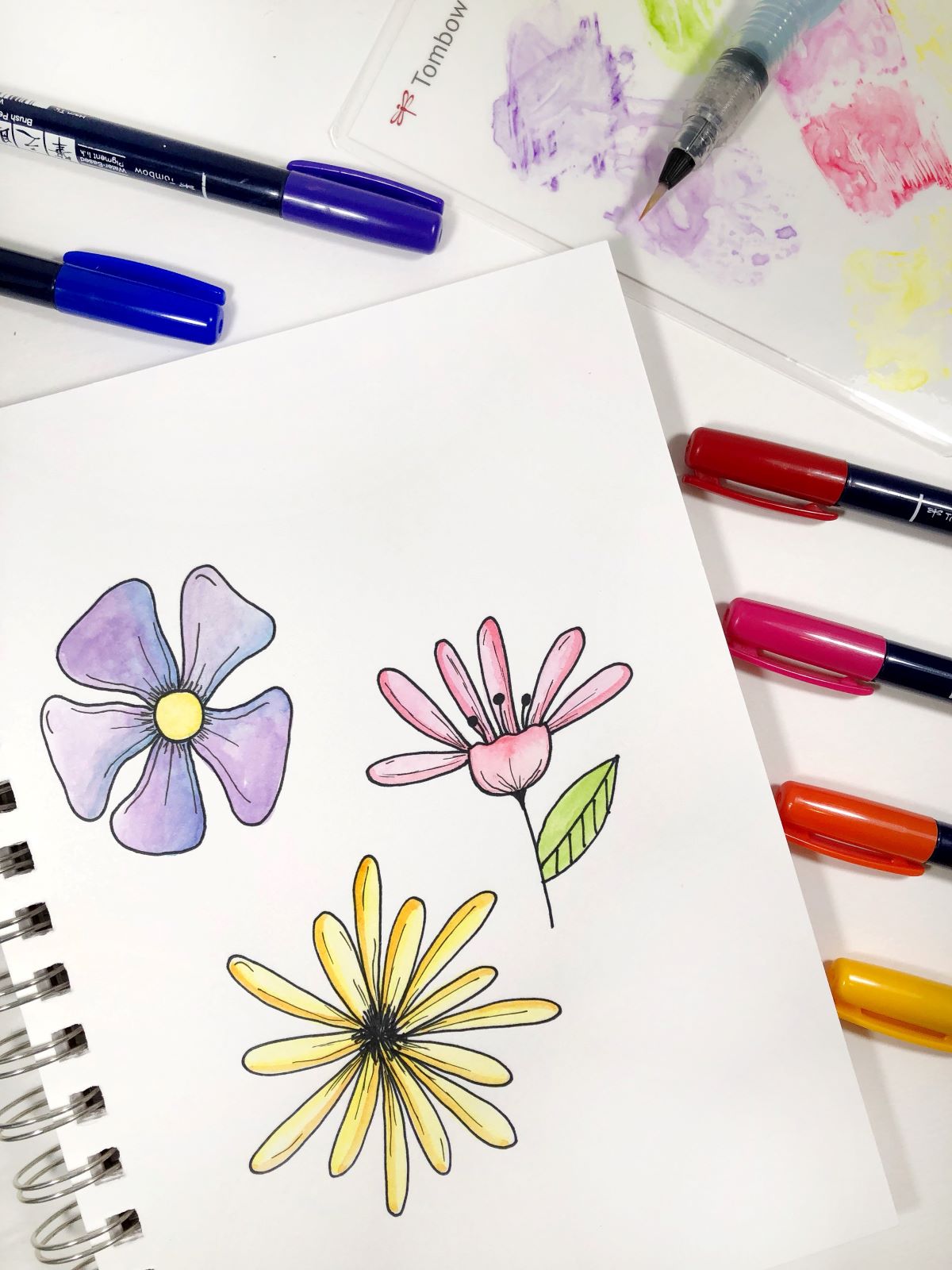 I hope you enjoyed learning five fun and creative ways to use Tombow's Fudenosuke Colors! What's your favorite creative way to use these pens? We'd love to know!
For more fun projects using the Fudenosuke Pens, you can visit these links:
Thanks for following along, see you next time!
Mandy