Hey everyone, it's Ali LePere! This week, the Design Team projects are going to be centered around Pantone's Color of the Year: Classic Blue! Of course there is a Tombow Dual Brush Pen that matches Classic Blue. I'll be using it in today's project! Before we get started, I want to share where my idea came from.
Chinoiserie is art, decor, furniture or architecture that imitates Chinese style and techniques. Originating in China, during the Ming Dynasty (1368-1644), expert craftsmen made highly detailed containers for ginger and other spices that were often blue and white. These Chinese treasures were influential in not only neighboring Japan, but as far west as the Netherlands and Britain. Even today, there are imitations of this kind of artwork in nearly every home decor store. It wasn't just any blue that these Chinese artisans used! Naturally, they used Classic Blue!
Now that we all know the the history and influence for this project, let's get started!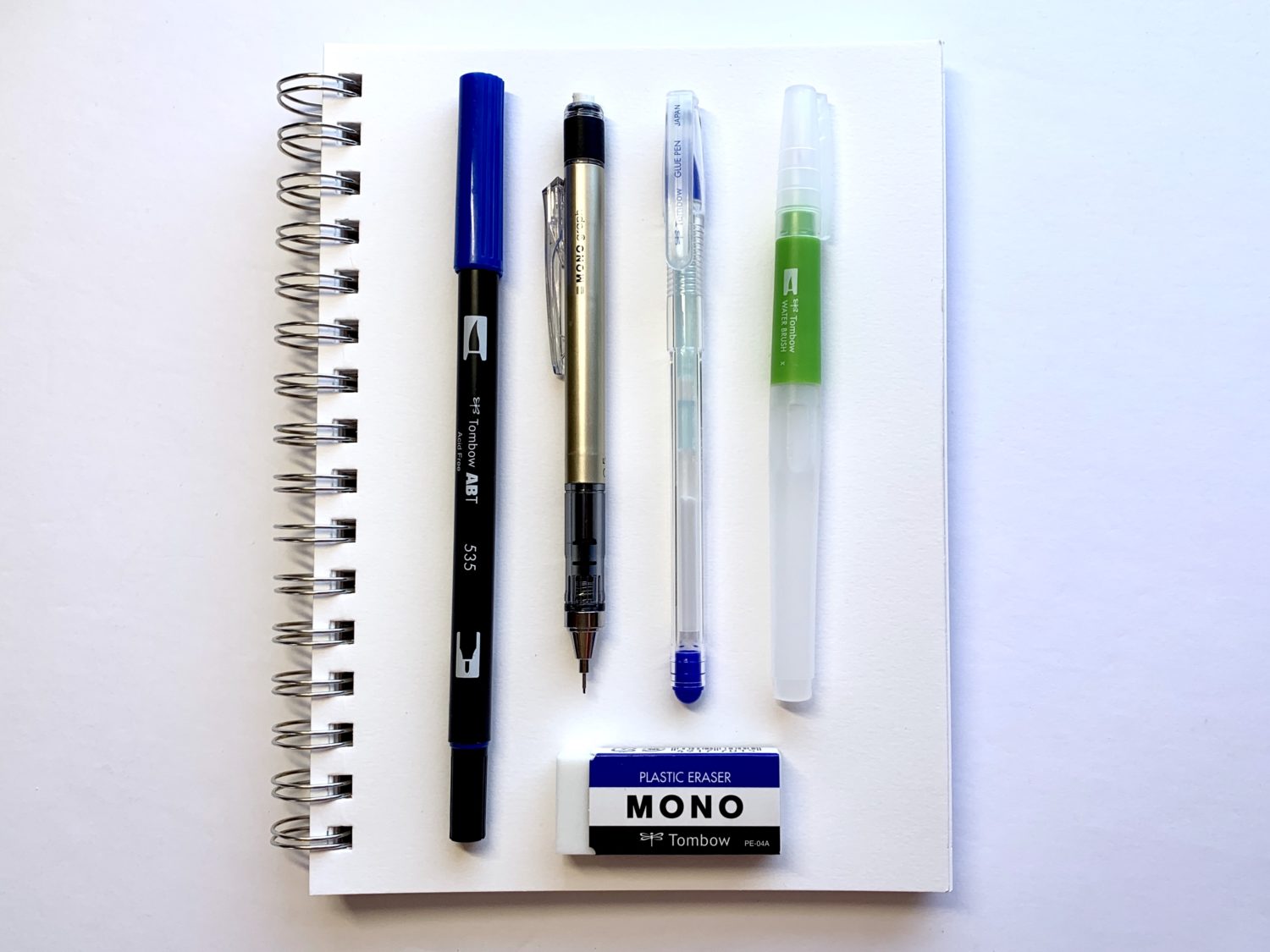 Materials Used
Step 1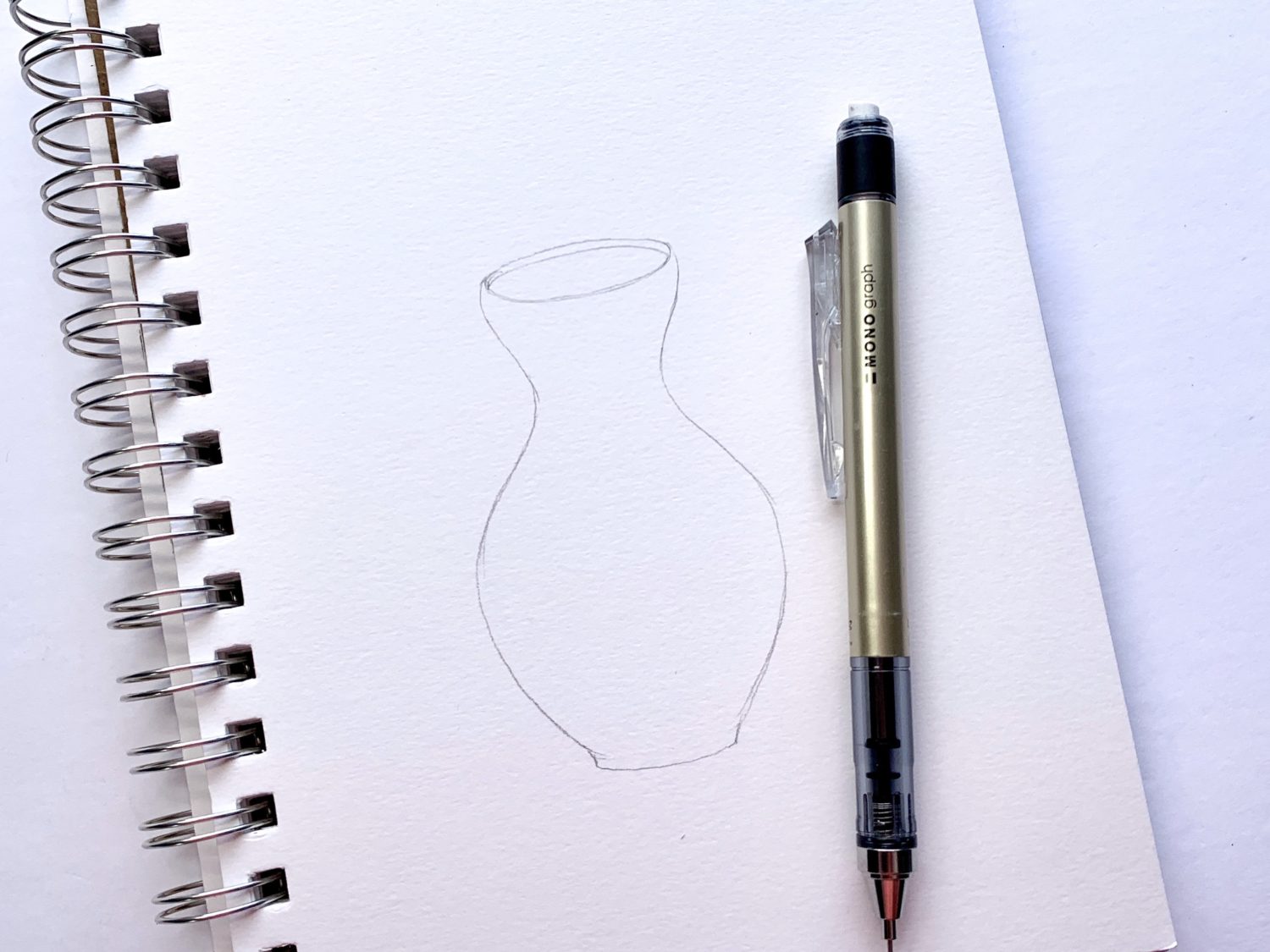 First, I sketched out the basic outline of a vase with my MONO Graph Mechanical Pencil on my mixed media paper. 
Step 2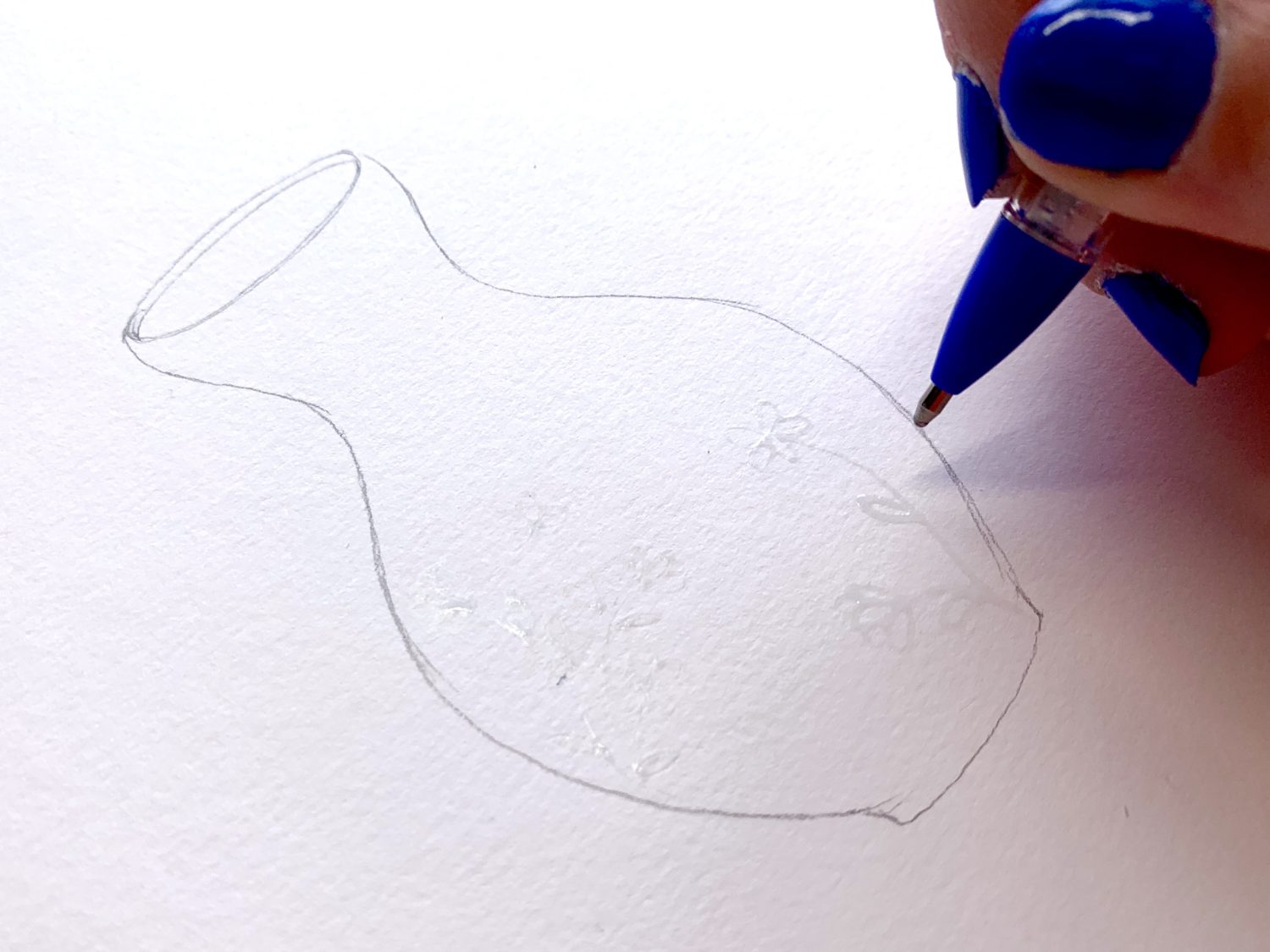 I used my MONO Glue Pen to draw in my design. Since flower patterns were popular on real Chinoiserie ceramics, I decided on some simple floral drawings for my vase. I let my glue drawings dry completely before moving on, as I'll be applying ink directly on top of the glue in the next step.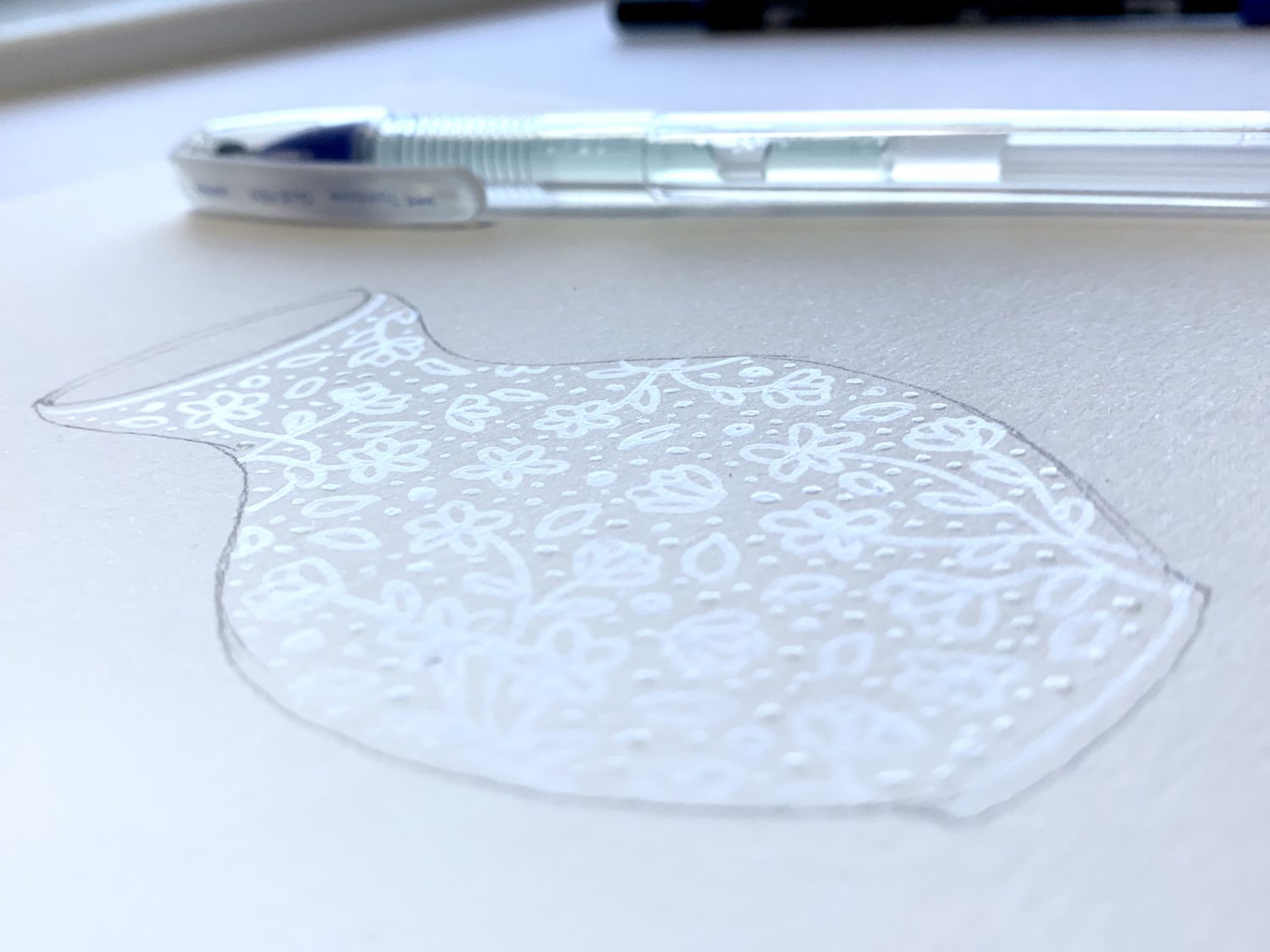 Tip: When drawing designs with the MONO Glue Pen, make sure to be in a well lit workspace. It's difficult to see what you're doing when you have a clear drawing and the light will reflect the shine from the glue!
Step 3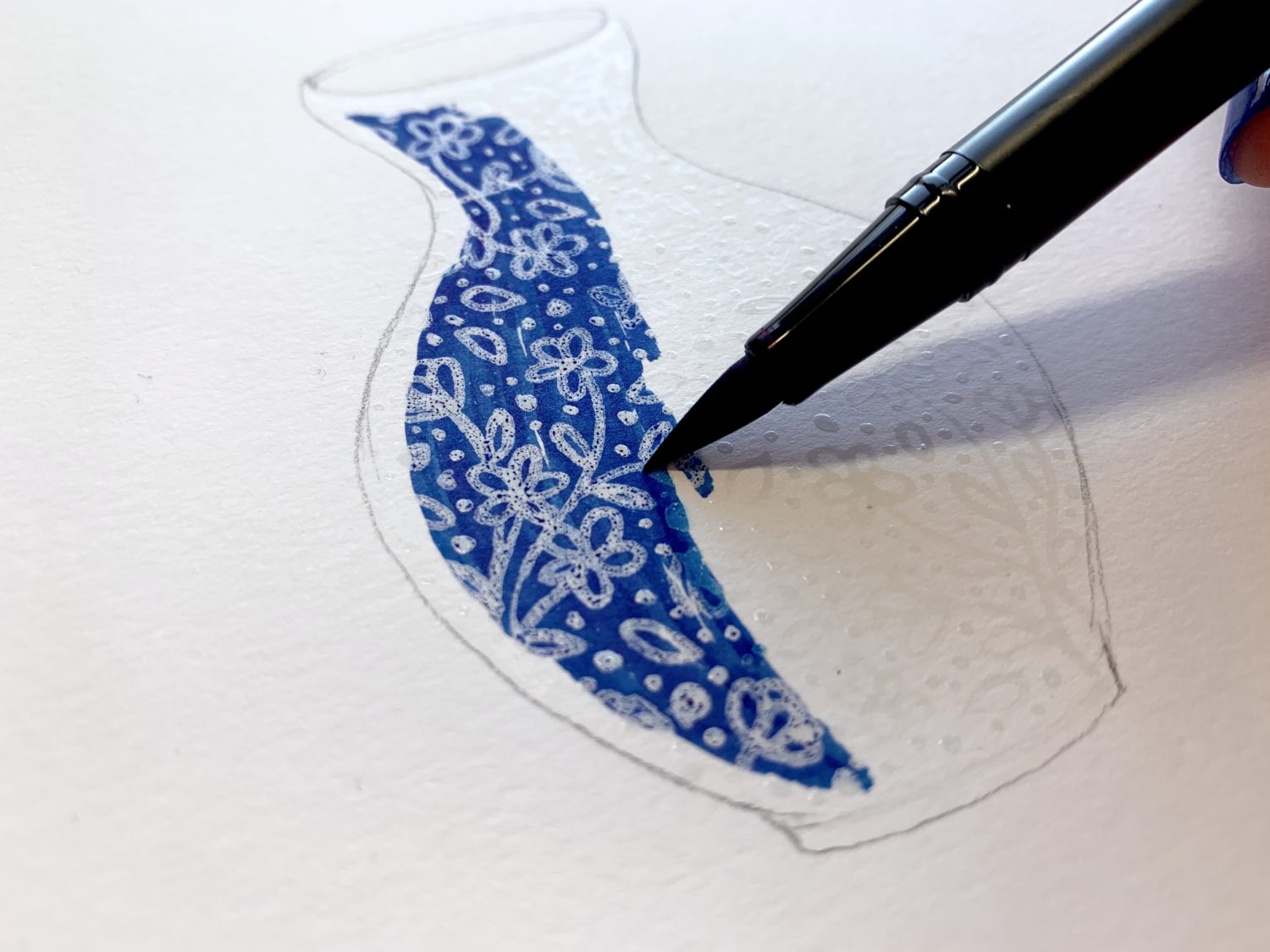 Next, I applied ink from my Classic Blue Dual Brush Pen match. Dual Brush Pen 535 is a great match. I colored directly over the dried glue drawings. I didn't quite color all the way to the edge of my drawing because I knew I'd be adding water in the next step. Adding water can make coloring in the lines a little trickier, so I left myself room for error! By not coloring in all the way to the edge, it means that the ink coverage will be lighter in those areas. This is a good thing! It will add depth to the vase. Below, you can see that I actually left a little area on the right half of the vase un-inked and colored an extra layer of ink on the left half. By doing this, my vase will look a bit more three dimensional.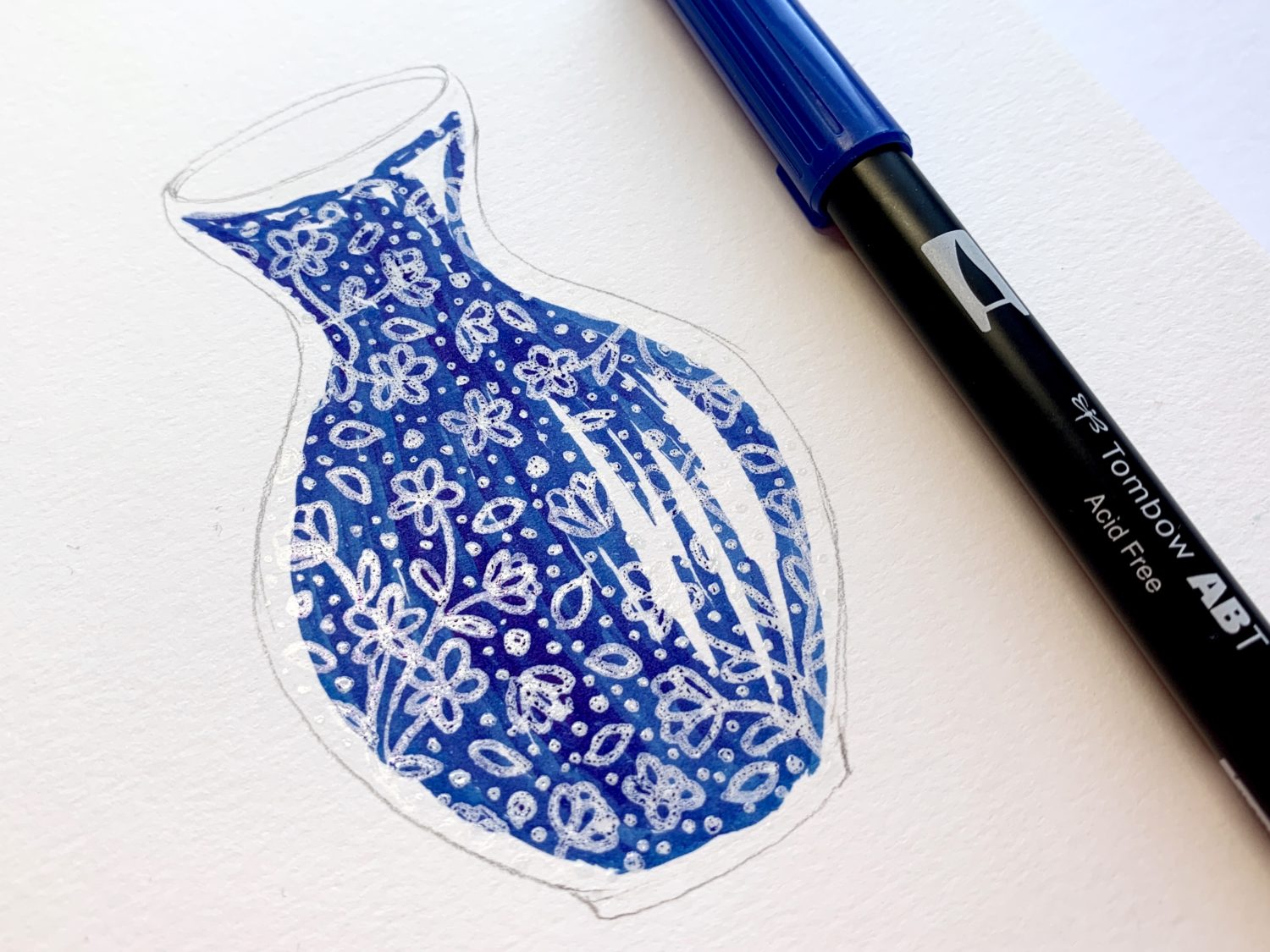 Step 4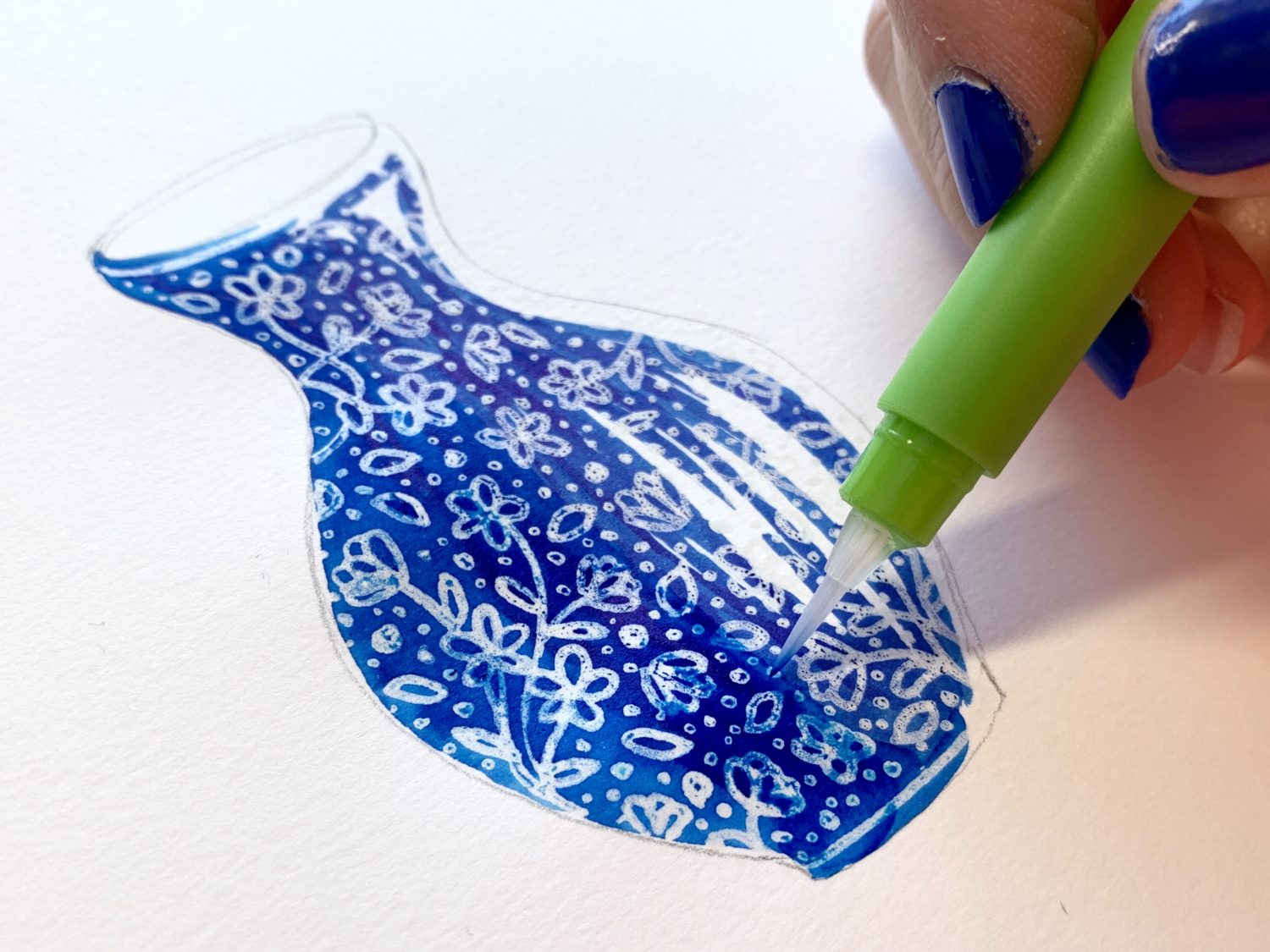 Now, I add water! I'm going to be brushing water over the blue ink I applied in step three. To do this, I'm using the Small Tombow Water Brush. I chose this tool because of the high control I get from the fine tip. I'm also able to easily control the amount of water that I'm releasing onto the paper.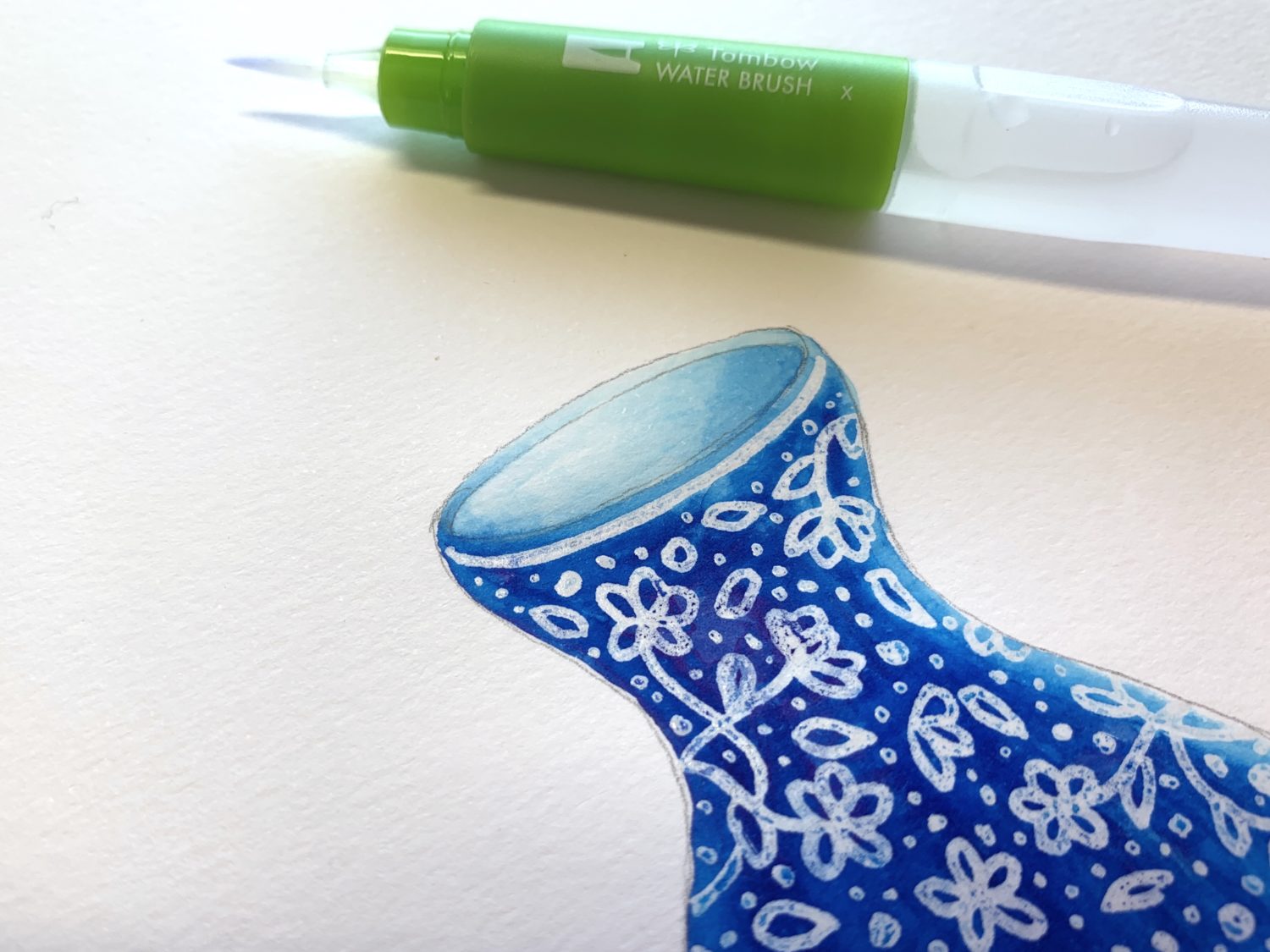 Tip: I used excess ink left on my Water Brush to color in the opening at the top of the vase without having to apply any more ink with my marker!
Step 5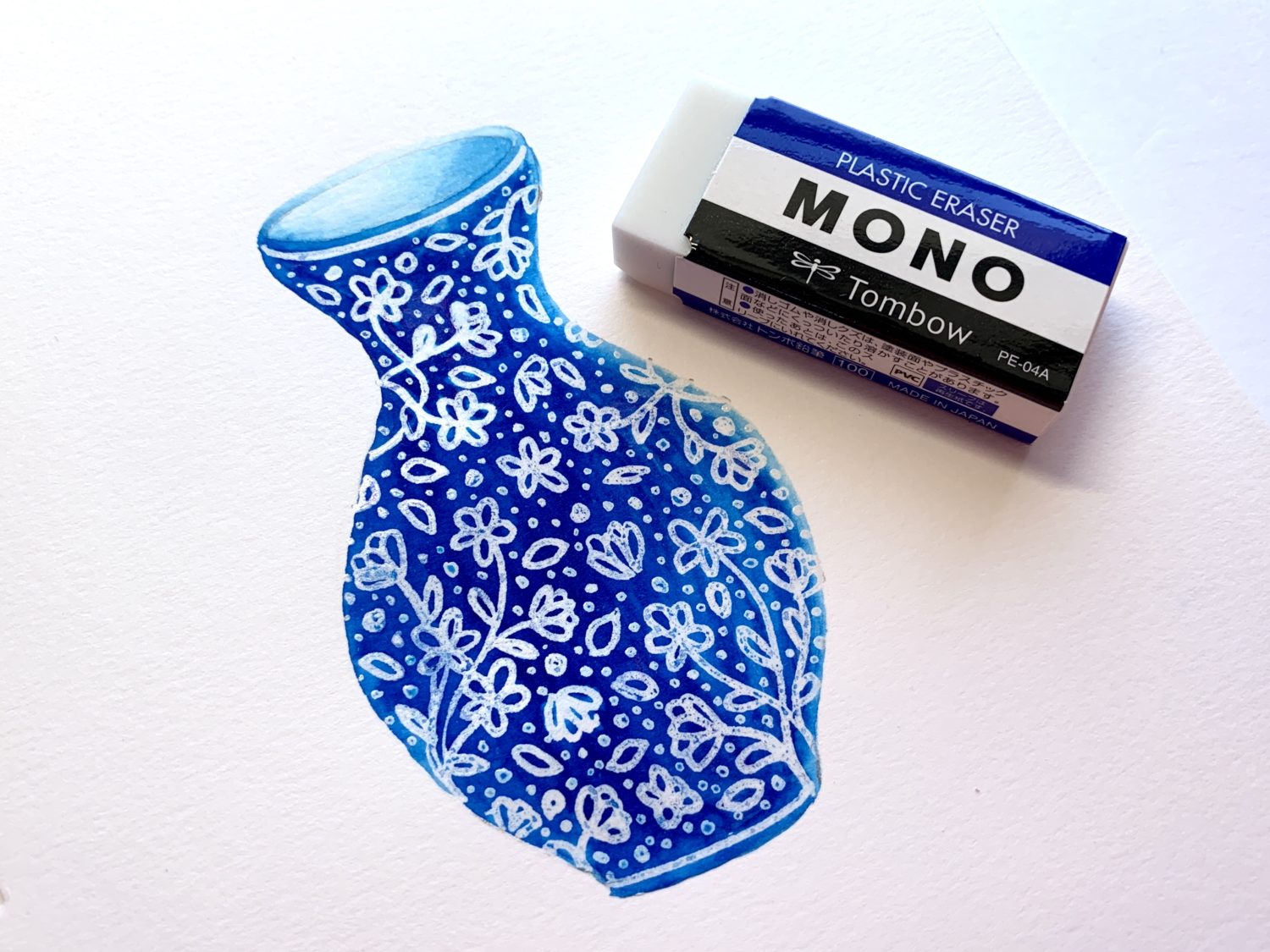 After I let the paper dry for a about ten minutes, I used the MONO Eraser to erase my pencil sketch marks from the paper. Since I'm waiting for ink to dry, I waited a little longer than I did for the glue to dry. I definitely didn't want any ink smudges due to erasing!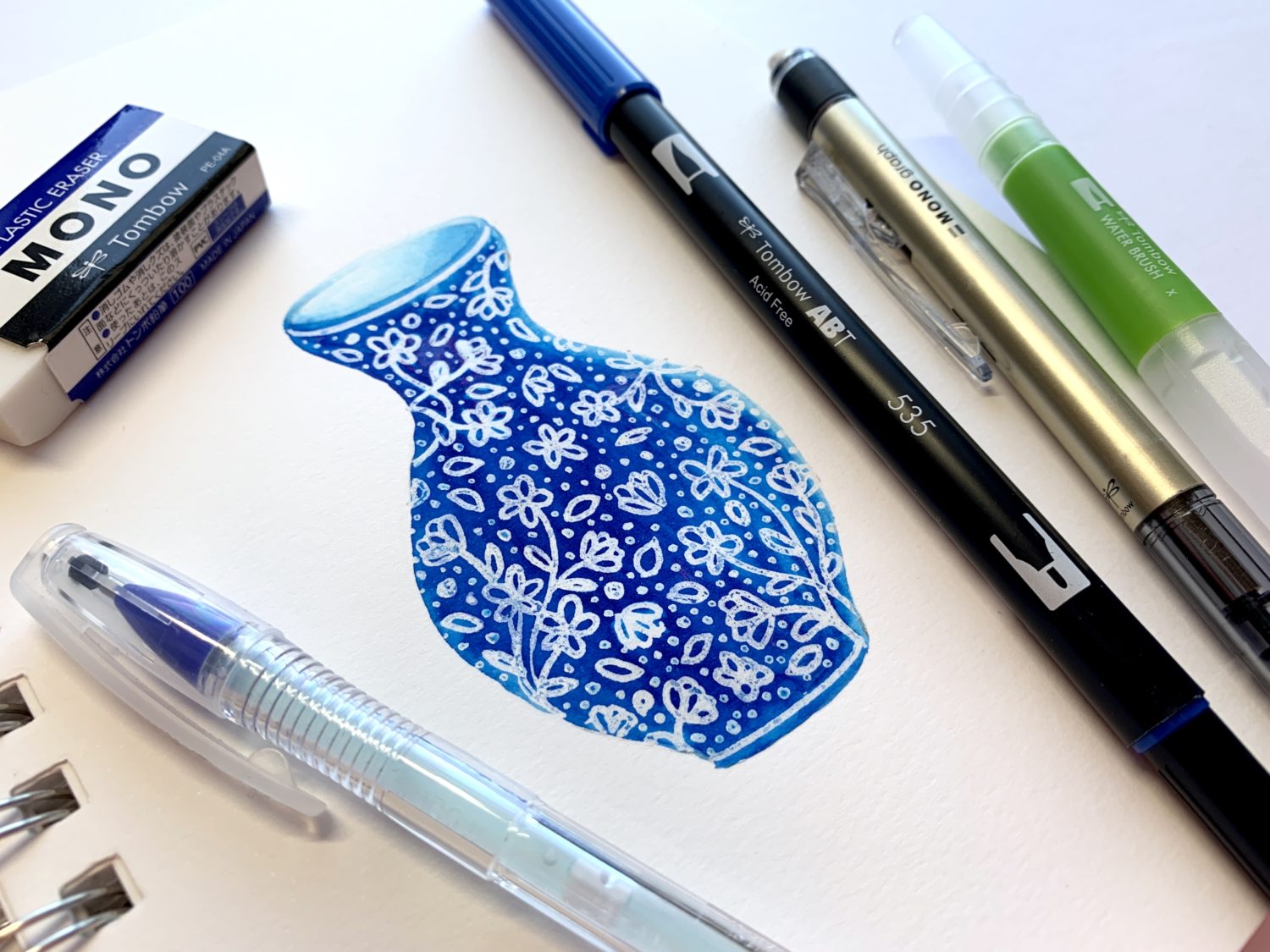 Thanks for taking time to learn and create with me today! If you're interested in seeing some examples of Chinoiserie, click here. If you're interested in learning more about Classic Blue, click here!
Also, check out Crafting With the Tombow Glue Pen to see how else the Glue Pen can be utilized in your art!
Happy crafting!