Calling all creators! We're excited to announce our open call for submissions to be part of our 2022 Tombow Creator Crew. If you live in the United States or Canada and LOVE creating with our products, we want you to apply! Find out how to apply to be part of our 2022 Creator Crew below.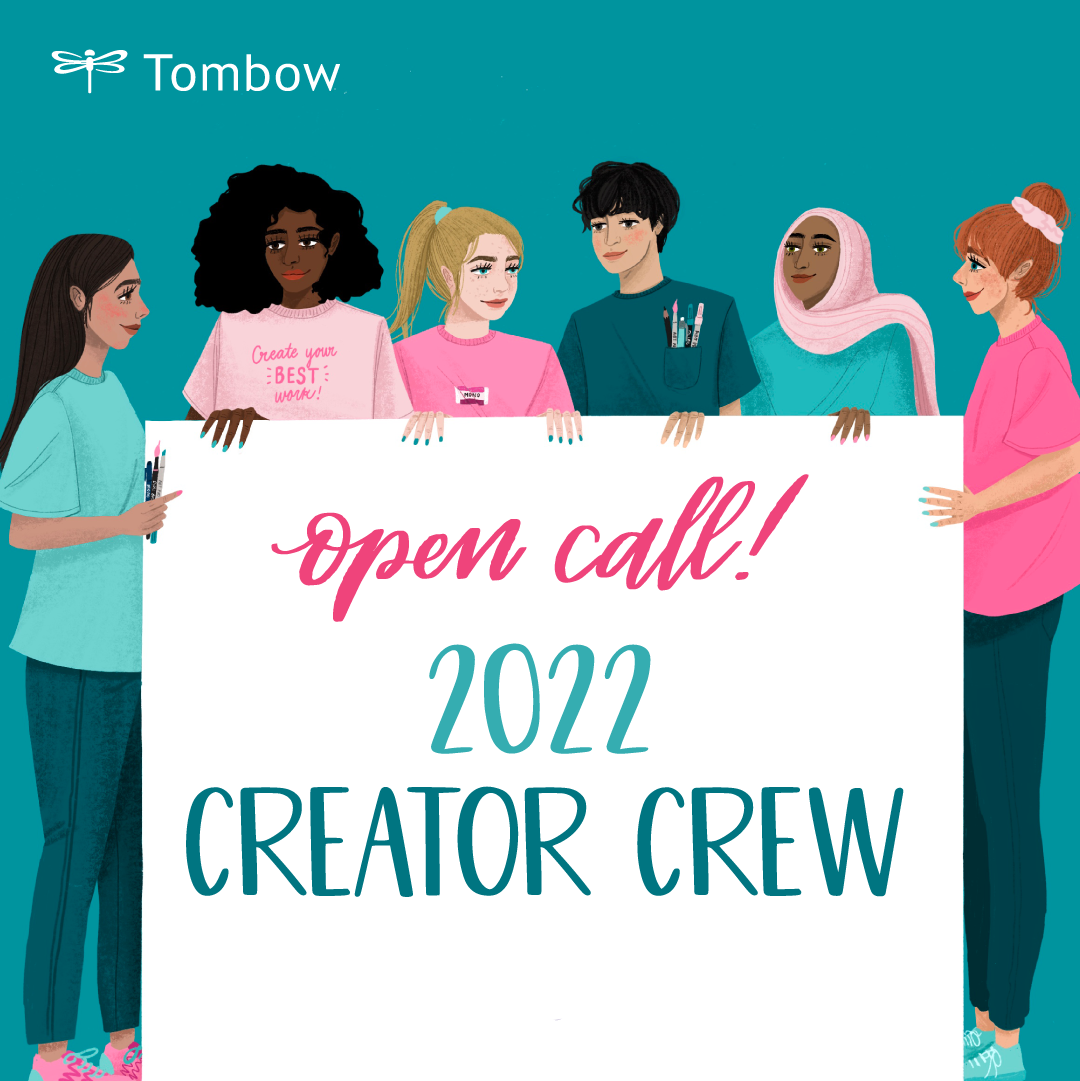 Tombow Creator Crew
We are looking for creators 16 years of age and older who are passionate about Tombow and want to showcase our products in new and unique ways. Love writing educational blog posts? Have a knack for creating engaging TikTok videos? Do you excel in coming up with incredible Instagram images?
In 2022, we want to work with all types of creators – so whether your strengths are in blogging, YouTube, Instagram, or TikTok, we want you to apply! Below you'll find information about the program, but if you have any questions regarding details of the program or the submission process please send them to
social@tombowusa.com
by Monday, October 25, 2021. All questions will be answered via email by Friday, October 29, 2021.

Creator Crew Perks
You will be supplied with an ample stash of Tombow products throughout the year
You will have first access to all new Tombow products launched throughout the year
You will receive online product training in early 2022 and supplementary online training throughout the year
You will receive products from our partners throughout the year
You will be compensated monthly for the content you create
You will have first access to giveaway opportunities, sponsorships and paid endorsement campaigns
You will have your name, bio, headshot, and link to your personal blog + social accounts on the Tombow USA blog for the entire year
Your work will be featured on Tombow's social accounts, which include Instagram, Facebook, Pinterest, TikTok, YouTube, Twitter, and the Tombow USA blog
Creator Crew Expectations
Use Tombow products in your content and link to the Tombow USA website and blog whenever possible
Actively promote Tombow products and promotions
Create content for Tombow social accounts by pre-determined deadlines
Link to the Tombow blog on your own blog/website (if applicable)
Membership lasts January 1, 2022 – December 31, 2022
Requirements to Apply
Must be located in the United States or Canada and legally able to work
Must be at least 16 years of age
At the time of application submission, an applicant must have at least 2 of the following: personal blog/website, Instagram account, TikTok account, YouTube channel, and/or Facebook fan/business page dedicated to art or craft content
Deadline & Team Announcement
Applications are due by the end of the day on Monday, November 8, 2021. You must complete the form here to apply! Late or incomplete submissions will not be considered. The 2022 Tombow Creator Crew will be announced on the Tombow blog on Friday, December 17, 2021.
Application
Click HERE to apply!