The MONO Original Correction Tape has been a vital aid in correcting many of life's misprints throughout the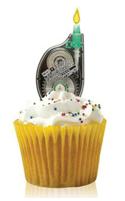 years. In fact, the product just celebrated its 15th birthday!  We all love having our own "Mr. Fix It" at our desk so that mistakes, misspellings and typos can be corrected almost instantly. The MONO Correction Tape has stood the test of time and will continue to correct your mistakes quickly and easily in the years to come.
The single-line correction film of the correction tape allows you to instantly correct mistakes in typed, handwritten or art documents. The precise application of the dispenser allows you to write over corrections in any document in any space.
The correction tape is perfect for left or right hand use, and its magical composition will go unnoticed and by your boss and coworkers!