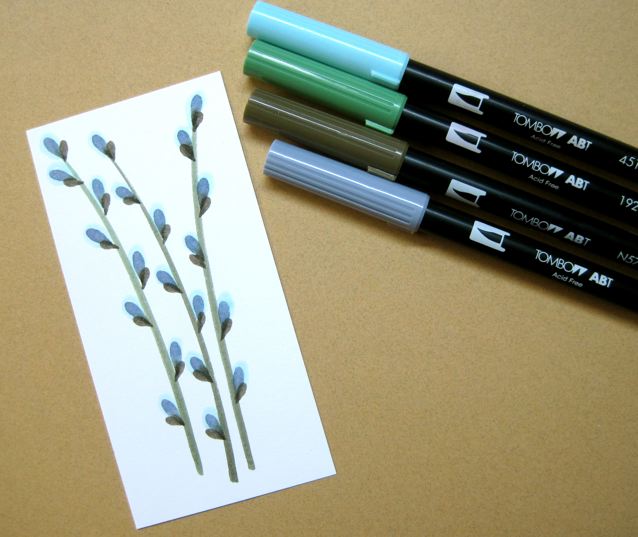 Here is a new TOMBOW marker magic motif for spring; Pussy Willows! They are super easy to make and can be used to adorn scrapbook pages, cards, and envelopes. The Dual Brush Pen colors are soft and muted that work well with vintage collages or soft colored themed projects.
Dual Brush Pen Colors:
451 Sky Blue, 192 Asparagus, N57 Warm Gray 5, N60 Cool Grey 6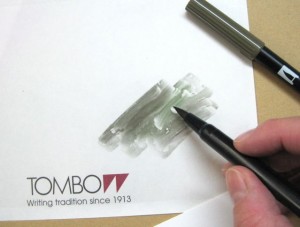 Brush Blending- The pussy willow motif uses the brush blending technique. Apply the dark color to a plastic palette. Pick up the color with the lighter color. When you use the loaded pen, you will get a blended color stroke.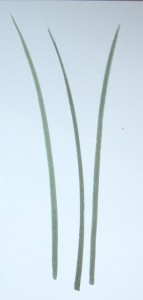 Step 1 – Brush blend Warm Grey 5 and Asparagus colors. Draw the stems using the brush tip. Practice on a scrap piece of paper until you can make stems with a fine point at the top. Don't hesitate, and move the pen fast at the end to create the point.
Step 2 – Turn the paper upside down. Brush blend Cool Grey 6 and Warm Grey 5.Make teardrop strokes along the stem-make sure you push down on the tip to make them large.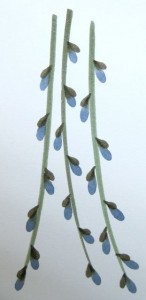 Step 3 – Keep the paper upside down and make small teardrop strokes with the Warm Grey 5 beside the larger strokes.
 Step 4 – Turn the paper right side up. Draw around each pussy willow with the Sky Blue pen.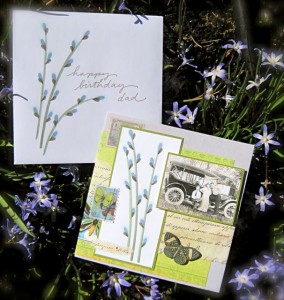 Pussy Willow motif used on a collage card and envelope 
The collage card was constructed using TOMBOW's new Permanent Stamp Runner. Apply the adhesive in long strips to large paper panels and photographs and small 'stamped' squares of adhesive for the smaller paper pieces with the same tool!  Some of the panels are added with the Foam Tabs for an interesting composition.