This month the Tombow team has been sharing projects created using colors that coordinate with the Pantone "in" colors for the last few years.  Today I am sharing a card that I created using the 2011 color, Honeysuckle.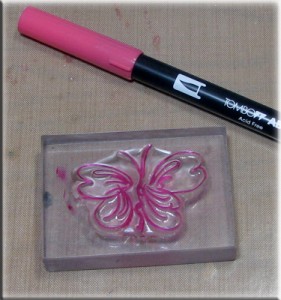 I used the marker to color in this beautiful butterfly image from the Inky Antics Brush Calligraphy #3 set and stamped it onto some white cardstock which I then cut out using some cirlcle nesties.  I wanted the wings of the butterfly to have some subtle color so I used the Tombow Dual Brush Blender Pen to pull some of the ink from the stamped image.  I really like how soft the wings look.  I added a touch of glitter to the butterfly for a little sparkle.  I used Tombow Permanent Stamp Runner to adhere all of the layers together and some of the Tombow Foam Tabs to pop up the sentiment panel.  
that the Colorless blender softens and blends colors, creating a watercolor effect. Ideal for fine artists and crafters – perfect with rubber stamps.