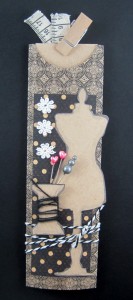 This is a favorite little packaging idea that comes together quickly using Tombow's adhesives.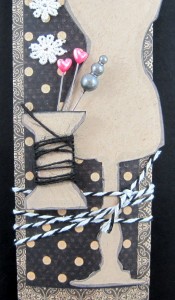 I used the Kraft Collection papers from Graphic 45 to form the pouch and MONO Multi Liquid glue to hold it all together for a super strong hold. Remember, you need only to use a very little of the Multi Glue to achieve a strong and secure hold. To decorate the pouch, I used a sewing themed Sizzix die cut, some twine from May Arts, Trinket pins from Maya Road and a few lace flowers.  Edging the die cuts with the grey toned Dual Brush Pens help them to stand out on the composition. The polka-dotted panel and dress form die cut were attached to the pouch using the MONO Dot Adhesive. The butcher twine was wrapped around the pouch and lace flowers glued on with the Multi Glue. I wrapped the black twine around the spool die cut and attached it to the form using Foam Tabs for a nice dimensional look.The trinket pins were simply pushed into the Foam Tabs.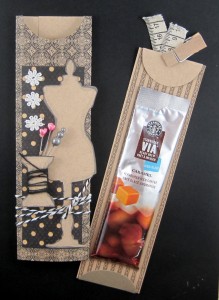 This view shows the inside panel. Two 2″ circles are folded in half and glued onto the paper panel to create the insert. The circle flaps help to hold the contents in. I decorated the top with a piece of trim and a wooden clothespin. This pouch is perfect to give a small gift such as an instant coffee, a small pair of scissors or even a diamond bracelet!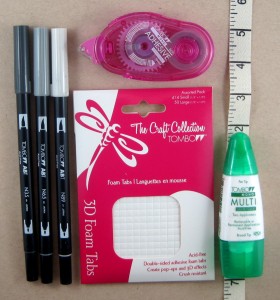 So for making those quick and easy parcels to fill with goodies for your friends, Tombow makes it making and giving them a pleasure!
If you enjoyed this post please follow us on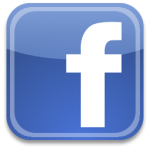 http://www.facebook.com/tombowusa
  and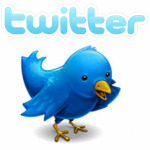 http://twitter.com/#tombowusa