Happy Tuesday! Hard to believe we had 70's degree weather yesterday and winter storm today! BUT the calendar says spring AND April and graduation is just around the corner for us (May 11), so I need to get busy on cards, gifts, and announcements, etc. My "baby" will graduate and I'm not ready (okay, let's not even go there)!
Here is a cute little box I created using an owl image from Inky Antics. It comes with a "hoo-ray" above the owl, but I colored the owl with Irojiten Color Dictionary Pencils and then cut it out.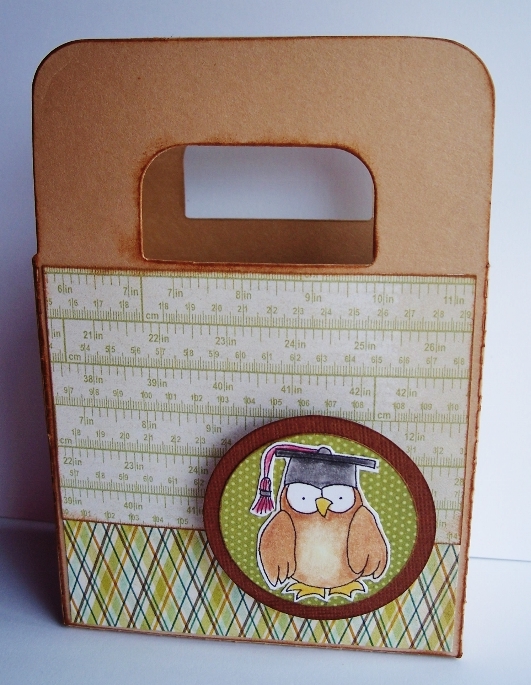 The lovely papers are My Mind's Eye. The owl was adhered to the circles with Stamp Runner Dot Adhesive  and then behind that a wobble. When you put your finger on the edge of the circle and pull down, the owl wobbles. Ü
The box was put together using Mono Multi Liquid Glue. The box is one I have had around for a very long time. One year our little library had an Ellison Die Cut there for a month. I took a LOAD of cardstock down and cut these boxes and still have a bunch left over. I thought this would be the perfect size to add some sweet treats and a gas gift card. Perfect for a masculine graduate gift!
Do you have any graduates you need to create for? If so, what are you creating? I need lots of ideas.
Thank you for stopping by,
If you enjoyed this post please follow us on