October is THINK PINK month and just the time to create a page for my sister Teresa, a Breast Cancer Survivor.  The photos were taken at the Run for the Cure in Vancouver, and Teresa is the gal on the right beside the ribbon with sister Sharon on the left.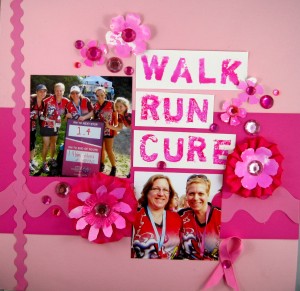 I used my new bright pink cutting board, trimmer and scissors from Westcott that actually inspired me to do this page! I started out with beautiful pink shades of cardstock and 'Just the Edge' cardstock strips from Bazzill and adhered my panels, strips and photos with the Dot Stamp Runner. The dot adhesive works especially nice with the long rick-rack strips as the adhesive is applied neatly to the very edge with no excess to mess up your page.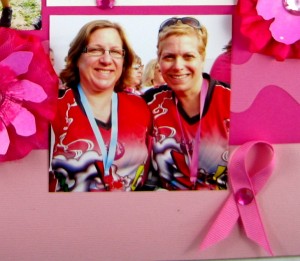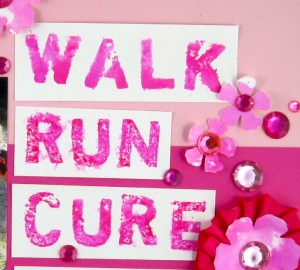 The 'Walk, Run, Cure' stamped panels were done with alphabet rubber stamps and pink Dual Brush Pens. I choose the colors 725 Rhodamine Red and 703 Pink Rose and used the brush tip to apply the color to the stamps. Mist a little water onto the stamps and stamp onto white cardstock. I also misted a little water onto the stamped images to further 'run' and distress the lettering. I colored the white cardstock paper with the 'splashed background' technique using the Dual Brush Pens and then cut out flowers using the Tattered Floral die from Sizzix.
The ribbon flowers are made using the Mono Multi Liquid Glue and Power Tabs and the rhinestones and flowers are attached to the page using Foam Tabs, Power Tabs (for the large flowers) and Mono Multi Glue. The pink awareness ribbon is held together and applied using Power Tabs.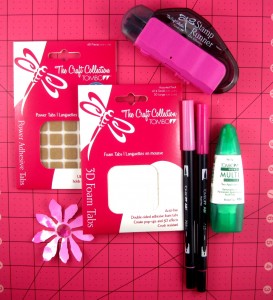 Look at all the wonderful pink products from Tombow! Think Pink and let's work together to abolish all types of cancers! Make sure to leave a comment in support!