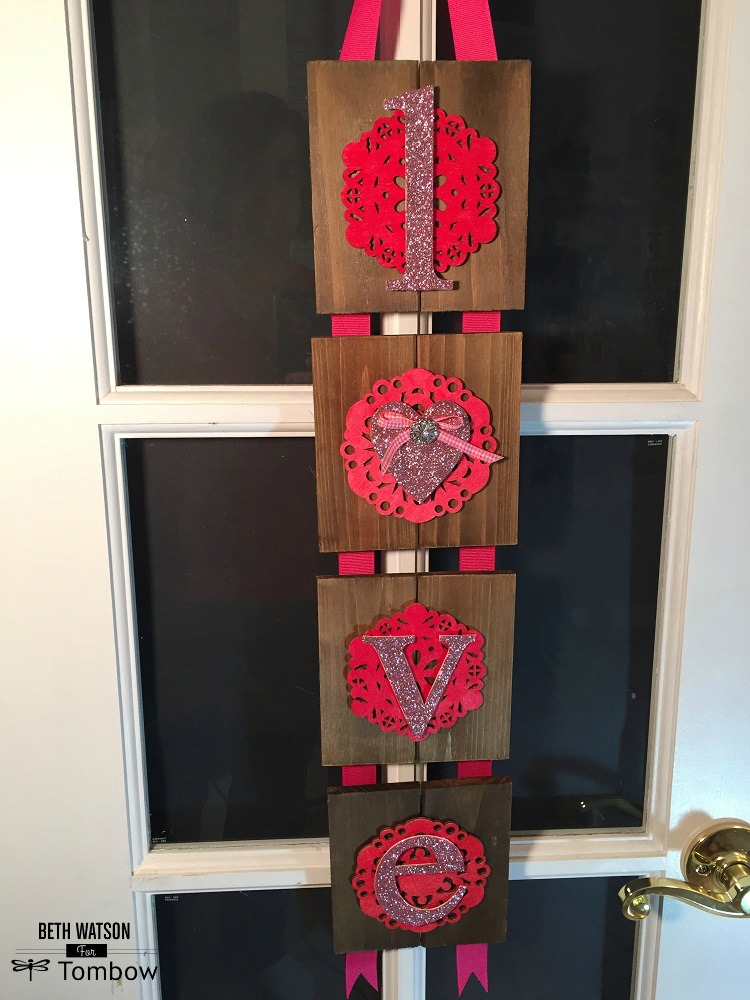 Happy Tuesday from the Tombow Blog.  Beth Watson here to share my "signature" project, the one that shows you who I am as a designer!  Mixed Media are the two words that I would use to describe my design style.  I love to mix and match surfaces, textures and products to create on of a kind designs!  I also love to push the products that I use to the edge to see what their maximum capabilities are!  Tombow's Dual Brush Pens and Adhesives are always up to the challenges that I create in my projects!
Now on to my project!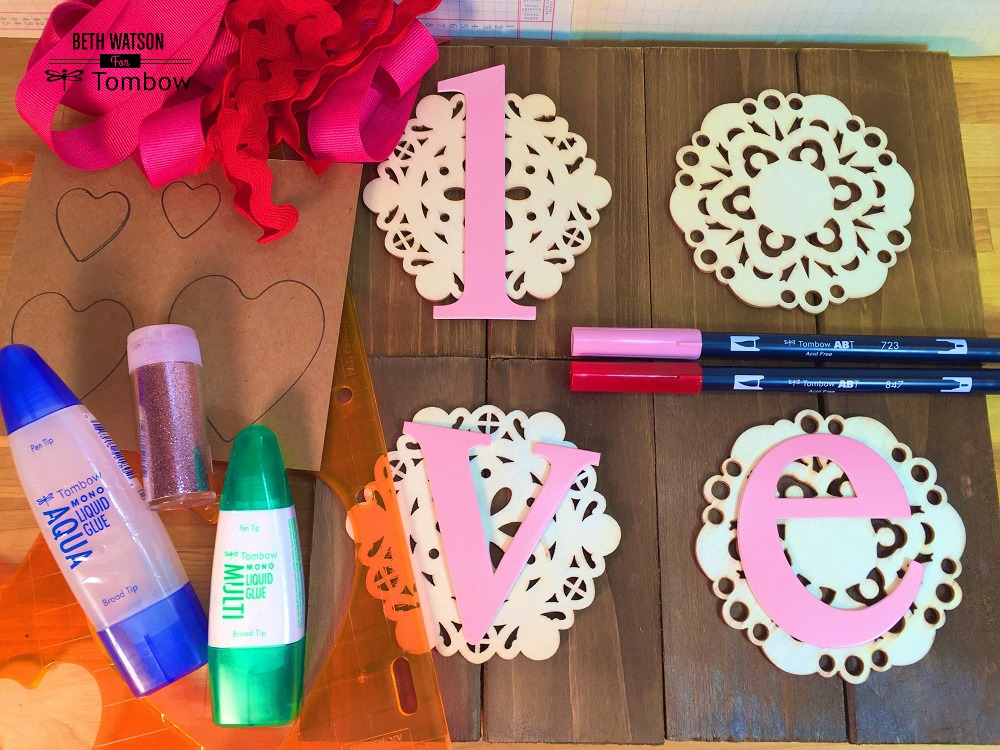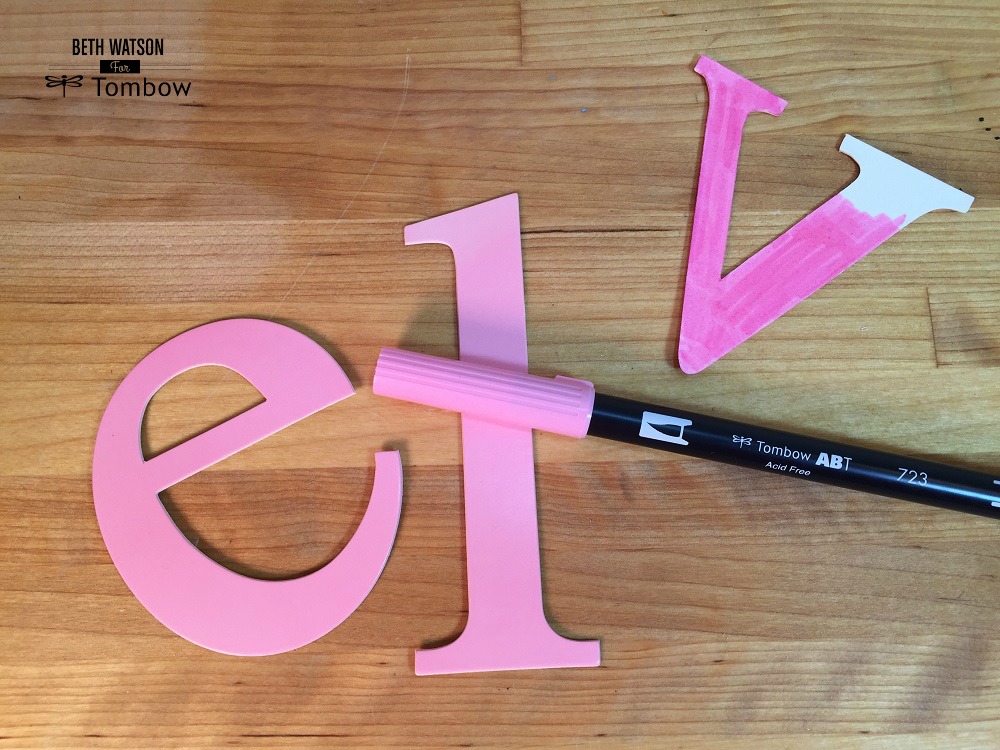 Color the chipboard letters L, V and E with Tombow Dual Brush Pen #723 Pink.  The Dual Brush Pens have a bullet tip and the brush tip, so they are perfect for coloring all types of items that I place in my mixed media projects.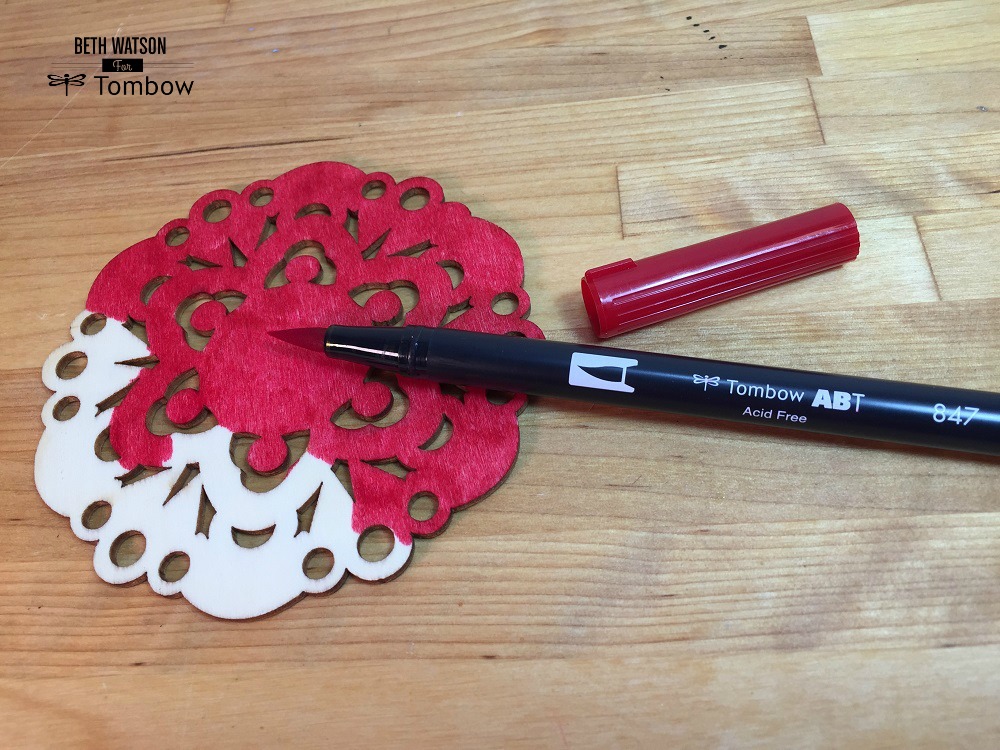 Color the unfinished wooden doilies with Tombow Dual Brush Pen #847 Crimson.  Wooden shapes are especially easy to color with the Dual Brush Pens and there is no need for dry time like there is with paint!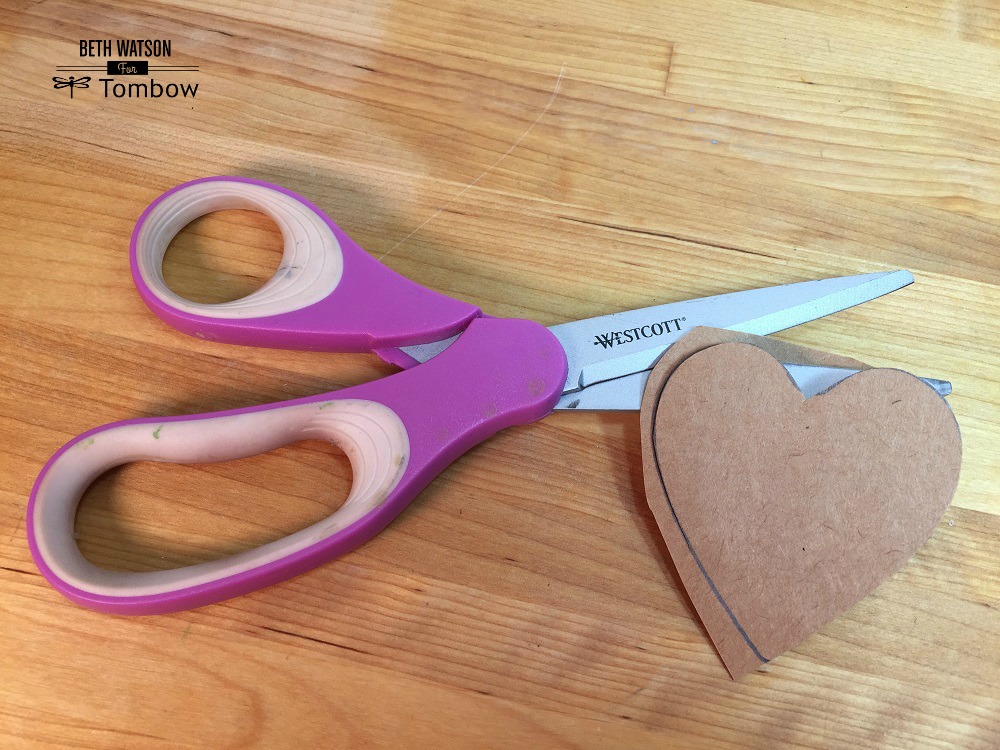 Trace a heart onto chipboard, then cut out with scissors.  I used a heart template from Fiskars.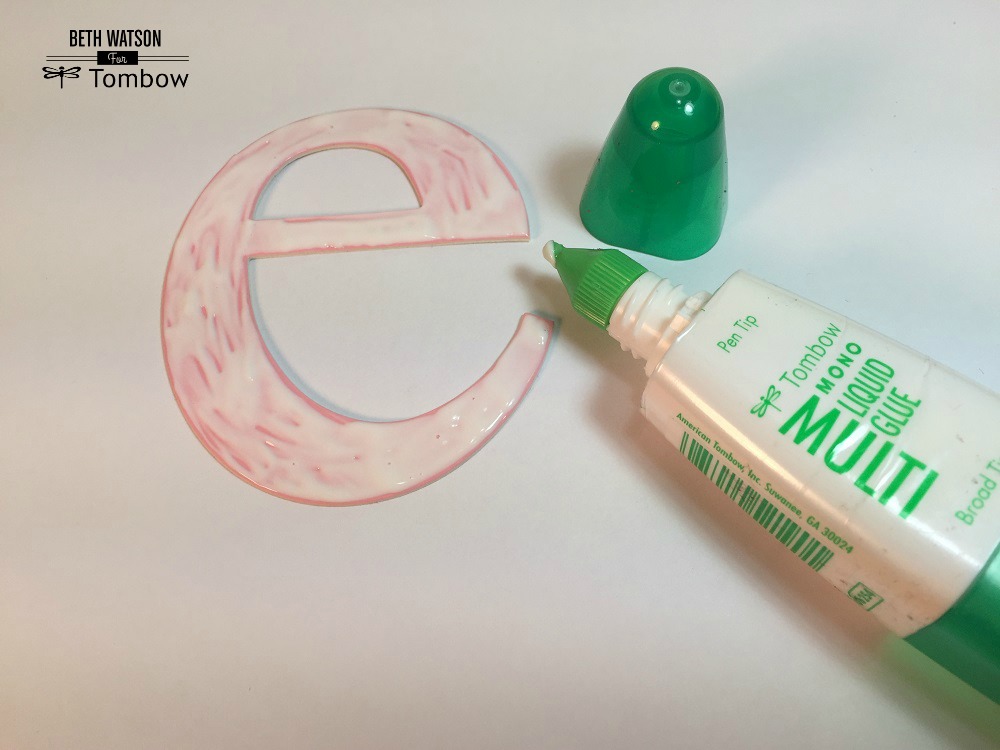 Place chipboard letters and heart on plain paper.  Apply Tombow MONO Multi Liquid Glue to the surface of the chipboard letters and heart, making sure to cover the entire shape evenly.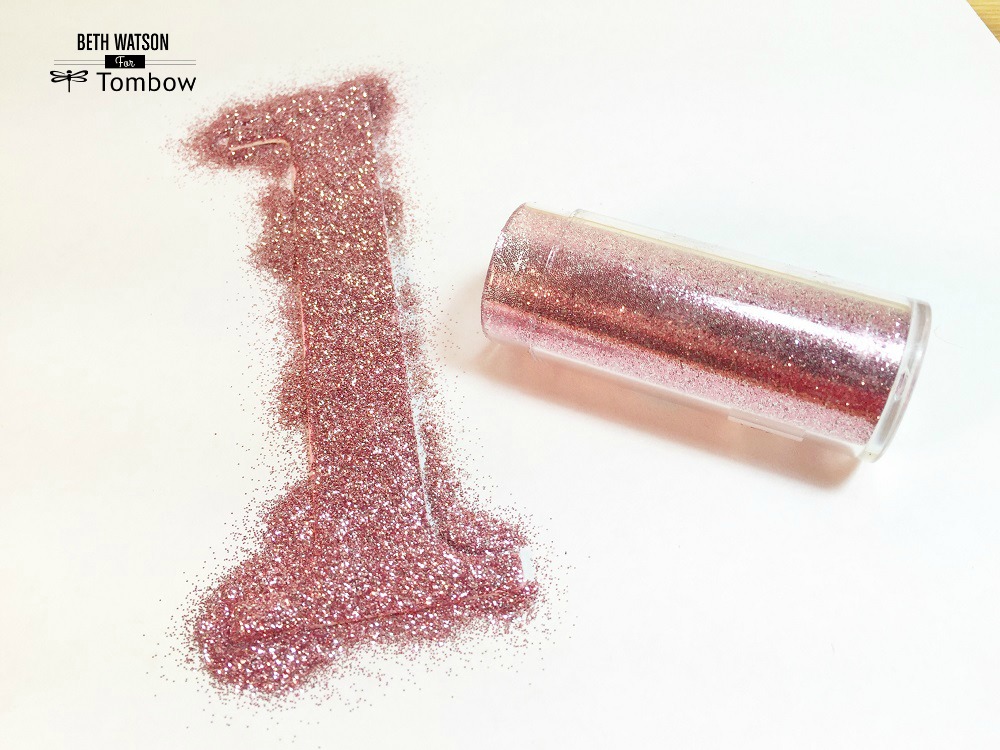 Sprinkle each shape with glitter, then press down gently with your finger to obtain a good adhesion.  Shake off excess glitter, fold paper in half and slide remaining glitter back in container to use again.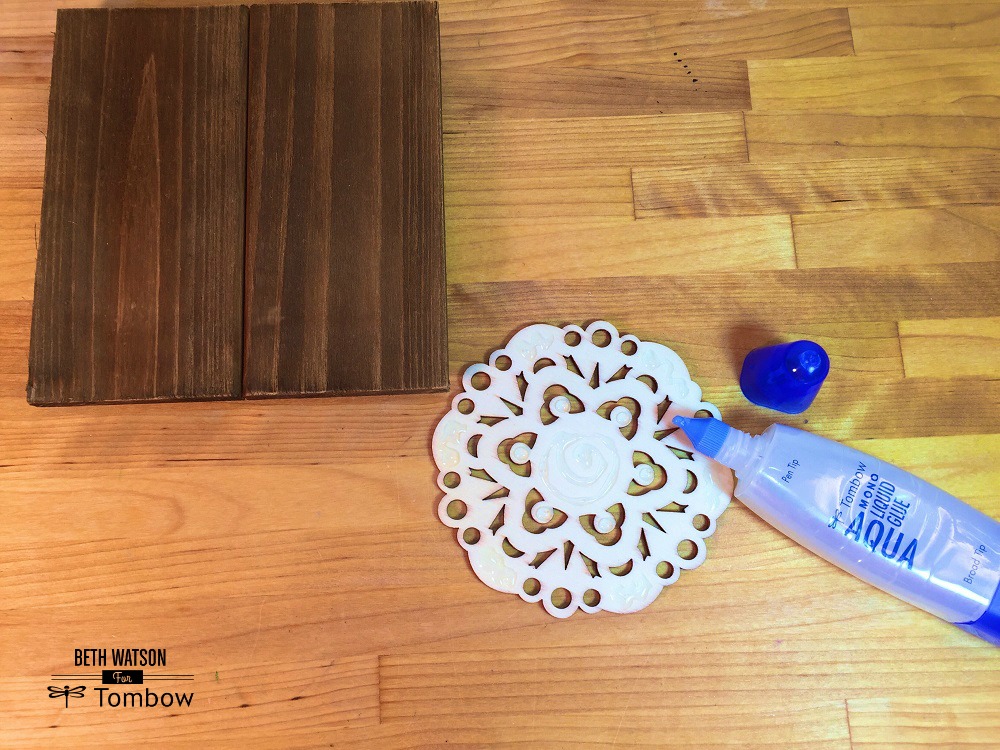 Apply Tombow MONO Aqua Liquid to the back of the wooden doilies and attach them to the center of each wooden mini pallet.  Let dry.  Repeat with the remaining three doilies and mini pallets.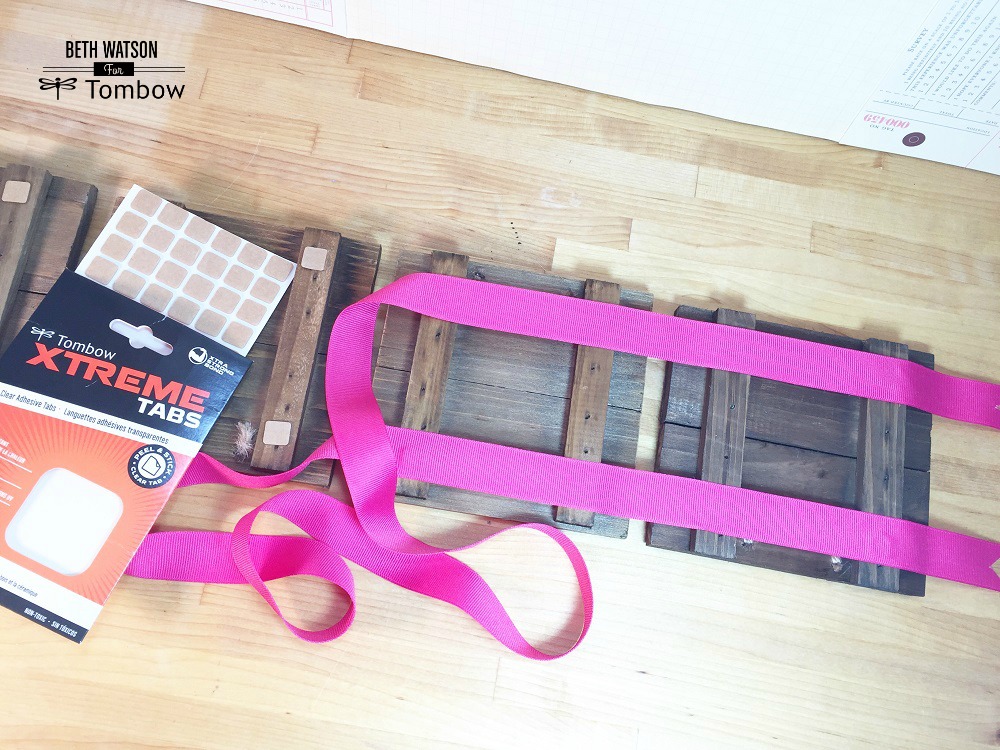 Flip mini pallets over spacing out 1/2″ between and apply Tombow Xtreme Tabs on the cross pieces of the mini pallets, then attach pink ribbon.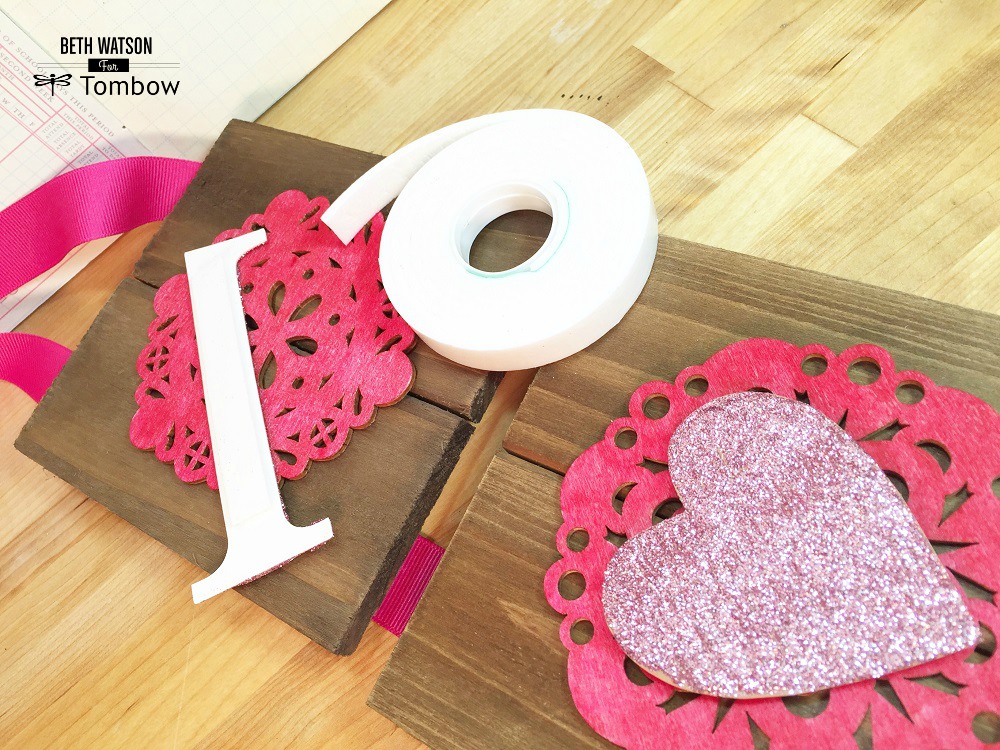 Flip over to front.  Attach letters and heart to wooden doilies with Tombow Foam Tape to give dimension.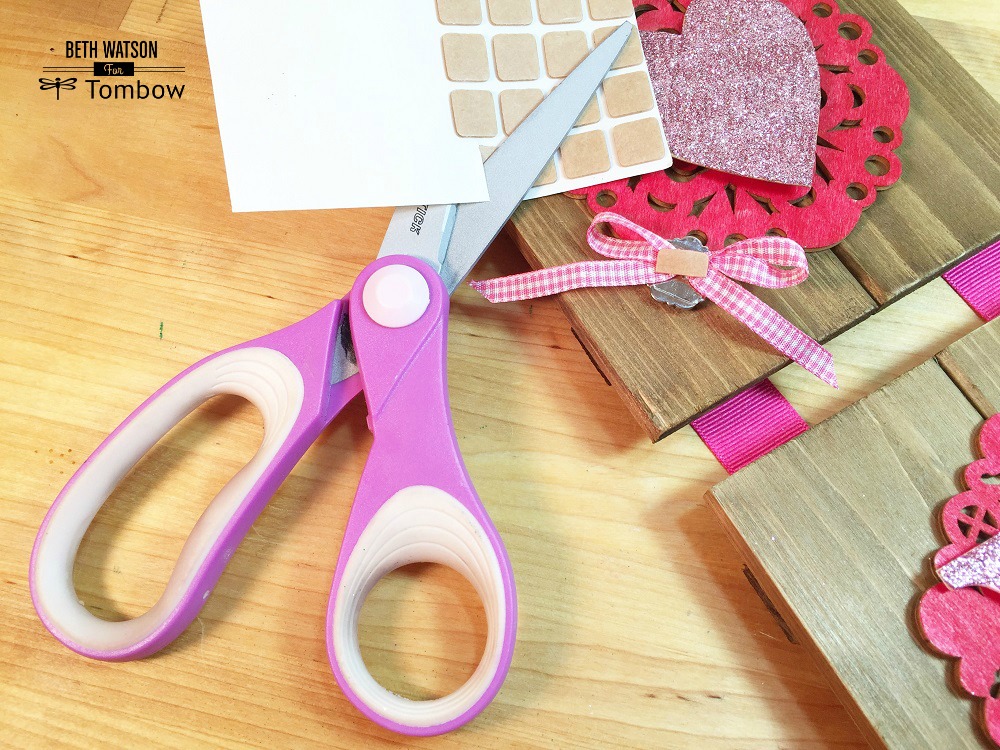 Tie a bow with pink ribbon.  Attach to heart with Tombow Xtreme Tab, cut in half.  I cut the Xtreme Tabs in half along the edge of the release paper, then you can just remove what you need without wasting the other half of the tab.  Then attach rhinestone button to bow.
Here are some detailed photos of each pallet:
I hope that you have enjoyed the Mixed Media Love wall hanging that I have created today.  It really is a project that displays my love of Holidays, Mixed Media, Home Decor and, of course – my favorite TOMBOW PRODUCTS!
Please check out my BLOG for additional mixed media inspiration and don't forget to visit the Tombow FB page for tons of lettering and adult coloring creativity!
Thanks for stopping by!  -Beth